Tissot watches often don't get enough love or credit in the watch world these days. And that's a shame, because Tissot has a rich heritage of fine watchmaking and innovation, presenting us with dynamic sports watches, bold diver's models, elegant dress pieces, sporty chronographs, and even the world's first touch-screen timepiece.
However, the brand is largely recognized as a true classic but not as high-profile like some of its Swiss counterparts. However, just because Tissot has kept a lower profile does not mean that it has not graced the watch world with innovative timepieces and notable designs. And although most of Tissot's catalog is positioned on the more affordable end of the luxury watch spectrum, the Swiss brand is incredibly respected and very popular for its versatile and durable designs.
In this Ultimate Buying Guide, we're going to highlight Tissot's rich history and the timepieces that stand out and make it a Swiss luxury brand. In addition to helping you find the right Tissot watch for your wrist, you will also learn a bit about Tissot's history and how this historic brand has helped shape the Swiss watchmaking industry as we know it today.
Click here to learn more about the history and heritage of Tissot watches.
History of Tissot
In order to understand the modern Tissot collection as well as its pre-owned and vintage models, it is important to have an understanding of its long and storied history, as 'Innovators by Tradition.'
– 1853: Chs Tissot & Fils is founded in Le Locle, in the Jura region of Switzerland by father-son duo Charles-Félicien Tissot and Charles-Émile Tissot.
– 1916: Tissot launches the famous Art-Deco, Tissot Banana.
– 1930: Tissot introduces the world's first anti-magnetic wristwatch, the Tissot Antimagnétique. Tissot joins SIIH with Omega.
– 1951: Tissot releases the world's first automatic wristwatch designed to display 24 time zones, the Navigator.
– 1954: Tissot celebrates its anniversary with the Visodate, integrating innovations like a date function to the automatic mechanism.
– 1965: While Rolex had the Daytona, Tissot had the PR 516. Inspired by racecar driving and featuring the world's first steel bracelet with holes, it was aesthetically groundbreaking and copied by many other brands.
– 1971: The Tissot Astrolon, also known as the IDEA 2001, is released as the world's first plastic mechanical watch.
– 1983: Tissot is officially part of the Swatch Group
– 1985: Tissot produces one of its most iconic watches, the RockWatch, which was made of Granite from the Alps.
– 1986: Tissot releases the equally iconic Two Timer, the first watch to feature both analog and digital time displays.
– 1999: Tissot launches the T-Touch, the world's first touch screen watch, also featuring six functions and combining analog and digital displays.
– 2011: Tissot wins the first prize in the International Competition Chronometry.
– 2014: Tissot launches its T-Touch Expert Solar, the first touch screen watch in the world that's also solar powered.
Le Locle Headquarters
Tissot has operated out of its hometown Le Locle, in the renowned Neuchâtel area of the Jura Mountains of Switzerland since 1853. For more than a hundred years, 90-percent of Swiss watch production came from this region and to this day, it is known as 'Watch Valley, the Land of Precision.' With that in mind, in recent years, Tissot's reach is much more global. Found in 160 countries across the planet, including many Tissot boutiques, Tissot is almost unmatched by most other Swiss watch companies in terms of widespread global distribution.
Tissot may not be the most expensive or the most well-known luxury Swiss watch brand, but it has left its mark on the industry with innovations and notable designs that have steered and set the tone for the entire market. In fact, Tissot's proud slogan is, 'Innovators by Tradition.' While anti-magnetic watches gained popularity in the 1950's, it was Tissot who created that technology decades prior. As the world became more accessible with commercial aviation, Tissot launched the first watch to display 24 time zones, and decades before we'd all have touch-screen smart phones, Tissot made the world's first touch-screen wristwatch.
Tissot has had its finger on the pulse of consumers and trends for more than 160-years. So much so, that many of its iconic classics have been reimagined and reintroduced to a new audience of contemporary watch collectors as part of the brand's modern and heritage collections. However, we will get into all of that shortly.
Buying Vintage Tissot
With a history that spans more than 160-years, there are many Tissot watches on the secondary market that are considered vintage. As a reference point, any watch that's more than 25-30 years old is typically considered vintage. So when it comes to buying a vintage Tissot watch, there's usually a lot available. However, that doesn't necessarily make narrowing down your search any easier.
You may want to get your hands on a Tissot icon like the plastic Astrolon, race-inspired PR 516 or the RockWatch, but that's not always where the value lies. The RockWatch, for example, can usually be picked up on the secondary market for a few hundred dollars. While this watch shook the world with its out of the box, minimalistic design and unusual case material, it also only features a quartz movement. Plus, it's estimated some half-million were sold, so they aren't exactly impossible to find.
Some favorite Tissot vintage watches among collectors are the vintage chronographs from the 1930's and 1940's. During this time, Tissot produced some incredibly beautiful chronograph movements, usually revered for their easy-to-read dials and beloved today for their oxidized, two-tone and character-filled appearances. Today, these watches will typically sell for anywhere from $1,500 to $3,500 depending on their condition, rarity, and specific model. While these vintage Tissot watches aren't as iconic, they actually hold a lot more value.
Of course, traditional factors such as metal and movement also play a big role in a vintage Tissot watch's value. Typically, gold watches will cost more simply due to the value of their raw materials. Additionally, Tissot watches that are outfitted with a mechanical movement instead of a quartz movement will cost more than their quartz counterparts but will also hold more value in the long run.
You should also be careful about where you buy a vintage Tissot watch, as like most Swiss watch brands, Tissot watches are subject to counterfeiters. Additionally, due to the wide range in prices, it is always worth doing your research before purchasing a Tissot watch. If a dealer is trying to charge you thousands of dollars for a modern Tissot watch with a quartz movement, there is a fairly good chance that you might be overpaying, as the quartz powered models typically sell for significantly less. Just like with any luxury watch, it is important to always "buy the seller" when shopping for a Tissot.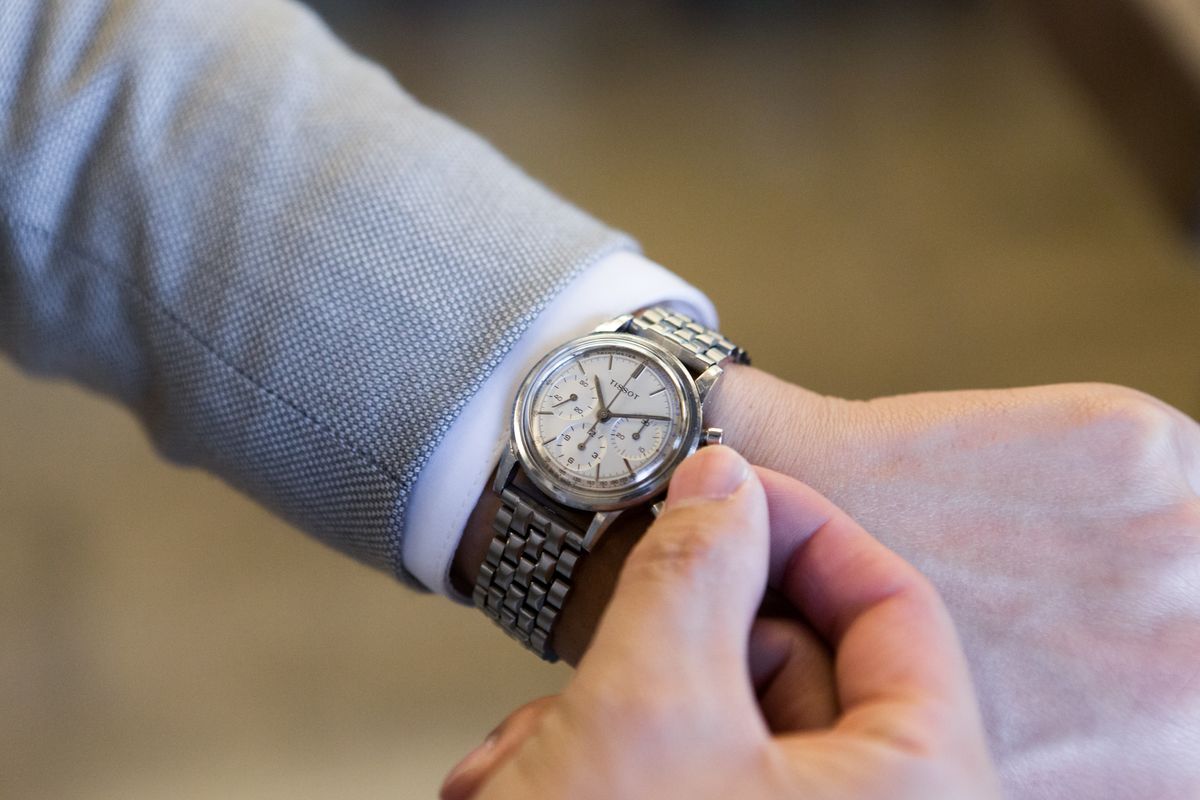 Tissot Watch Prices
Today, there are hundreds of models in Tissot's diverse portfolio. Generally speaking, both men's and women's Tissot watches start under $1,000 for the quartz-powered models, and top out at several thousand for the more luxurious models with automatic mechanical movements. Generally speaking, most of Tissot's quartz models (like the T-Touch, T-Race, and Sea-Touch) can be purchased for under $1k on the secondary market, making them excellent options considering all the features and Swiss-made quality you get for that price.
Of course, being a luxury watch brand, Tissot also has a premium side of its catalog. The most expensive Tissot watches are those crafted from solid 18k gold, which can reach prices of around $3,000 – like the Tissot Vintage Powermatic 80 men's watch in 18k yellow gold. However, if you're set on getting your hands on a gold Tissot watch, you can find these models at a significant discount on the pre-owned market, with some of these mechanical watches selling for just over $1,000. Comparing that to brands like Rolex or Omega, whose gold models can cost tens of thousands, Tissot is best known for providing collectors with exceptional value.
Tissot's Most Popular Watches
Today, Tissot's watch collection is large enough to offer every timepiece aficionado something for their wrist. Tissot watches are offered in several technical variations, from classic automatic mechanical movements to quartz and even solar-powered offerings. Additionally, Tissot offers its watches in a variety of designs and specifications – even within each collection, from metals (like stainless steel, gold, titanium, and dual-tone) to different dial colors, materials, and bracelet options.
T-Classic
Tissot's T-Classic collection exudes timeless design and is an absolute pleasure to strap on your wrist. With its design rooted in Tissot's history, these pieces (as their namesake suggests) celebrate the Swiss brand's classic style throughout the years. The T-Classic is the kind of watch that will never go out of style and is easy to dress up or down. Businessmen and women love pairing these elegant watches with workwear and formal attire. However, what also makes the T-Classic collection special is its versatility – as this watch won't look out of place if you forget to take it off on the weekend.
The men's collection spans chronographs, the simple and understated Tissot Gentleman range, the technical-looking Chrono XL Classic line, and more. The women's T-Classic line features watches with mixed metals (like stainless steel and gold), exquisite dials, diamonds, and lavish details. We particularly love the opulent Flamingo ladies collection, as well as the Le Locle range of wristwatches, (equipped with the Powermatic 80 movement capable of an 80-hour power reserve) that are available for stylish both men and women.
T-Gold
For those looking to indulge and splash a little more cash, the Tissot T-Gold collection is where you'll find some of the manufacturer's most expensive and luxurious models. Yet, what we love so much about Tissot is this balance between high-quality and affordability. Tissot is proud of its mission statement, "gold value at silver's price," which underscores its T-Gold collection and the brand's passion for creating luxurious timepieces at accessible prices.
So, what stands out to us in the T-Gold collection? The Tissot Bridgeport Automatic Gold watch, which boasts a bezel crafted with 18k rose gold and also houses one of the industry's best automatic calibers with built-in chronograph functionality. We would also never turn up our noses to a Tissot Goldrun or Tissot T-My Lady that are also from this classy collection.
T-Heritage
As you've learned by now, Tissot has an incredibly rich heritage that spans over 160 years. So to commemorate some of its most iconic designs, Tissot recreated modern iterations of its vintage watches for a new generation of collectors. These models bridge the gap between traditional wristwatches and timekeeping tools for the modern watch lover – like the Tissot Heritage Navigator. Other notable watches from the T-Heritage collection are the Porto, with its instantly recognizable tonneau-shaped case, as well as the Heritage 1973 models and the beloved anniversary Visodate watches.
T-Sport
Tissot has had a lot of history with sports (think, the iconic race car-inspired watch PRS 516) and even sponsors some of the world's top athletes. However, when Tissot became the Official Timekeeper for MotoGP, it further strengthened the brand's ties with the sports industry, sparking the beginning of the brand's T-Sport watch collection. In this famous lineup you'll find their modern iteration of the PRS 515 that incorporates unique features like brake disc-style bezels, date magnifiers, and super-accurate quartz movements.
Tissot's color-splashed T-Sport chronograph dials and sporty straps also feature bright colors and athletic undertones for watches that are innovative, highly technical, functional, and stylish. Also included in the T-Sport line are a series of specially developed watches that embody the core values of basketball since Tissot is the Official Timekeeper of the NBA. There are also the SuperSport models that are defined by their sleek black tachymeter bezels, which can be used alongside their chronograph dials to measure distance based on average speed or average speed based on traveling time.
T-Touch
Tissot's creation of the T-Touch, the world's first touchscreen wristwatch, marked a historical milestone in luxury watchmaking. With a sapphire crystal touch screen that acts as the interactive cockpit for the functionalities of the watch, the T-Touch features a compass, altimeter, barometer, chronograph and more. To add to their tactile, tool watch feel Tissot has outfitted these watches from titanium and stainless steel. Plus, Tissot has developed these watches to withstand extreme outdoor conditions.
Today, the most well-known Tissot T-Touch is the Expert Solar watch, which is an environmental-friendly version of the classic T-Touch, powered entirely by the sun. Tissot also has a range of other T-Touch watches, like the T-Race Touch, which is outfitted with a chronograph that measures a hundredth of a second and the T-Touch Expert with an in-built thermometer that's perfect for mountaineers.
Frequently Asked Questions About Buying A Tissot
Below are some of the most commonly asked questions about Tissot watches and the Tissot brand itself.
Are Tissot watches good?
Yes. Tissot watches are high-end, Swiss-made timepieces backed by quality and 160+ years of innovation. Tissot has an impressive collection of dynamic sports watches, bold diver's models, elegant dress watches, sporty chronographs, and the brand even created the world's first touch-screen, solar powered timepiece.
Is Tissot a luxury brand?
Yes. Tissot is a Swiss luxury watch brand. Tissot has a rich history and produces watches with impeccable quality and fine materials that set it apart from the majority of other commercially available watches on the market.
Why is Tissot so expensive?
Tissot watches are expensive because they are made in Switzerland, by a well-respected company with incredible attention to detail in both the design and materials. You also get great quality and stylish designs with Tissot watches, which makes them more expensive. However, why so many collectors love buying Tissot is that you can get a precise, beautiful watch for much less than other famous Swiss luxury watch brands like Rolex or Omega.
Is Tissot worth buying?
Tissot watches are definitely worth buying! Tissot offers a wide range of high-quality watches that you will love to wear and will last you a lifetime. Additionally, since they cost significantly less than many of their Swiss made counterparts, it is quite a bit easier to own multiple different Tissot watches to provide you with different timepiece options.
Is Tissot better than Seiko?
Tissot and Seiko watches are often compared to one another because they are in a similar, lower price range for luxury timepieces. The big difference here between Tissot and Seiko is that Tissot is Swiss brand with a history that dates back to the 1800s, while Seiko is a Japanese watch brand that is respected but for different reasons, like introducing the world's first quartz watch. Additionally, while Seiko's high-end luxury range is labeled as Grand Seiko, Tissot does not have a separate sub-brand for its luxury-oriented pieces.
Are Tissot watches high quality?
Absolutely. Tissot watches are made in Switzerland under strict conditions that ensure quality. Tissot watches are also water resistant to 30, 50, 100, 150 or 200 metres which is indicated on the case back. Additionally, Tissot's chronometer watches have obtained an official certificate from the COSC (Official Swiss Chronometer Testing Institute), which is considered to be the gold-standard in precision timekeeping performance.
How much do Tissot watches cost?
A brand new, Tissot watch will typically cost you around a thousand dollars when purchased at retail. However, the price can increase depending on the metal used (like gold, which is more expensive) or the mechanism used inside (mechanical, automatic movements cost more). Vintage and pre-owned Tissot watches on the secondary market vary in value, anywhere from a couple hundred dollars to several thousands depending on the condition, materials, and rarity; however the secondary market offers exceptional values for many of the brand's high-end pieces with mechanical movements.
What's the value of Tissot watches?
The value of a Tissot watch depends on factors like the watch's provenance, rarity, condition, and materials. Some vintage Tissot watches sell for a few hundred dollars, while others can go for several thousand or more. The average retail value of a Tissot watch is around a thousand dollars, but there exists a significant difference between a stainless steel piece with a quartz movement and a solid 18k gold watch powered by a chronometer-certified mechanical caliber.
Are vintage Tissot watches a good investment?
Tissot watches are a good investment in the sense that they are well-made, durable, stylish, and capable of lasting you a lifetime. With that in mind, you aren't likely to see the same type of hyper appreciation like with Rolex watches (for example), where certain models sell for several times more than their brand-new retail prices. However, at the same time, being made by a well-respected manufacturer of high-quality timepieces, a Tissot watch will always retain some degree of value, regardless of the specific model or its condition.
Where is the best place to buy a Tissot?
Tissot watches are Swiss-made luxury timepieces, and like any premium product that is desirable to own, Tissot watches can be subject to unscrupulous counterfeiters. It is important that you only ever purchase a new Tissot watch from a boutique or authorized retailer. Additionally, if you are shopping on the secondary market, beware of 'too-good-to-be-true' prices and sketchy dealers that do not offer warranties or return windows.
Whenever buying a luxury watch, whether it is a Tissot or other, you always want to shop with a company that has great reviews, a strong social media presence, and stands behind its products with a lifetime authenticity guarantee. Getting a good deal is important, but sometimes the absolute cheapest price isn't the best deal and the watch will ultimately cost you more in the long run.