The cocktail watch harks back to an ultra glamorous time where ladies and gentlemen pulled out all the stops and dressed for the occasion. While today we live in a much more casual world, where oftentimes comfort trumps style, the cocktail watch is definitely making a comeback. For several years now top watchmakers are reinterpreting the classic cocktail watch into contemporary offerings. Characterized by their petite size, feminine silhouettes, gold construction, and precious details such as gems or intricate jewelry-type bracelets, the cocktail watch is one that should be a part of any chic lady's jewelry box. However, these beauties are no longer just for post-sunset revelries. Dainty gold timepieces are great for daytime wear too—just accessorize with a couple of extra bracelets around the watch and you're good to go.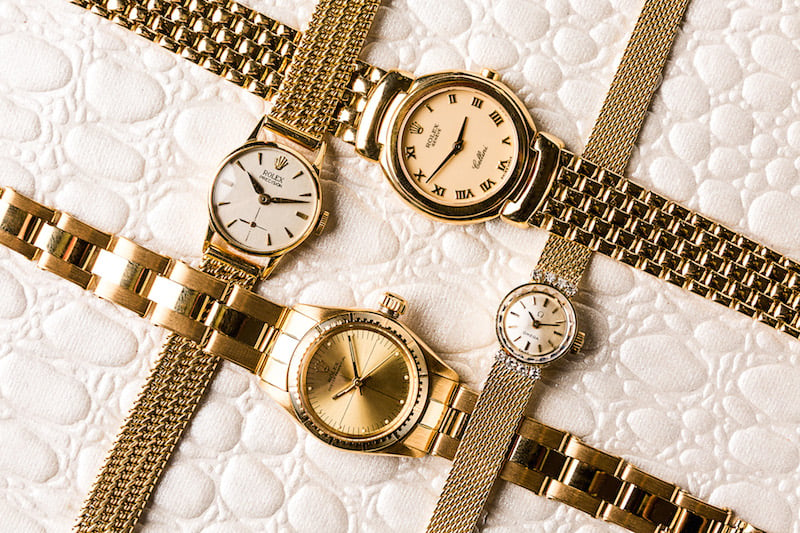 Although there are plenty of contemporary cocktail watches to choose from, there's a romantic element to vintage timepieces that can't be imitated with modern watches. And naturally, Rolex, OMEGA, and Patek Philippe make some of the best out there. So if you're looking for a unique timepiece for yourself or for a gift for a special woman in your life, take a look at these sophisticated vintage unique ladies' watches for some retro-glam.
Vintage Ladies' Oyster Precision Cocktail Watch
A beautiful ladies' timepiece, this vintage Rolex Precision in yellow gold is from the 1950s. Sized at a dainty 19.5mm, the dial of the Rolex Precision ref. 8854 features two center hands and a small seconds subdial at 6 o'clock. These functions are powered by a manual-wound movement. While the face of the Precision 8854 is kept understated, the bracelet is sumptuously intricate. Wrapping around a wrist like a piece of jewelry, the solid gold mesh bracelet is an exquisite work of master craftsmanship. Elegant, luxurious, and timeless, the vintage Precision ref. 8854 certainly makes an impression.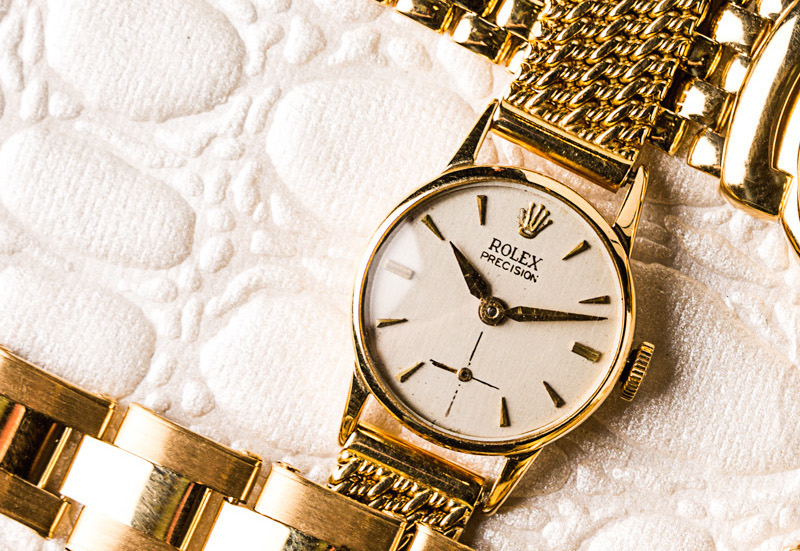 Vintage Ladies' OMEGA Sapphettes Cocktail Watch
This vintage OMEGA cocktail watch is from the Sapphettes collection that made its debut in the US market in 1954 and eventually introduced worldwide. The name Sapphettes is in reference to the sparkling crystal facetted like a diamond giving the timepiece its distinct look. Moreover, this OMEGA Sapphette is all the more precious thanks to the eight round diamonds flanking the case. The 14k yellow gold round case is decidedly demure at a mere 14mm. Also, the minimalistic dial only dons two center hands along with the gold hour markers. Its supple gold bracelet is not only gorgeous to look at but also comfortable to wear. Both precious and unusual, this OMEGA Sapphettes is a notable vintage ladies' watch indeed.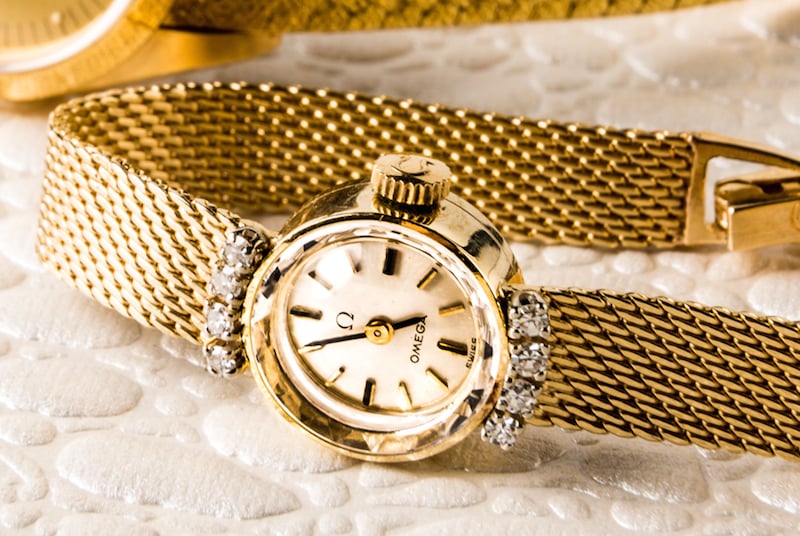 Vintage Ladies' Patek Philippe Cocktail Watch
Again, it's all about the bracelet on this vintage Patek Philippe ref. 3266 from about the 1960s. The striking yellow gold bracelet has grooves etched into it and the strap tapers as it approaches the 15mm round case. The ivory dial houses gold stick indexes and the hour and minute hands, while the movement is manual. Part unique jewelry, part precious timepiece, this is without a doubt a classic Patek Philippe ladies' watch that can be passed on to the next generation.