As one of the world's premier luxury watch manufacturers, Omega is a popular choice among many A-list celebrities. Omega watches have been featured in countless movies and television shows over the years, and the latest on-screen appearance comes in the form of an Omega Speedmaster in the new music video for the single "Spaceman" by Nick Jonas.
Visible on his wrist throughout numerous different scenes (including a couple of close-up shots) is the new Omega Speedmaster Moonwatch with the Caliber 3861 movement that was just released earlier this year in January 2021. However, the edition worn by Nick Jonas in "Spaceman" is not your standard stainless steel model; it is the version crafted from Omega's proprietary 18k Canopus Gold alloy.
Omega Speedmaster Moonwatch in Canopus Gold
Canopus Gold Speedmaster Key Features:
– Case Diameter: 42mm
– Materials: Canopus Gold (18 karat)
– Functions: Time w/ Running Seconds, 12-Hour Chronograph
– Dial: Silver w/ Luminous Hour Markers
– Bezel: Fixed, Black Aluminum Insert w/ Tachymeter Scale
– Crystal: Sapphire (Domed w/ AR Treatment Inside)
– Movement: Co-Axial Caliber 3861 (Hand-Wind, Antimagnetic)
– Water Resistance: 50 Meters / 167 Feet
– Strap/Bracelet: 5-Arched-Link Bracelet
– Retail Price: $45,300
Click here for our Ultimate Buying Guide on the Omega Speedmaster.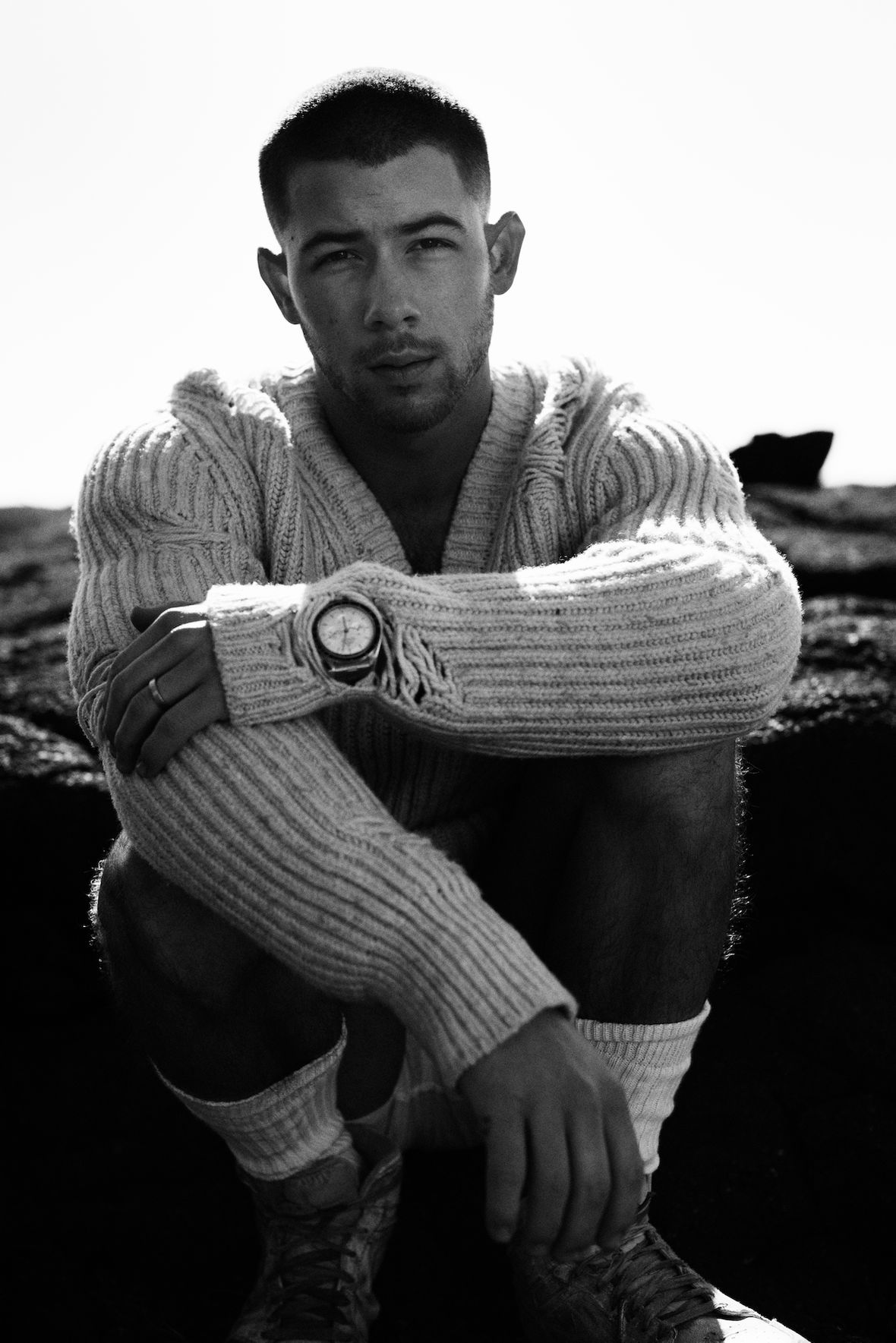 Nick Jonas's Omega Speedmaster Moonwatch
It is no secret that Nick Jonas is a bit of a watch enthusiast. The Grammy and Golden Globe-nominated artist has been spotted wearing everything from Rolex to Richard Mille and everything in between. Based on the models he has been seen wearing, it seems that the youngest Jonas brother has (at least) some interest in watches as the vast majority of his luxury timepieces have eye-watering price tags and many aren't your average go-to choices for top celebrities.
Nick Jonas frequently sports watches that cost anywhere between six-figures to over a million dollars, but it was the brand-new Omega Speedmaster Moonwatch in Canopus Gold (ref. 310.60.42.50.02.001) that was present on his wrist during the entirety of his new "Spaceman" music video. And given the Speedmaster's ties to the world of space exploration, this luxury-oriented edition of Omega's iconic Moonwatch seems like a perfect choice.
Representing the most expensive and top-of-the-line model from the new generation of the Omega Speedmaster Moonwatch, the Canopus Gold edition features a solid 18k Canopus Gold case and bracelet, the brand's Co-Axial Caliber 3861 movement, a silver dial with luminous hour markers, a sapphire crystal, and a display case-back.
What is Canopus Gold?
Omega produces two different solid gold versions of the new Moonwatch – one in 18k Sedna Gold (a red gold alloy), and the 18k Canopus Gold version (a white gold alloy), which could be spotted on Nick Jonas's wrist throughout the "Spaceman" video. Named after the brightest star in the southern constellation of Carina (which is 71 times larger and 10,000 times brighter than our sun), Canopus is an Omega-exclusive type of 18 karat white gold that promises to be brighter and far more tarnish-resistant than traditional white gold alloys.
While the Sedna gold version of the new Speedmaster retails for $34,800 on a bracelet, the Canopus gold version costs $45,300, representing a full $10,500 difference in price. Both Sedna and Canopus are 18 karat gold alloys, which means that each one consists of 75% pure gold. Red gold is typically created by using high copper levels for part of that additional remaining 25% but when it comes to Omega's exclusive Canopus Gold, the actual pure gold is far from being the most expensive alloy that makes up its composition.
Canopus Gold has only been around since 2015 and according to Omega, it consists of at least 75% gold and 20% palladium, with the remaining 5% largely being made up of platinum and rhodium. As a point of reference, the current price of palladium is nearly twice the price of platinum, and rhodium is currently more than ten times the price of palladium. What this means is that in addition to its brilliant hue that won't fade, Omega's Canopus Gold alloy pretty much consists of nothing but ultra-expensive precious metals. In addition to being more difficult to shape, this also helps explain why it costs more than $10k more than the solid 18k Sedna gold version.
A Perfect Fit for "Spaceman" by Nick Jonas
"Spaceman" is both the title of the single and the name of Nick Jonas's 4th studio album that was just released today (March 12, 2021). Since the Omega Speedmaster has been a part of all six moon landings and is celebrated among enthusiasts as the official flight-qualified watch of NASA, there is no single collection of timepieces that offers a more rich and intertwined history with space exploration than that of the Omega Speedmaster.
Now, if this were real life and not a music video, Nick Jonas would likely be wearing the classic stainless steel version with the Hesalite crystal or even Omega's high-tech analog/digital hybrid quartz Speedmaster X-33. However, since Jonas's character seemingly travels by jetpack and lives inside a tiny, mirror-finished house, the modern and luxurious Canopus Gold edition seems like a perfect fit for this stylized and surreal take on a cosmic-inspired pop music video.
*All images courtesy of OMEGA.