Eagerly anticipate, Rolex revealed a new watch model on August 4, 2014 known as the Rolex Deepsea D-Blue Dial Edition. This new Oyster Perpetual watch was made to commemorate James Cameron's historic solo dive to the bottom of the Mariana Trench.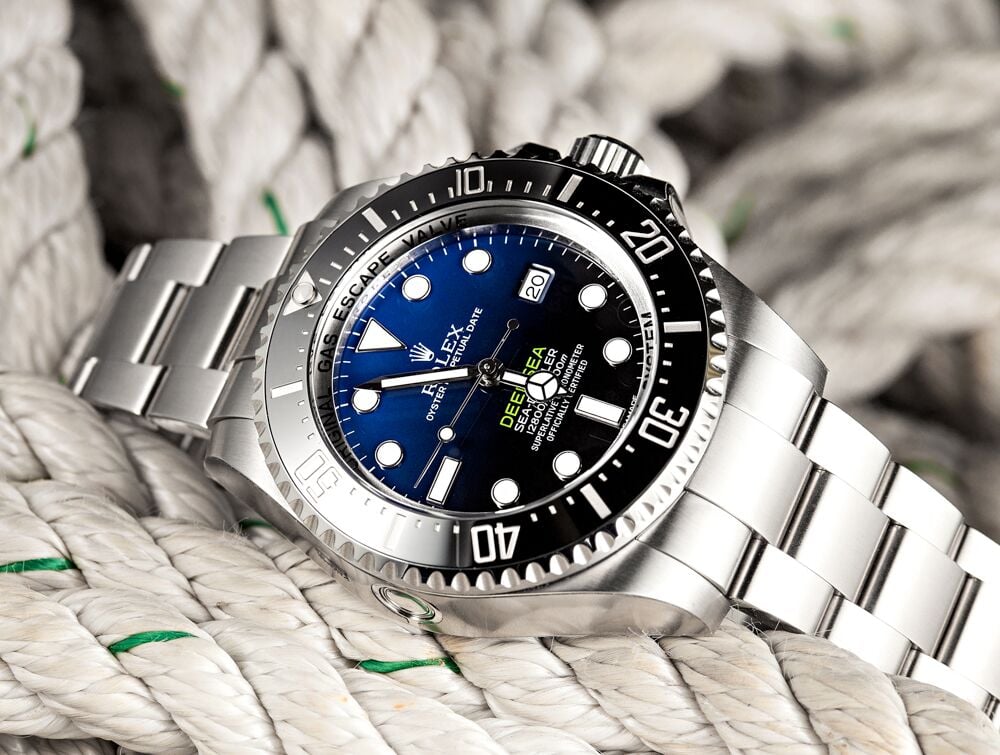 The New Rolex DeepSea D-Blue Dial
The spirit of the Deepsea watch has always been one of exploration and pushing the limits of technological innovation. The Rolex Deepsea is a true diver's watch. Rolex has created this particular timepiece to be water resistant to a depth of 3,900 meters (12,800 feet). Its wide case, at 44mm, carries the robust design needed to withstand such depths. The name "Deepsea" is derived from the successful 1960 experiment in which the Rolex Deep Sea Special traveled 10,916 meters to the deepest point in the ocean.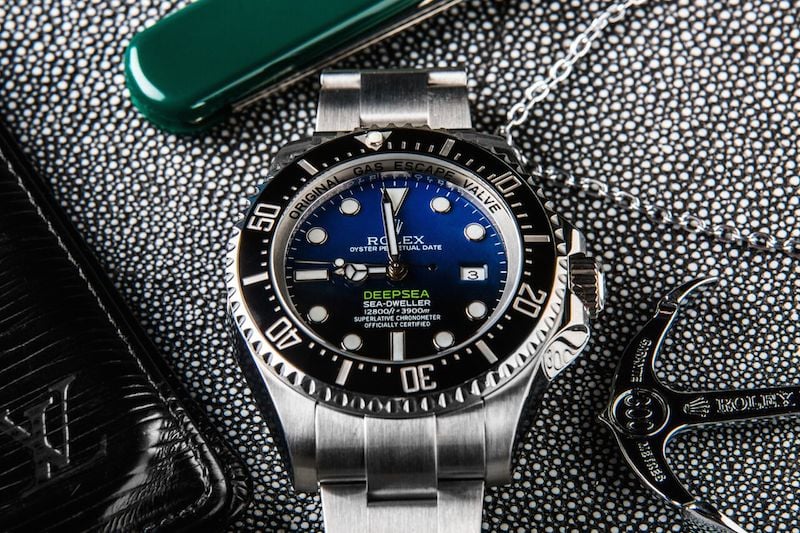 The Deep Sea is able to withstand pressure due to new technological advancements –the Ringlock System. This system utilizes three core components, which are made in the toughest aerospace‑grade materials available. A nitrogen-alloyed steel central ring is the main component of the system and works in conjunction with a 5 mm thick domed sapphire crystal and a grade 5 titanium case back. The Rolex Deepsea is so powerful, it can withstand water pressure 100 times beyond the depth any human could. The perfect companion for James Cameron's deep sea challenging mission.
Rolex has included an innovative Chromalight display on the Deepsea's dial, which makes the watch far more visible in the deep depths of the ocean. The distinctive blue glow is guaranteed to last up to twice as long as standard luminescent material. A special capsule containing luminescent material is shaped into the form of a triangle to mark the zero marker.
Ever innovative at problem solving, Rolex has included a helium escape valve in the Deepsea models. After a long deep sea dive, professional divers must spend time in a decompression chamber where they breathe a gas mixture containing helium. This helium seeps into the watch, but is able to escape without damage through an escape valve. Even underwater, this valve can be utilized to release pressure without water entering and destroying the sensitive movement.
The dial seems to be the biggest change in this model, offering a blue to black transition from top to bottom. This color scheme imitates the color of the water as the diver descends, beginning with blue and ending in black darkens. This dial, along with the technological innovations of the watch, offer the wearer the perfect tool for deep sea diving.