The announcement of a new movement from Rolex, the Caliber 3255, was all the buzz when it was originally debuted at Baselworld. Hailed by Rolex as their new-generation movement, the in-house developed and built caliber boasts 14 patents, improvements on 90% of its components, twice the precision of an official chronometer, and a 70-hour power reserve.
The current regulations set by COSC – the institute charged with testing Swiss-made luxury watches for accuracy and precision – a mandate that a mechanical movement must achieve an accuracy of -4/+6 seconds per day to be granted an official chronometer certificate. The Rolex Caliber 3255 goes above and beyond this standard with an impressive accuracy of -2/+2 seconds per day, worthy of being referred to as a "Superlative Chronometer." Go big or go home is the "Rolex Way."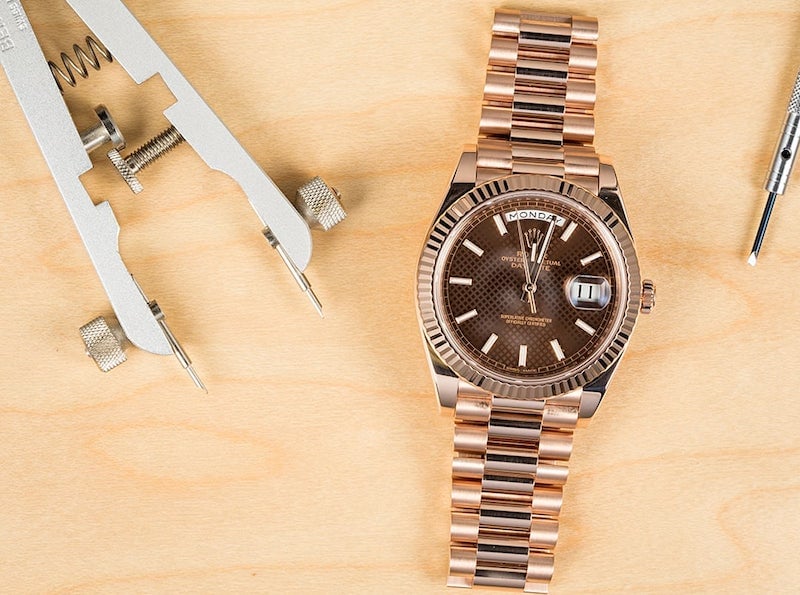 To ensure the accuracy of the new caliber holds out in the real world and not just within the confines of a sterile lab, Rolex devised their own testing methodology to echo the real-life conditions of what a watch may be subjected to while worn. So wearers can let get of their qualms and concentrate on that perfect golf swing like Tiger Woods and his Rolex.
The Caliber 3255 also offers its wearer a power reserve of 70 hours. Meaning, post-work on Friday you can switch out this timepiece with your Yachtmaster for your weekend escapades and it will still be running and ready for you to wear again on Monday morning.
The 70-hour power reserve of the Caliber 3255 offers about a 50% increase from its predecessor, the Caliber 3156. To achieve this, the watch masters at Rolex went back to the drawing board and revamped, redesigned, and reimagined several key components of the new movement – starting with the escapement.
The Swiss lever escapement – the source of that ever-so-comforting ticking sound – is found in virtually all mechanical watches. Rolex enhanced the ubiquitous escapement to produce their own patented Chronergy escapement version resulting in a 15% increase in efficiency, thus ramping up the power reserve. The Chronergy escapement is constructed from nickel-phosphorus, a material resistant to magnetic interference.
For added resistance to magnetic fields, the 3255's oscillator, which is key to a watch's precision, is equipped with a Rolex-patented blue Parachrom hairspring made from an alloy of niobium and zirconium. Plus, the Parachrom hairspring is impervious to temperature swings and is up to ten times more resistant to shocks than a traditional hairspring, making it an exceptionally precise instrument.
Where has Rolex chosen to house this new powerhouse movement? Naturally, its first home is within Rolex's most prestigious model: the new Day-Date 40, also known as, "the Presidents' watch."