Detroit's Shinola, having already revitalized the U.S. watch industry, is teaming up with Disney to bring back a true American icon: the Mickey Mouse watch. Honoring the lovable rodent's 90th birthday, the collaboration is part of "Mickey the True Original," a global celebration of the cartoon's "heritage, personality and status as a pop-culture icon." Many watch collectors starting out their life's passion with a Mickey Mouse watch strapped to their wrist.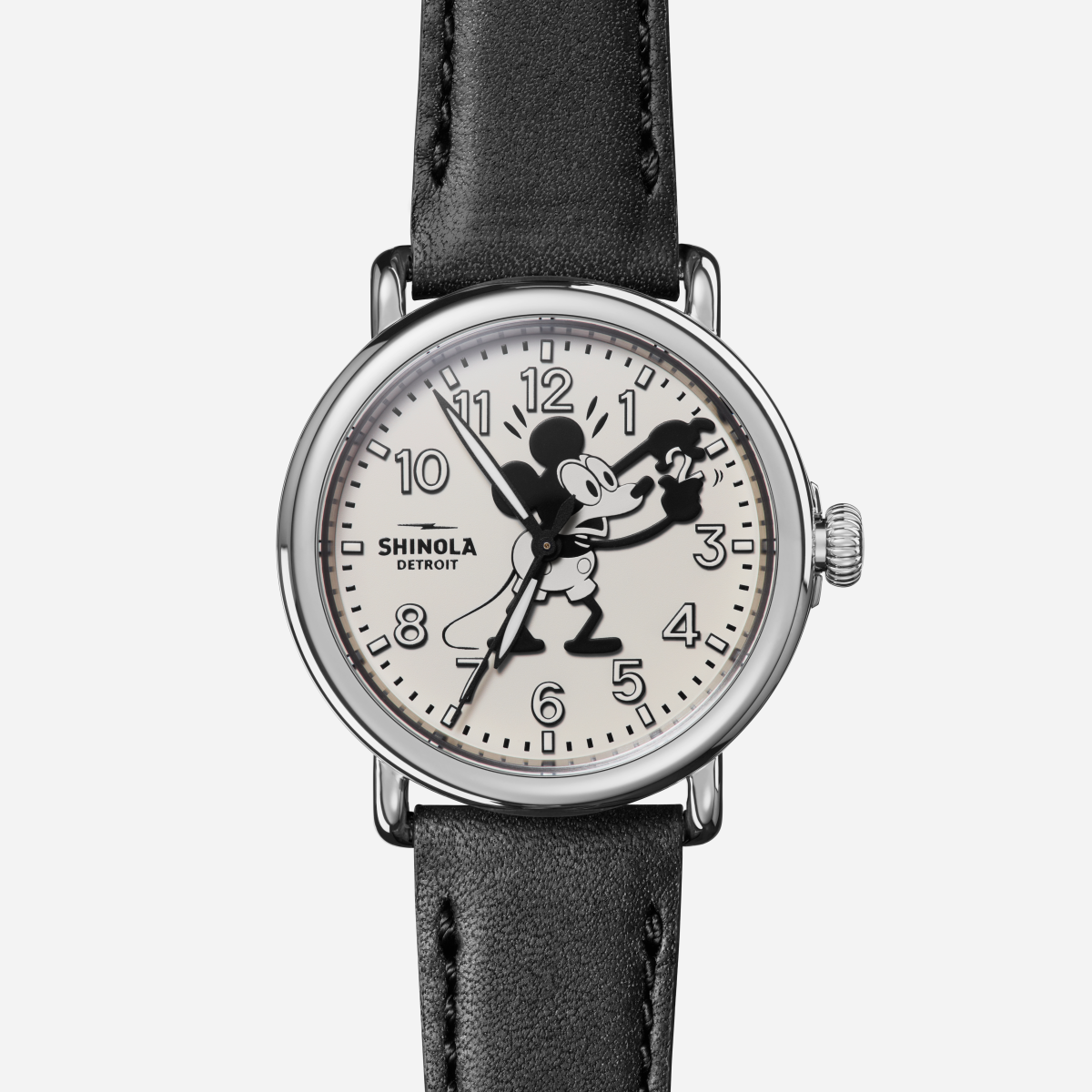 The collection includes five limited edition versions of Shinola's flagship Runwell timepieces, sized at 41mm and priced at $2,000 apiece, as well as a stainless steel Runwell featuring a black Mickey Mouse silhouette sized at 41mm and priced at $800. Each of the limited edition pieces features custom illustrations by Disney character artist Jeff Shelly inspired by iconic moments in Mickey's colorful career, two in black and white in tribute to the 1920s-era Mickey, and three in color.
Limited to 90 pieces per version in honor of Mickey's birthday, each watch comes with one of five framed original sketches of the cartoon legend, as well as a special-edition Shinola sketchbook with a "How to Draw Mickey" instructional booklet. And it's pretty obvious that each watch will sell out immediately, perhaps leading to further editions in the near future.
"Shinola is a company that believes in celebrating American success stories," said Shannon Washburn, President of Shinola. "We are proud to join Disney in honoring the magic of Mickey Mouse while also commemorating the five-year anniversary of our flagship watch, the Runwell." Shinola is also releasing some Mickey Mouse themed leather goods, audio equipment, journals, and a wall clocks which matches the silhouette watch.