Okay, so you've decided to buy a Rolex watch – Congratulations! That means you're either about to join the Rolex owners club or move one step closer to the throne as an existing member that has just added to their ever-growing collection.
One thing you'll notice pretty quickly (assuming you haven't already) is that Rolex fans and aficionados communicate in what sounds like a foreign language or Enigma-baffling code whenever they meet to discuss their favorite models. It can be a bit of a minefield out there, interpreting these long strings of seemingly random letters and numbers, so we decided to help you out by putting together this handy guide to Rolex reference numbers.
In this article, we're going to focus on modern Rolex watches and you'll find most of the models mentioned here in the brand's current catalog. You'll see that everything follows a (relatively) logical pattern and in the world of watchmaking, that's surprisingly rare (trust me). As it turns out, Rolex reference numbers aren't as complicated as you might have thought. In fact, they are actually pretty logical when it comes down to it.
Click here for our Ultimate Buying Guide on Rolex Watches.

Understanding Rolex Reference Numbers
Let's start with the 126710BLRO. This reference is perhaps the most famous modern Rolex reference number. It is so ubiquitous, you probably recognize it without even reading the characters themselves. That's right; it belongs to the runaway popular Rolex GMT-Master II in stainless steel, fitted with a "Pepsi" bezel, black dial, and Jubilee bracelet.
The reference 126710BLRO also happens to be one of the longer and more complex reference numbers in the catalog. Unlike many other brands' reference systems, Rolex's is surprisingly simple, with basic reference numbers containing just six digits (which has been the case for all newly-added Rolex reference numbers since the year 2000).
That wasn't always the case, however. In the past, Rolex watches had fewer digits used to identify them. Many of the most classic and frequently talked about vintage Rolex watches (like the GMT-Master 1675, for example) had just four-digit reference numbers.
However, for this example, we can see the first six digits are 126710. But what do they mean? Well, let's start at the beginning…
Modern Rolex Watches
The vast majority of modern Rolex reference begins with either a "1" or a "2". Newer models tend to use the "2" instead of "1" but there are other models like the Sky-Dweller, Pearlmaster, and Cellini that do not follow this rule at all. This number can normally be discounted when identifying a model as it doesn't help you define the piece in question (just its relative novelty). However, there is one exception, and that comes when trying to tell the difference between an Explorer II and a Daytona. We'll get to why that is in a moment…
Following the first digit is a three-digit family identifier. This three-digit code will tell you which model you have. For example, the three-digit code for a Rolex GMT-Master II is 267. The three-digit code for a Submariner (no date) is 140. The three-digit code for the Milgauss is 164 and so on.
So how about the Explorer II and the Daytona? The Rolex Explorer II's three-digit identifier is 165, which is always preceded by a "2" to distinguish it from the Rolex Daytona family code. Confusingly, the Daytona family code is also 165 always but preceded by a "1" instead.
Bezel Codes
The next number in the sequence will tell you the bezel type (so that's the fifth number). Bezel types are coded in the following way:
0: Smooth
1: Rotating
2: Engraved
3: Fluted
4: Gem-set
6: Rotating (again)
7: Various
Rolex Metal Codes
Following the bezel style, another single digit (the very last one) expresses the type of metal (or metals) from which the watch and bracelet are crafted. The codes are as follows:
0: Stainless steel
1: Everose Rolesor (steel & Everose gold)
2: Rolesium (steel & Platinum)
3: Yellow Rolesor (steel & yellow gold)
4: White Rolesor (steel & white gold)
5: Everose (Rolex's proprietary pink gold)
6: Platinum
8: Yellow gold
9: White gold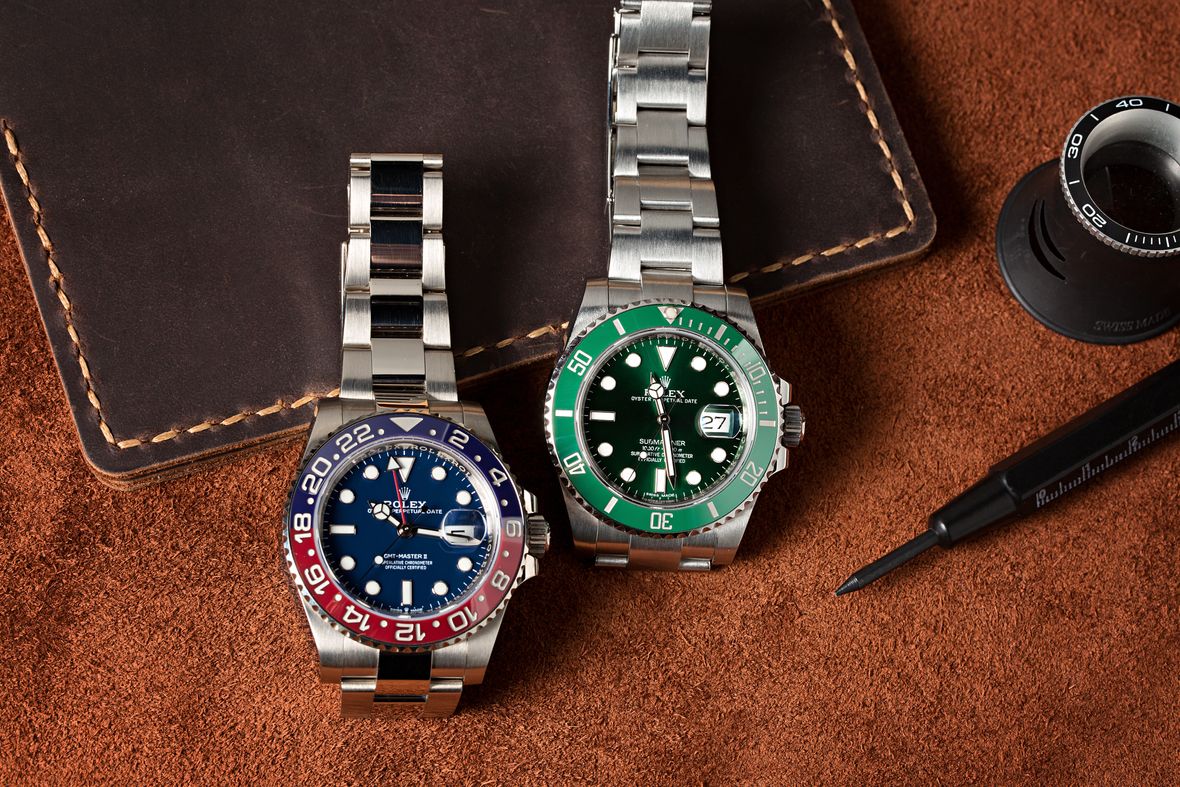 Understanding the Letters in Rolex Reference Numbers
The letters in modern Rolex reference numbers have always bothered many collectors. They look so much like they stand for something obvious, and if you've ever had that feeling, you'll be glad to know you were correct! The letters In Rolex references are actually abbreviations for French words.
As a Geneva-based company, French is the official language of Rolex. Therefore, if you know a few French words – namely colors, gems, and a small handful of watch components – the Rolex reference numbers' letters will be quite a bit easier to understand.
Bleu: Blue
Brillants: Faceted diamonds
Chocolat: Chocolate (aka brown)
Emeraude: Emerald
Glace: Window (aka crystal)
Jaune: Yellow
Lunette: Bezel
Noir: Black
Rouge: Red
Rubis: Ruby
Saphirs: Sapphire
Vert: Green
Rolex Letter Codes
With that handy dictionary in hand, the following popular Rolex reference codes will now make quite a bit more sense to you:
BLRO (Bleu/Rouge): Blue and red bezels found on GMT-Master I/II watches
BLNR (Bleu/Noir): Blue and black bezel found on GMT-Master II 116710BLNR
CHNR (Chocolat/Noir): Brown and black bezel found on GMT-Master II watches
GV (Glace Verte): Green sapphire crystal found on Milgauss 116400GV
LB (Lunette Bleu): Blue bezels found on Submariner watches
LN (Lunette Noir): Black bezels found on Submariner and GMT-Master watches
LV (Lunette Verte): Green bezels found on Submariner watches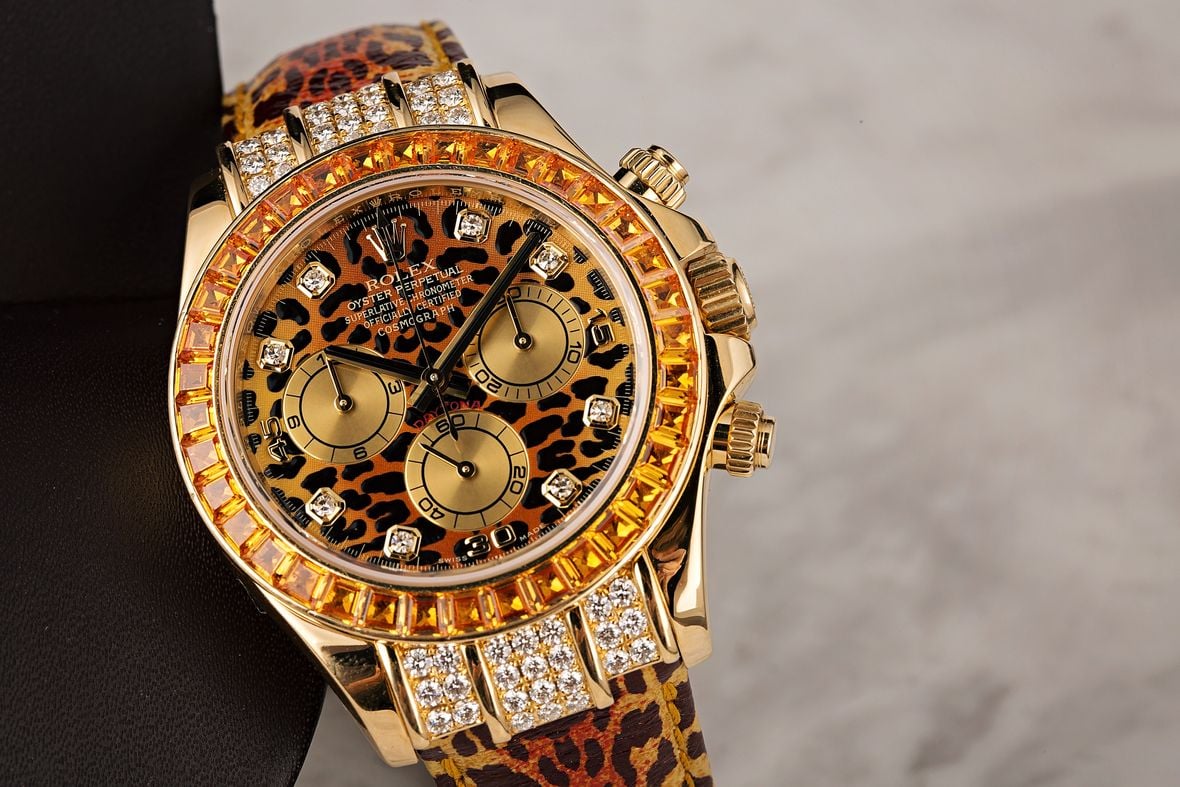 Gem-Set Rolex Watch Codes
When it comes to gem-set Rolex watches, we have to dive back into the past to find a few more working examples of what the following letter codes actually mean. It is always worth having this list as a reference point, because some of these letter codes drift in and out of Rolex's catalog depending on which ultra-exclusive models the brand is producing in any given year. Additionally, you will also see them on a number of vintage and pre-owned Rolex watches, and knowing exactly what they mean will significantly help you with your search.
TBR (Tessellate Brillants): Watch set with diamonds, such as Daytona 116576TBR
TEM (Tessellate Emeraude): Watch set with emeralds, such as Day-Date 40 228396TEM
SABLV (Saphirs Bleu Vert): Watch set with blue and green sapphires, such as Pearlmaster 39 86348SABLV
SABR (Saphirs, Brillants): Watch set with sapphires and diamonds, such as Submariner 116659SABR
SACO (Saphirs Cognac): Watch set with cognac-colored sapphires, such as Daytona 116598SACO
SAFUBL (Saphirs Fuchsia Bleu): Watch set with fuchsia and blue sapphires, such as Pearlmaster 39 86349SAFUBL
SAJOR (Saphirs Jaune Orange): Watch set with yellow and orange sapphires, such as Pearlmaster 39 86348SAJOR
SANR (Saphirs Noir): Watch set with black sapphires, such as GMT-Master II 116759SANR
SARU (Saphirs, Rubis): Watch set with sapphires and rubies, such as GMT-Master II 116759SARU