In recent years, Panerai has released a handful of watches equipped with so-called "California dials." Characterized by a mix of Roman numerals, Arabic numbers, and geometric shapes, this dial style was actually patented by Rolex in the early 1940s. Read on to discover more about the history of Panerai California dials and the Rolex connection.
Click here for our Ultimate Buying Guide on Panerai Watches.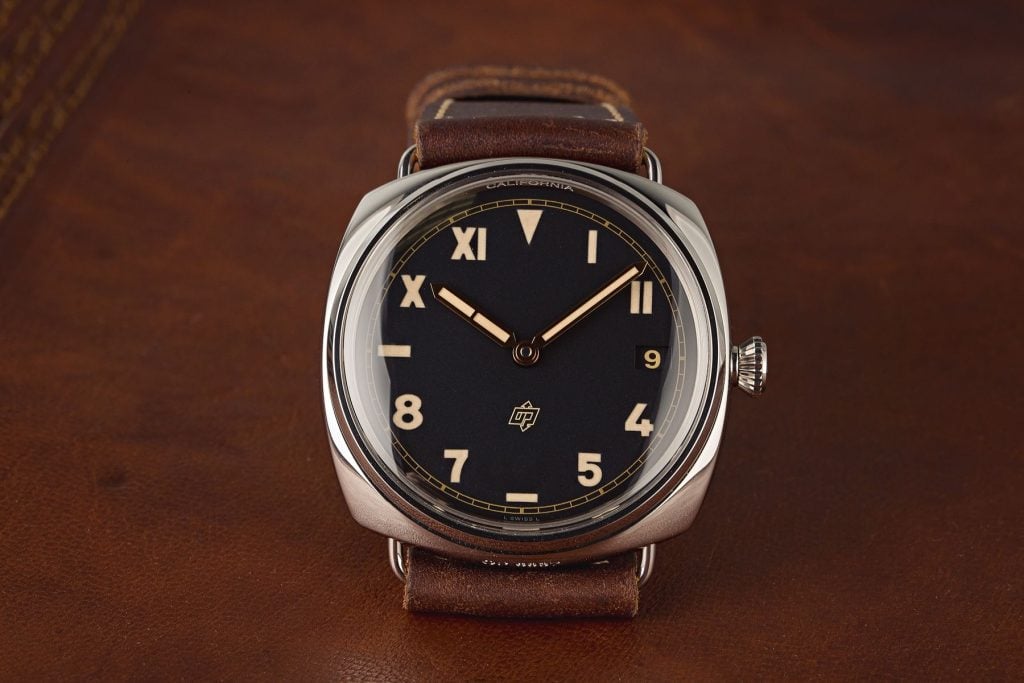 Rolex's "Error Proof Dial"
In 1941, Rolex filed a patent for a very specific dial design and was granted the patent (Brevet #221643) on July 15, 1942. The patent document is, of course, in French, but the first paragraph states (native French speaker here) that the patent is for the invention of a timepiece dial with hour markers made up of Roman numerals and Arabic numerals. It goes on to say that the appendix includes four examples of the dial invention.
If you look at Fig.1 in the appendix, you will see that the top portion of the dial is home to Roman numerals while the bottom portion includes Arabic numerals. Accompanying these numerals are batons at 3, 6, and 9, along with the inverted triangle at 12 o'clock. The patent goes on to state that this particular arrangement will give a clear view of the hours, will be easy to create with luminous materials, and will allow easy reading of the time – especially within wristwatch cases, where the dials are relatively small.
The patent does not include a specific name for the dial style, but in Rolex advertisements during that era, the copy says: "Fitted with our new patented ERROR-PROOF RADIUM DIAL. ERROR-PROOF RADIUM HANDS." As you can see, there is no mention of the "California" dial; this nickname only came about in the 1980s.
Why Is It Called A California Dial?
So how did this dial with part Roman numerals, part Arabic numerals, and part geometric markers eventually become known as the California dial? There isn't a straightforward answer, but there are some speculations.
According to blogger and Rolex historian Jake Ehrlich, there are several theories out there as to why this dial design picked up the "California" nickname. The most common theory revolves around the Rolex Bubble Back craze of the 1980s, when buyers (apparently quite a few from Japan) were looking for pieces with this particular dial layout. It appears that dealers based in Los Angeles were selling significant quantities of them to satisfy the demand, further helped by a local dial refinisher named Kirk Rich, who produced numerous dials with this half-Arabic, half-Roman configuration. Consequently, the "California Dial" name stuck.
Interestingly, Jeffrey P. Hess, co-author of "The Best of Time: Rolex Wristwatches: An Unauthorized History" asserts that the term "California Dial" was used in the 1980s to denote fake dials — dials that were redone in a way to trick potential buyers into thinking they were getting something more valuable.
Fast-forward four decades and the California nickname is widely accepted in the watch community as the legitimate name for the dials that combine Arabic numerals, Roman numerals, and geometric shapes for hour markers.
Panerai Watches with California Dials
Although Rolex never officially used the "California" moniker in reference to this style of dial, Panerai certainly has. The company frequently releases watches that are directly inspired by particular vintage models and equips them with what they officially call California dials. As some of you may already know, it was primarily Rolex that supplied watches to Panerai in the mid-20th century with waterproof "Oyster" cushion-shaped cases and modified manual-would movements.
According to Jose Pereztroika, a Panerai historian and myth-buster, Rolex also supplied the (not yet named) California dials (made by Stern Frères of Patek Philippe fame) to Panerai in 1944. However, this is in direct contradiction to Panerai's claim that its 1936 prototypes had the Roman/Arabic/geometric style dials.
Regardless of the origins and the somewhat murky retelling of Panerai's history, modern-day Panerai favors this type of dial style for its vintage-inspired watches.
California Dial Panerai Watches
Here are a few examples of Panerai watches with California dials, including discontinued and current production models:
Radiomir 1936 47mm PAM00249 (a.k.a. PAM 249)
Radiomir California 47mm PAM00931 (a.k.a. PAM 931)
Radiomir California 3 Days 47mm PAM00448 (a.k.a. PAM 448)
Radiomir California 47mm PAM00424 (a.k.a. PAM 424)
Luminor California 8 Days DLC 44mm PAM00779 (a.k.a. PAM 779
The limited edition Radiomir PAM 249 was released in 2006 as a tribute to the Panerai prototype from 1936 (again, it's worth mentioning that the veracity of the 1936 Panerai prototype is questionable).
Panerai only produced 1,936 pieces of the PAM 249, featuring a 47mm steel cushion-shaped case with wire lugs and a domed Plexiglass crystal. The highlight of the watch is its California dial with Roman numerals at the top, Arabic numerals at the bottom, rectangles at 3, 6, and 9, and an upside-down triangle at 12. At the center of the PAM 249 are the pair of blued hands for the hours and minutes.
From Error-Proof to California to Rolex Professional Watches
Though Rolex invented and patented the intriguing combination of Roman, Arabic, and geometric hour markers on a watch dial, I would venture to say that it is Panerai that is most associated with the California dial today.
Of course, there are other watch companies that have furnished their timepieces with California dials including NOMOS, Timex, Laco, and yes, even Apple. Rolex does not currently have a California dial in its current collection – you'll have to look to vintage Rolex watches for that – but as mentioned, Panerai offers several to choose from. However, it is interesting to note that the luminous inverted triangle at 12 o'clock and baton indices at 6 and 9 o'clock are now standard in many Rolex Professional watches (also known as sports watches) like the Submariner, GMT-Master II, and Explorer II.
Rolex may not produce the original "Error-Proof" design anymore, but we can certainly see the impact of the dial style on modern Rolex Professional watches.