If you're a regular reader of the Bob's Watches blog (and we hope you are), you will have no doubt seen some of our past articles discussing seemingly small Rolex dial design details that can have a significant impact on a watch's collectability and value.
Some of these dials, like the "Paul Newman Dial" or the "Sigma Dial," are well known while others, such as the "Rail Dial" are less so. So if you've ever wondered what is a Rolex Rail Dial, or stumbled across the term while looking at vintage examples of Rolex Explorer watches or Sea-Dweller, then keep reading to find out more. 
But First, What is NOT Rolex Rail Dial
Before we get into explaining the Rolex Rail Dial, we have to discuss what it isn't to avoid some confusion. When discussing watch dials, you will sometimes come across the term "railroad track" to describe the minute scale that runs around the dial periphery that looks like, well, a railroad track. You may also hear the designation "Railroad watch," which refers to high-grade timepieces that were approved for use by train crews back in the day.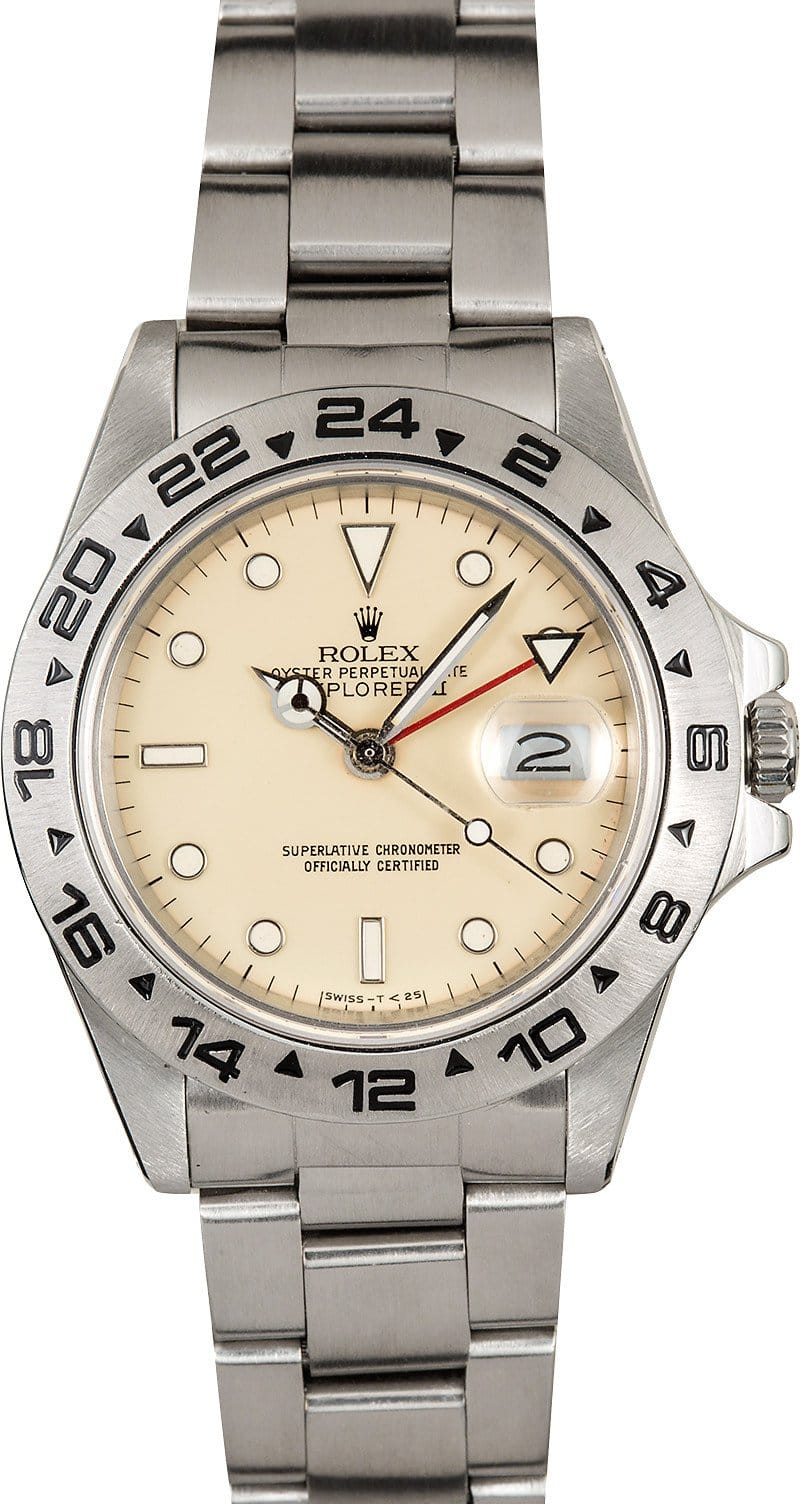 The Rolex Rail Dial has nothing to do with either of these descriptions nor anything to do with railroads.
Another thing to keep in mind is that the Rolex Rail Dial is not the same as the Rolex Radial Dial. The Rolex Radial Dial (also known as the "Mini Dial") is found on select vintage GMT-Master ref. 1675 models and it is characterized by smaller hour indexes (aka lume plots) that are positioned slightly further away from the minute track. Sometimes the terms "rail dial" and "radial dial" are erroneously used interchangeably among second-hand Rolex watch buyers.
The Rolex Rail Dial
A Rolex Rail Dial refers to the instance where the letter "C" in "Chronometer" is perfectly aligned with the letter "C" in "Certified" in the 'Superlative Chronometer Officially Certified' text on the dial. While the exact origins of the nickname "rail" is unknown, we can only assume it is because the two letters Cs line up like tracks. If you look at a typical Rolex dial, the words "Chronometer" and "Certified" are not usually arranged that way; so Rail Dials stand out as an anomaly – and collectors love anomalies.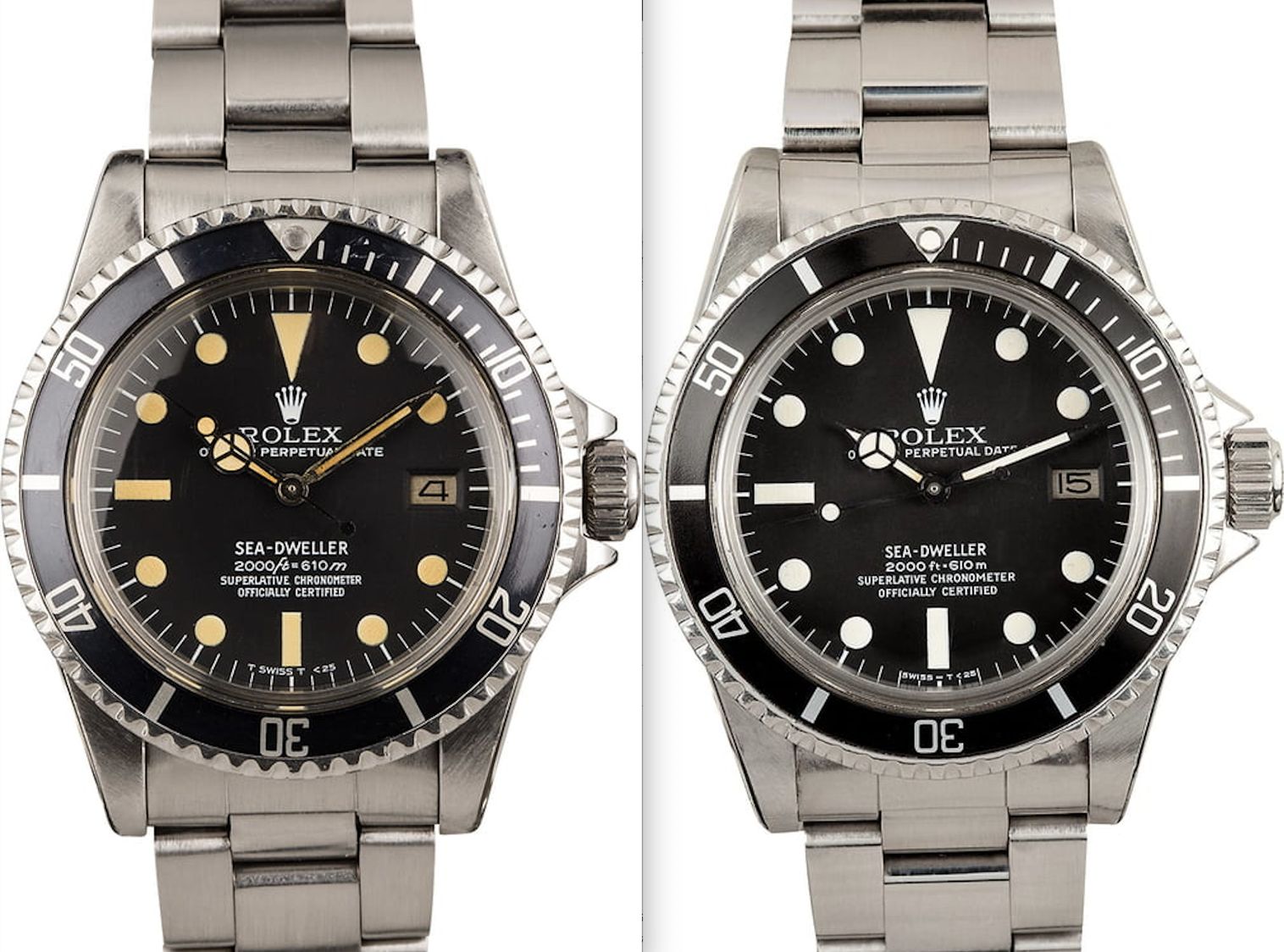 Rolex Rail Dials can be found on select vintage Explorer II ref. 1655 and Explorer II 16550 models. Yet the most famous and collectible Rolex Rail Dials are the ones are those found on vintage Sea-Dweller ref. 1665 "Great White" models and vintage Sea-Dweller ref. 1665 "COMEX" models.
The Sea-Dweller Rail Dials were produced for two short years from 1977 to 1979 by the Stern dial makers (the same Stern family of Patek Philippe fame). As a result, they are quite rare on the vintage market. This is especially true since Rolex service dials fitted to these particular Sea-Dweller watches did not have the perfectly aligned "Cs" – therefore, they are not considered Rolex Rail Dials.
In general, the placement and style of fonts on Rolex dials are of great interest to many Rolex watch collectors. In fact, dial inconsistencies have paved the way for the so-called "Mark" categorization of Rolex dials among collectors. And sometimes, a dial detail is so pronounced that it gains its own nickname outside of the "Mark" labels – such as the Rolex Rail Dial.