We've compiled the ultimate guide to buying the Rolex Platinum Day-Date watch. With years of experience buying, selling and trading watches we know what to look out for to guarantee authenticity. Whether you're a first-time Rolex buyer or have a couple of timepieces in your collection, this guide is the only information you'll need.
Investing in a Rolex Watch
Since its founding date in 1905, Rolex has become one of the most recognizable watchmakers in the world. The brand is known for excellent craftsmanship paired with state-of-the-art technologies to ensure their watches last a lifetime. From its humble beginnings in England, the brand moved to Geneva in 1919 during World War I. The brand now has four manufacturing facilities which are all based in Switzerland. Over the years, Rolex has worked very hard to build its brand around innovation and has filed more than 500 patents. They file new patents every so often to ensure their watches live up to the high standards they've set out from the beginning.
The pre-owned market for Rolex watches has just as much demand as the market for new Rolexes. This is because Rolex doesn't dramatically change the design of its watches over time. An older Rolex is instantly recognizable as it shared many similarities with its newer model. View our range of used Rolexes on our website.
Rolex Platinum Day-Date Features
Fluted Bezel
The Rolex fluted bezel is a signature feature of the luxury brand. The Oyster bezel doesn't only add to the design but has a functional purpose, too. The bezel screws into the watch case ensuring it stays waterproof for up to 330 feet, or 100 meters. This forms part of the Twinlock double waterproofness system that the Platinum Day-Date is known for.
Made Using Platinum
Platinum is a noble metal known for its exceptional corrosion resistance. It's one of the heaviest and densest metals in the world. Machining and polishing this material is very difficult due to its highly malleable and soft characteristics. Roles only uses 950 platinum which is an alloy consisting of 950‰ platinum.
Day-Date Display
Rolex made the first watch in the world, in 1956, that displays the day of the week. Spelled out in full under the 12 o'clock display, the day display is available in many languages. The date is shown in place of the 3 o'clock display under the Cyclops lens.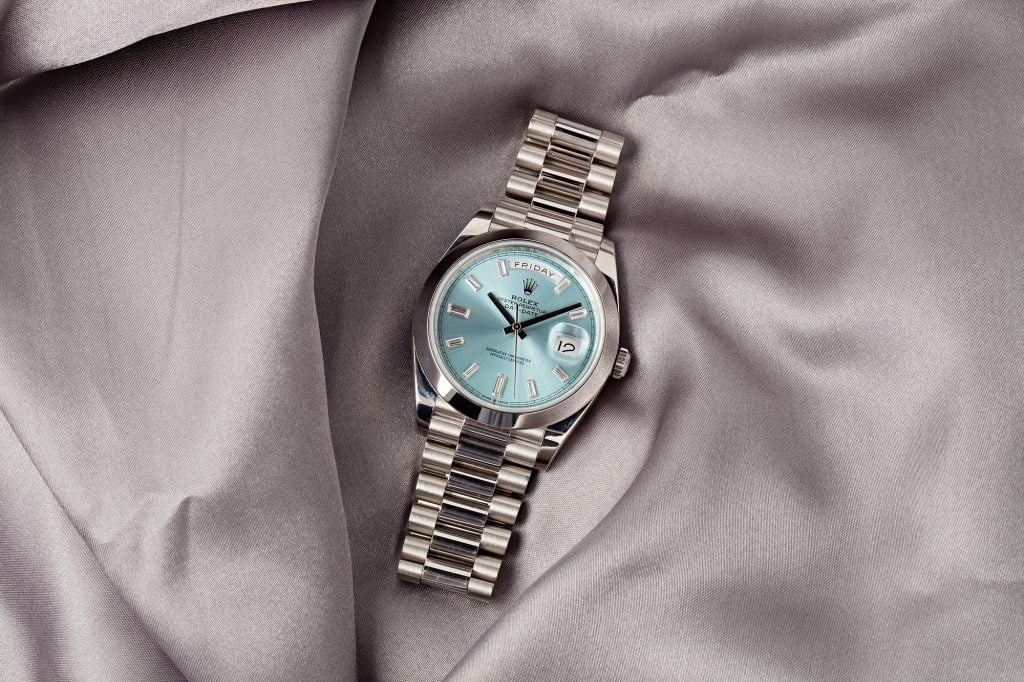 Cyclops Lens
One of the most recognizable features of Rolex is the Cyclops magnifying lens on the scratch-resistant sapphire crystal. This lens enlarges the date display by two-and-a-half times to make it easier to read. Did you know the Cyclops lens it's named after the Greek mythological giant with one eye?
President Bracelet
The distinctive president bracelet was designed in 1956 specifically for the launch of the Rolex Oyster Perpetual Day-Date watch. It's made from precious metals and undergoes strict tests to ensure refinement, strength, and comfort. The bracelet closes with a concealed folding Crownclasp.
3255 Movement
The Rolex Platinum Day-Date 40 watch is equipped with a new-generation movement, caliber 3255. With 14 patents, this self-winding mechanical movement ensures precision, power reserve, reliability, and resistance to shock and magnetism. high-performing Paraflex absorbs any shock while a Perpetual rotor ensures bidirectional self-winding. After casing, the precision is only -2/+2 per day.
Buying a New Rolex Platinum Day-Date Watch
The global demand for Role watches greatly exceeds the brand's supply. This is especially the case for their most famous pieces and their stainless steel sports watches. The Rolex stainless steel range is often priced at a more accessible level which also contributes to their high demand.
The best place to buy a Rolex is through their authorized dealer network. Official Rolex Retailers will guide you through the range of models and answer any questions you may have. They'll take you through the technical aspects of their available watches and assist you with making a decision.
In many cases, a dealer will be sold out of the model you want which means you'll be placed on a waiting list. Once you receive your Rolex, it is presented in a beautiful presentation box with a signed certificate of authenticity. The Rolex retailer will adjust the strap or bracelet for you and place the removed links in the presentation box. They will also wind the watch, set the time and date if applicable, and check the tightness of the crown.
There have been cases where the waiting list is a couple of years and you're not guaranteed you'll receive your watch. Some potential clients have waited for years only to have their requested model discontinued before they receive it. If you don't want to wait years for your Rolex, you can opt to buy one on the secondary market.
The Benefits of Buying Secondary Rolex Platinum Day-Date Watches
Official Rolex Retailers are prohibited from selling new Rolexes online. May potential buyers would rather opt to shop online from trustworthy watch trade and reselling websites. Bob's watches is one such example and has a range of Rolex Platinum Day-Date watches for sale.
Skip the Rolex Waiting List
Skipping the waiting list is one of the biggest advantages of buying a Rolex on the second-hand market. It doesn't take long for even the newest watches to make their way to the online market. When you buy a new Rolex, you're generally limited to what's currently for sale.
Find Your Perfect Model
There is a range of Platinum Rolex Day-Date watches for sale online. You'll have the choice of the original Rolex Day-Date with a case diameter of 36mm, the Rolex Day-Date II with a diameter of 41mm, or the Day-Date 40 with a diameter of 40mm. Even though the Rolex Day-Date watches have changed in size over the years, the newer Day-Date 40 features the same proportions as the original 36mm model.
Value for Money
The pre-owned market generally sells previously-loved Platinum Day-Date watches at a lower cost. The price depends on the number of watches made, the size of the case, and the condition. The Platinum Rolex Day-Date watches are the most expensive Day-Date watch when compared to the yellow gold, white gold, and Everose gold.
Appreciate in Value
The watch market fluctuates over the years. A Rolex watch bought second-hand a couple of years ago may increase in value as the market supply and demand change. If you're not thinking of reselling your Rolex, you can pass it down to family members and loved ones as an heirloom jewelry piece.
Made to Last
Rolexes are known worldwide for their durability and expert craftsmanship. Watches like the Platinum Day-Date has shock absorbers and crystal that are guaranteed to resist most scratches and bumps. When you buy a used Role watch, you'll have peace of mind that you're buying a quality timepiece that will last for generations.
How To Buy A Rolex Platinum Day-Date
At Bob's Watches, we have a constant rotation of Rolex watches for sale. If you don't immediately see your preferred Platinum Day-Date watch for sale, you're welcome to join the waiting list. We'll automatically send you a notification email the moment your favorite watch is back in stock.
We offer Rolex financing options for buyers looking to get their hands on this classic timepiece. We've also taken an authentication pledge that protects our customers from non-authentic watches. The Buyers Protection Plan automatically applies to every watch sold on our website. If you find that your watch bought on our website isn't authentic, we promise to refund you 100% of the purchase price, insurance, and shipping costs. At Bob's Watches, we're proud to offer a One-Year Service Warranty for all watches bought on our website from the date of invoice.
How Much Is a Rolex Platinum Day-Date?
Over the years, the price of Rolex Platinum Day-Date has differed greatly. Below are some models and their respective prices when bought new. We've selected the models from 2000 onwards.
In 2000, Rolex fitted a new Oyster bracelet model to the Day-Date 1800 series. It included new wristbands with different clasps and end-pieces. A new Rolex Platinum Day-Date 1800 started at $25,000. The 2008 Platinum Day-Date II model with the 41mm case diameter is priced from $45,000. The Day-Date 40 introduced in 2015 is available in 40mm with the new caliber 3255. The Platinum model starts at $48,000. This model is still in production today and buyers have a choice to add diamonds to the bezel increasing the price to $85,000.
Buy Your Rolex Platinum Day-Date Online
Bob's Watches is in the Rolex trading, buying, and selling business for many years. Our teams are experts in the business and we're proud to sell Rolex watches in excellent conditions with guaranteed authenticity.
Are you in the market for a Rolex Platinum Day-Date watch and don't want the hefty price tag or the waiting list? View our range of watches online. If we don't have the model you're looking for, contact us or add a notification to the model. You'll receive an email to let you know when it's back in stock so you have the first dibs.