There's something extremely satisfying when a watch perfectly matches its wearer's personality. The hardboiled charisma of Steve McQueen found its ideal counterpart in the Rolex Submariner, while the sophisticated insouciance of the first generation Daytona was basically made for its contemporary, Paul Newman. Away from the silver screen though, what would be the wholly apt wrist wear for the "Oracle of Omaha" – the world's most successful investor and seventh richest man on the planet – Warren Buffett?
Known for his prudent, down-to-earth lifestyle, despite an estimated fortune of around $78.9 billion (as of August 2020), Warren Buffett doesn't have a Rolex collection. However, Warren Buffett does wear  a Rolex, and that model is (of course) the Rolex Day-Date.
The Rolex Day-Date Collection
Day-Date Key Features:
Case Diameter: 36mm; 40mm;
Materials: 18k Gold (White, Yellow, or Everose); 950 Platinum
Functions: Time w/ Running Seconds + and Day and Date Displays
Dial: Wide Range of Colors and Materials.
Bezel: Fluted; Smooth; Gem-Magnification Lens
Crystal: Sapphire w/ Cyclops Crystal
Movement: Caliber 3255
Water Resistance: 100 meter / 330 feet
Bracelet: President Bracelet
Price Range: $33,150-$75,000+ (New); $7,000-$100,000+ (Pre-Owned)
Click here for our Ultimate Buying Guide on the Rolex Day-Date.

Who is Warren Buffett?
Born in Omaha, Nebraska in 1930, as the son of an investor and politician, it was perhaps  slightly predetermined that Warren Edward Buffett was going to make the world of high finance his home. He showed signs of a prodigious mathematical ability from an early age, being able to add large columns of numbers in his head as a schoolboy, and he would go on to make his first investment at age 11.
By age 13, he had already embarked on his debut entrepreneurial venture when he started selling his own horse-race-betting tips sheet, along with delivering newspapers, magazines, and golf balls door-to-door. During his high school years, he invested in a business owned by his father and at age 14, he purchased a 40-acre farm worked by a tenant farmer. Later into his school years, he bought second-hand pinball machines and installed them in a number of local barbershops, then sold the business for a profit when he went to college.
By the time he had earned a Master of Science in Economics from Columbia University in 1951 (at just 20-years of age), Buffett had already earned almost $10,000 from his fledgling companies (the equivalent of more than $100,000 today). It would take just a little more than another decade for him to have turned that into his first million.
Already a millionaire by 1962, and adept at identifying and investing in undervalued firms, Buffett started buying shares in a textile manufacturer called Berkshire Hathaway. By 1965, he had assumed control of the company and moved it away from manufacturing and instead started to acquire stock in media giants such as The Washington Post and, later, ABC. The insurance conglomerate, GEICO and oil corporation, Exxon were also high profile early investments.
From there, Buffett has continued a stratospheric rise in the industry, officially becoming a billionaire by 1990 and reaching almost mythic status. Recognized as a truly great storyteller, Berkshire Hathaway's annual shareholder meetings are referred to as the "Woodstock of Capitalism" – with more than 20,000 people from all over the world flocking to hear Buffett's address – a mix of elite business debate and folksy, Midwestern humor.
Today, Buffett stands to be acknowledged as one of the most philanthropic individuals of all time, vouching to donate his entire fortune to good causes – the largest single act of charitable benevolence in U.S. history – as well as forming The Giving Pledge with Bill Gates, which looks to recruit more of the ultra wealthy to donate their riches too.
How Does the Man Who Has Everything Tell the Time?
Raised Presbyterian, perhaps the only thing Buffett is known for as much as his prowess as an investor is his frugal lifestyle. Famously, he still lives in the same five-bedroom, stucco house in Omaha he bought in 1958 for $31,500, mainly because it is only five minutes away from his office.
His favorite local restaurant is Gorat's Steak House, where the 6oz sirloin open-faced sandwich sets Buffett back about $9. (He reportedly eats exactly 2,500 calories a day; no more, no less). He finally upgraded to an iPhone in 2020, after being content with a Nokia flip-phone for at least the last 10-years, and he is known to purchase hail-damaged cars and drive them until they are, in his own words, "embarrassing." So, between being born into the generation who expected things to last, plus having done fairly well for himself financially, really the only choice Buffett had when it came time for a watch was the Rolex Day-Date.
He is rarely seen without the yellow gold 36mm Rolex President on his wrist, complete with a silver dial and fluted bezel. It has never been disclosed which exact generation of the model he wears, but it has been said that he has worn the same exact one for decades now. Based on the numerous photos of him wearing the watch, the model appears to be an example from one of the older generations with 5-digit reference numbers, either the ref. 18038 or ref. 18238.
Warren Buffett's Rolex definitely has a sapphire crystal on it immediately ruling out all of the older 4-digit reference models, as the ref. 1803 and all Day-Date watches before it featured acrylic crystal. From there, identifying which 36mm Rolex President he owns becomes quite a bit more difficult, but based on the shape and finish of the lugs, it likely is one of models from the 5-digit series, as the following 6-digit generation features slightly broader lugs with a full high-polish finish. This is also supported by the fact that he has reportedly owned the same Rolex President for several decades now.
It is no secret that one of the keys to Buffett's incredible success is generally only investing in companies whose products he likes and uses. Buffett remains perhaps the largest stakeholder in Coca Cola for just that reason and he has also tried (unsuccessfully) to purchase Rolex in the past and add it to his remarkable portfolio.
Rolex S.A. is actually a bewildering collection of separate companies, some of which seem to own parts of each other. Additionally, it is wholly under the control of the Hans Wilsdorf Foundation, which is recognized by the Swiss government as a charitable trust, and so it pays no corporate income taxes. As a result, Buffett's offer of a buyout was politely refused, but as the man himself says, "They know my phone number."
Why the Rolex Day-Date President?
Released in 1956, the Rolex Day-Date immediately replaced the Datejust as the brand's flagship collection of watches. Unapologetic in its exclusivity, the watch has only ever been crafted from precious metals; either 18k solid gold or the noblest of them all, platinum. The first of its kind to display both the date and the day of the week spelled out in full, it was an instant hit and became a must-have for world leaders and captains of industry.
Numerous United States Presidents have owned and worn Rolex Day-Date watches, and it is this association that has resulted in the model's universally recognized "Rolex President" nickname. However, it is Lyndon B. Johnson who is attributed as the first Commander-in-Chief to wear one, the model known forever afterwards (unofficially) as the President.
The "President" name is not one that Rolex has ever officially used to describe the watch itself, although it is the actual, formally-given name for the Day-Date's signature bracelet. A three semicircular-linked band, crafted in the same luxurious metal as the rest of the piece, the Rolex President bracelet was created especially for the launch of the Day-Date in 1956.
Over the years, the Rolex President's fan base has broadened, helped along by the watch's chameleonic nature. A wide ranging selection of different bezel and dial options has been added to cater to tastes as diverse as possible, and these days it has become the number one choice for people at the top of almost every field. Today, you are just as likely to see one on the arm of a heavyweight champion or hip hop mogul as you are a somber high-level bureaucrat.
Buffett's example is actually one of the least showy and most traditional, as you might expect. Yellow gold falls in and out of fashion in different eras, but it is always present. Something about his general demeanor suggests that Buffett bought his Rolex President in the 1980s when he first made it big and he has looked after it and held onto it ever since.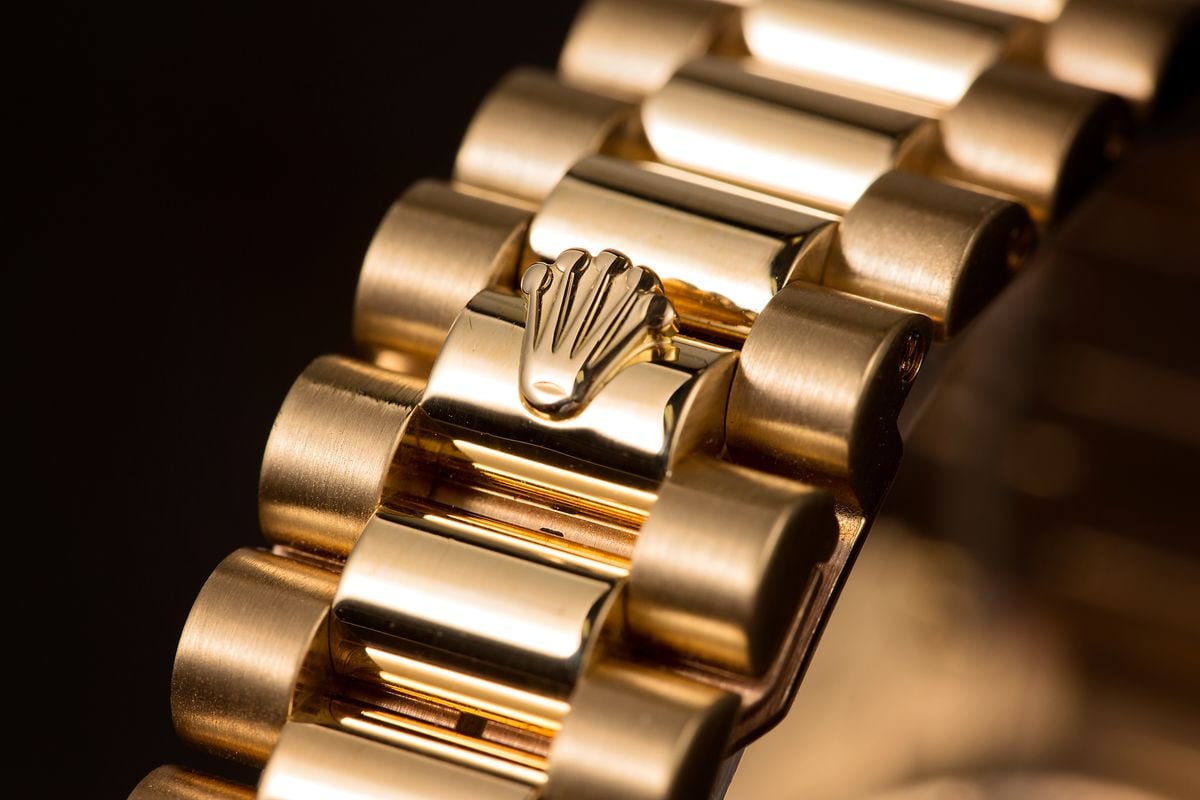 Who Wears What Watches?
In truth, many of Warren Buffett's Masters of the Universe financial colleagues have particularly low-key tastes with their watches as well. For example, Larry Fink, the chairman and CEO of BlackRock – the largest investment fund in the world – wears a Tag Heuer Grand Carrera as he oversees the $5 trillion that his company manages. The same model can often be found for around $4,500 on the pre-owned market .
Stephen A. Schwarzman, the Chief Executive of the Blackstone Group, who has a personal net worth of over $18 billion, is content with a simple quartz-powered Swatch. The cost of that watch: approximately $100. Meanwhile, David Solomon, the President and co-COO of Goldman Sachs, chooses to buy American with his $750 Shinola Runwell Chronograph. Those are, at least, the watches with which they have been pictured. What they have in the vault at home we can only imagine.
With that in mind, Warren Buffett does genuinely seem to be a one watch man. Nearly every photo you will find of him will have the exact same watch on his wrist, and if you are going to go through your whole life accompanied by the same timepiece, what better choice than the Rolex Day-Date?