If you could buy a Rolex watch for yourself, which would it be? We guess most people would have a long list. However, most people wouldn't think to choose the Rolex Yacht-Master 40 – a hidden jewel in the Rolex professional line up in a 40mm stainless steel case.
To take you back in time, Rolex Yacht-Master (YM) was in development for a while. It's regarded as one of the most demanding watches produced by Rolex and took several years to finish. Its concept was born as early as the mid-1960s, but it wasn't until the 1990's that the model was officially released to the market.
With its updated styling and re-engineered mechanical movements, the Rolex Yacht-Master 40 is a unique watch that straddles style and luxury at a comparatively lower price. Below, we'll discuss the Rolex Yacht-Master 40, and provide expert tips when buying the watch.
Rolex Yacht-Master 40: An Ultra-Modern Design
A line up of the Oyster Perpetual family, Rolex Yacht master 40 collection is a series of watches with a unique design built to withstand the elements. It was originally designed for diving enthusiasts but is refined enough to fit the daily wearer.
The Yacht-Master 40 was first introduced in the 90s. Since then, it has undergone several upgrades. One of the first products of the YM line is the ref. 16628 in 18k yellow gold. In 1999, amidst the Y2K bug, the brand introduced another line in caliber 3135 movement – the ref. 16622. Instead of an 18k yellow gold, the watch boasts stainless steel material with a platinum bezel. Back then, the watch model was touted as the "celebrity favorite" as Phil Collins, Bruce Willis, and other personalities were spotted wearing it.
Fast forward to 2012, the ref. 116622 was born. It still had the platinum dial but with some distinctive configuration, such as the shimmering effect and a glittering finish. Finally, the 126622 joined the Rolex catalog in 2019. The best thing about this watch is that it offers an Oysterflex bracelet option that allows for increased flexibility without sacrificing comfort or style.
With its evolution, the Rolex Yacht Master 40 is a stunning watch with an elegant and stylish design, perfect for any occasion. Above all, it has all of the features you would expect from a luxury watch brand like Rolex:
The 40 mm Oyster case exemplifies solid craftsmanship and elegance.
It comes with a sapphire crystal that protects its face from scratches.
The model also features an automatic movement with a date display at 3 o'clock on the dial.
The bezel is made of ceramic and titanium, which makes it incredibly strong and durable.
Rolex Yacht-Master 40 watch comes with an Oyster Steel bracelet that is resistant to rust and corrosion.
With a folding Oysterlock safety clasp, you can easily put on or remove it without worrying about it falling off.
As the name implies, this watch is popular with yachtsmen because it has high water resistance and a rotating bezel.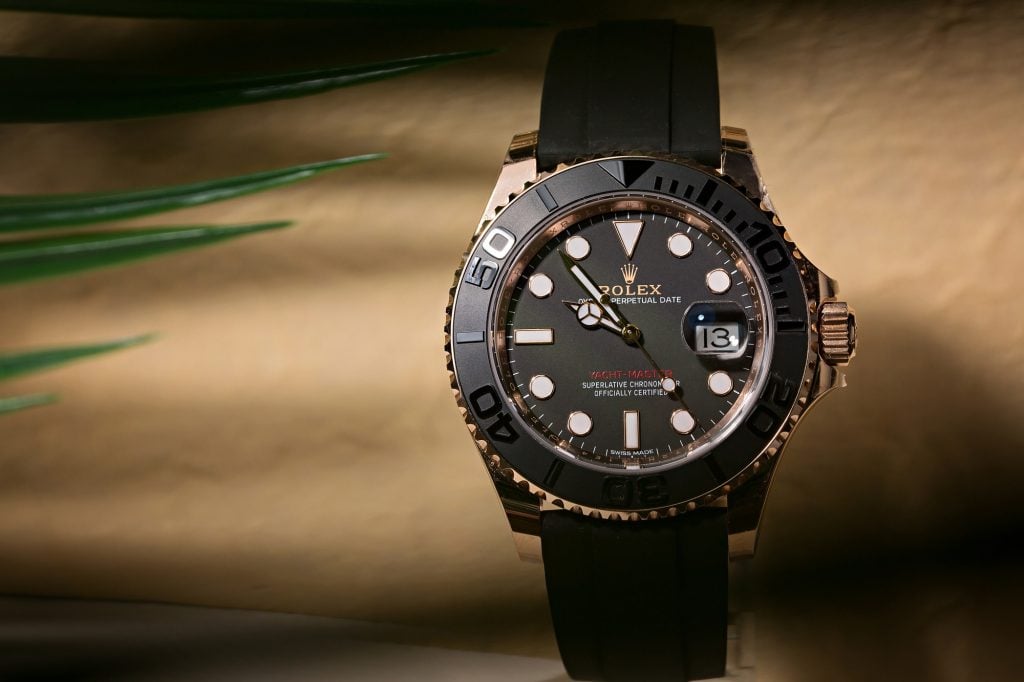 Reasons To Buy a Rolex Yacht-Master 40
As a successful person, we know you'll choose to grab a Rolex – specifically a YM 40 model due to its bolder look. Beyond that, there are several reasons to buy a YM 40 watch.
Signifies Status & Success
The Rolex Yacht Master 40 is a watch that says quite a bit about its wearer. Whenever you have it on your wrist, it simply shouts, "You've made it!" Created to stand the test of time, it represents the pinnacle of exquisite watchmaking. It's an icon of success, power, and prestige.
No matter what you do or where you go, this watch will serve as a reminder of your accomplishments. You worked hard to get where you are. It's time to enjoy the fruits of your labor by treating yourself to one of the Yacht-Master 40 series.
Functionality
Rolex Yacht-Master 40 has always been the symbol of precision and excellent performance, thanks to its Chronograph movement. With its sleek lines, accurate timekeeping, and blistering performance, the Rolex Yacht-Master 40 is a tool watch built to last. You can trust that it keeps up with your relentless pace. It's no wonder that this beautifully-crafted timepiece has been a favorite of professionals, businessmen, and sailors for years.
Investment Potential
Due to the brand's longstanding history and notable name, Rolex watches are currently worth a significant amount on the vintage market, making buying a used model or original model watch a sound investment. Also, due to their high price tag, they hold value whenever you want to resell them in the future.
What To Look For When Buying a Rolex Yacht-Master 40 Watch
The Rolex Yacht-Master 40 is essentially a luxury yacht on your wrist. It's bold, powerful, and gives you the feeling of freedom. However, there are a few things that you need to know before you purchase this hefty piece. If you take the time to check out these few tips, it will make it much easier for you to get one of these watches and enjoy the lifestyle that comes with it.
Examine the Condition of the Watch
Like most things in life, the condition affects the value of a Rolex watch. It's especially important if you're looking to purchase a pre-owned Rolex Yacht-Master 40. Mostly, you'll look for one in excellent condition and priced below the high end of reasonable. However, these watches are rare and are almost impossible to find.
Nevertheless, when you buy, thoroughly check the condition of the watch, such as:
The bezel, crystal, or bracelet should be free from deep scratches.
There should be no stains, marks, or corrosion on the dial and markers.
The links in the bracelet should be snug and not loose or stretched out.
Additionally, watch boxes and maintenance documentation come with new YM 40 watches. However, if a pre-owned watch doesn't have paperwork that comes with it, the only way to ensure authenticity is to be very knowledgeable about the model. In addition, reputable sources like Bob's Watches offer at least a year's warranty.
Be Alert on Spotting Fakes
Yacht-Master 40 (or Rolex watches, in general) are a good business due to their quality and price. That's why many people get the opportunity to sell imitations to make money.
With that in mind, here are tips on what to look for when trying to spot the real deal:
The watch's weight speaks of the quality materials used to create it. Thus, if it's a light one, it means they're made of low-quality materials.
The Rolex Yacht-Master 40 is remarkable, so its second-hand movement is smooth and not choppy.
It has a completely clear and scratch-resistant sapphire crystal. A watch with a tinted or chipped crystal is probably fake.
Genuine YM 40 watches are made of precious metals. They feature a variety of different styles, but they all have a silky-smooth finish to them. Fakes have a dull look.
The luminous markers should be visible in the dark, and the dial should be free of scratches or imperfections.
Ensure that the bezel is moving smoothly without catching or clicking.
Moreover, do your research and employ all the tactics you can to ensure you're getting a genuine product. Any trace of imperfection that isn't normal wear and tear should make you question the authenticity of the piece.
Shop from a Certified Seller
To save yourself from dealing with fake YM 40, always buy from a certified dealer. They are typically well-established businesses that have been selling fine timepieces for decades. They should be registered with their local government and have the proper tax paperwork available upon request.
A reputable watch dealer will have a professional staff, carry a large stock of new or pre-owned watches, have a warranty policy, and never be pushy or try to rush you into making a purchase. They should be familiar with the process and will keep you informed every step of the way. If you ever find yourself feeling uncomfortable or uncertain of the seller's intentions, leave immediately.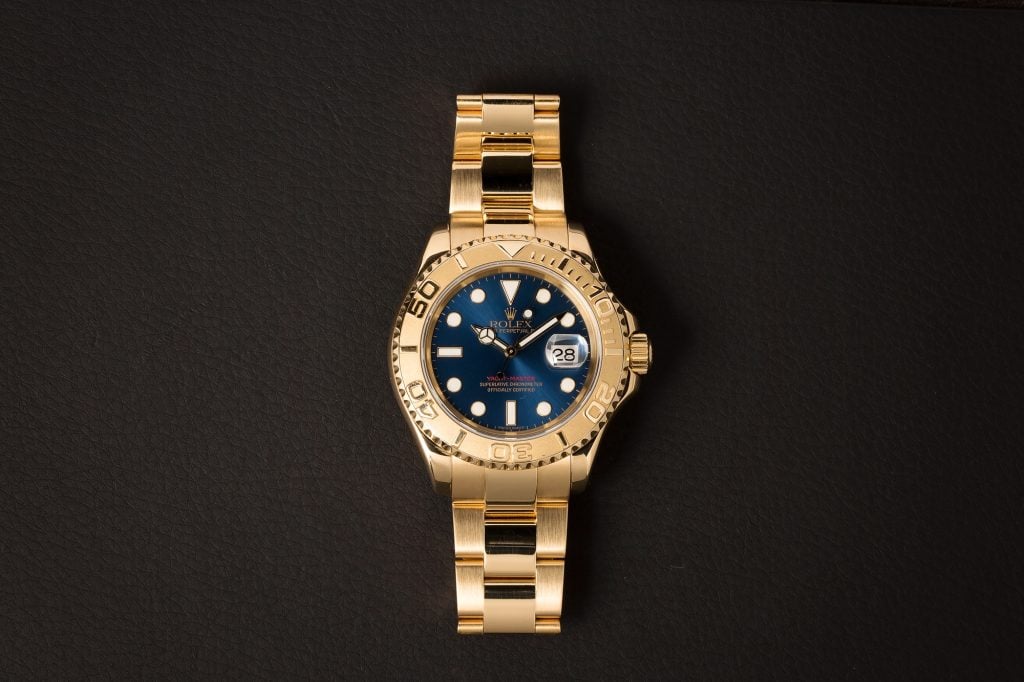 How Much Does a Rolex Yacht-Master 40 Cost?
Rolex Yacht-Master 40 watches are a classic, timeless design that can be worn by anyone. While most people will say it's pricey, you might be surprised to learn that they're relatively affordable, especially compared to other Rolex watches. Depending on the model, age, and materials used, you can expect to pay between $5k and $50k for a new or used Rolex Yacht-Master 40.
Shop Our Rolex Yacht-Master 40 Collection
Without a doubt, the Rolex Yacht-Master 40 is one of the most versatile watches in the brand's lineup. If you're interested in buying a new or pre-owned YM 40, we're sure that you will find the perfect one in our Rolex Yacht-Master 40 collection. We pride ourselves on our selection of high-quality, durable Men's Rolex watches you can wear everyday.