When there's almost as much discussion surrounding a particular watch movement as the watch itself, it's clear that the timepiece has reached a certain status within watch collecting circles. For example, it's not uncommon to hear caliber numbers thrown around nearly as often as reference numbers when collectors speak of the Omega Speedmaster Professional Moonwatch. Some movements are more sought after due to their rarity while others are prized for their technical advancements. Let's take a closer took at a pair of similar Omega Speedmaster movements, Caliber 1861 vs. 1863, to highlight their differences and similarities.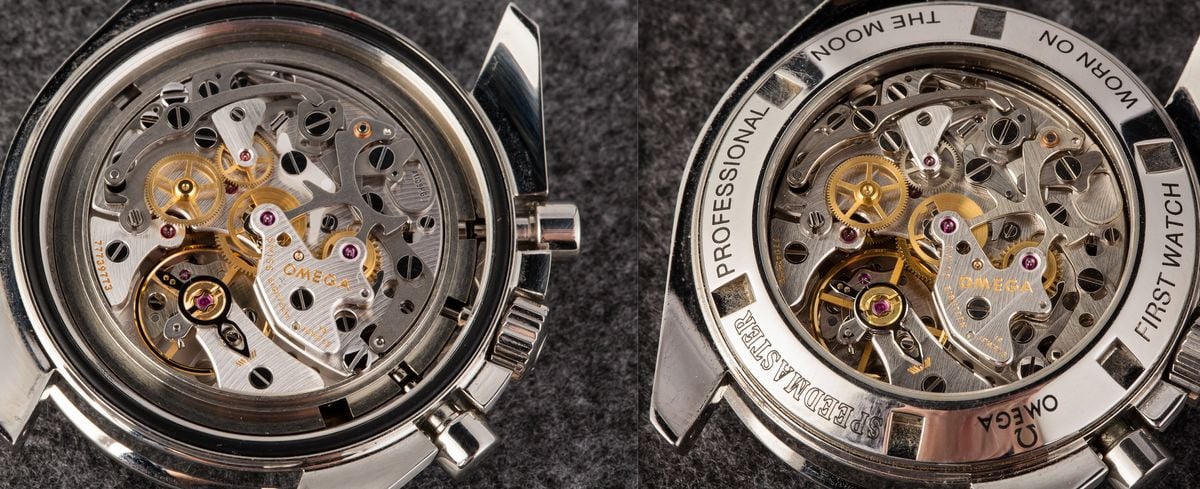 Brief History of Omega Speedmaster Moonwatch Movement Evolution
As some of you may already know, the Omega Speedmaster made its debut in 1957 as a chronograph dedicated to motorsports. Powering the chronograph was the hand-wound Lemania-based Caliber 321, which is a column-wheel controlled, lateral-clutch chronograph revered for its beautiful design. The first few generations of the Speedmaster ran on the Cal. 321 (references 2915, 2998, 105.002, 105.003, 105.012, and 145.012), including the Speedmaster watches that journeyed to the moon on Apollo 11.
However, when Omega introduced reference 145.022 in 1969, the Speedmaster now had another movement inside its case: the Lemania-based Caliber 861. Unlike the Cal. 321, the hand-wound Caliber 861 has a cam-controlled chronograph and was significantly easier to produce due to its simple architecture. The debut of the Speedmaster with Caliber 861 coincided with the watch's new "Moonwatch" nickname; however, 9t was the Caliber 321-equipped references that were actually worn on the surface of the moon.
Caliber 861 (and its derivatives) continued to be the go-to movement for the standard Speedmaster Professional "Moonwatch" references until the introduction of ref. 3570.50 in 1996, which featured the Caliber 1861. The main difference between Caliber 861 and Caliber 1861 is that the newer movement features rhodium-plated parts instead of the previous copper-plated and un-plated parts. Omega still uses the Caliber 1861 and its derivatives today, and these movements are readily found in current-production Speedmaster Professional Moonwatch references.
Omega Caliber 1861 vs. 1863
The Omega Caliber 1861 is a hand-wound chronograph movement that operates at a frequency of 21,600 beats per hour (3Hz) and provides a power reserve of 48 hours when fully wound. It has 18 jewels and its parts are rhodium-plated. Omega has been using this movement in select Speedmaster watches since 1996; however, it is not found in any other current-production Omega watches. Modern Speedmaster Professional Moonwatch references that house Caliber 1861 include the Speedmaster ref. 311.30.42.30.01.005 and the Speedmaster 311.33.42.30.01.001. There are other modern Speedmasters that also run on the Cal. 1861; however, these do not fall within the parameters of what an Omega enthusiast would consider 'true descendants' of the 42mm stainless steel Moonwatch.
Caliber 1863 is based on the Caliber 1861 with identical performance, but it is the movement reserved for models with transparent casebacks. Therefore, because Cal. 1863 is on display while Cal. 1861 is hidden behind a solid caseback, Caliber 1863 is the more attractive version, featuring circular graining on the baseplate, bridges with Geneva stripes (also known as the Côtes de Genève, and polished edges on levers and bridges. Additionally, the Caliber 1863 is equipped with a metal chronograph brake while the Caliber 1861 is fitted with a Delrin (a plastic polymer material) chronograph brake. Current-production Speedmaster Professional Moonwatch references that run on the Caliber 1863 include Speedmaster ref. 311.30.42.30.01.006 and Speedmaster ref. 311.33.42.30.01.002.
In short, while they perform identically, Caliber 1863 is the luxurious version of Caliber 1861, decorated to be more aesthetically pleasing since it is the movement destined for Speedmasters with display casebacks.