Every single Rolex watch has a corresponding reference number, and understanding the Rolex reference number system will ultimately allow you to gain a much better understanding of the brand's timepieces themselves. Over the years, Rolex has added digits to its number system, and each time a digit has been added to the brand's reference numbers, that new generation of watches has been accompanied by its own list of updates, traits, and features.
While at first glance, each one may look like an arbitrary string of digits, Rolex reference numbers are the key to unlocking information about a watch's production era, the type of model, its bezel style, and even the materials that are used in the construction of its case and bracelet. If you've ever wondered why Rolex has used different length reference numbers over the years, then read our guide to the differences between 4, 5, and 6 digit Rolex reference numbers.
Click here for our Ultimate Buying Guide on Rolex watches.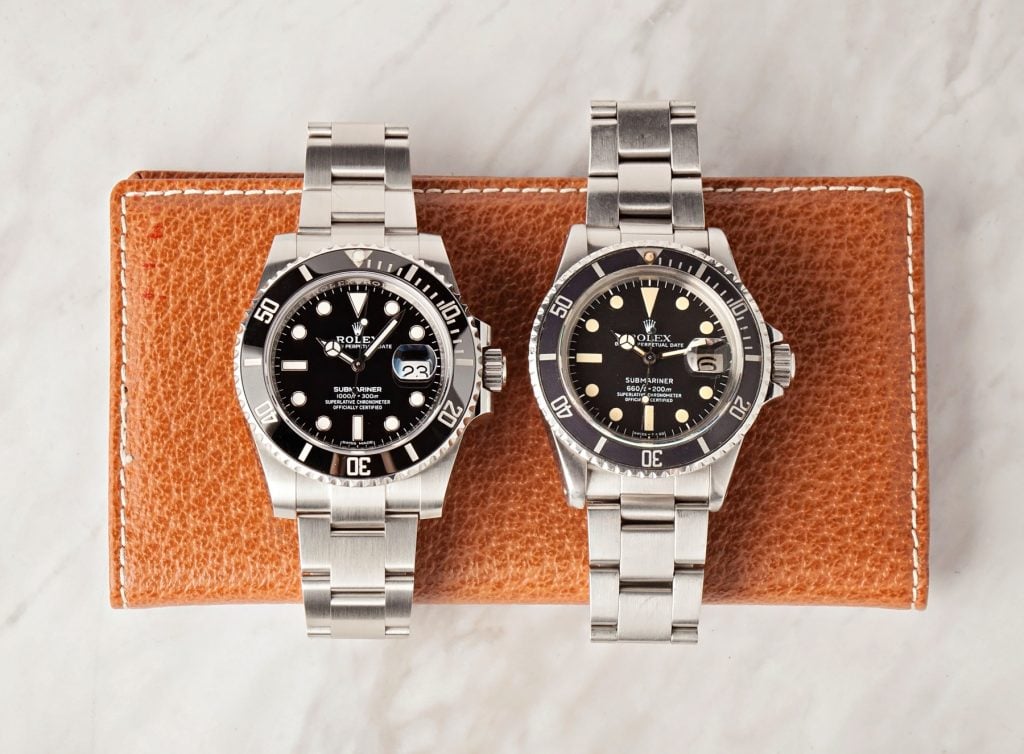 Productions Eras: 4, 5, and 6 Digit Rolex Reference Numbers
Vintage watches are typically classified as those more than 30 years old. Watches younger than three decades but not currently in production are sometimes called retro watches if they are close to being towards the cutoff of vintage; however, the entire category most frequently just gets referred to as discontinued watches. Lastly, models that are part of the present Rolex catalog (such as the Rolex Daytona ref. 116500LN or latest generation of Submariner models with 41mm cases) are called current-production watches, and these are the ones that you still find in stores, although you will likely have to spend some amount of time on a waiting list before you will actually be able to buy one.
How many digits a Rolex reference number has can indicate the watch's general production era. With that in mind, Rolex added digits to its reference number system by individual model, so there isn't a single year where every single timepiece across the brand's entire range saw its reference numbers become one digit longer. Generally speaking, most Rolex watches with four digit reference numbers were produced sometime before the late 1980s, and they are therefore considered to be vintage watches. For instance, the vintage Submariner 1680, the vintage GMT-Master 1675, the vintage Daytona 6263, the vintage Datejust 1601, and so on.
Rolex began producing models with five digits in the late 1970s and had (more or less) transitioned all of its models to five-digit reference numbers by the late 1980s. Therefore, whether a five-digit Rolex is categorized as vintage or discontinued comes down to its production era. For example, the Day-Date 18038, Sea-Dweller 16660, and GMT-Master 16750 are generally classified as vintage Rolex models, while the Day-Date 18238, Sea-Dweller 16600, and GMT-Master II 16710 are not necessarily considered to be vintage models, although with each year that passes, they continuously move towards becoming vintage.
In the 2000s, Rolex transitioned from five-digit to six-digit reference numbers by either adding a 1 or 2 to the beginning of the various reference numbers. For example, the Rolex Explorer was updated from the ref. 14270 to ref. 114270, the Datejust from 16200 to 116200, the Submariner from 16610 to 116610, and the Daytona from 16520 to 116520. Despite the additional digit, the core reference number system and the significance of the various digits within it remained the same, with the last digit signifying the materials of the watch, and the second to last numeral indicating the style of bezel fitted to it.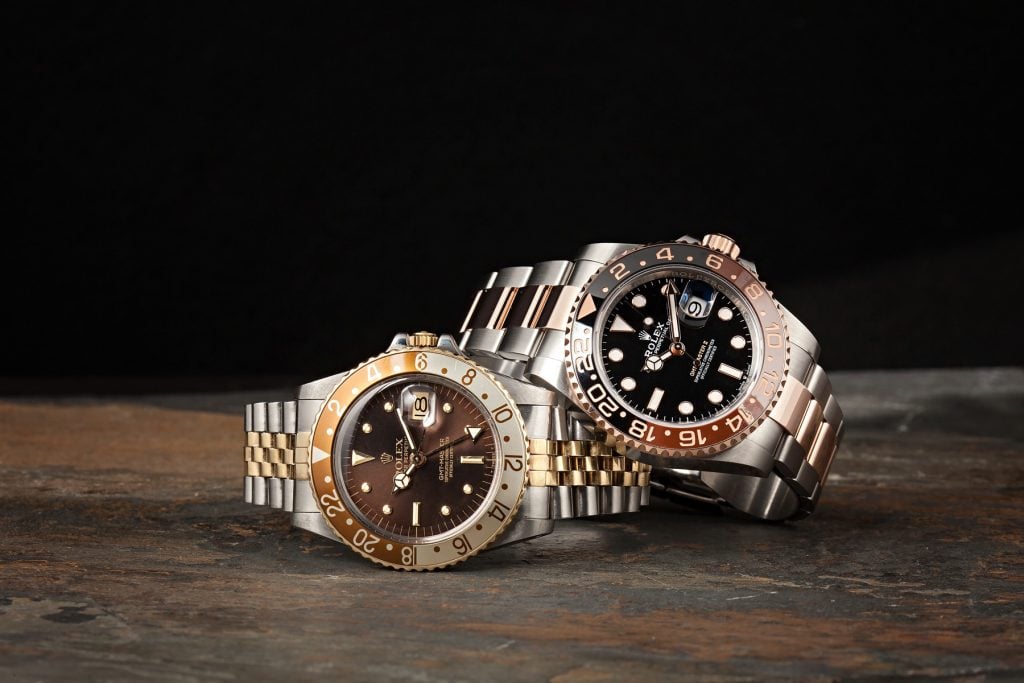 Rolex Reference Numbers Ending with Letters
Additionally, the introduction of six-digit reference numbers was accompanied by two or four letter additions to the end of certain model's numbers as a way to denote the color of the Cerachrom ceramic bezel that was fitted to the specific watch. For example, the first generation of two-tone Rolex Submariner watches fitted with blue dials and blue ceramic bezels was known as the reference 116613LB, while the version fitted with a black dial and matching black ceramic bezel was listed as the reference 116613LN.
In this instance, the B stands for "bleu" and the N stands for "noir" (meaning "blue" and "black" respectively in French). Other models with two colors of ceramic for their bezels, such as the Batman GMT-Master II were given four-letter endings to their six-digit reference numbers. The original Batman GMT-Master II is officially known as the reference 116710BLNR and in this instance, BL stands for "bleu" and NR stands for "noir" to denote that its bezel is made from both black and blue ceramic.
Up until fairly recently, it was safe to assume that a six-digit Rolex reference number meant that the watch was a current production model. However, starting around 2015, Rolex began discontinuing some six-digit models and replacing them with fresh versions with either new movements, upgraded design details, or both – while still retaining the six-digit reference number format. Therefore, there are now both discontinued models and current-production Rolex models that have six-digit numbers, although any timepiece with a six-digit reference number is generally considered to be a modern Rolex watch, regardless of whether or not it is still in production.
Different Types of Luminescence by Rolex Reference Number
There are some design details on a Rolex watch that can help you tell the difference between a 4, 5, and 6 digit Rolex reference number. For example, the type of luminous materials used on Rolex watches has evolved over the years. Radium was used until the early 1960s; tritium until the late 1990s; LumiNova until about 2000; Super-LumiNova until the late-2000s; and then finally, Chromalight (which was used alongside Super-LumiNova for a number of years until Rolex completely switched over to using its own proprietary blue-glowing Chromalight material.
If the watch uses radium for its luminescence, then it is guaranteed to have a four-digit Rolex reference number. Tritium can be slightly trickier to pin down due to the fact that it remained in use for such a long time, but if a Rolex watch has tritium lume then it is safe to assume that it has either a four or five-digit reference number. Similarly, if the specific watch in question has either Luminova or Super-LumiNova, then it more than likely has either a five or six-digit reference number. Lastly, if a watch has blue-glowing Chromalight then it is guaranteed to have a six-digit Rolex reference number, since the material itself didn't make its first appearance until after Rolex had almost entirely switched over to a six-digit reference number system.
All of that being said, if the watch is fitted with a service replacement dial that was installed at a later point during repairs or routine serving, then the watch has the potential to be from a significantly earlier era. Rolex will replace dials and hands with updated versions when watches need repairs, and while you won't find a four-digit model with a dial that has blue Chromalight lume, you will find some that feature either Luminova or Super-Luminova, and will appear similar to the style of luminescent material that can be observed on later-era models with five-digit or six-digit reference numbers.
Crystals and Bezels: 4, 5, and 6 Digit Rolex Reference Numbers
Rolex also changed the type of crystals used to protect the dials of its watches. Originally, the company used acrylic crystals, while it now uses clear sapphire crystals. The transition started slowly in the 1970s, picked up steam in the 1980s, and was completed by the early 1990s. Except for the Rolex Quartz 5100, Datejust 1630, and the Rolex Date 1530, virtually all four-digit Rolex reference number watches were originally fitted with acrylic crystals. Additionally, all Rolex watches with six-digit reference numbers have sapphire crystals. That said, depending on the specific model, five-digit Rolex references can either have acrylic or sapphire crystals.
For most of its history, Rolex has used aluminum to make the bezel inserts on its sports watches. However, in 2005, Rolex introduced the Cerachrom ceramic bezel insert to the GMT-Master II collection. Eventually, Rolex replaced all aluminum bezels with Cerachrom ceramic across the Submariner, Sea-Dweller, and GMT-Master II collections, along with replacing the stainless steel bezel on the Daytona with a Cerachrom equivalent and even prominently appearing in different forms throughout the Yacht-Master collection. Consequently, if your Rolex watch has a ceramic bezel, then it is guaranteed to be a model with a six-digit reference number.
In short, the evolution of the Rolex reference numbers from four, to five, to six digits mirrors the evolution of the watches themselves. Generally speaking, the longer the reference number, the newer the watch, and each different generation of models is characterized by its own unique traits and features. Do you typically favor 4, 5, or 6-digit Rolex references? Leave us your thoughts in the comment section below.