Rolex first introduced the Submariner model during the 1954 Basel show. The first reference to be introduced was ref 6204. Collectors debate as to why this particular reference was released before ref 6200, which was being produced at the same time. Ref 6200 was not introduced until the following year. Some believe it was because ref 6200 used the old style bubble back case, old ungraduated bezel and caliber A296/775 movement. Despite featuring some "old" traits, this special super watch took the 100 meter water resistance of the thinner and sleeker ref 6204 and bumped it up to 200 meters.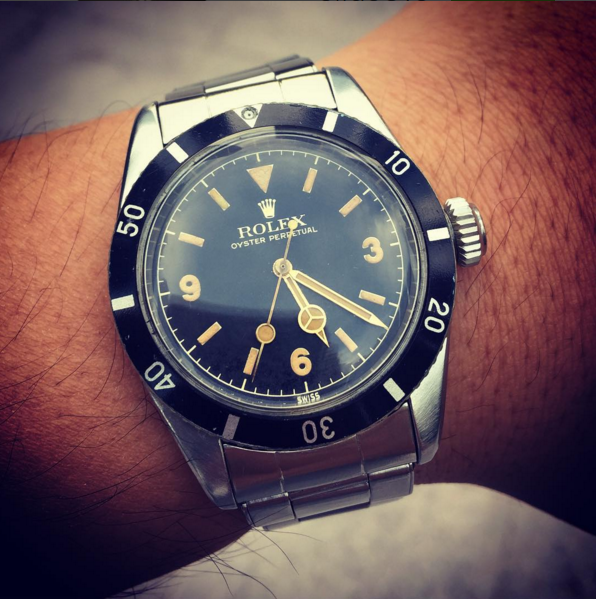 A Few Things About The Submariner 6200
One of the most striking features of vintage Rolex Submariner ref 6200 is the 8mm crown. This over sized winding crown gives this particular reference the nickname "Big Crown Submariner." Unlike many other Submariner versions, most ref 6200s look the same. For example, Submariner ref 1680 is known for having both red and white versions. Ref 6200 features many traits that collectors find desirable such as the popular gilt "Explorer" dial with numerals 3, 6 and 9 as well as a bezel without any graduation markings. Ref 6200 is also believed by collectors to be the first Submariner model to feature the now iconic Mercedes style hands. Unlike many later models, ref 6200 does not display the name "Submariner" on its dial. Many have commented that ref 6200 may have served as the inspiration for the new ceramic Submariner. Both feature a "supercase" which is much squarer in shape, thanks to fatter lugs, than previous models.
By the early 1960s, the Submariner design had taken a new turn towards other versions, such as ref 5508 which features a smaller crown and the caliber 1030 movement. These later models, released throughout the 1960s, defined the iconic Submariner look and have greatly influenced modern Rolex design and made even more popular due to various films.
The Big Crown Submariner is one popular and rare version of the Submariner, similarly to MilSubs, Reds, Double-Signatures and even COMEXs. If you are a fan or avid collector of Rolex Submariner models, the Big Crown Submariner ref 6200 is considered one of Rolex's "holy grails." Though it seems to have been an experimental model that was produced in small numbers, this makes it even more highly prized by collectors and Rolex enthusiasts. Some even claim that ref 6200, despite being released later, was the first Rolex Submariner ever made. While its history is shrouded in mystery, it is safe to say that anyone who wants an actual piece of Rolex history, not to mention an extremely valuable and rare watch, should add the Submariner ref 6200 to their collection.