A look at a historical Rolex Anti-Magnetic Chronograph
When one thinks of a vintage Rolex chronograph, naturally the iconic Cosmograph Daytona collection comes to mind. However, Rolex had been producing chronograph watches decades before even the first Cosmograph Daytona was released. And a particularly special predecessor of the Cosmograph is the Rolex Anti-Magnetic Oyster Chronograph 5034.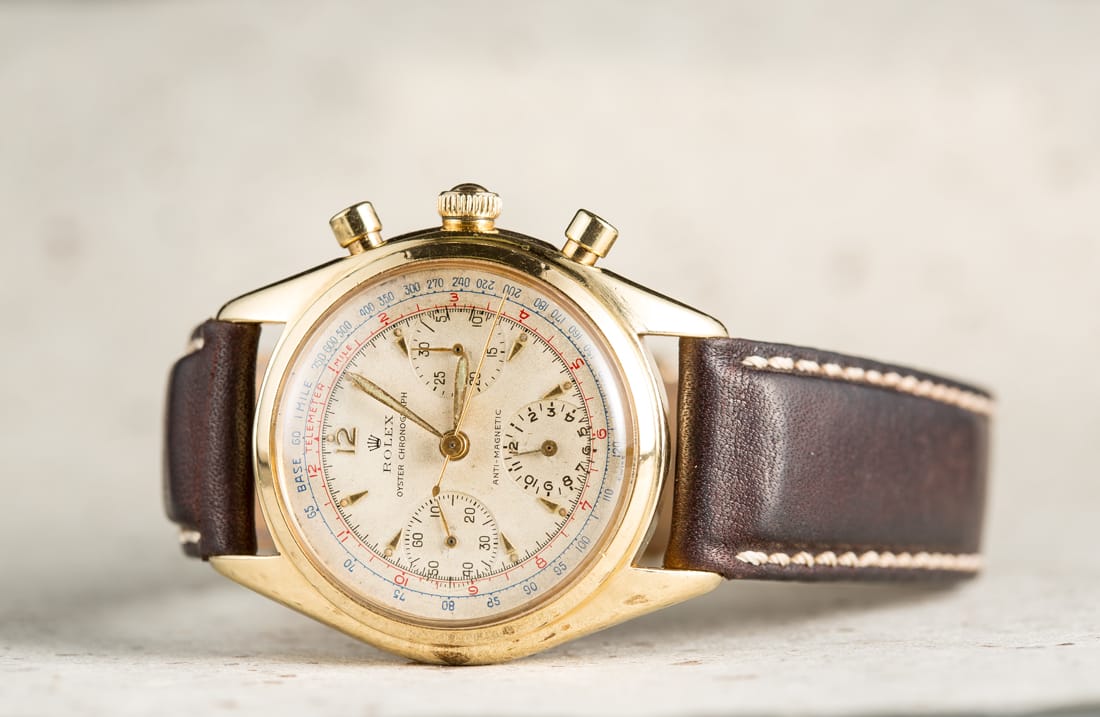 Ready, Set, Go
Rolex joined the chronograph market by unveiling its first five chronos in 1937, all equipped with a single pusher button to start, stop, and reset the timer function. The single button configuration proved to be inefficient – it didn't allow users to take into account disruptions during timed events – and Rolex followed up with two-button chronographs a few years later. During the Second World War, Rolex launched what is considered to be the first Oyster Chronograph, the ref. 4500, which was later joined by the 6232 and 3668. These three particular models only had two subsidiary dials, absent of the 12 hours counter, and snap-on casebacks.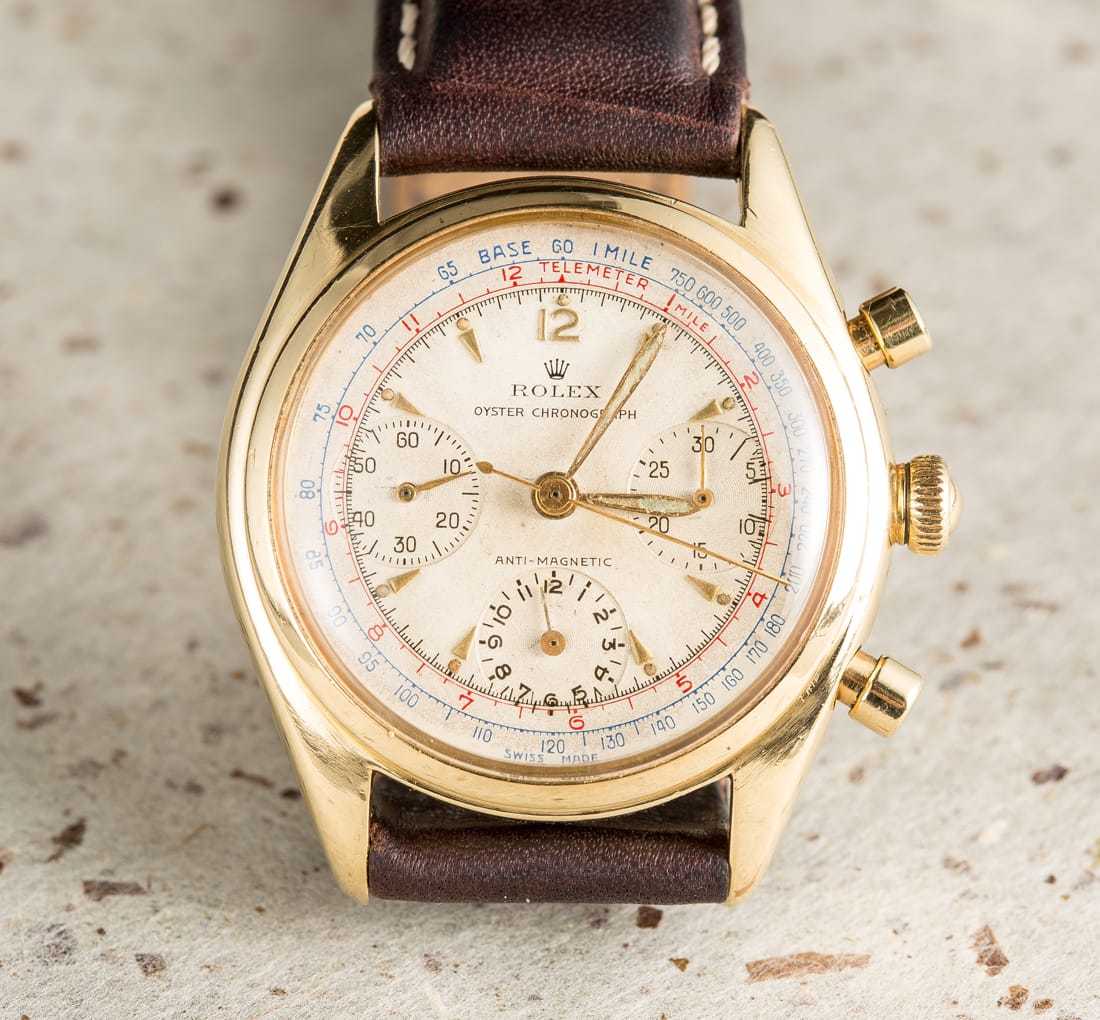 In 1949 the ref. 5034 joined the brand catalogue. The Anti-Magnetic Oyster Chronograph 5034 was the first Rolex chronograph featuring an Oyster case with the three pusher buttons and three sub dials. It remained in production for about 15 years where it was manufactured in quite a limited quantity. The 5034 was eventually replaced by the Rolex 6034.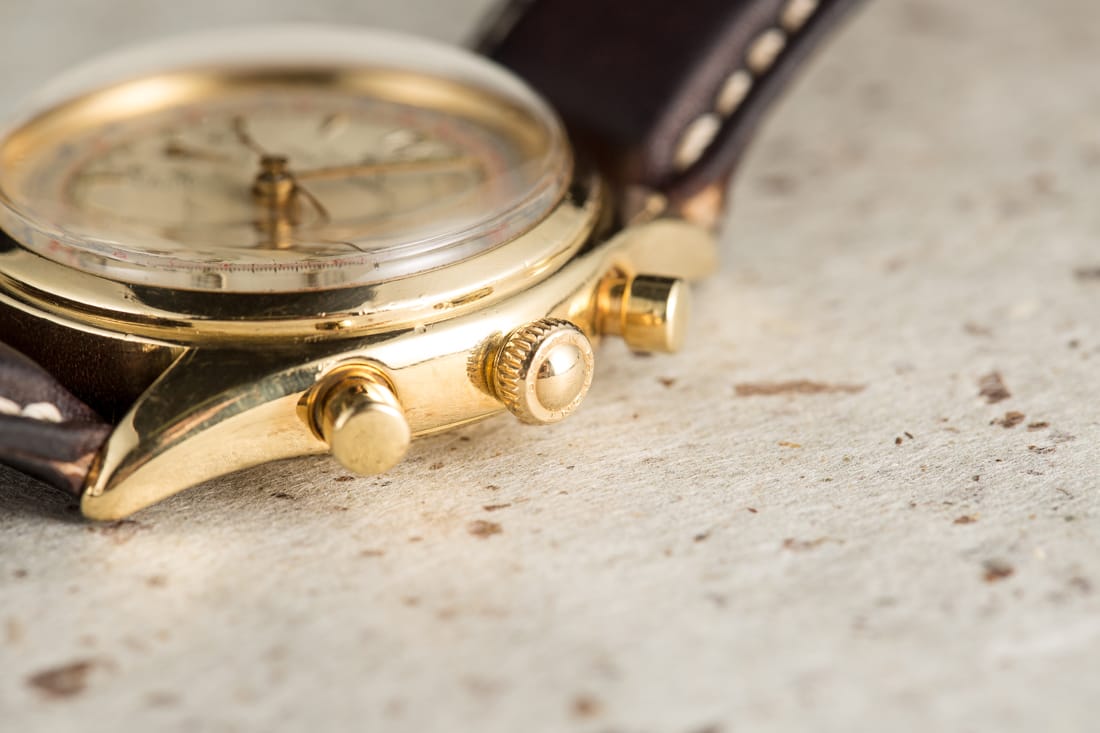 Crafted in Gold
The 5034 chronographs were crafted in either yellow or pink gold and the manual winding Valjoux 72 movement with 17 jewels powers the hour, minute, second and chronograph functions. This particular 18k yellow gold Rolex 5034 with its elegantly sized 35mm Oyster case hails from 1960.
Anti-Magnetic
On the white dial of the 5034 are two scales – the red telemeter scale and the blue tachometer scale, which of course would eventually be engraved onto the bezel of Rolex's future Daytonas. Intriguingly, the outer measurement scales overlap the edges of the three subsidiary dials – something we also see on the 6064 – which is dramatically different from the sleek dials of the future Cosmographs. The gold hour, minute, chrono, and sub-dial hands and gold triangular hour-markers match up nicely with the gold case, and here we also see the presence of a "12" numeral above the Rolex logo. The dial also proudly bears its "Anti-Magnetic" label prominently placed above the 12 hour counter at 6 o'clock.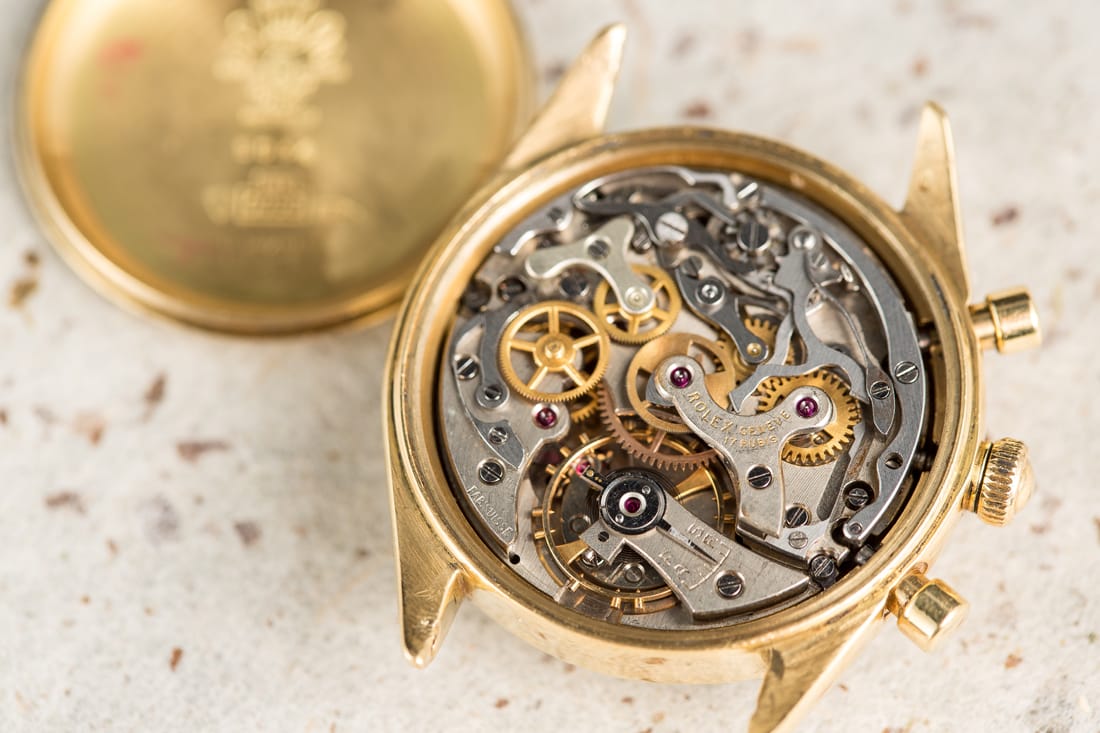 Launched 66 years ago and an integral part of the Rolex chronograph story, the Rolex Anti-Magnetic Oyster Chronograph 5034 is a little taste of the brand's history and heritage. A very fine vintage piece with an unmistakable classic sporty charm that was a driving force behind the subsequent Rolex chronograph watches.