We've mused before on pairing vintage Rolex sports watches with modern supercars, but rarely do we get to test the move with such panache as our recent excursion in the incredible new AMG GT C Roadster. New for 2018, the sexy-as-hell convertible sits at the pinnacle of Mercedes-Benz's sports car range; the 550 hp fireball can do 0-60 mph in 3.7 seconds with a top speed of 196 mph.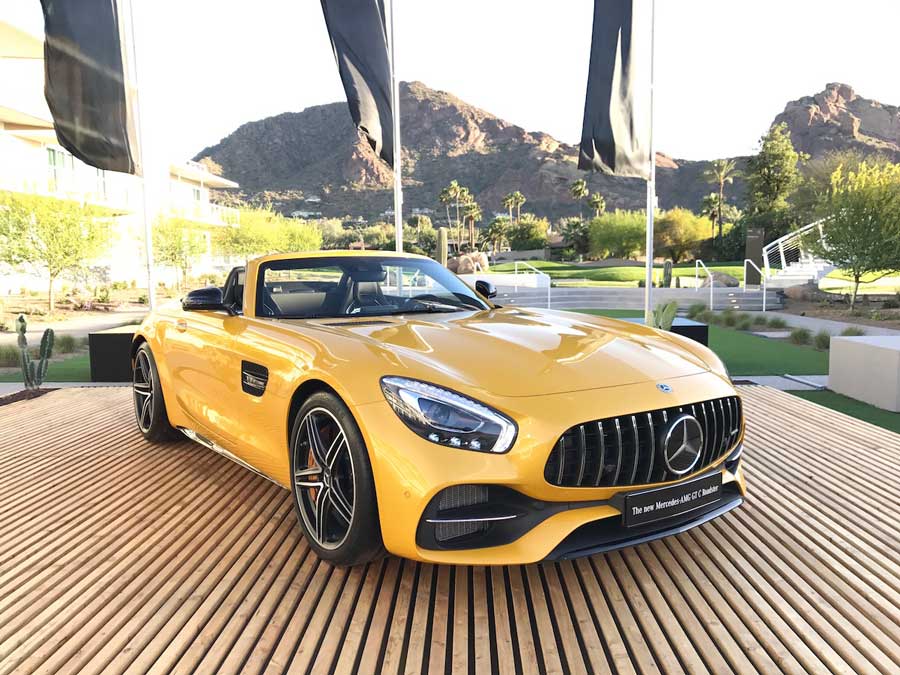 Modern Or Vintage
You might think that a modern Rolex Daytona would suit the car to a tee, and you wouldn't be wrong in that, but there's something a bit more elegantly daring in opting for a vintage model instead. Which is where the impeccable Daytona 6263 "Big Red" comes in. The piece, from the personal collection of Bob's Watches founder Paul Altieri, is just shy of the famous exotic dial "Paul Newman" of the same period and reference, and altogether a much better deal for the savvy collector.
Rolex Daytona 6263
First debuted in 1967, the one we strapped on features the coveted black dial with white sub-dials and the iconic "DAYTONA" legend in red which gives this piece its nickname. The vintage Daytona 6263 is also equipped with screw-down chronograph pushers, which Rolex introduced in 1965, as well as a waterproof screw-down crown which prompted the addition of the word OYSTER between ROLEX and COSMOGRAPH. Though they've never had a partnership, Rolex and AMG share a similar heritage, committed to the ultimate in performance, precision, and craftsmanship. There's a natural alliance between the two brands which both produce mechanical wonders capable of extreme feats. AMG was founded in 1967 by a couple of guys tuning Mercedes cars in their garage; Mercedes parent Daimler-Benz AG took a controlling interest in 1999, making it official.
Right from the start AMG cars proved capable of wiping the tarmac with the competition, and inspired every luxury car brand to add its own performance division. The AMG GT C Roadster is the direct descendant of the famed Mercedes-Benz 300 SL "Gullwing", perhaps the most beautiful car ever made. The AMG GT's predecessor, the SLS AMG, featured the same gullwing doors. But having driven both cars we can state that the AMG GT is by far the superior piece of machinery. The Roadster version is the ultimate in open-topped motoring, which to us always gives things a bit of a vintage feel, dating back to the time when sports touring cars did not come equipped with fixed roofs. Driving the AMG GT with the 6263 on our wrist served as a constant reminder that we were piloting the most elegant convertible on the road, beneficiary of Benz's century-plus of prestige, performance, and prowess. It's a great feeling, to say the least…