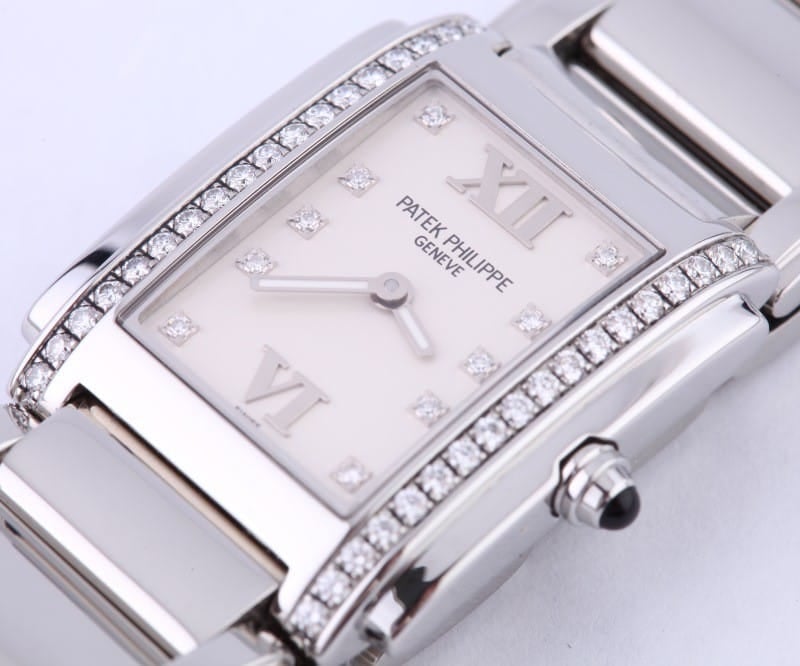 With a mantra that states, "You never actually own a Patek Philippe, you merely look after it for the next generation," Patek Philippe watches are seen as precious heirlooms to be passed on to younger family members. Regarded as the very pinnacle of Swiss luxury watches, the history of Patek Philippe stretches back to 1839. Based in Geneva and owned by the Stern family, Patek Philippe timepieces, along with Rolex watches, cause the most excitement at auctions since they are prized for their collectibility. Although much of their catalog focuses on men's timepieces, Patek also manufactures highly sought-after ladies' watches including the Twenty-4.
Patek Philippe Twenty-4
Introduced in 1999, the Patek Philippe Twenty-4 was quite a departure from their traditional timepieces. Produced for the modern and active women, the first Twenty-4 reference, 4910/10A, was constructed in robust stainless steel rather than gold. In fact, it was the first Patek Philippe steel ladies' bracelet watch by the Swiss watchmaker. However, the Twenty-4 is still ultra luxurious with its Top Wesselton diamond case and diamond dial. Although inspired by the lines of the vintage Patek Philippe Gondola watches, the Twenty-4 is undeniably contemporary. The Twenty-4 may have started as a stainless steel model, but today it is also available in 18k rose and white gold.
Ref. 4910/10A-011
This particular Patek Philippe Twenty-4 ref. 4910/10A from 2004 is actually the same reference of the inaugural Twenty-4 and remains as one of the most popular models within the collection. The rectangular case of the ref. 4910/10A measures 25mm x 30mm and it houses a tasteful white dial. Aside from the ten top quality diamonds on the dial, the face of the watch is quite minimal. Only two white gold applied Roman numerals indicate the hours at 12 o'clock and 6 o'clock, while the luminous center hands include hours and minutes only. Not only does the characteristic integrated link bracelet give the watch its famous look, it also wears very comfortably. Furthermore, the bracelet's steel bracelet features a fold-over clasp with the manufacturer's iconic Calatrava Coss. Finally, on the crown of the Patek ref. 4910/10A is a black onyx lending yet another elegant touch to the timepiece.
Driving the Patek Philippe Twenty-4 ref. 4910/10A is the high precision E15 quartz movement with six jewels and 57 parts. The Patek ladies' signature watch is water resistant to 30 feet (100 meters).
Prized for its sophisticated silhouette, reliable timekeeping, and Patek Philippe craftsmanship the Twenty-Four is a must-have for any chic woman's jewelry box. An absolute classic in ladies' luxury watches, the timeless elegance of the Twenty-4 ensures that it lives up to the brand's guiding principal to craft watches that will live on through generations.