With high precision technologies developing at an incredible rate, more and more startup companies are taking advantage of the reduced costs to launch independent watch brands. The horology world seems to be awash with aspiring entrepreneurs producing groundbreaking models, often at very attainable prices.
These new microbrands are shaking up the centuries-old industry. Where the historically big names can often be guilty of taking the more conservative route with their latest releases, understandably opting to play it safe to avoid alienating a loyal and long-standing fan base, the first-timers have very little to lose. That can lead to a mass of creative output, with designs that are both challenging and revolutionary.
Of course, there are still expenses involved, sometimes substantial ones. To meet their financial needs, many of this new generation of watchmakers are turning to crowdfunding, appealing to the true enthusiasts through sites like Kickstarter and Indiegogo to raise capital for both production and distribution. While we believe that these watches are not considered luxury watches, the amount of effort, energy, and resources spent on these timepieces point to a bright future.
It gives watch lovers the chance to participate in the bringing to market of unique timepieces, and to be among the first to own one, usually at a reduced rate.
There are far more Kickstarter projects than there are successful Kickstarter launches, however a great many ventures fall by the wayside for one reason or another, but the ones that win through represent some of the most interesting and innovative models in the business.
Below, we'll take a look at some of our favorites.
Undone
A great concept brilliantly executed, Undone is one of the biggest success stories among this new breed of publically funded endeavors.
Dating back to 2014, the company has taken as its USP the ability to personalize virtually every element of each of its watches, giving customers the opportunity to add their own individual character to the base designs.
Choosing between two retro-infused models—a large diver known as the Aqua and a twin-pusher chronograph called the Urban—Undone's web-based customizer lets you pick between a vast range of different dials, metal finishes, hands, straps and even case backs.
There are also a number of 'fixed' designs, ready-made styles with a real vintage feel. If I tell you some of the pieces have names like Killy, Newman and Speedy, you'll be able to work out where they draw their inspiration from.
The only thing you are not able to change on either of the basic Undone watches is their respective movements. The Urban range is powered by the VK61A MechaQuartz Hybrid from Seiko, a very popular and reliable caliber common to a number of microbrand offerings. It comes complete with a hacking function and a Quickset date.
For the Aqua, another Seiko movement; this time the NH35A, a 24-jewel automatic caliber, beating at 21,600vph with a 40 hour power reserve and available with or without a date.
Best of all is the price. To get one of the off-the-peg 40mm Urbans, you'll have to part with just $265. Adding your own stamp to it, even down to including your initials on the dial or logo on the case back, keeps it around the $300 mark.
The 45mm Aqua is a little more, but is firmly in $500 or thereabouts territory.
At that sort of price point you would have a right to be skeptical about the quality, but Undone is clearly run by people who not only love watches but also know a lot about them. The finishing and detailing of each constituent part is something you usually only see in far more expensive products.
Head over to Undone's website to create your very own classic beauty.
CJR Commander
A world away from Undone's neo-vintage aesthetic, the Commander series from Hong Kong-based startup CJR is a range of boldly eye-catching aviation-inspired watches showcasing the very latest in contemporary design.
It is the third offering from the young company and their most radical yet, sitting alongside the Airspeed and Velocita collections launched since the company was founded in 2013.
Like those two previous models, the Commander is all about making a statement. Weighing in at 45mm, it packs in a host of styling elements that are anything but introverted. The skeletonized dial is bordered top and bottom by rugged metallic mesh sections, the seconds hand has been replaced with a small auxiliary wheel shaped to resemble the turbine fans of a jet engine, and there is even a 24-hour indicator at the nine o'clock position.
It is a complex, busy looking watch certainly, but surprisingly easy to read, with the hollowed out hour and minute hands providing a sharp contrast to the rest of the features, and with the tips painted a different color to complement the watch's five distinct editions—Storm Grey, Sunset Bronze, Jetstream Blue, Molten Red and Frost White.
Inside, and visible through mineral crystal on both the front and the back of the Commander, is the Japanese-made Miyota 82S7 skeletal automatic movement. Another popular choice with several independents, the 21-jewel caliber has a 42-hour power reserve and has proved itself an extremely dependable performer, as well as being a joy to watch at work.
CJR has been winning enthusiastic audiences among those who appreciate daring, high-tech design. The Commander, with its unique, aircraft-derived styling cues, offers something vastly different and at a very affordable price. The watch is available for preorder on the company Kickstarter page for just $475.
Sequent Supercharger
We don't normally talk much about smart watches here at Bob's, but the aptly named Supercharger from Swiss-based fledgling company Sequent is something a little different. By adopting a touch of the time-honored expertise that first made its homeland synonymous with watchmaking, it has solved a longstanding problem.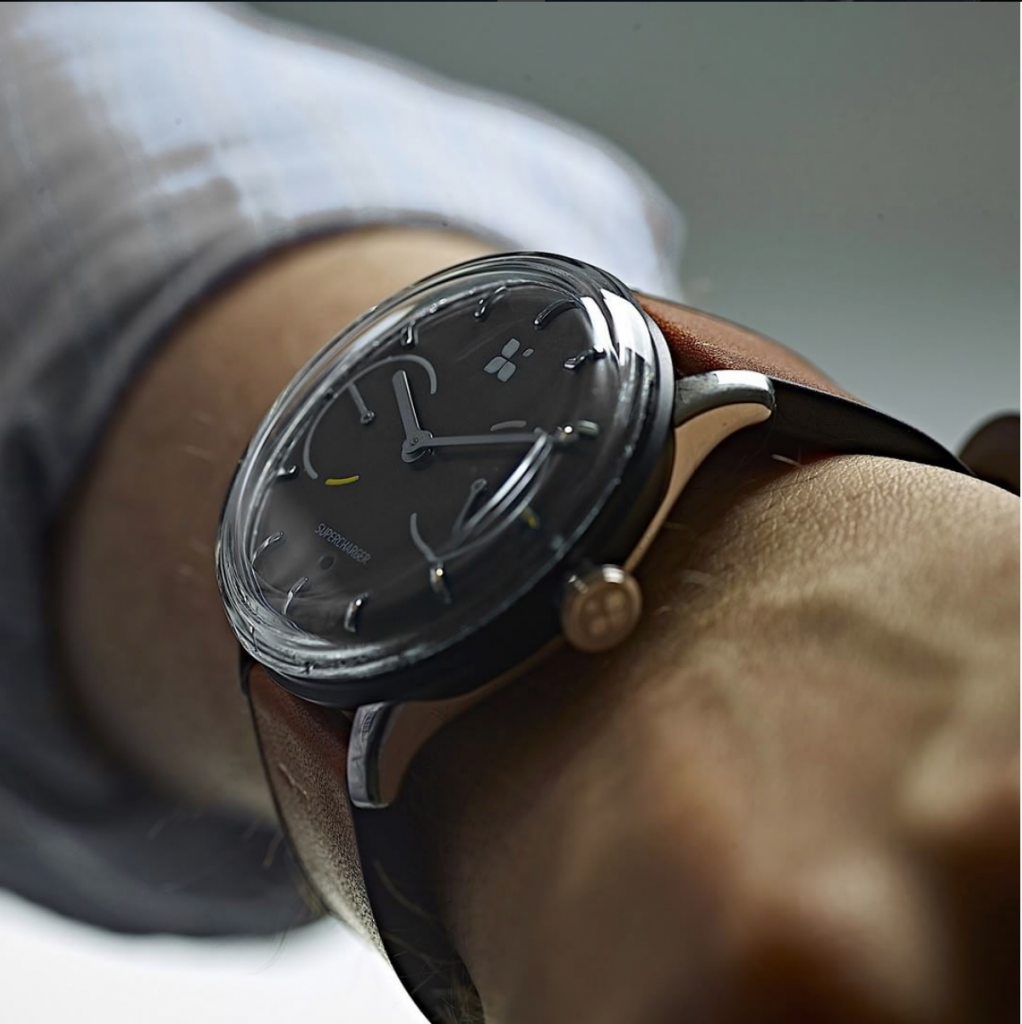 A major drawback shared by all smart watches is the speed at which they drain their batteries, and the more features you run, the quicker that battery gets rinsed.
The 46mm hybrid Supercharger actually uses a mechanical caliber to charge itself, converting the kinetic energy produced by the movement of the wearer's wrist into electricity and storing it in capacitors to power the watch's many functions. In essence, it is the next evolutionary leap for the self-winding Perpetual mechanism of the 1930s.
It means a theoretically infinite battery life and an end to scrabbling around looking for the charger you can never find.
Packed inside its clean, uncluttered design is a heart-rate monitor, GPS tracker and a step counter, as well as a smartphone-linked notification system.
Available in a range of five colors, the minimalist faces contain two sub dials that indicate both the power reserve and provide biofeedback information.
It is a brilliant idea that has been stylishly brought to life, described in some quarters as the 'Tesla of Smart Watches'. The biggest question is really, why did no one think of it before?
Compatible with Android and iPhone, it is ready for preorder on Sequent's Indiegogo page for $399.