Breitling was one of the first horlogeries to hop on the smartwatch trend, and is arguably among the best doing it today. It's certainly a bold move, and one that not all luxury watchmakers are taking on. However, Breitling has done so not only enthusiastically, but also quite well – staying totally true to their brand and ethos. In fact, on their website, you won't find this line of watches under any sort of 'smart' moniker, rather as their 'professional' range, built as instruments to aid, as they say, "every adventurer with a hybrid of technologies" – shall we take a look?
Breitling Aerospace EVO
A legacy piece, the Aerospace EVO is a nod to the revolutionary Breitling Aerospace, which when it was released back in 1985, featured a striking and new analog and digital hybrid display. This new model is built on the same technical style but features the latest advances like the chronometer-certified SuperQuartz™ caliber and intuitive crown-activated control system. With the Aerospace EVO, pilots can keep track of time down to 1/100th of a second, set a second-time zone, activate an audible time signal and calendar, and easily start and stop the countdown timer.
Breitling Emergency
The second in their smartwatch line, the Breitling Emergency sent shockwaves throughout the industry when it was released in 1995 as the first wristwatch equipped with a miniaturized, dual-frequency distress beacon. It's not necessarily what we'd consider a smart watch today, but back when it was released, this was new and highly innovative technology. Of course, over the years it's seen many updates, bringing us to the ref. V7632522 today which features a (once) revolutionary rechargeable battery, a miniaturized transmitter, and an integrated antenna system.
Breitling Exospace B55 Connected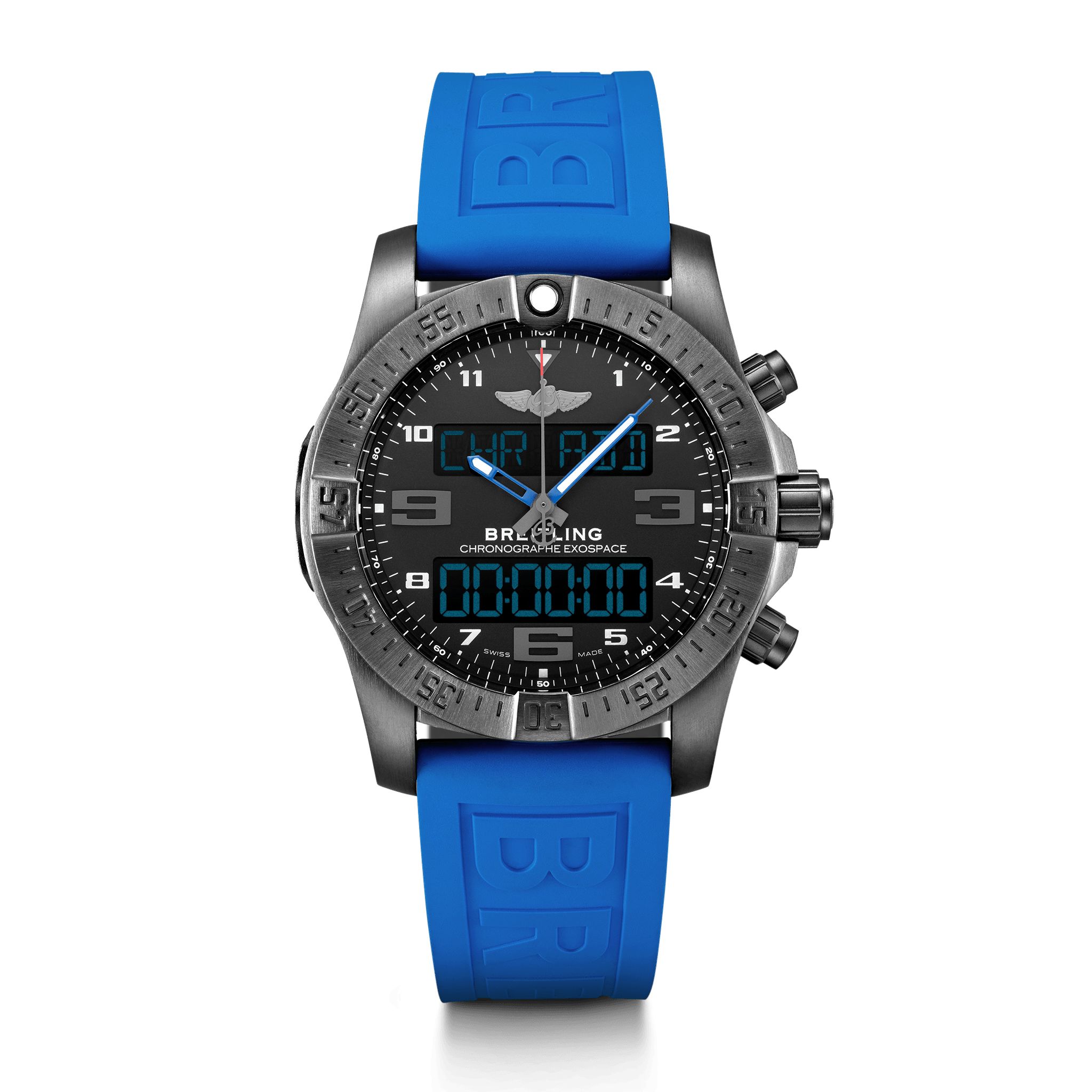 While it can be appreciated by anyone into smart-tech watches, this watch was clearly purpose-built for professional aviators and yachtsmen – not enthusiasts. On the Exospace B55 Connected, you can't read texts or browse the web. With what they call their first 'connected chronograph,' this timepiece combines a SuperQuartz™ movement with a tailor-made (bluetooth connected) app that can do everything from counting down with its electronic tachymeter to recording flight times.
While the Breitling Exospace B55 Connected may be high tech, the watch itself was built to be intuitive. With familiar controls accessed by the crown and pushers, you can push, pull, or spin to move through functions and select certain values, in a very similar manner as you would on a more traditional watch. The face, featuring three hands and two digital window displays, even has special properties to be read properly with night vision goggles. Professional indeed.
Breitling Exospace B55 Yachting
The Exospace B55 Connected is essentially a pilots watch that tried to be inclusive to sailors. HoweverBut the Exospace B55 Yachting, with the same smart-tech capabilities and chronograph SuperQuartz™ movement, puts the focus squarely on the high seas. The most striking difference is the notched, unidirectional bezel which can be used to help yachtsmen with sailing angles, wind directions, and start-line positioning. Other updates include the totally-intuitive split time countdown system which makes it easier to re-sync the countdown to the official race clock if the race has to restart. On the digital dual window screens, you can also easily split time, record it, and send it to your phone for safekeeping and analysis.
Breitling Cockpit B50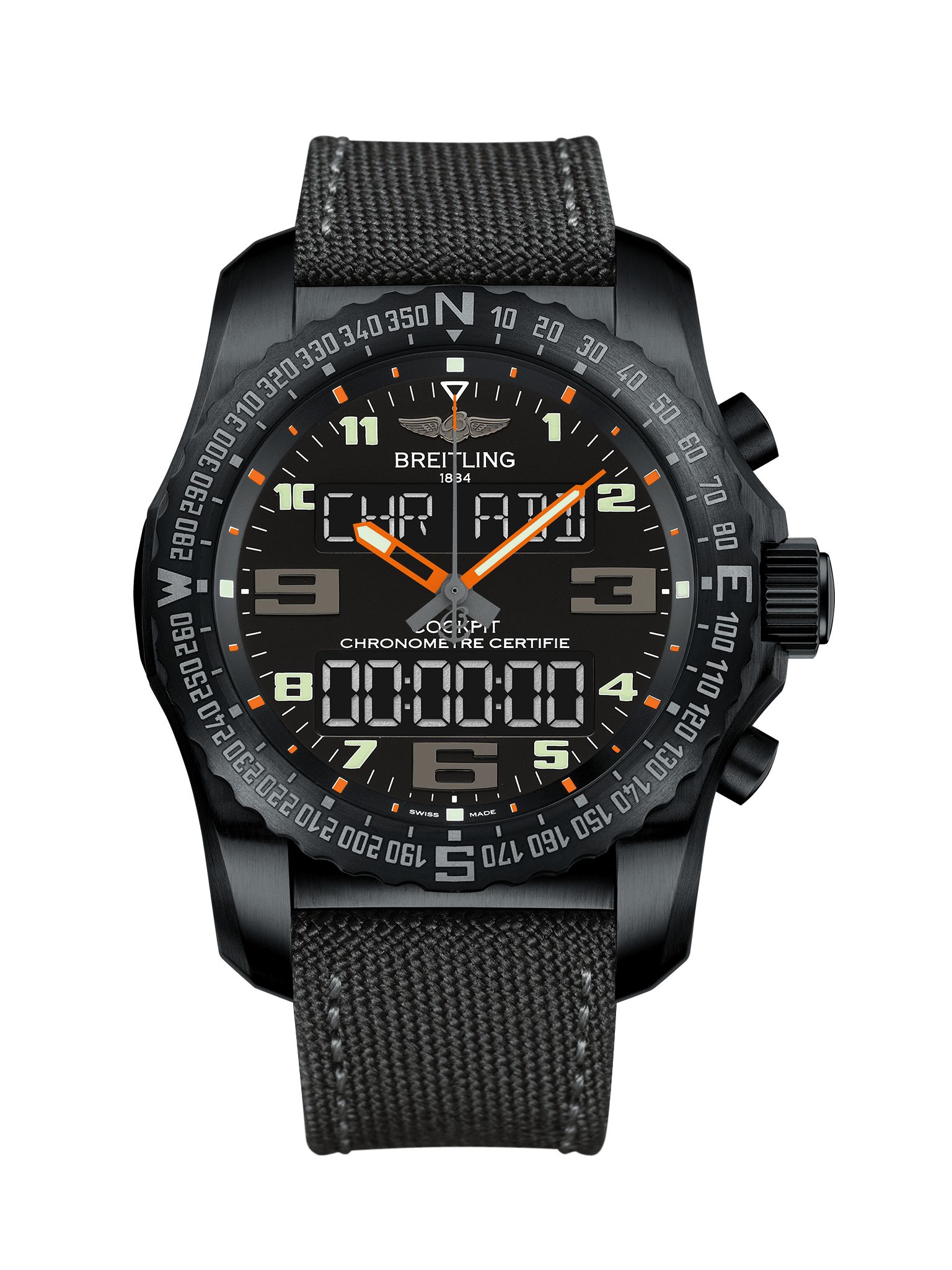 Breitling may be known for making pilots watches, but the Cockpit B50 isn't like any other pilots watch they've ever created. Unlike the B55 models above, this watch isn't able to connect to your phone. But nonetheless, it's smart, electronic functionalities are visible on the totally Breitling dial, via with those recognizable analog and digital displays specially-made to help pilots cruise the skies easily. Here, you can track a second time zone, departure and arrival times, flyback and split-times. There's even a countdown timer, which, with just one push, can also be used as a stopwatch. Also among the list of features is, as well as a perpetual calendar and an electronic tachymeter to make calculations easier. This year, Breitling even released a special edition of the Cockpit B50, the Orbiter, which has punchy orange accents to commemorate the first non-stop balloon flight around the world. Legacy aside, it's an awesomely fun edition to the collection.
*All images courtesy of Breitling