Many people enjoy the appearance of rose gold for the warm luster that it brings to their watches. Rolex has been manufacturing timepieces with pink gold for decades; however it is only in more recent years that their proprietary rose gold alloy, known as Everose, has made an appearance on their watches.
The warm hue of pink gold comes from its copper content. Copper is the only red metal element, and the amount of copper in a rose gold alloy directly influences the color of the metal. Over time, exposure to saltwater and chlorine can affect the copper on the surface of the metal, causing the rose gold to lose its warm, red-colored tint.
Everose Gold Rolex
In 2005, Rolex introduced Everose, their proprietary blend of 18-karat pink gold that combines pure gold, copper, and a small amount of platinum to create a unique rose gold alloy that will never lose its warm red color. The platinum locks in the copper's natural pink tint, which allows the metal to retain its original color. Even after prolonged exposure to environmental factors that would otherwise diminish its warm, rose-colored tint the color holds true.
Rolex's Everose alloy first made an appearance on their Daytona line of watches. The Rolex Daytona rose gold came as a fresh take on the premium version of Rolex's sport chronograph. Rolex had been manufacturing chronographs in solid gold for decades. However, yellow gold was used on the vast majority of these watches. The introduction of Everose offered buyers a contemporary twist on an iconic and classic design.
Classic Yellow Gold
A watch made entirely from yellow gold is a classic and timeless look. However, the red/pink tone of rose gold offers a slightly warmer and more subdued appearance that blends better with a wider range of outfits. Rolex watches in Everose gold work equally well for both men and women. It can be seen on a wide range of celebrities, ranging from Roger Federer to Victoria Beckham and almost everyone in between. Rolex has been using Everose gold in their watches for over a decade, nonetheless, it is only available as an option for select watch lines like the Day-Date. The Submariner and GMT-Master II are offered in stainless steel, 18-karat yellow gold, and Rolesor (stainless steel and gold). Rolex even manufactures versions of both watches in solid 18-karat white gold; however, Everose does not exist as an option for the Submariner and GMT-Master II lines of watches, in either the Rolesor or solid gold varieties.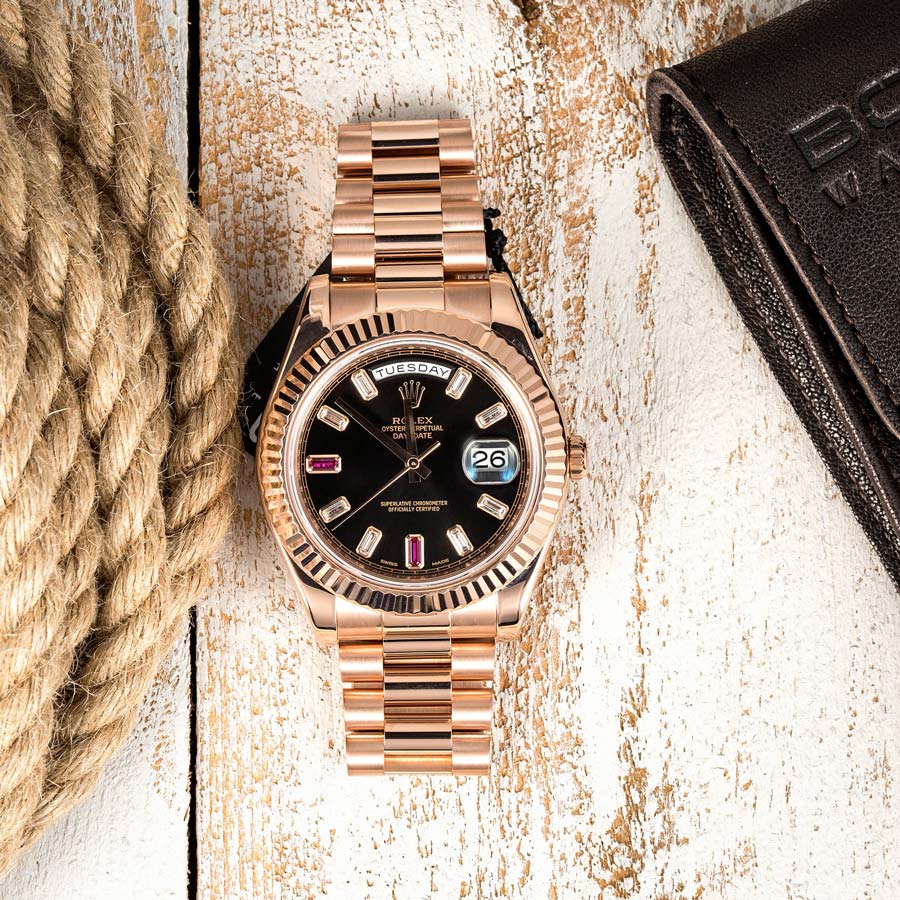 A gold Rolex watch has become an internationally recognized symbol of personal success and achievement. No other luxury watch manufacturer has as much widespread recognition as Rolex – and gold is the perfect material to encapsulate the feeling of prestige and accomplishment. Gold is one of the oldest materials for use in timepieces. On the other hand, rose gold brings a fresh, warm tone to an otherwise very familiar and classic style. Rolex's proprietary 18-karat Everose alloy has high standards, thus guaranteeing a lifetime of exceptional warmth and beauty.