We're now in August, but it has been so hot in Southern California lately that it definitely still feels like summer. Whether you are spending some time by the beach, exploring the great outdoors, or kicking back with friends and family, here are some of our suggestions for awesome summer Rolex watches.
Any Rolex with a Glidelock Clasp
As temperature rise, so can wrist size. If you've noticed that your wrist swells up when it's hot and your watch becomes uncomfortable and tight to wear, fear not. This is when the super practical Rolex Glidelock (found on dive watches like the Rolex Submariner, Sea-Dweller, and Deepsea) works its magic. The Rolex-patented Glidelock system allows the double expansion bracelet to easily expand and contract for an optimal fit. In fact, bracelets with the Glidelock clasp can expand up to 20mm in 2mm increments. Oh, and there's no need for tools either!
The Glidelock is available on modern Submariner watches, in addition to contemporary Sea-Dweller and Deepsea timepieces. Therefore, some great summer Rolex watches include: the classic stainless steel Submariner ref. 116610; the two-tone Submariner 116613; the yellow gold Submariner ref. 116618; the Sea-Dweller ref. 126600, and the mega Deepsea ref. 126660
Any Rolex with an Oysterflex Bracelet
Another supremely comfortable bracelet to wear during hot and typically humid summer time is the innovative Rolex Oysterflex bracelet. Better than your basic rubber strap, the Oysterflex is actually a metal blade enveloped in black elastomer. Just as good as the material, however, is what lies underneath the bracelet. Small "wings" under the Oysterflex not only provide some cushion but also leaves some much-needed space between skin and strap for ventilation. Sweaty wrists no more!
Prior to this year, the only two models that had the Oysterflex bracelet were the Everose Yacht-Master 40 ref. 116655 and its smaller counterpart, the Everose Yacht-Master 37 ref. 268655. However, at Baselworld 2017, Rolex unveiled three gold Daytona models with the Oysterflex bracelet. There's the yellow gold Daytona ref. 116518LN, the white gold Daytona ref. 116519LN, and the Everose Daytona ref. 116515LN. Additionally at Baselworld 2019, Rolex unveiled the new white gold Yacht-Master 42, which also comes on a black Oysterflex bracelet. Thanks to the Oysterflex, any of these Yacht-Master or Daytona models would make for great summer Rolex watches.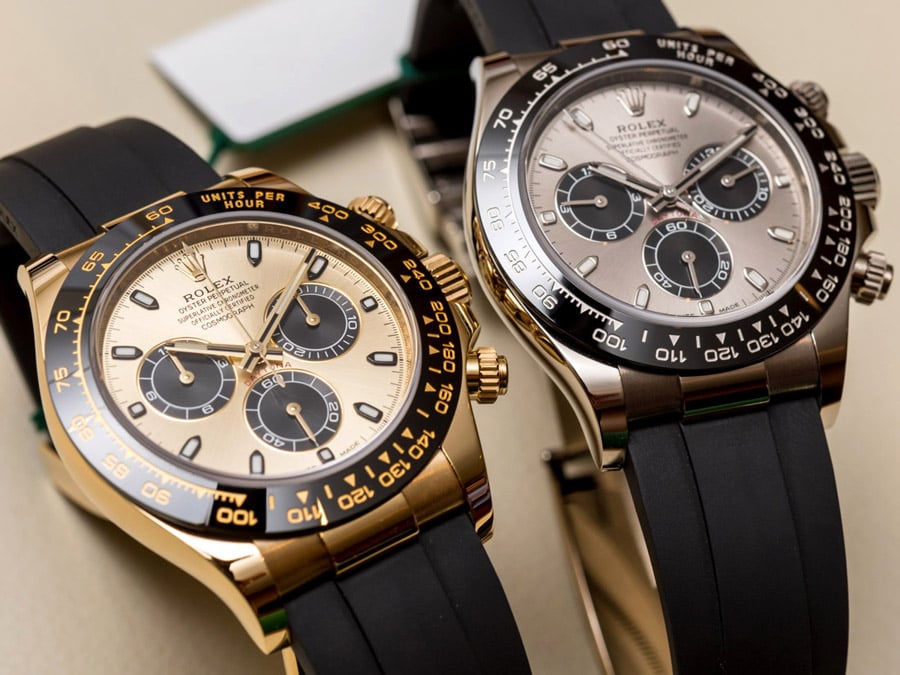 Any Rolex with a Ceramic Bezel
What do all the watches we mentioned above have in common? Besides the fact that they're all (obviously) Rolex watches, they all boast the Cerachrom ceramic bezel too. Cerachrom is the Rolex patented ceramic alloy that can be found on most of their modern sports watch models. In addition to its attractive look, Cerachrom is also prized for its resistance to scratching. Plus, it's also fade proof so there's no need to worry about hanging out in the sun with a ceramic Rolex on your wrist – perfect for summer!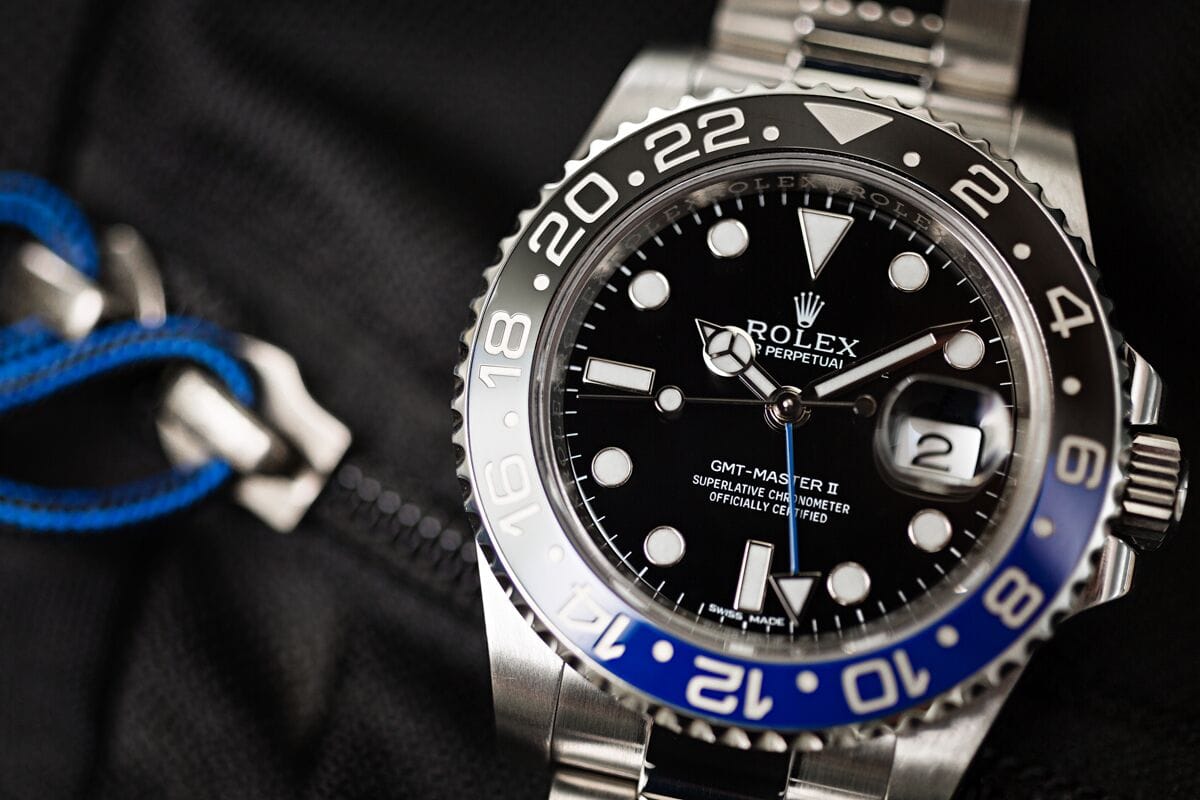 In addition to all the Rolex watches already mentioned above, other great Cerachrom models for the summer include the steel Yacht-Master II ref. 116680, the steel GMT-Master II ref. 126710BLNR, and of course, the highly sought-after steel Daytona ref. 116500LN. For more precious options, there's the two-tone Yacht-Master II ref. 116681 and the yellow gold GMT-Master II ref. 116718. An added benefit of the GMT-Master II models is the ability to keep track of multiple time zones – an ideal summer Rolex for those who'll be traveling.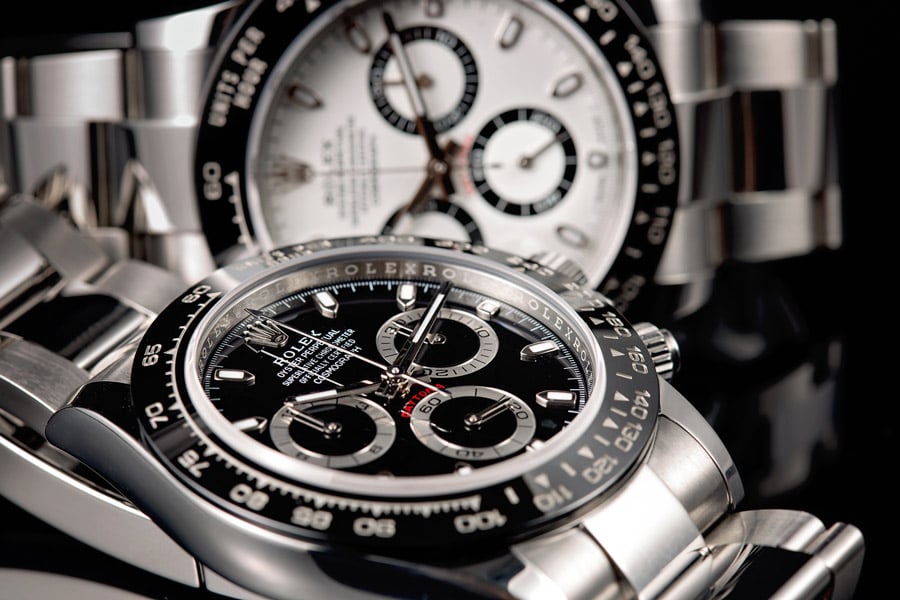 So wherever your summer plans take you this year, make sure you pack a robust, reliable, comfortable, and good-looking Rolex watch. In our opinion, a summer Rolex is a must-have accessory for the season of fun in the sun.
Which Rolex will you be wearing the most this summer? Join in on the conversation by leaving us a comment below.