With a few modern exceptions such as the Rolex Sky-Dweller and the Yacht-Master II, there are a couple of reasons why Rolex doesn't make complicated watches. Mainly, it's because they don't need to. They have painstakingly cultivated their reputation by creating products that are both the epitome of luxury, while also providing the sort of simple operations that are actually useful in everyday life. A complication has never featured a Rolex just for its own sake.
While things like moonphases, tourbillons, and minute repeaters are undoubtedly charming and can be beautiful to watch in action, in the great rush of day-to-day life, frankly, who cares about the current lunar stage? Realistically, the modest utility of a date function or a GMT feature is as much as the majority of us will ever need. Maybe a chronograph if you really need precise timing – and Rolex certainly has that covered in the form of the Daytona
Of course, another reason for the overall lack of complications in the lineup is the sheer number of man-hours they take to complete. Rolex is a mass-producer of watches, with unofficial reports estimating their annual yield at around one million pieces. Building in advanced functionality comes at a huge time cost, time better spent producing and refining the sort of models that have become horological icons over the course of several generations. However, sometimes even Rolex decides to flex its muscles. Enter the Rolex Sky-Dweller.
Rolex Sky-Dweller 326139
Sky-Dweller Reference 326139 Key Features:
Reference Number: 326139
Production Years: 2014 – 2018 (Approx.)
Case Size: 42mm
Materials: 18k White Gold
Functions: Time w/ Running Seconds, Date Display, Month Indicator, Annual Calendar, GMT Functionality
Bezel: Ring Command, 18k White Gold, Fluted Style
Dial: Black or Ivory w/ Applied Arabic or Roman Numeral Markers
Luminous Material: Chromalight
Crystal: Sapphire (Flat w/ Cyclops Lens)
Movement: Rolex Caliber 9001 (Self-Winding)
Strap/Bracelet: Leather Strap w/ 18k Gold Deployant Clasp
Approx. Price: $36,000 – $45,000 (Pre-Owned)
Click here for our Ultimate Buying Guide on the Rolex Sky-Dweller
The Rolex Sky-Dweller Collection
The Rolex Sky-Dweller was launched in 2012 as the first all-new watch with an all-new collection name since the brand had released the first Yacht-Master and Pearlmaster models in 1992. The one before that was the Daytona in 1963; Rolex, as always, does not like to be rushed.
Originally only available in the brand's own three flavors of 18k gold, with the yellow and white on Oyster bracelets and the Everose on leather, the Sky-Dweller arrived to a collective sense of bewilderment from Rolex fans. With its dual time zone function and the first annual calendar the company had ever produced, on paper, it belonged in the professional watches category. However, the model's entirely precious metal construction and sleek profile landed it firmly in dress watch territory.
Further splitting opinion, Rolex's typically stark, minimalist and highly legible dials had given way to a convoluted, asymmetrical effort, with a bottom-heavy sub-dial that decapitated the lower hour markers. In the end, it left potential customers too busy scratching their heads rather than reaching for their wallets, and the Sky-Dweller sat kicking its expensive heels on the sidelines for a while.
Two years later, things were different. 2014 saw the release of another trio – this time, the Everose piece got an Oyster bracelet, and the yellow gold version received the option of a leather strap. However, the absolute standout was the 18k white gold ref. 326139, fitted with either a black or ivory dial and paired with an elegant leather strap.
Sky-Dweller Reference 326139
In a stroke, this new Rolex Sky-Dweller made everything all alright. Where the original three references had bordered on the ostentatious and even a little outmoded, the white gold and black leather combination brought the design right up to date. Still clearly a luxury watch, it was now granted an understated, contemporary aesthetic that could take it smoothly from its natural homes of the first class lounge to business meetings and cocktail parties without breaking a sweat.
That divisive dial also suddenly made a certain amount of sense too. While there was no getting away from the eccentricities of the GMT indicator, the silvered disc against the silky background became a far more elegant way of displaying a second time zone.
What had once been a watch that demanded attention had suddenly become one content to let its abilities speak for themselves. In other words, the Rolex Sky-Dweller had matured into a true class act.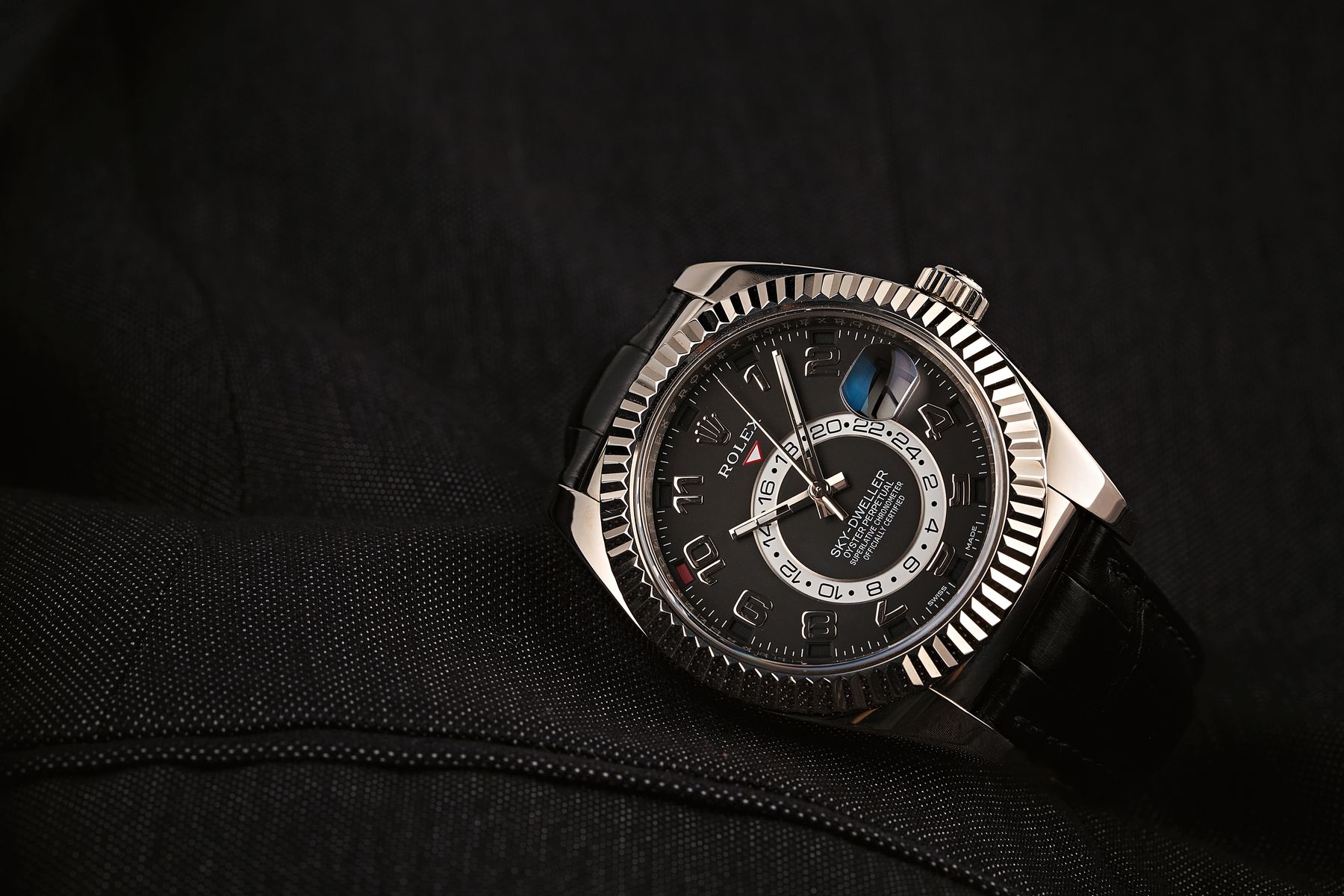 Rolex Sky-Dweller 326139 Features
Until relatively recently, Rolex has done everything it can to resist the push towards larger watches that has taken hold of the industry. The Submariner has finally grown by 1mm, but other models such as the GMT-Master II and Daytona have all stubbornly refused to grow beyond their 40mm limits.
However, starting with the Yacht-Master II in 2007 and continuing through the mammoth Deepsea the following year, Rolex's catalog is definitely starting to get larger in terms of case dimensions, and the Sky-Dweller follows the trend. Officially 42mm, the watch's widely spaced but sharply curved lugs mean that it wears significantly larger, but remains a comfortable all day companion. Of course, it does have a considerable amount of weight, as there is quite a lot of 18k gold.
Of its many distinctive features, perhaps the most interesting is the bezel. As well as being a time-honored Rolex signature, the fluted surround has a key role to play in the Sky-Dweller's sophisticated operations.
Taking its cue from the Yacht-Master II's regatta timer, the Sky-Dweller is fitted with the second generation of the brand's Ring Command bezel. Mechanically linked to the watch's internal movement, it works as an analogue function selector – essentially serving as a three-position switch. Each rotation unlocks a different action, all controlled by the crown, doing away with the need for additional pushers that might have ruined the tasteful lines of the watch or compromised its 100 meters of water resistance.
Therefore, in the bezel's first position, the winding crown can advance or retract the date in the three o'clock window. Another quarter turn gives independent control over the center hour hand, and the final setting synchronizes all the functions and allows you to change the reference time in the GMT disc. As a system, it is surprisingly intuitive. As a feat of engineering prowess, it's downright formidable.
Annual Calendar Complication
In one of those 'I can't believe no one has thought of that before' moments, Rolex had used the two inescapable facts of there being 12 months in a year and 12-hour markers on a dial, and linked them both into a calendar display that is truly genius. There is a small aperture above each of the Sky-Dweller's indexes, and each one corresponds with a different month. So, a filled in window above the 4 o'clock marker indicates April, 5 o'clock gives May, etc.
The first annual calendar from Rolex, the mechanism has been dubbed SAROS (the 18-year cycle of the sun, Earth, and moon). It automatically compensates for the months that have 30 and 31 days. As such, it only needs to be manually adjusted once a year, at the end of February.
Controlling it all is an in-house movement built specifically for the Rolex Sky-Dweller, the Cal. 9001. The product of years of innovation, it is the most intricate and complex movement Rolex has ever made, with 380 individual components – sixty of them pertaining to just the bezel assembly alone. It is also the second most highly jeweled and comes with an impressive 72-hour power reserve.
Sky-Dweller 326139: A Future Classic?
Here's the interesting thing: the white gold, black leather strap ref. 326139 Sky-Dweller was discontinued in 2018, along with the other 18k white gold Sky-Dweller that was fitted with a matching Oyster bracelet. These days, you can get a Rolex Sky-Dweller in either 18k yellow or Everose gold, and you can even get two different Rolesor (steel and gold) editions, but Rolex no longer produces a white gold Sky-Dweller watch.
However, this is amazing news for collectors. The reference 326139 has been entirely unavailable at a retail level for several years now, and Rolex has completely phased out the various models that were fitted with leather straps. Although Rolex now offers both yellow and Everose gold editions on Oysterflex bracelets, there still remains no white gold model whatsoever, and prices have been on the rise for the past few years.
Although certainly not cheap, and with looks that some still find challenging, there is no doubting the technical virtuosity of the Rolex Sky-Dweller and the 18k white gold ref. 326139 is one of the most unusual variations that the brand has put forward, with a production run of just a handful of years. If you are considering pulling the trigger on this amazing watch, now would be the time.