I'm always on the lookout for new luxury watch brands. New and exciting case shapes that work with our existing tropes, but subvert them in some subtle way so as to create difference without distraction. I'm also a sucker for a blacked-out movement. I like futurism; I enjoy avant-garde design. The analysis of color palettes has been said to take up too much of my brain for it to be a healthy pastime. If you give me ruthenium bridges, paired with a silver (usually nickel-plated) gear train and balance wheel, I'm very likely to want to be your friend.
Mauron Musy Armure MU03
Mauron Musy is a proponent of the somber palette. When fused with their edgy case and dial design of the Mauron Musy Armure MU03, this creates a simultaneously moody and enrapturing product that I find myself suddenly obsessed with.
As a watchmaker, it is probably unsurprising that I enjoy designing watches. What I enjoy most about this challenge is creating a product that works on all levels. Creating something outlandish is not as difficult as creating something restrained yet novel. Often the key to timelessness is simplicity. To reduce the number of faddy elements in favor of high-quality, immediately digestible forms. Finding a way to be original within those parameters is very difficult.
But then there is another option. To design something that looks simple, but is in fact incredibly complex. The aim of this particular game is to lure in customers with a palatable silhouette, before proceeding to wow and intrigue them, as the many subtle complexities of what is an apparently simple design are revealed over time on the wrist.
This is the tact that Mauron Musy has taken with the Armure MU03. At first glance we see a pretty standard case shape. A round dial with applied markers and a nicely proportioned sub-dial at 9 o'clock. It's only when you dig in to the specifications that you realize the 42mm stainless steel housing is comprised of 36 components…
Considering how many pieces go in to creating the case, it's quite impressive that it retains a 300-meter water resistance rating. But stranger still is the realization that this complicated case, immediately most notable for the interesting and characterful additions to its periphery, actually achieves this water resistance without using a single gasket.
nO-Ring Technology
Polymer gaskets are commonplace in watchmaking. They are generally reliable but they do degrade over time. Although most brands are happy to run this risk, operating under the assumption that, under normal conditions, a standard rubber ring would last longer than the predicted time between necessary servicing. Mauron Musy have decided to pursue a completely new line of thinking. It is a laudable experiment, and quite a fascinating result.
This 'nO-Ring' technology, which is based on the principles of a metal clamp system, seems to have been quite effective. Whether or not such technology catches on around the industry remains to be seen. It is cool, though, that this watch has more to offer than just a pretty face.
The brand claims 100% Swiss manufacture. This is incredibly rare in modern watchmaking, and a real statement of intent. I must say that from purely observing the dial, case, hands, and movement, the quality is absolutely extreme. The dial itself, especially in that wonderful teal color, is a thing of pure class. The applied indices, the embossed plaques, and the debossed minute markers are all top notch.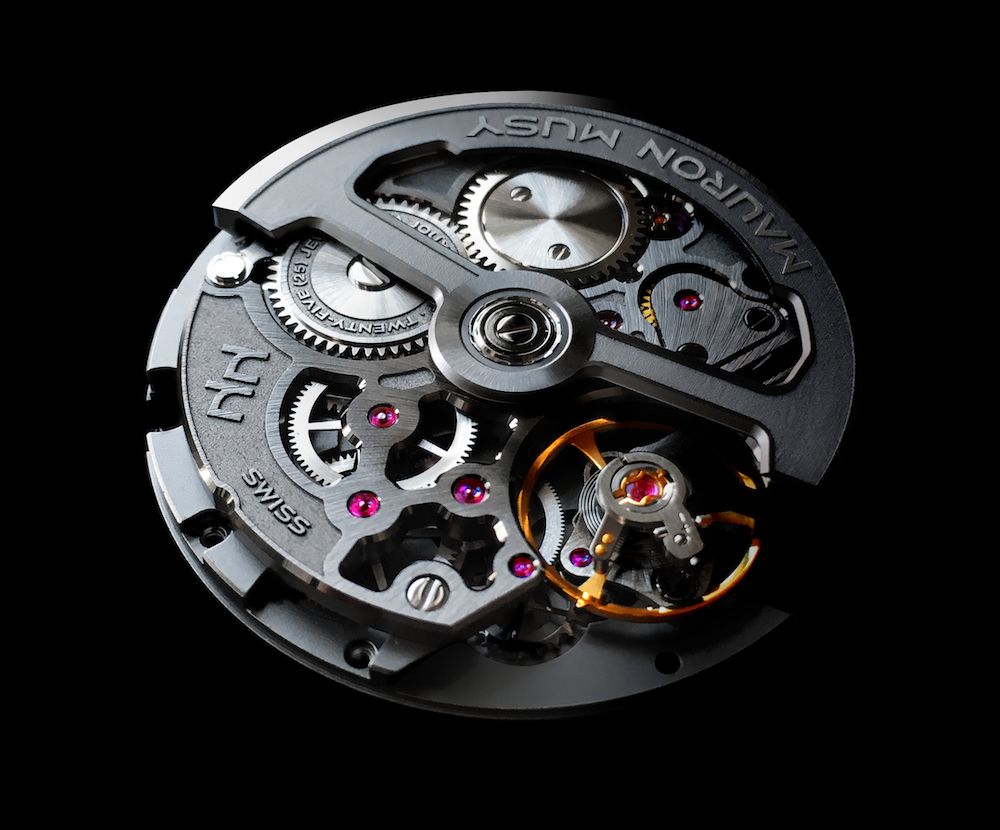 And behind that glorious dial the movement, produced 'in-house' in collaboration with Manufacture La Joux-Perret, it is a treat. Hollowed and micro-blasted surfaces give this movement a strong industrial appearance. Additionally, a sufficient 55-hour power reserve keeps this beauty ticking for a decent period of time while off the wrist between winds.
In summary, there are few watches that interest me as much as the Mauron Musy Armure MU03. Its complexity is certainly arresting. Whether it is too nuanced to become a classic in the traditional sense remains to be seen. Most pertinently though, is the abundance of quality and the clearly conscious approach to design that has resulted in something interesting, intellectually engaging, and, above all, aesthetically pleasing. At CHF 9,700 before VAT, it is not an easy entry point, but it's certainly competitive when you consider the competition in this sphere.