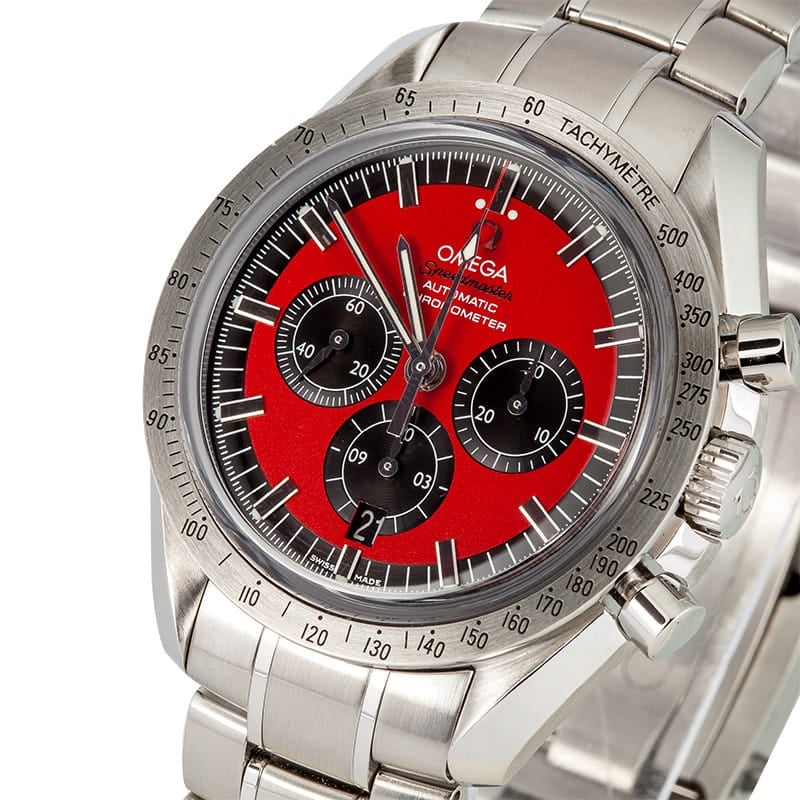 A particularly rare find in the world of Speedmaster collecting is an authentic, era-appropriate "Base 1000" bezel. Omega only produced these bezels for a few years immediately following the introduction of the Speedmaster, and as a result, they are highly sought-after by collectors.
Omega announced the Speedmaster in 1957, and the very first generations of Speedmasters left the factory with "Base 1000" bezels. However, around 1960, with the introduction of the reference 2998-3, Omega changed the design of the bezel to a base 500 bezel, and eliminated the presence of the word "base" altogether.
Immediately following the change in bezel design, any Speedmasters sent to Omega for repair received service bezels that followed the new layout, rather than one that mirrored the appearance of the original part. As a result of this practice, many watches that were initially fitted with "Base 1000" bezels no longer have bezel markings correct to their initial specifications.  When looking to sell your Omega this is something you should look for as it could add value to your watch.
The very first "Base 1000" bezels were made entirely from stainless steel, and were completely silver in color. These were originally fitted to references 2915-1, 2915-2, and 2915-3; however the reference 2915-3 came in two variations and marked the end of the all-silver, "Base 1000" bezel.
One version of the reference 2915-3 was identical to the reference 2915-2; however the other was fitted with alpha hands and a black aluminum bezel insert. These design traits appeared on the following two generations of Speedmasters (references 2998-1 and 2998-2); however the reference 2998-3 marked the end of the "Base 1000" bezel, and all subsequent designs followed the "Tachymeter 500" layout.
The age and short production run of the "Base 1000" bezel (along with Omega's practice of replacing them), has made authentic examples quite rare and highly desirable among collectors. When era-appropriate "Base 1000" bezels appear at auction, it is not uncommon for a single bezel to sell for upwards of $10,000 – especially if it is in good condition.
Although the Omega Speedmaster is relatively affordable (by luxury watch standards), vintage references in all-correct, original condition can experience auction prices that far exceed ten-times that of a brand-new Speedmaster.
It is the tiny, seemingly insignificant details – such as genuine "Base 1000" bezels – that can account for thousands of dollars in resale value. Prices of vintage Speedmaster parts have increased steadily over the years, and reproductions are becoming increasingly common as counterfeiters attempt to cash in on the massive premiums that collectors are willing to pay.
The Speedmaster is one of the world's most iconic watches, and an absolute favorite among Omega collectors. The "Base 1000" bezel is symbolic of the very first Speedmasters, and its age and limited numbers have made it the bezel to own for vintage Speedmaster collectors.