You could look for a long time and not find any Swiss watch brand offering better value for money than Oris. Often chosen as the manufacturer by which new collectors first dip their toes into the world of high-end mechanical watchmaking, it is by no means some new company lacking in heritage. Founded in 1904, Oris has actually been in existence longer than Rolex. The contemporary range of Oris watches covers four main families – Diving, Culture, Aviation, and Motor Sport – each with its own selection of subdivisions. Among these, the Big Crown ProPilot models (from the Aviation line) offer a huge amount of variety, coming in with more than 100 different pieces, including several special editions. Below we take a look at the collection in a bit more detail.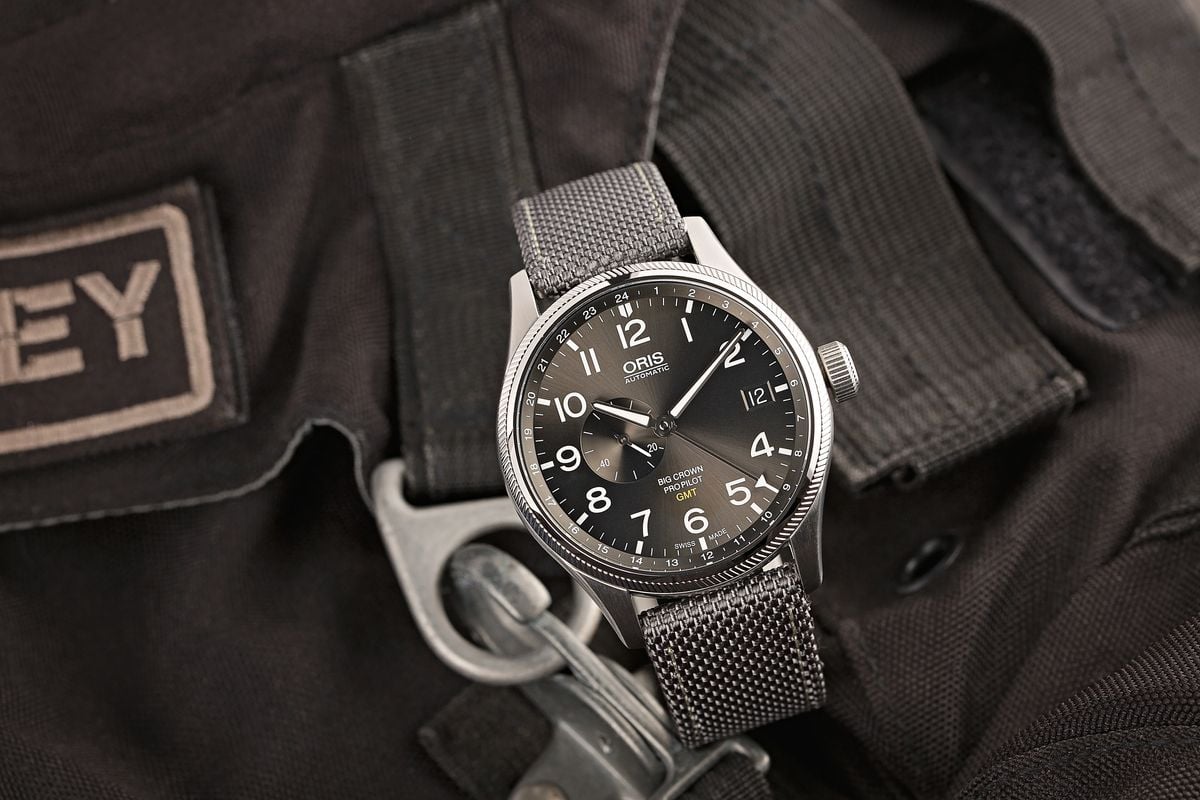 Complications
The extensive assortment of watches in Oris's Big Crown ProPilot series can be found with a number of different complications. Working upwards in terms of complexity, you can have a Big Date, a Big Day-Date, a GMT, a chronograph, a Timer GMT (basically a second-time zone function with a 60-minute engraved bidirectional bezel), a Worldtimer, and an Altimeter. Yes, you read that last one right. Oris released the first mechanical watch with a built-in altimeter in 2014. Do you need one? No, probably not. If you have a passion for flying, is it just the coolest thing ever? Yup, quite possibly.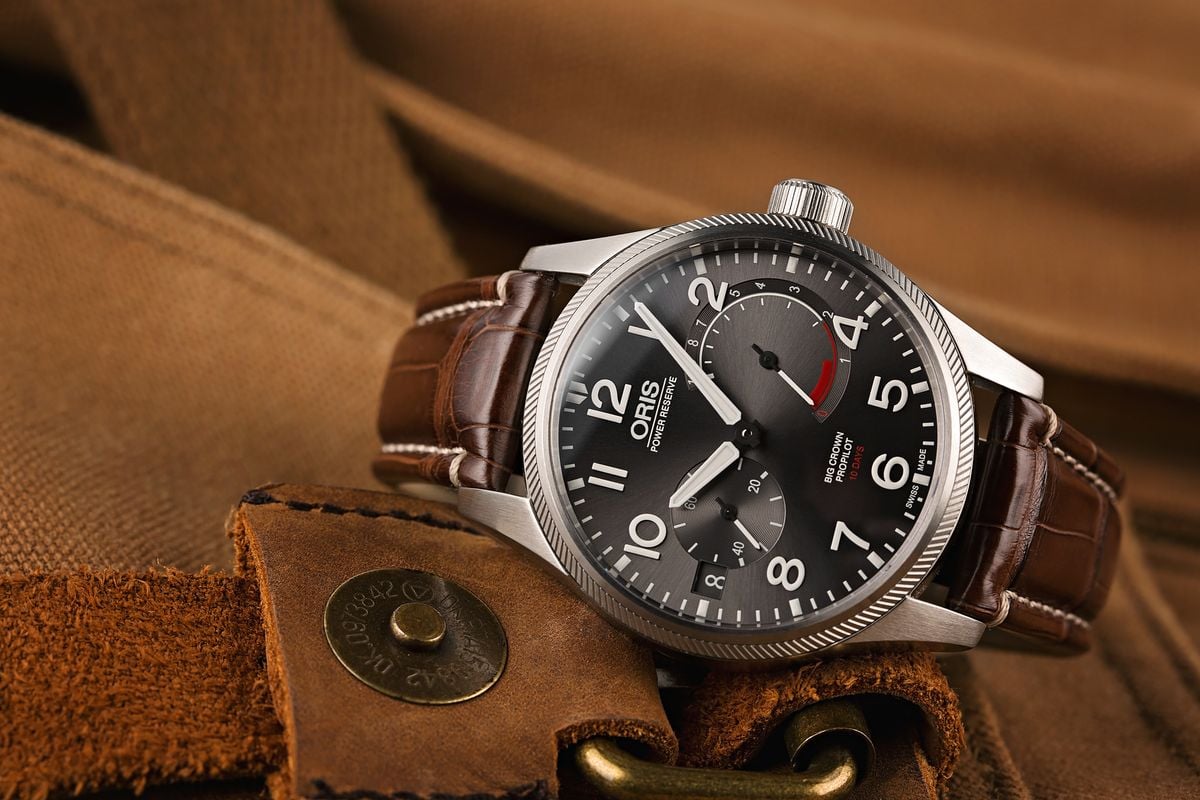 2014 was also the year that Oris released its first homemade movement in 35-years, the Caliber 110. Since then, it has released four more, all based around that same architecture. Three of them have made it into the Big Crown range, all hand-wound and with an unbelievable 10-day power reserve. With each watch named after its movement, the ProPilot Caliber 111 has central hour and minute hands, a small seconds sub-dial, and a non-linear power reserve indicator. The Caliber 114 is the same but adds a GMT feature, while the ProPilot X Caliber 115 (released just last year) is an extraordinary-looking skeletonized version. This represents a big step for Oris, adding a significant value proposition over the modified Sellita and ETA-based engines driving the rest of the collection.
Oris Pilot Watches Then and Now
The first of Oris's Big Crown ProPilot watches was released in 1938, in the midst of aviation's first true golden age. Back then, before the invention of modern high tech cockpit equipment, the wristwatch was an essential flight instrument, and legibility and simplicity of use were paramount. Case sizes were conspicuously large for the era to aid readability, and the crown measured some 8mm, making it easier to grip while wearing gloves.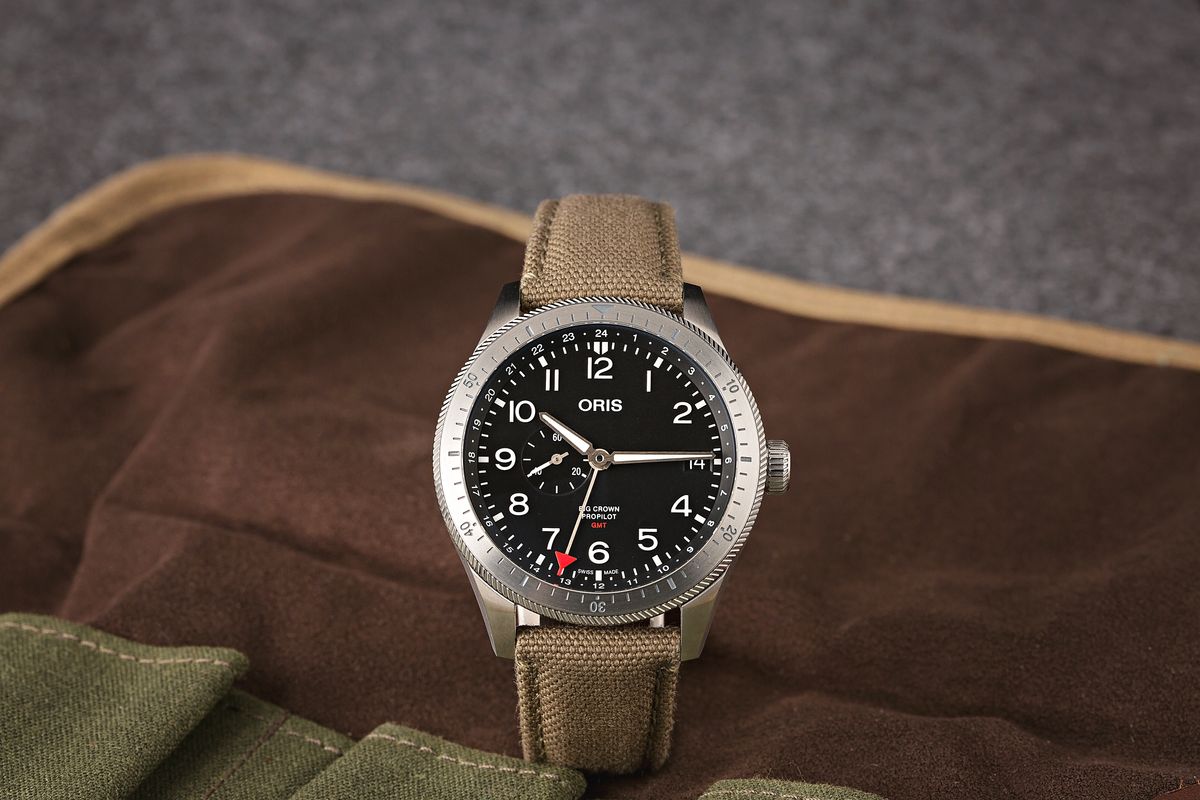 These elements have been carried over into the present day, with the smallest watch in the portfolio (the Big Date) being a still-fairly sizeable 41mm in diameter, while Altimeter pieces can measure 47mm. The examples with the most information to display (GMT Timer, Worldtimer, Chronograph, etc.) give themselves plenty of room, with most having cases that measure somewhere in the 44mm to 46mm range.
There are several design traits shared across the catalog, such as the large Arabic numeral hour markers in their 1930s font, and a stylized cross-hatching to the bezel. Dials are kept dark (black, grey, or blue) with bright white and lume-filled detailing offering the best in contrast without causing glare. Any splashes of color are confined to things such as the tips of pointer hands on the calendar watches or the power reserve gauge on the newest editions. The series strikes a nice balance between being aesthetically pleasing as a watch for everyday wear, while also containing all the requirements a professional pilot might realistically need.
As for the metals, with this being a tool watch collection, the standard production pieces are stainless steel across the board, finely brushed on tops and flanks. A handful of models – a couple each of the Big Date and Day-Date range, along with one or two special editions – have been given a PVD plating that looks superb. Additionally, a number of limited-edition pieces such as the 40th Squadron Limited Edition, made in partnership with the Belgian Air Force's helicopter rescue team feature small colorful accents such as the bright red minute track that stands out beautifully against the case and dial. Another notable special edition is the black DLC-coated, titanium-cased Paradropper LT Staffel 7. One of only 250, it was created with the input of the Swiss Air Force and contains functions for timing paratrooper missions and measuring the lengths of airfields.
Oris Big Crown ProPilot Price
It's no secret that one of the long-time major draws of Oris is its pricing. Looking at the majority of the brand's output, it is not easy to think of another company that offers buyers so much for so little. As for the Oris Big Crown ProPilot series, most variations of this handsome, retro-inspired piece can be purchased for around or under $2,000, which is a tremendous value proposition for a Swiss-made luxury watch with an automatic mechanical movement. Even the more complex versions, such as the GMT, chronograph, and Altimeter represent great value, with significant savings available on the secondary market.
Oris has carved itself out a nice little niche in the market, managing to appeal to people who are after both a fine timepiece with an individual look and those who don't feel the need to break the bank for it. It is a welcome break to see high-quality timepieces being sold for such reasonable prices, and lets buyers know that they are paying for the watch itself rather than just the name behind it. A range of well-built and solidly robust tool models with some smart functionality, the Oris Big Crown ProPilot collection is one well worth exploring. For the absolute best prices on Oris watches, be sure to check out our full selection in our online store.