Given their military history and a design language that has endured for decades, Panerai Luminor watches are often thought of as stainless steel timepieces with stark black dials and oversized luminescent hour markers. However these days, Panerai often treats its clientele to more luxurious versions, complete with solid gold cases and colorful dials. And sometimes, Panerai takes the exclusivity factor a step further by releasing boutique exclusives. Today, we take a closer look at the Panerai Luminor Base 8 Days Oro Rosso PAM 717, made solely for the Istanbul boutique.
Design: Panerai Luminor Base 8 Days Oro Rosso PAM 717
The Panerai Luminor Base 8 Days Oro Rosso PAM 717 features a 44mm cushion-shaped case fitted with the Luminor's signature lever-operated crown guard protector, which serves to push the winding crown into the case to seal the watch. While 44mm is by no means a small watch (especially taking into consideration the addition of the crescent-like bridge over the winding crown), in the world of Panerai, 44mm is somewhere in the middle. However, like most Panerai watches, the PAM 717 is surprisingly comfortable to wear despite its large size.
The case is similar in shape to the Luminor Base PAM 560 watch; however instead of steel, the PAM 717 is fashioned from 18k red gold or "oro rosso" in Italian. According to Panerai, the brand uses a special red gold alloy with a touch of copper for the deep red color and a dash of platinum to prevent oxidation and discoloration.
As a "Base" model, the dial of the Luminor 717 only houses an hour hand and a minute hand with no seconds hand in sight (fun fact: the "Marina" versions of the Luminor models have the running seconds indicator at 9 o'clock). Just like most Panerai dials, the center hands point to a mix of luminescent stick and Arabic hour markers. And this particular dial construction is what is referred to as a "sandwich dial" in Panerai collecting circles, thanks to the lume being pressed in between two dial plates for a recessed stencil look.
The dial features a stunning sunburst blue hue – an uncommon execution for Panerai dials, which are often made in black. In fact, blue dials are currently exclusive to Panerai boutique editions. The Panerai Luminor Base 8 Days Oro Rosso PAM 717 was introduced in 2016 specifically for the Panerai boutique in Istanbul, Turkey. Limited to just 51 pieces (numbered 0 – 50), this Luminor PAM 717 example is numbered 28/50.
To match the blue dial, the Panerai Luminor Base 8 Days Oro Rosso PAM 717 is fitted with a blue alligator strap, accented with off-white stitching and finished with a red gold tang buckle.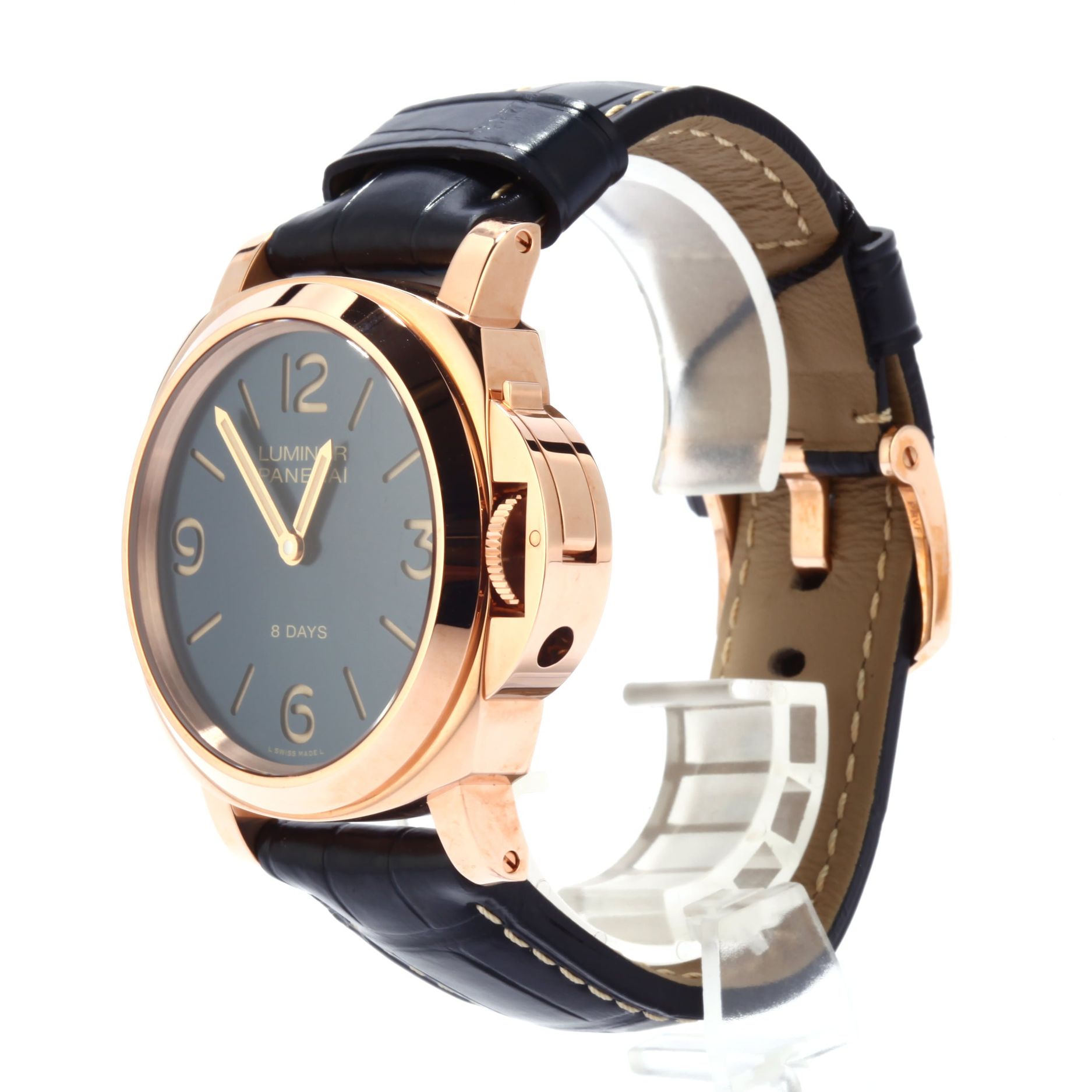 Movement: Panerai Luminor Base 8 Days Oro Rosso PAM 717
From the sapphire caseback side of the watch, we can see the in-house Caliber P.5000 hand-wound movement, which made its debut in 2013. As illustrated by the "8 Days" label on the dial, the Caliber P.5000 offers users an eight-day power reserve.
The number of days is actually a nod to very early Panerai watches from the WWII era that could also run for eight days straight before needing to be wound up again. The Panerai Caliber P.5000 operates at a frequency of 21,600 beats per hour, and its 192-hour power reserve is possible due to the use of two mainspring barrels.
For fans of precious metal Panerais, the Luminor Base 8 Days Oro Rosso PAM 717 has plenty to offer. The marriage of red gold and sunburst blue is a highly attractive one and we love that Panerai chose to stick to a familiar case silhouette and dial layout for this particular reference without adding anything else. Throw in the fact that it's a piece that will rarely be seen out in the wild because of its limited edition status and we have a winning Panerai watch.