The vintage Rolex Date 1503 is a luxurious watch that is sure to catch the eye. Released in 1979, the case measures 34 mm and is made of stainless steel, 14k white, yellow or pink gold or 18k yellow or pink gold. The use of quality and luxurious metals is not only aesthetically pleasing, but ensures that the watch will continue to hold its value over time.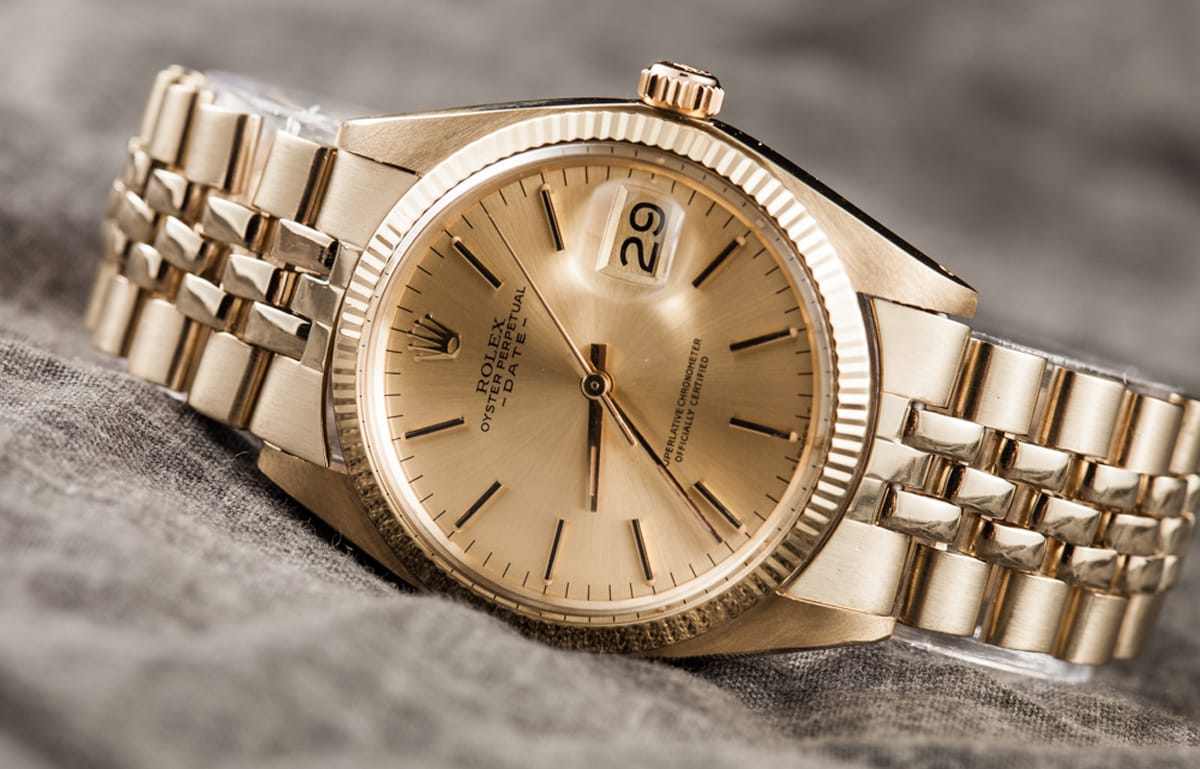 A Vintage To Remember: Rolex Date 1503
Along with a gold case, the watch also prominently features a champagne or silver dial which continues the look and feel of luxury with gold baton markers and gold baton second, minute and hour hands. Some versions take a less subtle approach to design and feature black or white dials which stand out in contrast to the gold case and bezel. Ref 1503's dial also features a date window in place of the 3 o'clock mark and displays the "DATE" name, a key characteristic of the Date family. The dial and case are topped with a fluted gold bezel made to match the case perfectly.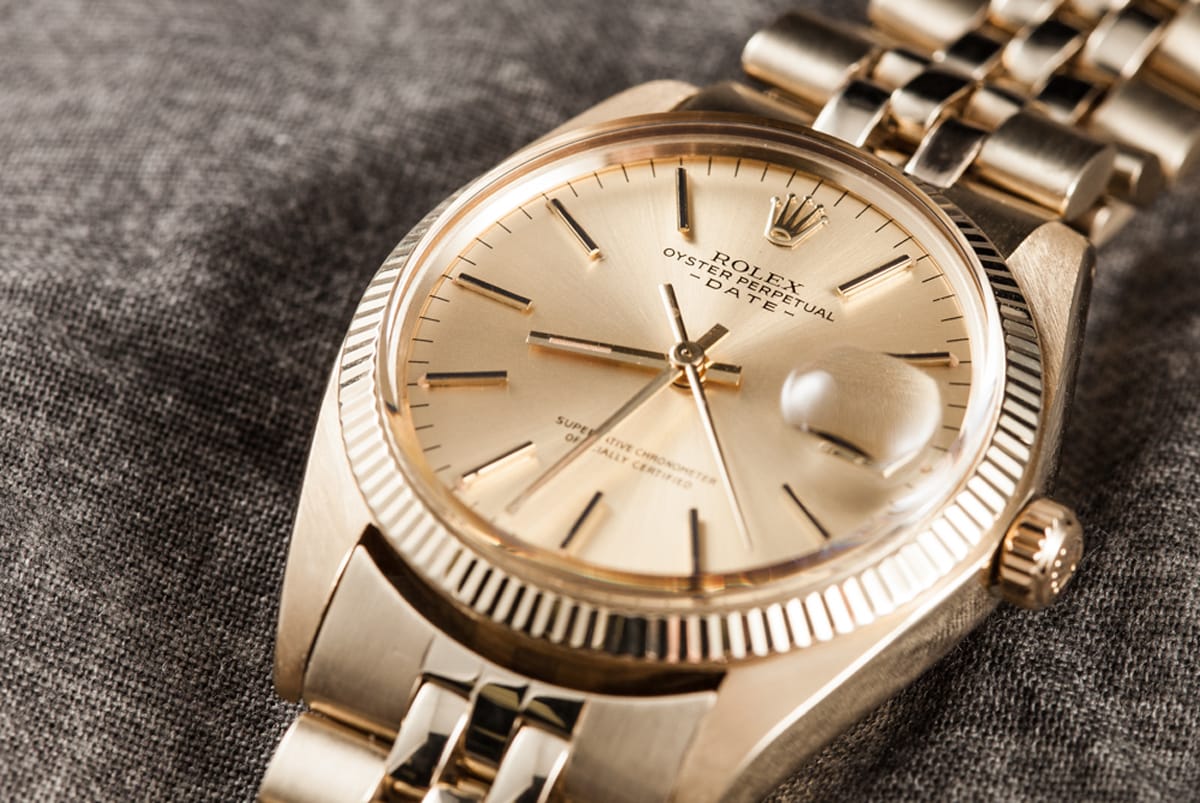 The attractive gold case holds a 1565/1575 caliber, 26 jewels automatic movement that can offer a hack feature, depending on the year the model was made. Though the watch is fairly monochrome in its overall look, the Rolex Date tends to offer a lot of variety in bracelet options. A ref 1503 could utilize a New Style, Old Style, leather, Oyster or Jubilee bracelet. The case's relatively simple look allows the watch to be worn with, and look great with, any style of bracelet.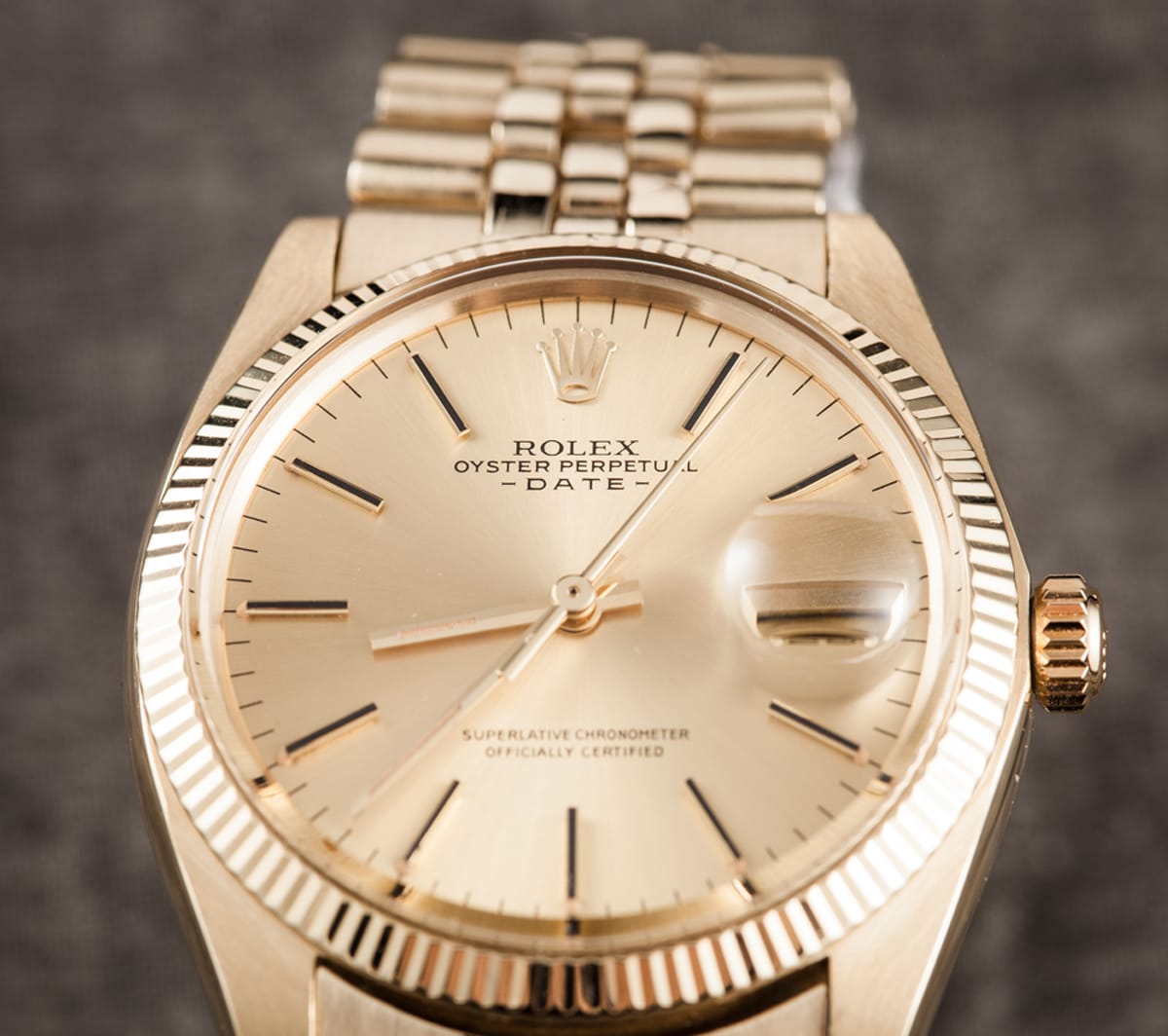 When looking for classic Rolex watches, you cannot go wrong with a Men's Rolex Oyster Perpetual Date Ref 1503 in stainless steel or yellow, pink or white gold. Do not let the watch's luxurious and rich feel fool you, however. Certainly this watch utilize some of the most precious metals in the world, but it also offers innovative technology including a waterproof case and precise time and date display.
Rolex also designed the Date 1503 to be versatile for the user. While its use of rich materials allows it to easily fit into a formal setting, such as an event where a tuxedo is required, its understated and classic design allow it to also fit flawlessly in a relaxed setting, like at a sports game. This versatile vintage Rolex timepiece is an excellent investment that tends to increase significantly in value over time. If you are looking for a classic, yet more affordable, watch to add to your collection, invest in the Rolex Date 1503.