Rolex Numbers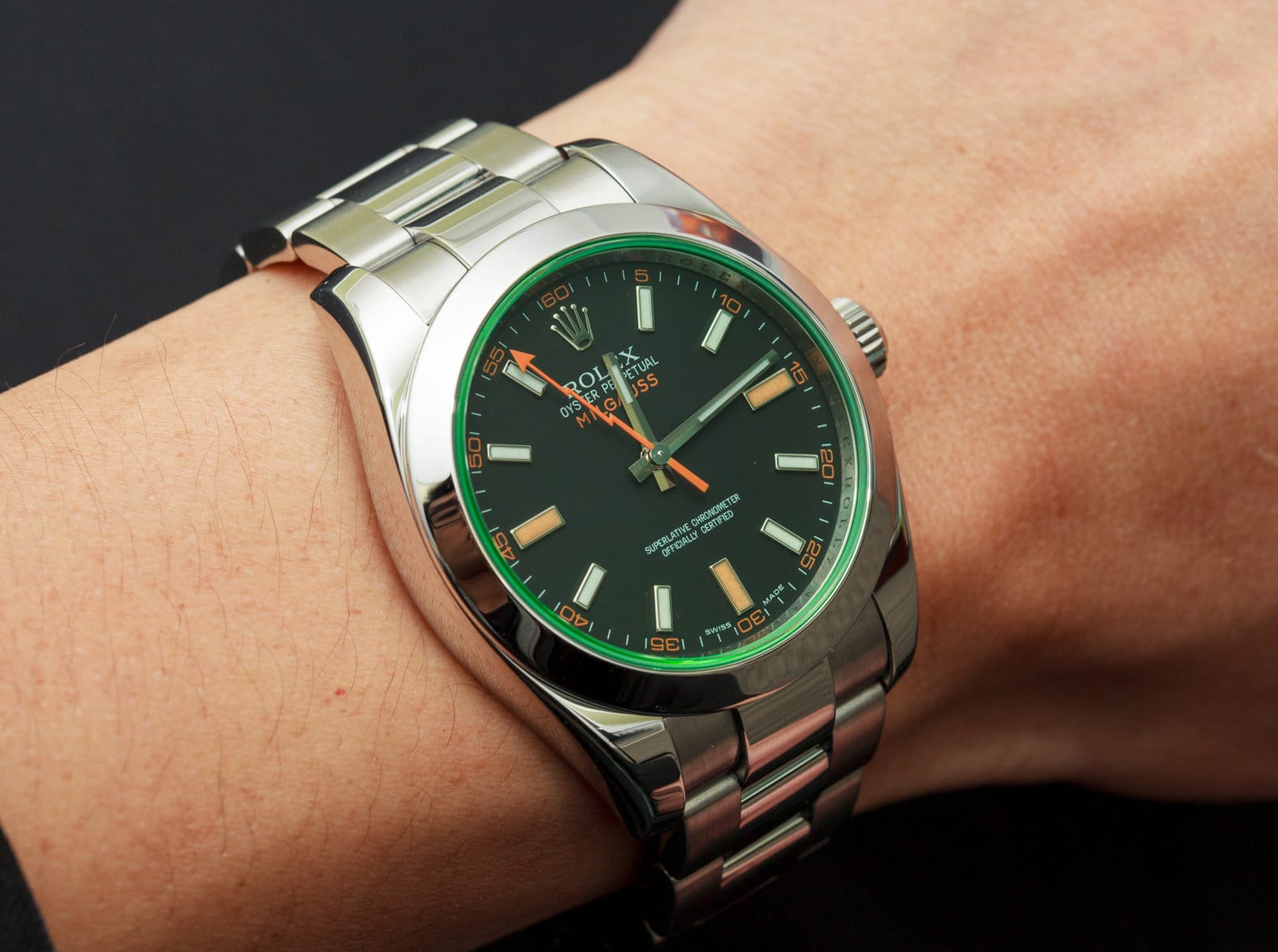 Every Rolex watch has two engravings etched into the metal of its case: the reference number and serial number. The first engraving, located between the lugs on the 12 o'clock side is the reference number, and it describes the materials and configuration of that particular watch.
The second engraving, located between the lugs on the opposite side (or on the inner bezel for modern Rolex watches) is the serial number for the watch, and serves as the timepiece's unique identification number.
The reference and serial numbers clearly convey the model, caliber of movement, and year of production for every Rolex watch. To the uninitiated, these engravings may seem like a random mix of numbers and letters; however each digit represents a defining characteristic about the watch.
Rolex reference numbers can range from four to six digits in length, and they describe the watch's most important and defining features. The first two to three digits describe the specific model of watch, which alludes to its size and the type of movement that will be found inside. 
If the watch's reference number has five digits, the second from the last (with some exceptions) describes the style of bezel fitted to the watch. Additionally, the last digit of a Rolex reference number describes the materials from which the watch is made.
On the 12 o'clock side of every Rolex there is a 4 to 6 digit number between that lugs.  These numbers can give you a lot of information.  For example, the first 2-3 digits are used to describe the watch.  For 5 digit models, the second from the right will provide you with the bezel while the last digit is the material used.
Here is an example of the Bezel type numbers used:
0 Polished
1 Finely Engine Turned
2 Engine Turned
3 Fluted
4 Hand-Crafted
5 Pyramid
6 Rotating Bezel
The type of materials used follows the below example
0 Stainless
1 Yellow Gold Filled
2 White Gold Filled
3 Stainless Steel and Yellow Gold
4 Stainless Steel and 18k White Gold
5 Gold Shell
6 Platinum
14k Yellow Gold
18k Yellow Gold
18k White Gold
On the opposite side of the watch, below 6 o'clock and under the bracelet, you will find a serial number that is unique to each watch.  Just like the model number above there are a number of different things you can learn about a watch from this serial number, such as the year produced.  You can view the complete Rolex serial number listings on Bob's Watches or take advantage of our fast and easy to use serial number lookup tool.
In more recent years, Rolex started adding a 1 or 2 in front of certain model numbers to designate them as new references. An example of this is the Rolesor (two-tone) Submariner that saw its reference number change from 16613 to 116613, or the stainless steel Explorer II that saw a change in reference number from 16570 to 216570.
While yellow gold is easy to visually differentiate from stainless steel, other uses of precious metals are not as simple and straightforward to decipher. Rolex's reference number system allows customers to easily and definitively determine the materials from which a watch is made, and confirm that the watch has retained its original, manufacturer-intended configuration.
Certain Rolesor (two-tone) versions of Rolex's Datejust line may appear as though they are craft entirely from stainless steel; however a closer look at the watch's reference number will actually confirm that they are made from both stainless steel and white gold.
The classic, 36mm Rolex Datejust, reference 116200, looks remarkably similar to the reference 116234. However, the reference 116234 is fitted with an 18-karat, white gold bezel, while the reference 116200 comes with a regular, domed, stainless steel one.
Often, the style of bezel and type of metal is rather obvious, and can easily be determined by simply looking at the watch. However, when purchasing a pre-owned Rolex, the watch's reference number is an excellent way of confirming that the timepiece pictured is in its correct configuration, and that no parts differ from those that were fitted to the watch when it left the factory.
While the reference number indicates the model and configuration for a watch, Rolex serial numbers can often pinpoint when a particular watch was manufactured. Rolex serial numbers range from four to eight digits in length, and can contain both numbers and letters. Beginning in 1987, Rolex started using a letter as the first digit of their serial numbers to signify the year of production for that specific watch.
This rule holds true until 2011, when Rolex switched to a random serial number system that makes it impossible to tell when exactly a watch left their factory. The following table illustrates the evolution of Rolex's serial numbers, and their corresponding years of production.
Rolex Serial Numbers with Introduction Time
Random: 2011 - Present
G000,001: 2010 - Current
V000,001: 2008 - 2009
M000,001: 2007 - 2008
Z000,001: 2006 - 2007
D000,001: 2005
F000,001: 2003 -2004
Y000,001: 2002
K000,001: 2001
P000,001: 2000
A000,001: 1999
U000,001: 1997 - 1998
T000,001: 1996
W000,001: 1995
S000,001: 1993 -1994
C000,001: 1992
View the complete Rolex serial number listings
The reason behind the change to random serial numbers stemmed from the discrepancy between when a watch's case was manufactured, and when that watch ultimately was sold. Rolex produces tens of thousands of watches each year, and it is not uncommon for cases to be manufactured long before they actually get sold as complete timepieces.
Brand-new, Rolex watches at authorized dealers would have serial numbers that would indicate that the watch was actually several years old. To quell concerns regarding the production date of brand-new, unworn watches, Rolex switched to random serial numbers in 2011 and has since adhered to that practice.
Rolex collectors place a great deal of importance on the reference and serial numbers of their watches. Although they may seem insignificant, these small engravings convey all the relevant details about a Rolex, and can even attest to the watch's authenticity.