How to Buy a Rolex Datejust - Everything You Need to Know
Rolex introduced the Datejust to celebrate the brand's 40th anniversary. This timepiece is available in a different sizes from 28mm to 41mm, in two-tone gold ( steel and gold ), stainless steel, and solid gold for both men and women. The following complete guide will help you conduct your research providing all the information you need to make an informed decision on the Date just model that is right for you and your budget.
A design of enduring brilliance, the Rolex Datejust is just as relevant today as when it first appeared way back in 1945 - the same year that WWII ended. Throughout all that time, the model's appeal has remained universal; it has never been old-fashioned or considered to be some sort of quaint and outdated relic from another age, simply because the style is a watch for everyone. Whether you want a Rolex that makes a statement, or you simply want that 'one good watch' that goes anywhere and lasts for a lifetime, the reference model is an absolutely fantastic option. For numerous decades, it has been the go-to luxury timepiece for countless buyers all over the globe, and it serves as the poster-child example of a timeless and high-quality wristwatch.
Arguably more than any other model, the Date-just is the quintessential Rolex watch. It was the timepiece that first set the standard for how a calendar display on a wristwatch should function, and for more than three-quarters of a century, it has remained a true cornerstone offering of the luxury watch industry. Worn by countless celebrities, professional athletes, and political leaders, it has become part of the very fabric of our culture, and if you say the word "Rolex" to the average person, it is likely the image of a Datejust that first pops into their mind. Due to the model's long history and the immense variations created over the decades, deciding on the right model can sometimes be a bit overwhelming. So, we've put together a handy Rolex Datejust Ultimate Buying Guide where we lay out all the important details to help you make the perfect choice.
Rolex Datejust
Datejust Collection Key Features:
- Round waterproof Oyster case without crown guards.
- Screw-down Twinlock winding crown.
- Automatically changing calendar complication.
- A date window on the dial at three o'clock location.
- Solid screw-down caseback.
- Three centrally-mounted hands for displaying the hours, minutes, and seconds.
- A Cyclops magnification lens protruding from the crystal
- Self-winding movement (except for the Oysterquartz versions)
- Chronometer-certification
Click here to discover which celebrities wear the Rolex Datejust.
A Brief History of the Datejust
First introduced in 1945 to celebrate the brand's 40th anniversary, the Rolex Datejust was the world's first self-winding chronometer wristwatch to display the date of the month through a window on the dial. Today, the vast majority of all date-displaying watches depict the date in this manner; however, at the time, this approach was revolutionary and completely set the standard for date complications - a standard that still remains with us today.
To create this historic timepiece, Rolex combined two previous innovations - the 1926 waterproof Oyster case and the 1931 self-winding Perpetual movement - with the new date display on the dial. Also new to the watch was the aptly named Jubilee bracelet, characterized by a five-link construction consisting of semi-circular links. The first Datejust was crafted entirely in yellow gold and featured a 36mm case topped with a coin-edge fluted bezel. Rolex continued to modify the Datejust over the next few years and added details that have now become essential to the watch's design. For instance, in 1953 the bubble-like Cyclops lens was attached to the exterior of the crystal to magnify the date display.
In 1954, Rolex added the Datejust "Turn-O-Graph" model to the collection, featuring a rotating timing bezel. The practicality of the turning bezel eventually paved the way for the U.S. Air Force Thunderbird squadron to adopt the Datejust Turn-O-Graph as its official watch, which explains why this particular version of the Datejust is commonly referred to as the "Thunderbird" among collectors.
Then in 1957, the Datejust date mechanism was updated to instantaneously flip to the next day at midnight. The coin-edge style bezel eventually evolved into the more prominent fluted bezel. 1957 was also the same year that Rolex introduced the Lady-Datejust, which was mechanically and aesthetically similar to the original model but in a smaller size. The Lady-Datejust went on to become Rolex's best-selling model ever made, which is why it is often stated that the Datejust collection as a whole is Rolex's most popular watch of all time.
Throughout the 20th century, Rolex continued to make the men's Datejust in a 36mm size and the Lady-Datejust in a 26mm. There was also the midsize Datejust, coming in at 31mm, which joined the lineup in the 1960s. Regardless of the size, Rolex vastly expanded the Datejust collection to include different materials, bracelets, bezels, and dial designs - yet always maintaining the signature round case, date window at 3 o'clock, and Cyclops lens. Almost all Datejust watches are automatic with one notable exception—the Oysterquartz Datejust, which debuted in 1977 at the height of the quartz watch revolution.
The 2000s brought about some noteworthy additions to the Datejust collection. In 2008, Rolex introduced the larger Datejust II, which sported a 41mm case. Then in 2015, Rolex announced that the Lady-Datejust would now sport a slightly bigger 28mm case rather than a 26mm one. And finally, in 2016, the Datejust 41 model replaced the Datejust II as the larger option within the collection. While they both had the same official case size, the newer Datejust 41 offers more restrained design touches and a new-generation caliber.
Important Datejust Collection Milestones
First launched in 1945 and remaining a part of Rolex's catalog ever since, the Datejust is a true cornerstone offering of the luxury watch industry. Below are some of the most important milestones from the Rolex Datejust's long and remarkable history.
1945 – Rolex unveils the Datejust to celebrate the brand's 40th anniversary
1953 – Rolex adds Cyclops lens above the date window
1954 – Datejust "Turn-O-Graph" introduced
1957 – Rolex modifies the Datejust to include instantaneous date change; Lady-Datejust introduced
1960s – Midsize Datejust introduced
1977 – Oysterquartz Datejust introduced
2009 – Datejust II with a 41mm case introduced
2015 – Lady-Datejust 28 replaces Lady-Datejust 26
2016 – Datejust 41 replaces Datejust II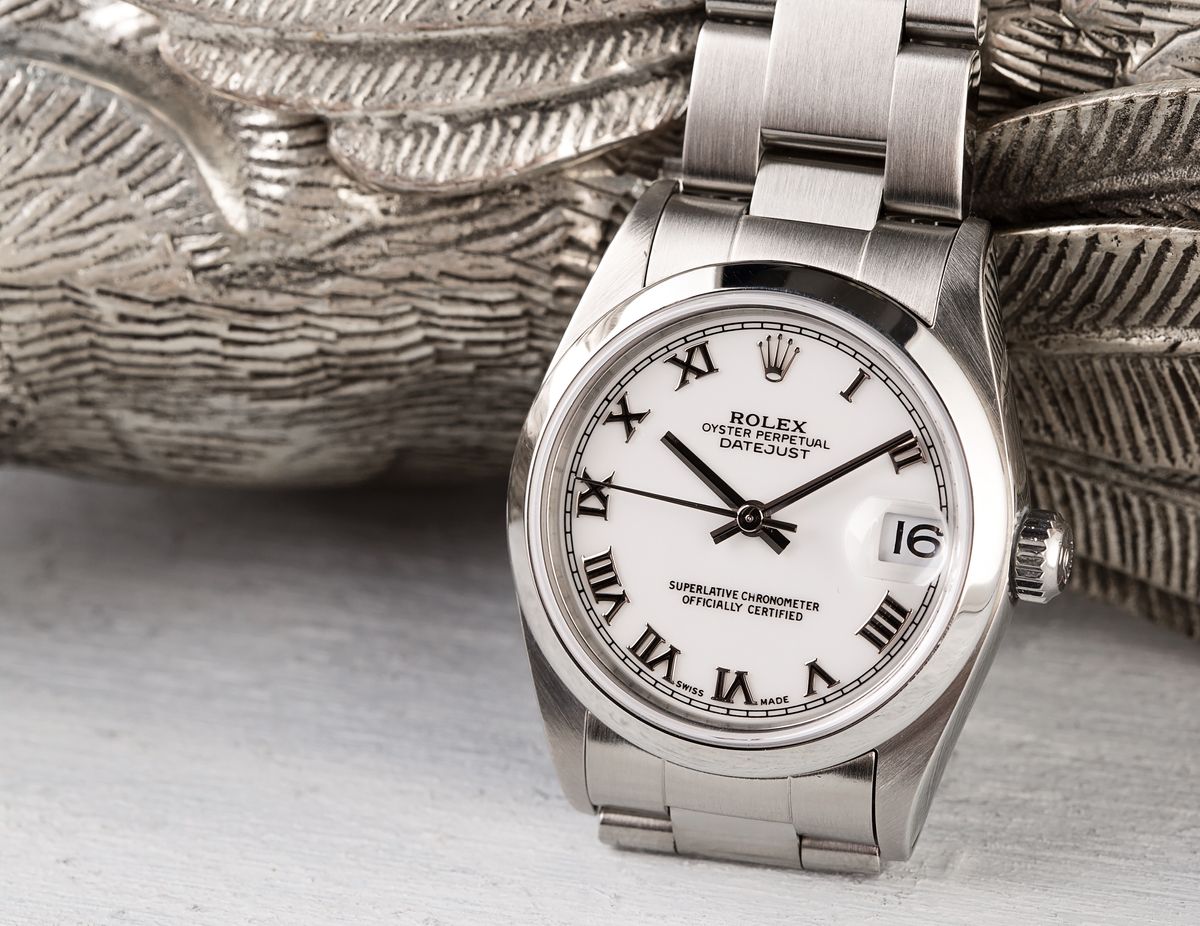 Rolex Datejust Features and Options
Many of Rolex's most famous used Rolex collections consist of timepieces specifically developed for a certain sport or lifestyle activity. However, this mentality - having a different watch for different activities - was really only something that Rolex started to embrace during the 1950s. Instead, when the Rolex Datejust was first invented in the mid-1940s, Rolex's primary objective was to create a reliable and accurate watch that could be worn all day, every day, throughout whatever conditions that its owner might encounter.
Consequently, while many Rolex watches possess certain traits or features that make them specifically tailored to a sport or environment, the Rolex Datejust is simply a classically-styled timepiece that displays the time and date and does little else beyond that. However, while the Datejust may initially seem rather commonplace compared to its sports watch siblings, it is the timeless and instantly recognizable aesthetic of the Rolex Datejust that has made it a true industry icon and the best-selling Rolex watch of all time.
Available in as many different variations as there are grains of sand on the beach, the chameleonic Rolex Datejust has been with us now for over 70 years. It has remained the model most people think of when they hear the name "Rolex." Below are the Datejust size, material, bracelet, and bezel variations.
Datejust Sizes
- Lady-Datejust: 26mm (discontinued)
- Lady-Datejust: 28mm
- Midsize Datejust: 31mm
- Datejust 36
- Datejust II: 41mm (discontinued)
- Datejust 41
There are now four main models of the Datejust available in Rolex's current catalog: Datejust 31, Datejust 36, Datejust 41, and Lady-Datejust 28.
Datejust Material Options
- Stainless steel
- Yellow gold
- White gold
- Everose gold
- Yellow Rolesor (two-tone yellow gold and stainless steel)
- White Rolesor (stainless steel with a white gold bezel)
- Everose Rolesor (two-tone rose gold and stainless steel)
- Platinum (limited to Lady-Datejust and midsize Datejust models)
- Gem-set
Datejust Bezel Options
- Smooth
- Fluted
- Gem-set
- Engine-turned (discontinued)
- Rotating "Turn-O-Graph" (discontinued)
Datejust Bracelet Options
- Three-link Jubilee
- Five-link Oyster
- Three-link President (limited to Lady-Datejust and midsize Datejust models)
- Leather straps (discontinued)
- Integrated Jubilee and Oyster (exclusive to Oysterquartz and discontinued)
Neither as dressy as a President or Cellini, nor as outright tool-like as a Submariner or Daytona, the Rolex Datejust sits easily between the two spheres - the ideal blend of style and substance and with enough varieties in size, metal, and finish to be the only watch you'd ever realistically need.
Evolution of Datejust Calibers
Similar to all Rolex watch models, the Datejust has received a number of movement upgrades throughout the decades as Rolex continuously works to refine and improve upon its iconic designs.
Midsize and Lady-Datejust Calibers
Due to their similar case sizes, Lady-Datejust and midsize Datejust models share the same self-winding movements. It began with Caliber 1135 in 1957, which was replaced by Caliber 1166 in 1967. In 1970, Rolex began fitting the two smaller Datejust models with the then-new Caliber 2035.
After 13 years, Caliber 2135 became the go-to movement for the ladies' and midsize Datejust watches from 1983 onwards. Caliber 2135 furnished the Datejust 31mm and 26mm with the practical quickset date feature. In 2015, Rolex unveiled a new movement in the form of Caliber 2236, complete with antimagnetic Syloxi hairspring and an improved 55-hour power reserve.
- Caliber 1135 (1957)
- Caliber 1166 (1967)
- Caliber 2035 (1970)
- Caliber 2135 with quickset (1983)
- Caliber 2236 (2015)
Men's Datejust Calibers
The relatively thick Caliber 740 automatic movement powered the earliest Datejust models. As such, the watches included a domed caseback to accommodate the winding rotor. These vintage Datejust watches are now known as "Bubbleback" versions. Around 1957, Rolex unveiled the slimmer Caliber 1065, which meant that the Datejust could now have a flatter caseback and thinner profile. The caliber also featured an instant date change mechanism instead of a progressive one.
Towards the end of the decade, Rolex began fitting Datejust watches with the updated Caliber 1560 and in 1965, the Caliber 1570 took over. In 1972, Rolex modified the Caliber 1570 to include hacking, which is the common term used to describe the seconds hand coming to a full halt when the winding crown is pulled out to set the time.
In 1977, Rolex introduced the Caliber 3035 with a power reserve of 48 hours and quickset functionality. Quickset allows the date to be set without having to advance the hour hand past midnight. That same year, the Oysterquartz Datejust also made its debut, powered by the in-house Caliber 5035 quartz movement.
The next Datejust movement upgrade came in 1988 with the introduction of Caliber 3135 with additional jewels and a larger balance bridge. While the performance of the Cal. 3135 is very similar to the Cal. 3035, there are differences in how to set the time. To advance the time on Datejust watches with Caliber 3035, the winding crown must be turned counter-clockwise. Conversely, to advance the time on Datejust watches with Caliber 3135, the winding crown must be turned clockwise.
The Datejust II, released in 2009, came fitted with a slightly larger Caliber 3136 with Paraflex shock absorbers. The 2016 Datejust 41 boasted an entirely new movement, Caliber 3235, with an increased power reserve rating of 72 hours and Rolex's all-new Chronergy escapement. Finally, in 2018, Rolex furnished the Datejust 36 with the new-generation Caliber 3235.
- Caliber 740 (1945)
- Caliber 1065 with instantaneous date change (1957)
- Caliber 1560 (1959)
- Caliber 1570 (1965)
- Caliber 1570 with hacking (1972)
- Caliber 3035 with quickset date (1977)
- Caliber 5035 quartz movement (1977)
- Caliber 3135 with increased jewel count (1988)
- Caliber 3136 for Datejust II (2009)
- Caliber 3235 for Datejust 41 (2016)
- Caliber 3235 for Datejust 36 (2018)
Rolex Datejust References
Thanks to the longevity and variety of the collection, there are almost endless Datejust references available in the secondary market. Below are the main reference families to consider when deciding which Datejust reference is best for you.
Four-Digit Vintage Datejust 36 References 4xxx, 5xxx, 61xx, 63xx
These are the earliest Datejust models, released between the mid-1940s and mid-1950s. Most of them will share the following characteristics:
- 36mm case
- Domed caseback (aka "bubbleback")
- Caliber 740 automatic movement
- Date wheel with alternating red and black numerals also known as "roulette"
- Progressive date change mechanism
- Non-quickset date
- Acrylic crystal
- Radium lume
- Some with Cyclops lens and some without
- Some with "Datejust" on the dial and some without
Four-Digit Vintage Datejust 36 References 66xx
With production starting in approximately 1957, the vintage Datejust 36 ref. 66xx models, such as the ref. 6605 and ref. 6604, ushered in the now-familiar slimmer Datejust silhouette with a flatter caseback.
- 36mm case
- Flat caseback
- Caliber 1065 automatic movement
- Instantaneous date change mechanism
- Non-quickset date
- Acrylic crystal with Cyclops lens
- Radium lume
- "Datejust" name on the dial
Four-Digit Vintage Datejust 36 References 16xx
Equipped with a new movement and produced from about 1959 until 1977, the Datejust 16xx references are some of the most popular and affordable vintage Datejust models available in today's market.
- 36mm case
- Caliber 1560 or 1570 automatic movement
- Models made from 1972 onwards with hacking
- Non-quickset date
- Acrylic crystal with Cyclops lens
- Early examples have radium lume
- Examples made from 1963 onwards have tritium lume
Five-Digit Datejust 36 References 160xx
Launched in 1977, the Datejust ref. 160xx references are popular secondhand Rolex watches. They retain vintage Datejust designs but paired with the practical quickset date feature.
- 36mm case
- Caliber 3035 automatic movement
- Quickset date
- Acrylic crystal with Cyclops lens
- Tritium lume
Oysterquartz Datejust References
Released during the Quartz Crisis, the Oysterquartz Datejust references were decidedly modern iterations of Rolex's iconic watch. Not only did these models run on what was then considered high-tech quartz calibers but they also sported fashionable angular cases and integrated bracelets. What's more, they included new scratch-resistant sapphire crystals. Rolex eventually discontinued the Oysterquartz series in the early-2000s.
- 36mm angular case
- Caliber 5035 quartz movement
- Quickset date
- Sapphire crystal with Cyclops lens
- Early examples have tritium lume
- Examples made from mid-1990s onwards have LumiNova lume
- Integrated Oyster or Jubilee style bracelets
Five-Digit Datejust 36 References 162xx
The launch of the Datejust 36 162xx series in 1988 offered some major upgrades to the model. Along with the new Caliber 3135, the watches now had sapphire crystals protecting their dials. Furthermore, Rolex opted to use higher-grade 904L steel for references such as the Datejust ref. 16200 and 16204. By the late 1990s, old-fashioned tritium luminescence was replaced with LumiNova and eventually Super-LumiNova in the 2000s.
- 36mm case
- Caliber 3135 automatic movement
- Quickset date
- Sapphire crystal with Cyclops
- Early examples have tritium lume
- Examples made from mid-1990s onwards have LumiNova lume followed by Super-LumiNova in 2000
Six-Digit Datejust 36 References 1162xx
The mid-2000s marked the arrival of a new family of Datejust watches that retained the same movement but included redesigned cases with fatter lugs and revamped bracelets with polished center links, solid end-links, and Easylink clasps.
- 36mm case with redesigned lugs
- Caliber 3135 automatic movement
- Quickset date
- Sapphire crystal with Cyclops
- Super-LumiNova lume
- Improved bracelet and clasp designs
Datejust II References 1163xx
The 2009 release of the Datejust II marked the first time Rolex made another men's Datejust size alongside the classically proportioned 36mm versions. Featuring generously-sized 41mm cases, thicker lugs, and wider bezels, the Datejust II offers a great option for those who like the idea of Rolex's iconic watch design in a bigger silhouette.
- 41mm case
- Caliber 3136 automatic movement
- Quickset date
- Sapphire crystal with Cyclops
- Combination of green Super-LumiNova and blue Chromalight lume
- Oyster bracelet only
Datejust 41 References 1263xx
In 2016, Rolex discontinued the Datejust II collection in favor of the brand new Datejust 41 watch - fitted with a new-generation movement. While on paper these two models have identical case dimensions, the newer Datejust 41 is considered more elegant compared to the sportier Datejust II due to slimmer lugs and bezels. Additionally, the Datejust 41 offers the option of a Jubilee bracelet.
- 41mm case
- Caliber 3235 automatic movement
- Quickset date
- 72-hour power reserve
- Sapphire crystal with Cyclops
- Chromalight lume
Six-Digit Datejust 36 References 1262xx
In 2018, Rolex updated the Datejust 36 collection with the brand new 1262xx references. Maintaining the traditional 36mm size of the original Datejust but fitted with the new-generation Caliber 3235 movement with improved performance all around, this series is the current-production Datejust 36.
- 36mm case with redesigned lugs and sides
- Caliber 3235 automatic movement
- Quickset date
- Sapphire crystal
- Chromalight lume
How Much is a Datejust?
The least expensive Datejust watches from Rolex's current catalog are the full steel models with smooth bezels and Oyster bracelets. Here are the retail prices segmented by size:
- Datejust 31 ref. 278240 - $6,850
- Lady-Datejust 28 ref. 279160 - $6,750
- Datejust 36 ref. 126200 - $7,250
- Datejust 41 ref. 126300 - $7,900
Naturally, prices can quickly escalate with the addition of precious metals or diamonds. An iconic look for the Datejust is the two-tone yellow Rolesor version with a fluted bezel and a Jubilee bracelet. Below are the current retail prices:
- Lady-Datejust 28 ref. 279173 - $9,250
- Datejust 31 ref. 278273 - $10,100
- Datejust 36 ref. 126233 - $11,350
- Datejust 41 ref. 126333 - $12,900
A major appeal of the Rolex Datejust is that it has kept its fundamental design throughout its history. Therefore, buying a pre-owned Datejust from older reference families can offer significant savings for a timepiece that looks similar to the newest versions. Below is a sampling of starting prices in the secondary market for older Datejust references:
- Pre-owned steel Datejust 31 ref. 178240 – starting at $5,195
- Pre-owned two-tone Lady-Datejust 26 ref. 179163 – starting at $7,995
- Pre-owned steel Datejust 36 ref. 116200 – starting at $6,695
- Pre-owned two-tone Datejust 36 ref. 116233 - $10,495
- Pre-owned two-tone steel Datejust II ref. 116300 - $8,995
- Pre-owned two-tone Datejust II ref. 116333 - $13,595
Buying Pre-Owned Datejust vs. New
The longest unbroken production run of any model in the Rolex stable means there is a glut of Datejust watches on the pre-owned market. While the basic DNA has stayed true to the groundbreaking original, the first waterproof, self-winding watch with a date function, the sheer number of different interpretations on that initial blueprint leaves us with a giddying selection to choose from – and start at a price point that represents an incredibly affordable buy-in to the world's leading watchmaker.
Whether your budget reaches into the stratosphere or is altogether more grounded, there is a Datejust with your name on it. Below we've put together a price scale to give you some idea of what you can reasonably expect to get for your money.
And, as always, our customary word of caution on infiltrating the vintage watch market. While the good guys are in abundance, there are still plenty of wrong 'uns lurking out there, happy to relieve you of armfuls of cash on inferior Frankenwatches or, worse still, all-out fakes. Always do your seller research and be ready to walk away if things start smelling iffy.
The Rolex Datejust For Under $5,000
Improbable as it may seem for the thoroughbred model from the most respected watch manufacturer ever - and especially one with the Datejust's pedigree, superb examples can be found very easily for way south of the $5K mark. In terms of outright value, it's hard to think of any reference that offers more for your money than a stainless steel or Rolesor ref. 1601.
Launched in the fifties, and finally being replaced some 20 years later, the Rolex 1601 is among the all-time great Datejust models and sits well within budget. Its pie pan dial, where the very outer rim of the watch face drops back slightly, is one of the only characteristics that identify it at a glance as a vintage piece. In all other respects, the ref. 1601 looks more-or-less like a contemporary model, outwardly at least. Inside, the earliest examples contained the Cal. 1565 movement, from the 1500 series of calibers that have been fan favorites since their inception. It was superseded in 1965 by the Cal. 1575, which brought with it the convenience of a hacking feature. While neither movement contained the Quickset date function, they were both COSC certified and have more than stood the test of time - many experts consider them amongst the most reliable and accurate movements ever made.
For $5K, you will have no trouble sourcing a ref. 1601 in exceptional condition - the biggest problem you are likely to experience is choosing between the vast range of dial and metal options on offer. Stainless steel models are the most prevalent at this price, the perfect everyday watch and one with the inherent robustness to become a treasured family heirloom. You'll also find plenty of steel and gold Rolesor specimens, some even with the added luxury of diamond-accented hour markers - beautiful pieces with a little extra presence and great investment purchase.
Between $5,000 And $10,000
A step up in budget brings us into the realm where the majority of vintage Datejust watches dwell. Here, alongside solid pieces in steel and Rolesor, you'll come across stunning models in 18k white, rose, or yellow gold. It is also populated with many examples of the highly regarded, yet short-lived, Datejust II. Launched in 2009, the huge jump in size to 41mm from the traditional 36mm marked the biggest cosmetic change to the ageless design since the Cyclops lens made its debut some 60 years ago.
Not only did the dimensions of the case inflate, but the bezel also widened and the dial features thickened, taking full advantage of the additional space. The bracelet, however, stayed the same width, causing the lugs to broaden and giving the whole watch a more masculine solidity. Inside, the Cal. 3136 is the updated version of the Cal. 3135. Filled with the latest tech from the pioneering Swiss manufacturer, it benefits from a blue Parachrom hairspring and Paraflex shock absorbers that have become a standard-issue throughout the Rolex lineup.
While it was discontinued in 2016 to make way for the 41mm version of the traditional Datejust, which kept the same relative proportions as its smaller siblings, the Datejust II has gained a strong following, attracting lovers of the original who wanted a version more in keeping with the modern-day trend for larger watches. Available in 904L steel and Rolesor, the Datejust II is set for future classic status, and flawless examples are well within reach for less than $10k.
The Rolex Datejust For $10,000 And Beyond
By the time we hit five figures, some very special and historically important models come into view. Rolex has never been shy about festooning their creations with luxurious extravagance, and solid gold Datejust watches dripping with precious stones can reach exorbitant sums.
At more realistic prices, some of the very earliest iterations from the forties and early fifties make for a fascinating addition to the catalogs of dedicated Rolex collectors. Although they take a bit of finding, the first of the breed (the ref. 4467) is still out there, with prices ranging from low $10k northwards, depending on rarity and condition. The genesis for Rolex's best selling watch ever, it laid the foundation for everything that followed.
Choosing Your Pre-Owned Datejust
Ultimately, the model you decide to purchase is dependent on a host of factors, such as budget, availability, and of course, personal taste. However, it's worth considering the provenance of the watch itself. The Rolex Datejust has a well-deserved reputation for being an especially tough contender, particularly for a non-sports watch.
While that is clearly a point in its favor, it also means that some vintage examples won't necessarily have been handled with kid gloves by previous owners. With its versatility, the Datejust was meant to be worn with anything, making them more often a daily companion rather than an adornment for special occasions.
As such, pre-owned models can often have picked up some bruises in an earlier life, although buying from a seller that offers a warranty will help safeguard you from any potential mechanical issues that may also be lurking under the surface. Other than that, the Rolex Datejust really is the truly great all-rounder and an outstanding example of the watchmaker's art. After 70 years in production, forged from eight different metal combinations and with more than 100 dial options, if you can't find a version to suit you, chances are that you're not looking hard enough.
Robust enough to be the ideal choice for those looking for the one good watch that will last a lifetime, and with enough tiny variations sprinkled here and there across the vast range to appeal to the hardcore Rolex savant, the Datejust is the real deal - and it is far more attainable than you might imagine.