When shopping pre-owned, it's important to keep a few things in mind to ensure you're buying authentic Rolex watches. While that will never be a concern when buying from Bob's, it's still useful to arm yourself with some knowledge. So we've compiled a quick rundown of the anatomy of authentic Rolex watches with some basic guidelines to keep in mind. Please note that these rules are only applicable to Rolex watches made after 2002.
As it gets increasingly difficult to identify authentic from counterfeit, here is a list to help you.
For anything prior to that, we recommend checking out our official guide on How to Spot a Fake Rolex for more detailed information.
The Metals of Authentic Rolex Watches
As expected, Rolex only uses the finest materials for their watches. For instance, Rolex watches only use 904L stainless steel and 18k gold. Furthermore, from 2008 onwards, Rolex began using a patented rose gold alloy with some platinum mixed in that they call Everose. For Rolex platinum timepieces, only 950 platinum will do, which comprises of 95% platinum. The term Rolesor refers to the use of both gold and stainless steel on a particular model. On the other hand, Rolesium refers to the use of both platinum and stainless steel on a specific watch.
904L Stainless Steel
18k gold
Everose rose gold alloy with platinum
950 platinum
Rolesor: gold and stainless steel
Rolesium: platinum and stainless steel
Good to know: the fluted bezel is only ever in 18k gold
A Rolesium Yacht-Master is a mix of platinum and stainless steel.
The Oyster cases of Authentic Rolex Watches
Rolex Oyster Perpetual watches are of course famous for their water resistance. In fact, Rolex made history in 1926 by creating the first waterproof wristwatch. Today, Rolex Oyster Perpetual watches have a minimum water-resistance of 330 feet (100 meters). However, Rolex divers' watches have much deeper water resistance. The Rolex Submariner is water-resistant to 1,000 feet (300 meters) while the Sea-Dweller is water-resistant to 4,000 feet (1,220 meters). Finally, the Rolex Sea-Dweller Deepsea is water-resistant to 12,800 feet (3,900 meters).
Rolex Oyster Perpetual Minimum Water Resistance: 330 feet
Submariner Water Resistance: 1,000 feet
Sea-Dweller Water Resistance: 4,000 feet
Sea-Dweller Deepsea Water Resistance: 12,800 feet
Rolex Submariner 114060 can go to a depth of 1000ft.
To achieve this water resistance, the cases of authentic Rolex watches have certain hallmarks. Firstly, they have a solid middle case. Secondly, they have a fluted screw-down caseback. Additionally, the cases are equipped with screw-down winding crowns to keep the water out. Depending on the model, there's the Twinlock or Triplock screw-down winding crown, with two or three sealed areas, respectively.
Twinlock: Day-Date, Datejust, Oyster Perpetual, Sky-Dweller, Pearl-Master, Explorer II, Milgauss, Air-King, GMT-Master II (pre-2008)
Triplock: Yacht-Master, Yacht-Master II, Submariner, Sea-Dweller, Daytona, GMT-Master II (post-2008)
The Sapphire Glass of Authentic Rolex Watches
Modern authentic Rolex watches are outfitted with scratchproof sapphire crystal to protect the face of the watch. What's more, on Rolex date watches, there a magnifying lens on top of the date window to amplify the number for greater legibility. This lens, dubbed the Cyclops, is also made from sapphire crystal and it magnifies the date 2.5 times. Up until very recently, the only Rolex date models that did not have a Cyclops lens were the Sea-Dweller and Sea-Dweller Deepsea. But that changed at Baselworld 2017 when Rolex introduced the new Sea-Dweller with a Cyclops lens. Now, the only Rolex date watch without a Cyclops lens is the Sea-Dweller Deepsea.
The new Sea-Dweller from Baselworld 2017 came out with a cyclops lens and a red line of text.
As of 2002, Rolex included a tiny micro-etching of the Rolex crown, aka the "coronet", on the crystal at the 6 o'clock position. Extremely difficult to see without a loupe and almost impossible to replicate, this mini marking is a hallmark of authentic Rolex watches. Another marking of authenticity sits under the sapphire crystal on the rehaut, which is engraved with "ROLEX ROLEX ROLEX" all around, along with the serial number engraving at 6 o'clock.
The Bracelets and Straps of Authentic Rolex Watches
As much a part of the overall look of a Rolex watch is the bracelet it is presented upon. Today, there are many different types of bracelets and straps to choose from depending on the model. Here's a quick cheat sheet:
Oyster bracelet: flat three-piece link construction. Available in steel, gold, platinum, or Rolesor.
President: semi-circular three-piece link construction. Available in gold or platinum.
Jubilee: curvy five-piece link construction. Available in steel, gold, or Rolesor.
Leather: alligator leather. Available with gold folding clasps.
Oysterflex: nickel and titanium metal blade coated with black elastomer. Available with gold folding clasps.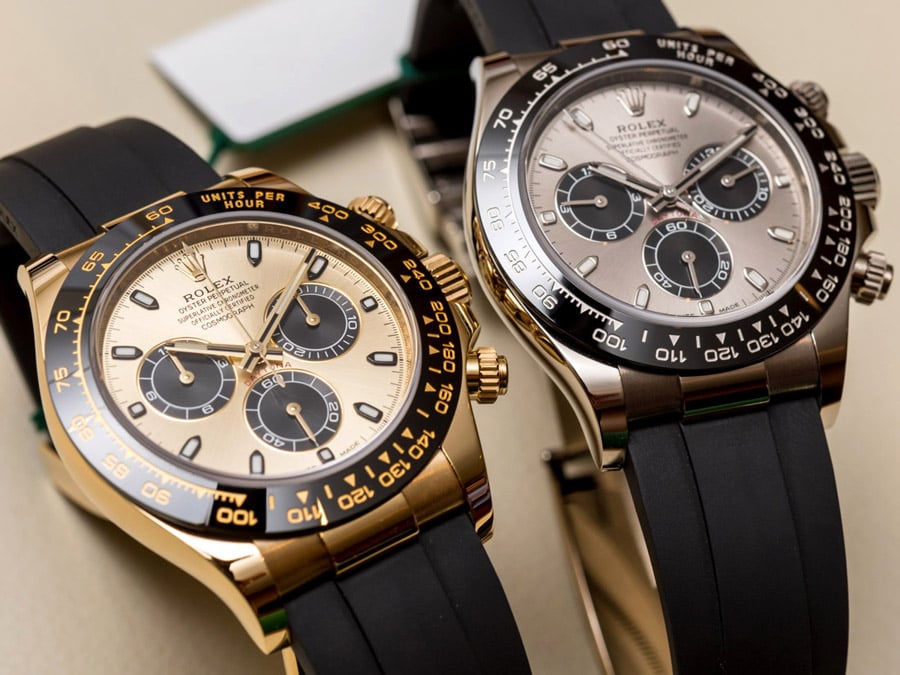 The new Oysterflex Daytona now comes with a rubber bracelet.
The newest Rolex bracelet option is the Oysterflex. It first made its debut in 2015 on the Everose Yacht-Master and just this year, it is now available on gold Daytona models. We hope that you've found this quick guide to the anatomy of authentic Rolex watches useful. However, when searching for genuine Rolex timepieces, nothing beats buying from a trustworthy source since all the homework has been done on your behalf.
Click to go back to Sell My Rolex