Have you recently considered purchasing a Rolex watch for investment purposes and don't know where to start? The amazing thing about the Rolex family of products is that many of them are like fine wines; they have the power to gain value over time.
Table of Contents
Which Rolex watch is the best investment?
Reason To Invest In a Vintage Rolex Watch
Is a Rolex a Good Investment?
Like investing in wine, art, cars and other goods, a Rolex watch can be a good investment. The Rolex brand can especially be a good investment because people care about the brand.
Which Rolex Watch is the best Investment?
The best Rolex watches to invest your money include:
Submariner
Deepsea Sea-Dweller
Daytona
Datejust
GMT Master
Explorer
Reasons To Invest In A Vintage Rolex Watch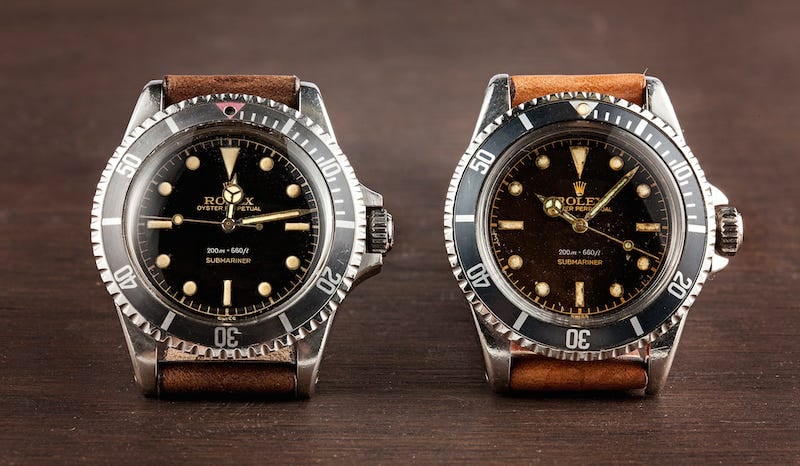 Rolex Submariner 5512 models. Left has the square crown guards and right has the pointed crown guards.
Increases in Value
According to Moneywise, many rare vintage Rolex watches (along with other famous luxury brand timepieces) tend to grow amazingly valuable in the face of today's mass-produced and uniform products. Great vintage Rolex watches will increase in value. It has been purported that the wristwatch first became a hit in World War I, when soldiers and aviators didn't have the time or energy to search through their pockets for their trusty pocket watch when it was needed most. Some watch collectors search high and low for watches made within the World War I era, including those owned by women…who are credited in history as the earliest adopters of wristwatches. And then when Rolex hit the market in 1946, the company was quickly credited as a premiere innovator of watches that were developed for specific purposes.
Investing in Rolex
Today's Rolex collectors focus on the rarity of and history behind pre-owned Rolex watches. The less watches released to market for specific model, the more valuable they tend to be over time. Another factor is the quality of precious metals and diamonds utilized to manufacture the watch. In today's economy, there is a premium on gold, silver, and platinum. Vintage products (no matter what their product category) tend to be made with extremely high-quality materials. Rolex watches are no exception. Vintage Rolex often feature amazingly intricate gold Rolex bracelets and unique diamond configurations.
Vintage Rolex Daytona (IUmage Courtesy: Jared Paul Stern)
Collectors also buy vintage Rolex because of the history behind them. For instance, Rolex has developed watches for specific explorers, scientists, pilots, movie characters, sailors, and racecar drivers. Such watches can sell for hundreds-of-thousands of dollars and tend to be a part of exclusive auctions. The best policy when searching for a vintage Rolex is to do your research as to how many of a particular model were released to market, the significance of their history, special features, and types of precious metals/stones used. It is also important to know if any watch parts were replaced throughout time – and to note that replaced dials, bracelets, and dials can greatly reduce their value.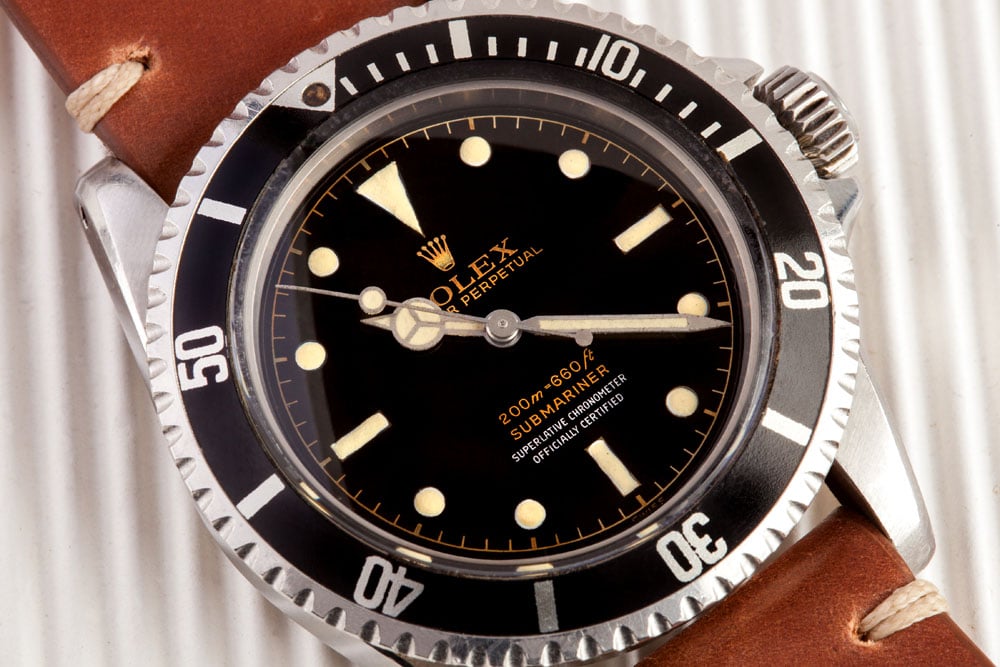 Vintage Sub with Patina Markers and Leather Band
Plus, original watch documents, certifications, and boxes (along with a nicely conditioned Rolex watch) are as good as gold! Once you buy Rolex used, it is advised that you continually keep up on their worth in case you ever want to sell your Rolex watch. The beauty of owning a piece of history is that Rolex watches can increase in value as the years progress. Happy Rolex hunting!