Rolex Meteorite Dial AKA Gibeon Meteorite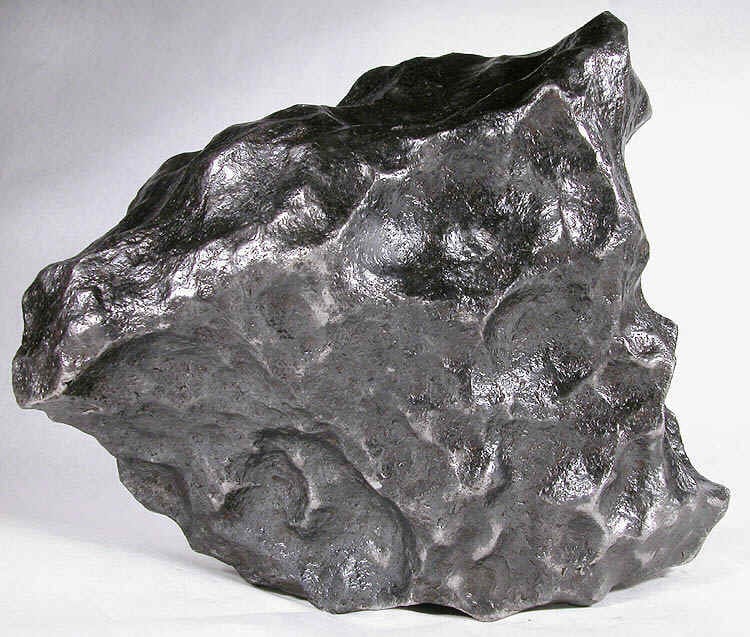 Rolex is famous for producing luxury watches utilizing rare and valuable materials. It is no surprise, then, that Rolex took full advantage of one of the rarest materials ever found on earth to make a truly unique dial for a range of their Daytona watches.
A Fascinating Meteoric History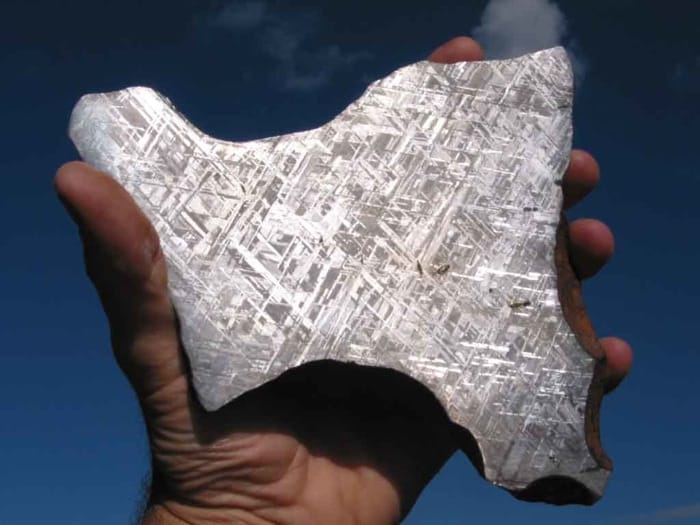 The "Gibeon" Meteorite, a Class IVA meteorite, was first reported in 1838 by Captain J.E. Alexander. However, the meteorite's history stretches back in time millions of years. Scientists believe that the meteorite fell to earth in prehistoric times, landing in the Namibian desert near the town of Gibeon. The meteorite shattered and scattered upwards of 26,000 kilograms of interstellar metal along the east side of the Great Fish River in Great Namaqualand, Namibia, Africa.
The meteorite most likely originated as a piece of molten planetary core, which was released when the planet broke apart billions of years ago. The meteorite then made its way slowly through space, traveling millions of years until it landed on earth. As the molten meteorite traveled, it cooled in the vacuum of space. While slowly cooling, the famous Widmanstätten pattern, named for Alois von Beckh Widmanstätten, formed, leaving the long ribbons of iron and nickel composites we see today.
Rolex: Always Looking for Rare Finds
Rolex, ever searching for the best and rarest materials, utilized the rare space rock as part of their raw material resources. Rolex was certainly the first watchmaker to develop completely unique dials out of the meteorite, then pair them with other rare metals like 18k gold to develop a truly unique and collectable line of watches.
Each dial is made from a solid piece of Gibeon meteorite, then finished with an acid-wash on the dial face. The dial face also features three subsidiary dials, utilized for tracking speed and time, particularly when racing.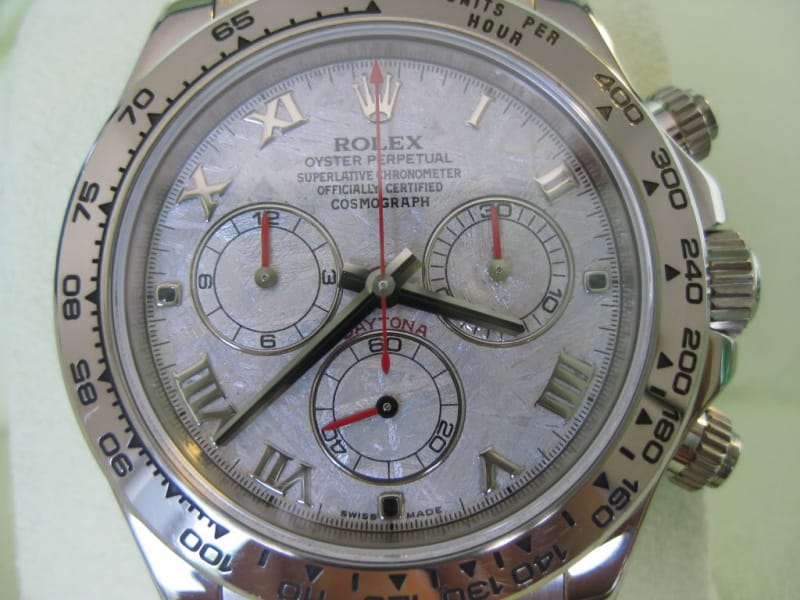 The Rolex Daytona has been a long time favorite of Rolex collectors. Thus, it is no surprise Rolex chose this particular watch to feature its rare meteorite dial. Like other Rolex Daytona models, the meteorite dial Daytona features self-winding technology, a waterproof case, 44-jewel movement, sapphire crystal and an 18k white gold case with 40mm tachymeter bezel. The Daytona is a certified Rolex chronograph.
Many of the Rolex Daytonas which feature the meteorite dial feature a leather strap rather than a metal link bracelet. The price for these rare watches varies, with some selling between $20,000 and $25,000, while others have sold for over $30,000.
The Gibeon meteorite is now protected by Namibian law, meaning no one can further harvest it. Despite this stall in resource supply, Rolex has procured some of most aesthetically pleasing deposits of the Gibeon meteorite for their unique meteorite dials. A Rolex meteorite dial is certainly one of the rarest features you may find, not only in Rolex watches but as a raw material throughout the world. Considering the meteorite dial is literally "out of this world," it is no surprise Rolex utilized its rarity to create one of the most aesthetically pleasing dials ever made.