Rolex is famous for producing luxury watches that utilize rare and valuable materials. Consequently, it comes as no surprise that Rolex took full advantage of one of the rarest materials ever found on Earth, in order to make some truly unique and spectacular dials for a few of their most famous and important lines of watches. That material is, of course, genuine Meteorite. From where does the material originate? And which Rolex watches use it? Let's find out more.
A Fascinating Meteoric History
Throughout the history of Rolex there have been a number of exciting new developments from the brand. The "Gibeon" Meteorite, a Class IVA meteorite, was first reported in 1838 by Captain J.E. Alexander. However, the meteorite's history stretches back millions of years before it was ever "discovered" by humans. Scientists believe that the Gibeon meteorite fell to Earth in prehistoric times, landing in the Namibian desert near the town of Gibeon. The meteorite shattered upon entry, and scattered more than 26,000 kilograms of interstellar metal along the east side of the Great Fish River in Great Namaqualand, Namibia.
The Gibeon meteorite most likely originated as a piece of molten planetary core, which was released when the planet broke apart billions of years ago. The meteorite then made its way slowly through space, traveling for millions of years until it landed on Earth. As the molten meteorite traveled, it cooled in the vacuum of space. While slowly cooling, the famous Widmanstätten pattern (named after Alois von Beckh Widmanstätten) formed, leaving the unique ribbons of crystalized iron and nickel composites that are revealed when the material is cut into slices. While this pattern isn't difficult to artificially replicate, it is virtually impossible to reproduce in a lab setting, making it all that more exclusive. Additionally, the Gibeon meteorite isn't the only space rock on the planet for companies to source meteorite dials, but it does produce the most attractive patterns.
Rolex: Always Looking for Rare Finds
Rolex, ever searching for the best and most exclusive materials, utilized pieces of the rare space rock as part of the raw materials for the construction of their watches. Rolex was the first manufacturer to utilize slices of meteorite to develop completely unique dials, pairing them with other rare metals like 18k gold or 950 platinum to develop truly unique and collectable versions of their most noteworthy watches.
Each dial is made from a solid slice of the Gibeon meteorite, which is then attached to the surface of the dial and treated with an acid-wash finish to bring out its natural crystalline pattern. Since the unique pattern seen on meteorite dials is completely naturally occurring, the pattern will slightly vary from one dial to the next, and no two Rolex meteorite dials will ever appear exactly the same.
Which Rolex Watches Have Meteorite Dials?
Meteorite dials have been a fixture of the Rolex portfolio for several years, first appearing within the Daytona and Day-Date collections and then gracing the Datejust, Pearlmaster, and GMT Master II. Today, the Daytona, Day-Date, and GMT Master II are the only models Rolex continues to produce with the meteorite dial. However, the discontinued models can still be found on the secondary market.
Rolex Pepsi Rolex GMT Master II ref. 126719BLRO
For Baselworld 2019, Rolex unveiled a new, ultra-premium version of their reference 126719 BLRO "Pepsi" GMT-Master II, which is crafted entirely from 18k white gold, and fitted with a striking meteorite dial. This release marked the first time that meteorite has been used on Rolex's GMT-Master line of watches, and introduced a new top-of-the-line version of their iconic, multi-time zone pilot/traveler's watch.
Rolex Cosmograph Daytona
The Cosmograph Daytona recently debuted with a new set of meteorite dials furnished in the wearer's choice of either white gold, yellow gold, or Everose – aka rose gold. From there, each watch is produced on either Rolex's inherently sporty Oysterflex rubber bracelet or metal to match the case. Additionally, Oysterflex models feature Cerachrom ceramic bezels, while those on metal bracelets sport a matching metal bezel. While the meteorite dial Daytona isn't an entirely new addition to the Rolex catalog, it is the first time we've seen the combo with a black Cerachrom bezel.
Rolex Day-Date President
Also new to the Rolex portfolio is the 950 platinum Day-Date 40 ref. 228236. For the first time in Rolex history, the platinum bezel is fluted instead of domed. Additionally, Rolex has outfitted the watch with their most exclusive and remarkable dial option, meteorite, which is decorated with baguette-cut diamonds to resemble baton hour markers. It's luxe, expensive, and rare – everything we would expect from a platinum, diamond, and meteorite Rolex. The meteorite dial Day-Date 40 is also available in white gold with either a fluted (ref. 228239) or diamond-encrusted (ref. 228349RBR) bezel.
How Much Meteorite Does Rolex Have?
The Gibeon meteorite is now protected by Namibian law, meaning that no one can further harvest it. Despite reaching an end in the supply of this remarkable resource, Rolex is still able to offer meteorite dials, as they previously procured some of most aesthetically pleasing deposits of the Gibeon meteorite (before it became protected), and have slowly been using their initial supply for the construction of their unique meteorite dials ever since.
How Much Are Meteorite Dial Rolex Watches?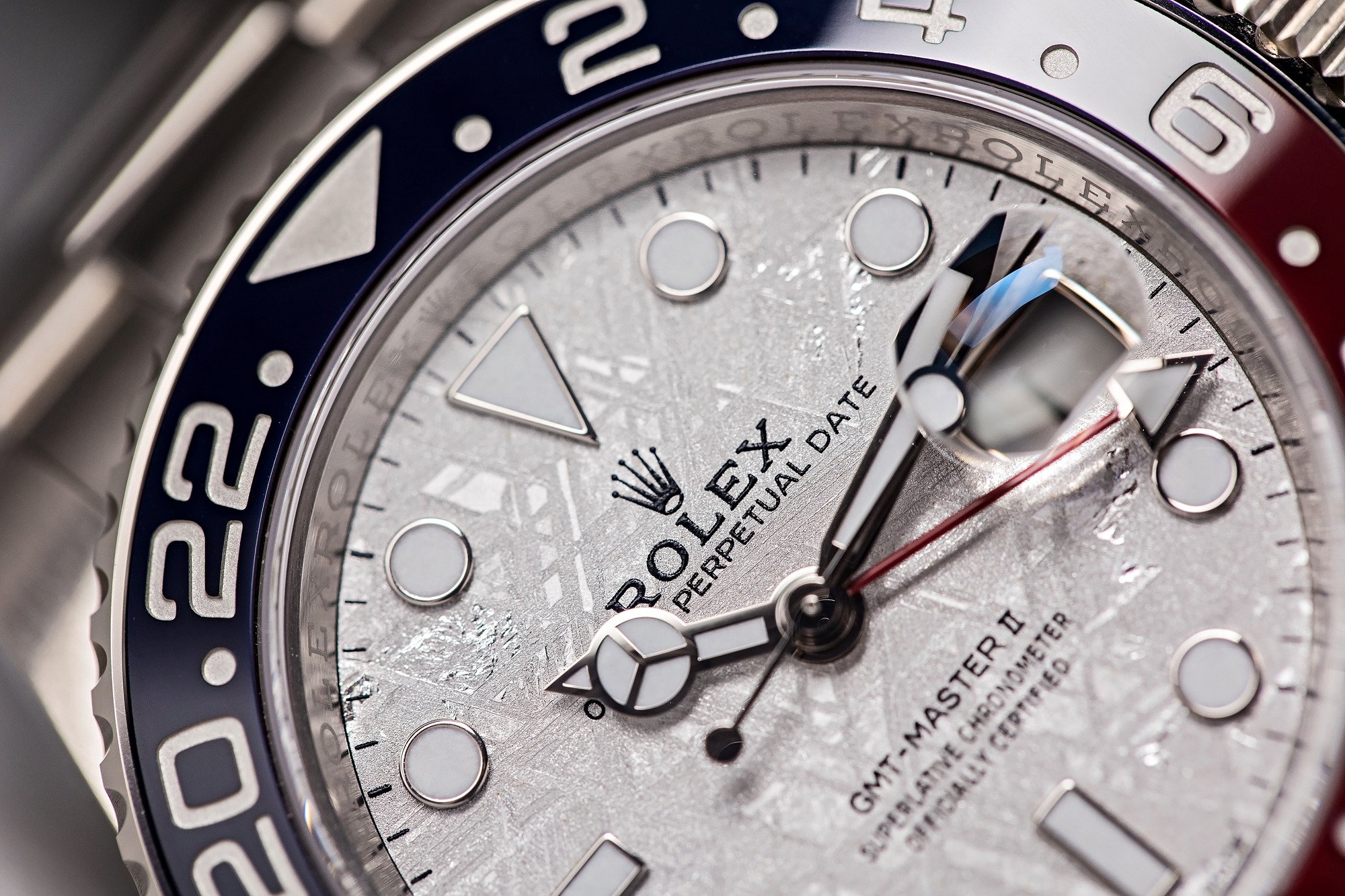 As one of the rarest dial materials in the Rolex lineup, meteorite watches understandably retail for more than their non-extraterrestrial dial counterparts. Additionally, Rolex currently exclusively produces meteorite dial watches in precious metal. When buying a meteorite dial Rolex, you can expect to invest a significant sum. Current production models start at $33,550 for the yellow gold Daytona on Oysterflex to well over $40k for the same watch on a metal bracelet. The white gold GMT Master II retails for $41,600, and the entry point for the Day-Date 40 is $49,550, starting with the white gold model.
Many current-production models command at least double retail on the secondary market. However, there are still some attractive prospects on the pre-owned level, particularly women's watches in two-tone, which resell for under $10k. Another relatively affordable option is the discontinued Day-Date 36 ref. 118238, which trades hands for between $30k and $50k, depending on the condition of the watch and other materials used, such as diamond hour markers.
A Rolex meteorite dial is certainly rare - not only in terms of Rolex watches, but also as a raw material throughout the world. Considering the meteorite dial is literally "out of this world," it is no surprise that there is a fixed and highly-limited supply of it, and that Rolex utilized slices of the Gibeon meteorite to create one of the most unusual and aesthetically pleasing dials ever manufactured. What do you think of this unique dial? Let us know in the comments below.