Warranty cards are an important addition piece to the purchase of a Rolex watch. Each officially sold, new Rolex will come with a warranty card. Depending on the location of the sale, the warranty card could look different from a warranty card from another location. Warranty cards not only ensure that the watch is an authentic Rolex, but also adds to the resale value when included.
USA warranty cards are produced in English and list the serial number, model number, bracelet reference number, and dial design. Foreign warranty cards (outside the USA) are in French. They also list the serial number, model number, bracelet reference number, and dial design. However, as the foreign warranty card covers many locations, they also designate a country code called the "N client," as well as a "modele" category.
Though not always included, most warranty cards include the name of the authorized dealer from which the Rolex timepiece was purchased. This will generally be listed on the back of the card. The back of the card also contains a space for the owner's name, address, and date of purchase. This is a way to personalize the purchase of a Rolex, as well as add to its history if collecting or reselling.
USA warranty cards are packaged in a paper folder with a cutout displaying relevant information. The foreign warranty card, however, is presented in a faux leather card holder with cutout for the Rolex model number and serial number. Thus, without even looking at the warranty card, one can tell if it was originally sold in the USA or oversees.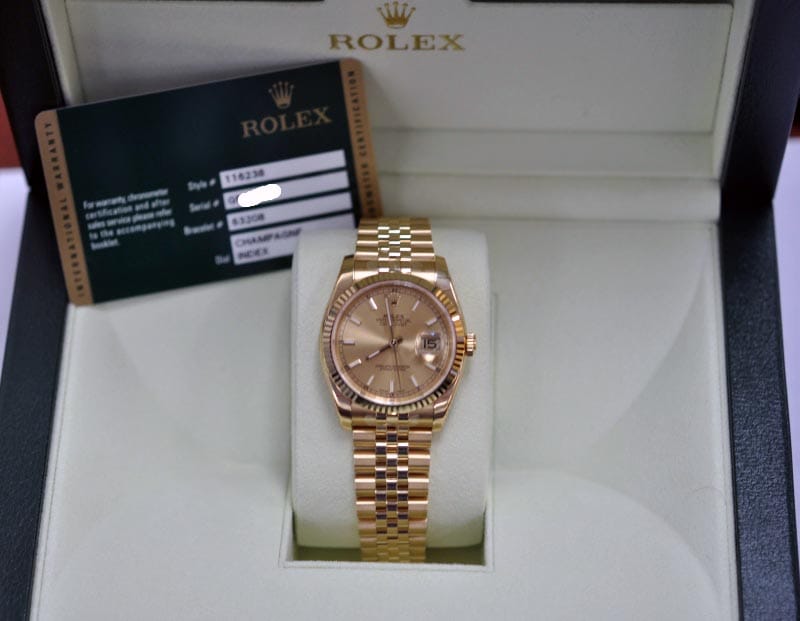 The USA warranty cards cover the entire United States, without the use of codes. Thus, it may not be easy to determine exactly where in the United States the watch was sold. The foreign warranty cards, however, offer a list of special code designations to narrow down where, outside of the USA, the timepiece was sold. Thus a code for 160, for example, would signify that the timepiece was sold in England. Though one may not be able to determine exactly where within a country a watch was sold, they can at least identify the country. One specific code, 061, is probably the rarest, as it designates the Rolex Headquarters. Thus, if one were to privately buy directly from Rolex, this would be the number assigned on the warranty card.
Today Rolex issues a warranty card as opposed to the original warranty certificate. Foreign warranty cards still display the country code, denoted as "N Client." Some country may have numerous codes, such as Switzerland home of Rolex, which has up to sixteen. No official list of country codes has ever been released by Rolex. However, expert collectors have compiled lists of codes using data from warranty certificates and cards. Thus, with a warranty card and a little research, one can easily determine where their collector Rolex watch was initially sold from.