Fresh off their Geneva Four Auction where a Patek Philippe ref. 1518 broke the world record for most expensive wristwatch ever sold, Phillips held yet another important watch auction in Hong Kong. However, this time, the curated selection from Phillips featured only Rolex watches. While all the pieces from the auction were important and interesting-particularly for Rolex fans-here are our top picks from the "Rolex Milestones: 38 Legendary Watches That Shaped History."
Rolex GMT-Master Ref. 6542 at the Philips' Rolex Auction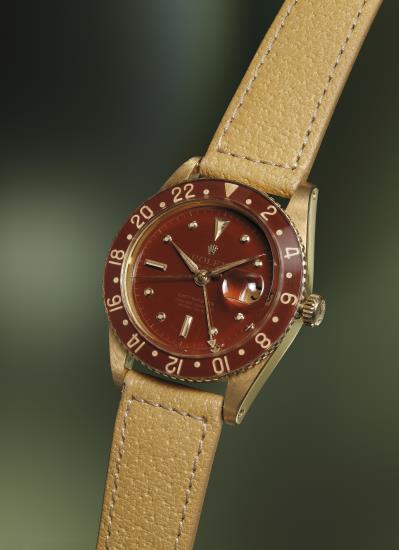 Estimate: $120,000 – $240,000
Sale price: $225,641
The GMT-Master ref. 6542 was the very first reference from the family of Rolex pilot watches. While most of the models were constructed in stainless steel, there were a limited amount also produced in yellow gold. And this is one such example. Not only is the 18k yellow gold Oyster case is outfitted with a brown bakelite bezel, but also with a brown lacquer dial. This GMT-Master ref. 6542 also includes the "nipple dial". Particularly noteworthy is the condition of the original bakelite bezel, which is very hard to find due to the material's fragility.
Rolex Dato-Compax Ref. 6036 "Jean-Claude Killy"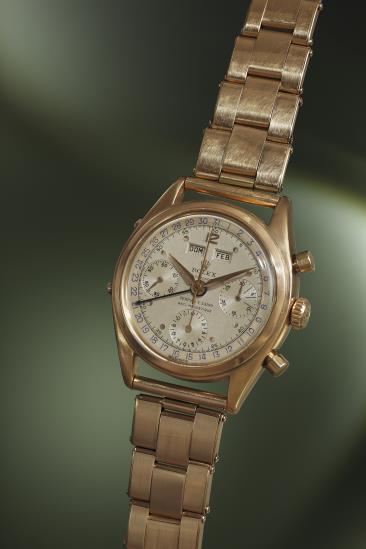 Estimate: $250,000 – $500,000
Sale price: $381,656
The ref. 6036 is a Rolex Dato-Compax that's part of a family of watches referred to as "Jean-Claude Killy" Rolexes due to its association with the champion alpine skier and Rolex ambassador. A highly-coveted vintage Rolex with a chronograph and triple calendar, this ref. 6036-circa 1951-is particularly exceptional because of its pink gold construction rather than the more common stainless steel versions. Furthermore, its impeccable condition regardless of its age is impressive. Another interesting detail is the "Serpico Y Laino" stamp on the dial referencing the famed Venezuelan retailer.
Rolex Sea-Dweller Ref. 1665 'Khanjar'
Estimate: $200,000 – $400,000
Sale price: $520,908
Because of their role in the Dhofar Rebellion, His Majesty Qaboos bin Said Al Said, the Sultan of Oman, commissioned special Rolex Sea-Dwellers to gift to members of Britain's elite Special Forces branch (SAS) in the 1970s. This particular Rolex Sea-Dweller ref. 1665 includes a red Khanjar—an Omani dagger—as well as, an engraving of the British jeweler, Asprey, on the caseback since the watches were ordered through them. It's estimated that only around 80-90 of these references were ever made, thus making it a super rare vintage Rolex.
Rolex Triple Calendar with Moonphase ref. 6062 "Stelline"
Estimate: $300,000 – $600,000
Sale price: $660,161
Not only was the Rolex ref. 6062 the first automatic wristwatch to include a date and moonphase within a waterproof case, but it's also one of two Rolex models ever to include a triple calendar and a moonphase. Plus, this specific ref. 6062 is particularly prized for its yellow gold construction and stars on the dial. In fact, the star hour-markers is why this Rolex is nicknamed "Stelline", which means "little star" in Italian.
Rolex Daytona Paul NewmanRef. 6262 "Oyster Sotto"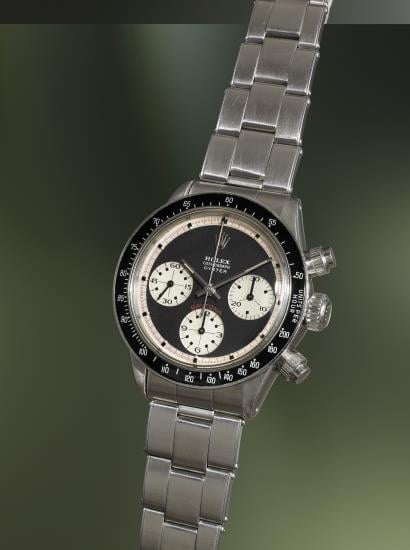 Estimate: $600,000 – $1,200,000
Sale price: $752,997
The Rolex Daytona Paul Newman ref. 6262 "Oyster Sotto" is a great example of how small details cause the largest excitement in Rolex watches. The Italian name "Oyster Sotto" translates to "Oyster Below" due to the "Oyster" text on the dial positioned below "Cosmograph" rather than the reverse. Less than 20 examples of the ref. 6262 "Oyster Sotto" have ever been available, thus, it's a very rare Rolex model indeed.
Rolex Ref. 4645 "Neptune"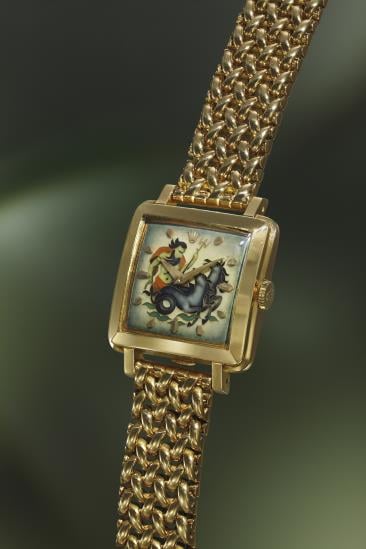 Estimate: $500,000 – $1,000,000
Sale price: $752,997
An exquisite example of a cloisonné enamel dial, this Rolex ref. 4645 from 1953 depicts the mythic god Neptune riding a pair of seahorses. The dial is the work of none other than the famed dial makers, Stern Frères. Since Rolexes with cloisonné enamel dials required so much intricate work, they were only reserved for their best clients. In fact, this particular ref. 4645 with a square case and the Neptune motif is said to be a unique piece for one of Rolex's top client at the time.
Rolex Triple Calendar with Moonphase Ref. 8171 "Padellone"
Estimate: $350,000 – $700,000
Sale price: $1,016,030
The highest priced lot of the event, the Rolex ref. 8171 "Padallone" fetched over $1 million dollars. Given its immense popularity among vintage Rolex collectors and pristine condition, its hefty price tag is not much of a surprise. The ref. 8171 is one of only two Rolex models to boast both the triple calendar and moonphase functions. Moreover, the ref. 8171 sports a 38mm case, which was regarded as very large during its era, hence its nickname "Padallone" which means "large frying pan" in Italian.