Yesterday was the last day of bidding for our latest buyer's premium-free auction, Fresh Finds: Iconic Watches of Hollywood – and by all measures, the sale was a resounding success. The auction was a showcase of five rare and incredible luxury watches that all have strong ties to Hollywood and the world of cinema. Although the average starting bid for the auction was nearly six-figures, every single timepiece surpassed its reserve and was sold, with one even exceeding the upper value of its pre-sale estimate.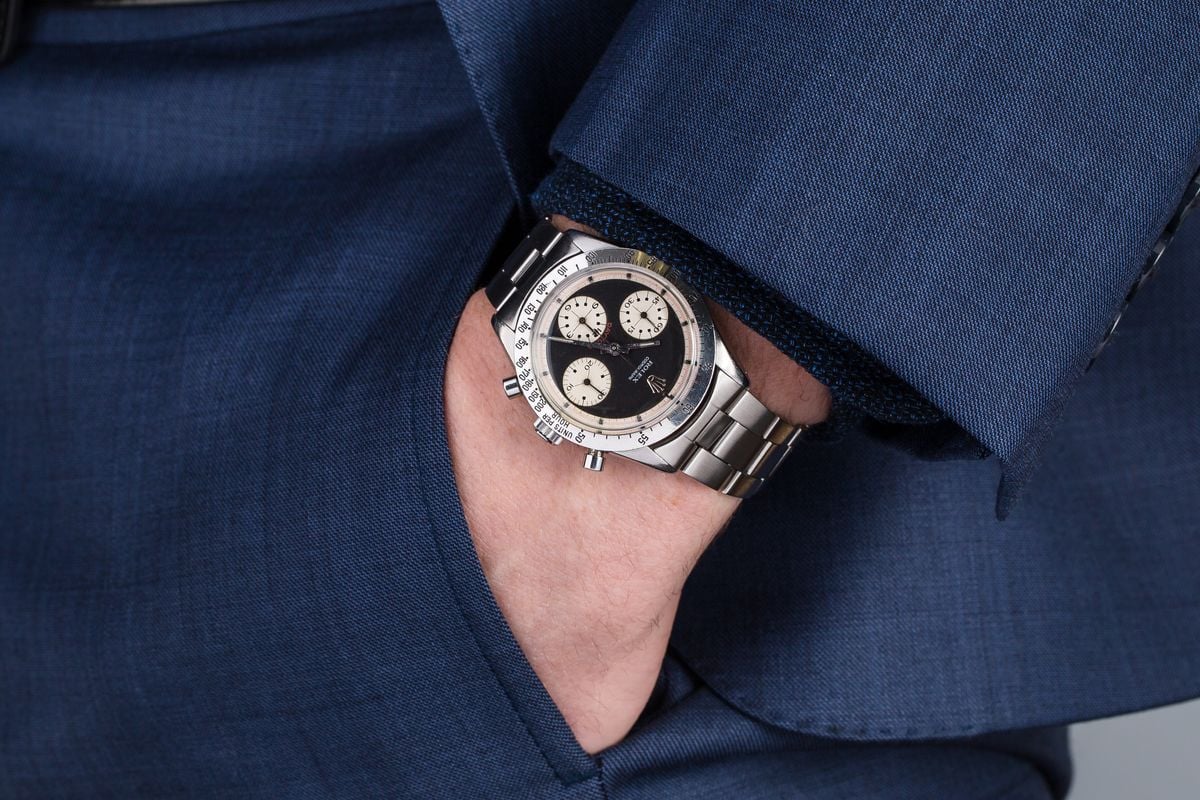 Auction Recap: Iconic Watches of Hollywood
Of the five watches featured in the auction, four were vintage Rolex sports models and one was a modern limited-edition Omega. With that in mind, three of those four vintage Rolex lots – a Paul Newman Daytona, a Bakelite GMT-Master, and a Big Crown "James Bond" Submariner – all had starting bids well in excess of $100,000.
However, despite the high starting prices, all five watches received multiple bids, exceeding their reserve figures and finding new homes in the collections of the happy winning bidders. The total value achieved by the auction was $581,100 – a rather impressive sum considering that there were only five watches featured in the auction and the average starting bid was just short of the six-figure mark ($99,100 to be precise).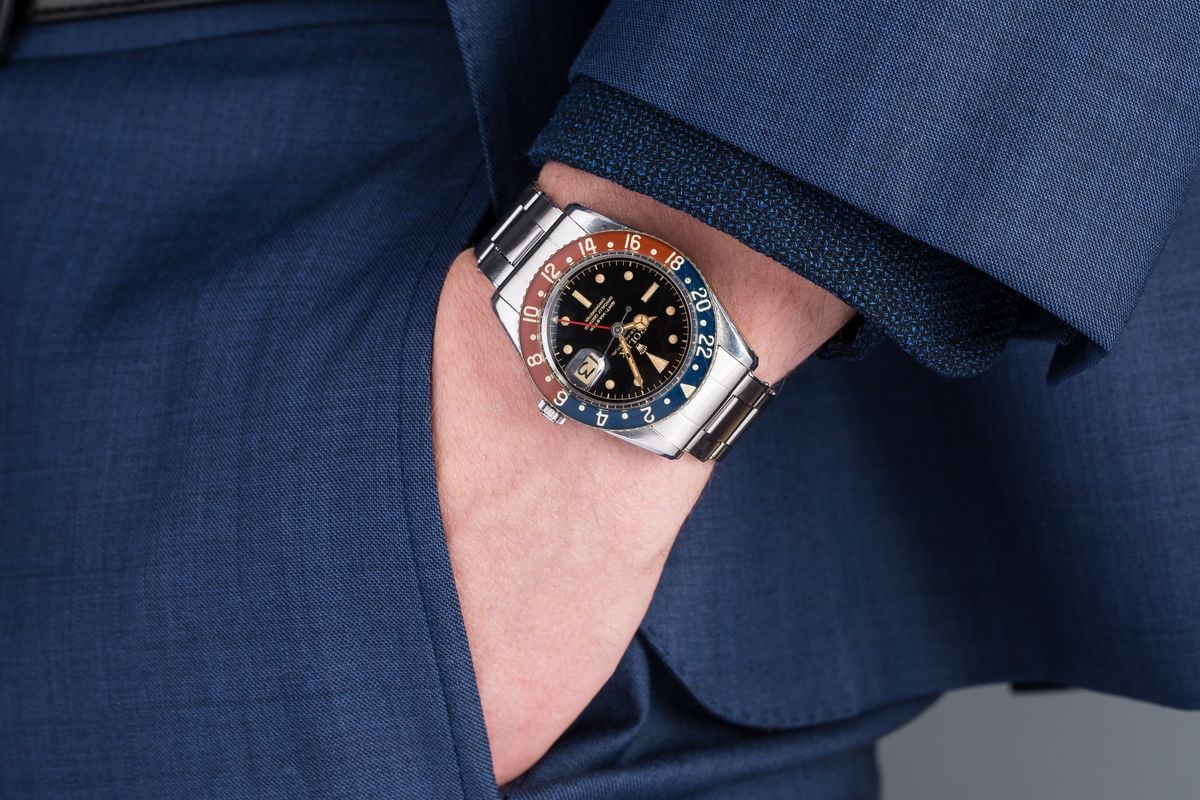 Strong Prices for Vintage Rolex Watches
The least expensive Rolex watch featured in the auction was the gilt dial Submariner ref. 5512 (a true grail watch for many collectors), which achieved a final sale price of $30,000 by the time bidding had closed. Meanwhile, the most expensive lot from the auction was the Paul Newman Daytona ref. 6239, which achieved a final sale price of $185,000. Shortly following it in second place was the "James Bond" Submariner ref. 6538 with a 2-line gilt dial and red-triangle bezel insert, which reached a final price of $180,000, while the Bakelite bezel GMT-Master ref. 6542 closely followed, attaining the third-highest price and selling for a highly respectable $175,000.
High auction prices for rare and collectible vintage Rolex watches are hardly a new occurrence, and the market values for well-preserved examples of Rolex sports watches from early in the brand's history have been on the rise for a number of years. These timepieces are often regarded as the 'blue-chip' investments of the luxury watch world, and high sale prices such as these have become an almost expected occurrence. However, possibly the most noteworthy result from Fresh Finds: Iconic Watches of Hollywood was the one achieved by the Omega Seamaster 300 "SPECTRE" Limited Edition.
Want to see more vintage Rolex watches?

Increasing Value for Modern Omega Watches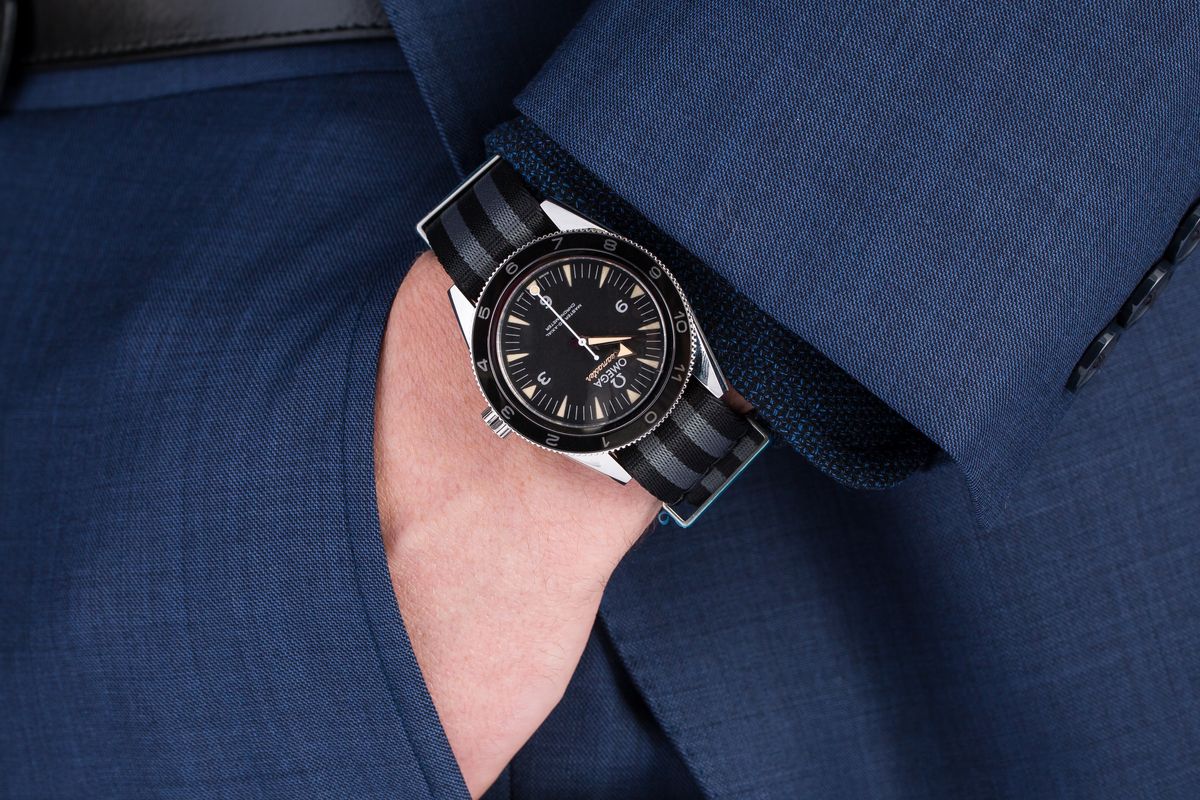 Interestingly, the biggest surprise from the auction came from the least-expensive watch featured in it. The Omega Seamaster 300 "SPECTRE" Limited Edition may have been the least expensive watch featured in our auction (by a very significant amount); however, it was also the only modern watch, the only non-Rolex model, and the only lot to exceed the upper value of its pre-sale estimate.
Generally speaking, modern Omega watches do not experience the same levels of appreciation on the secondary market as the brand's vintage models (particularly the Speedmaster). While they do retain their value incredibly well and are widely regarded as some of the best luxury timepieces available, rarely do you see contemporary Omega watches selling for significantly more than their original retail prices, especially just a few years after their release. However, some modern Omega watches do see a boost in value on the secondary market, and this limited-edition "James Bond" Seamaster 300 is a perfect example.
When it was first released in 2015 to coincide with the launch of the James Bond film in which it was featured, the Omega Seamaster 300 "SPECTRE" Limited Edition was accompanied by an official retail price of $7,500. While this did represent a significant premium compared to the standard Seamaster 300 model, the watch itself was furnished with a different bezel  (12-hour vs. 60-minute) and a lollipop seconds hand making it immediately identifiable from the standard-production version.
Limited to just 7,007 pieces worldwide, the Omega Seamaster 300 "SPECTRE" Limited Edition features no James Bond branding anywhere on the dial side of the watch, which was a requirement since a version of this exact model was worn by Daniel Craig in the James Bond film SPECTRE and the watch received a number of close-up shots. The model represents the first time that a special James Bond edition Omega watch was the same exact one featured in the film, and it is often considered by many collectors to be the most desirable 007-edition watch that Omega has ever put forward.
Examples consistently trade hands for values that are in excess of its original retail price and the one featured in our 'Fresh Finds' auction achieved a final sale price of $11,100, which represents nearly a 50% increase compared to its retail price from just several years ago. All things considered, this short-term appreciation is not something that has been all that common among modern Omega watches, and as interest in collectible vintage Omega models continues to increase, it is likely that the secondary market for modern models will also continue to grow stronger.
Want to see more Omega watches?

Final Thoughts and the Next 'Fresh Finds' Luxury Watch Auction
For a number of years now, we have been saying that the global luxury watch market has been growing, and both demand and prices (for modern and vintage models alike) can confirm this trend. Certain models that less than ten years ago were inexpensive and commonly available are now trading hands for values well into the five-figure range, while others that were already expensive back then are selling for well beyond the million-dollar mark.
The results from Fresh Finds: Iconic Watches of Hollywood only further support these sentiments, as three of the five watches achieved final sale prices of $175,000 or more, while the one modern timepiece showed nearly a 50% appreciation in value compared to its retail price from just five years ago. This helps confirm that it is the luxury watch market as a whole that is on the rise, rather than just the vintage or modern side of the spectrum.
Many of the world's top luxury watches are simply unattainable at a retail level. Collectible vintage timepieces have always been desirable, but a more recent trend is the unavailability of current-production models. Many luxury watches that were regarded as industry staples for decades and now become impossible to purchase at retail without spending multiple years on a waiting list. The end result is a blooming secondary market with strong values for both vintage and modern luxury watches.
We have another 'Fresh Finds' auction in the works for next month, so be sure to stay tuned for our upcoming announcement where we unveil the incredible luxury watches that will be made available to the public for the very first time since they originally left their retailers years ago.