Online auctions at Bob's watches are back, starting with a remarkable collection of four very rare and fresh-to-market "Tropical Dial" Rolex watches from the 1960s and 1970s. The lot includes a full set "Red" Submariner 1680, Explorer 1016, "Double Red" Sea-Dweller 1665, and "Fuchsia" GMT-Master 1675.
Auction Details
Registration is required prior to bidding.
There is NO BUYER'S PREMIUM – what you bid is what you pay.
Bidding starts September 8th at 9 am PST and will conclude on September 14th between 4 pm and 5:30 pm PST depending on the lot.
Winning bids will be announced on September 14th after bidding has ended.
Every watch is held to the highest Bob's Watches standard and is guaranteed 100% certified authentic. Each watch is accompanied by our 1-year service warranty and a lifetime authenticity guarantee.
What Is a Rolex Tropical Dial?
"Tropical" refers to how a dial changes color over time. What makes these watches so fascinating is that no two Tropical dials will age the exact same way, making each one unique. They're highly collectible, widely sought-after, and they consistently trade hands for values that are significantly higher than their non-Tropical counterparts.
"We are happy to offer these four, rare and beautiful watches with tropical dials." – Paul Altieri, Founder and CEO of Bob's Watches
Rolex "Red" Submariner 1680 "Full Set" – Circa 1970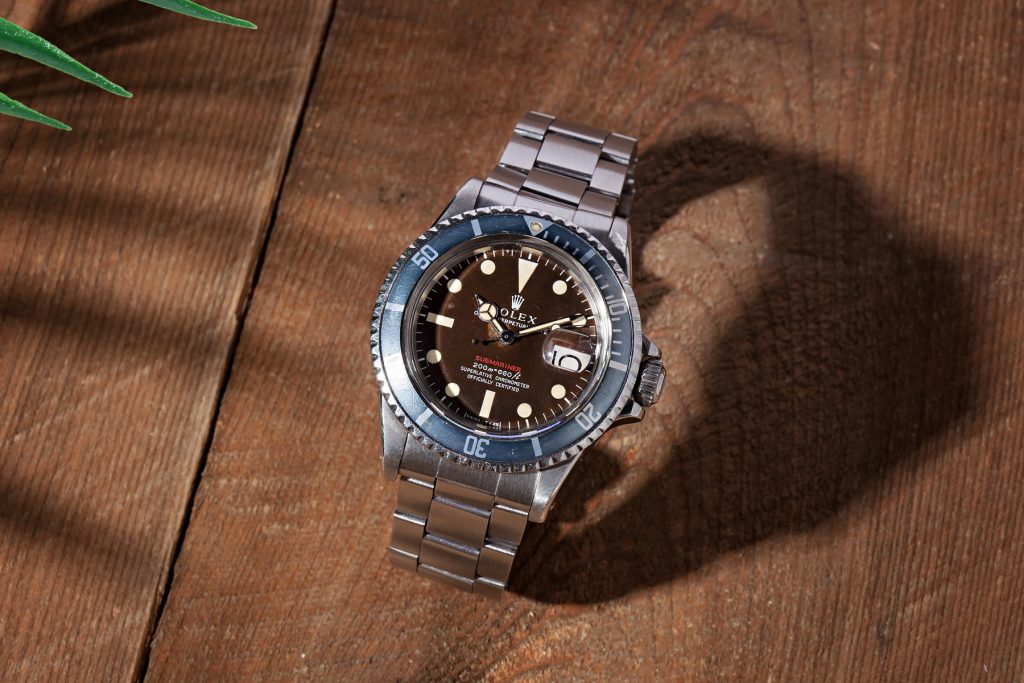 The auction includes a coveted Red Submariner from 1970 with a lovely "Mark II" meters-first dial. It gets its "Red Submariner" nickname from the bright red "Submariner" text just above the depth rating. The dial has faded from black to brown with a few lighter spots throughout, earning it the status of a "Tropical" Rolex. The tritium lume on the hour markers and hands has aged to an attractive off-white color that nicely matches the warm brown hue of the Tropical dial itself. The bezel has also changed over time from jet black to a striking blue/gray color.
This example of the Rolex Submariner reference 1680 also features its original folded-link Oyster bracelet with the famous diver's extension typo reading "pateted" instead of "patented." Additionally, this watch also comes with its full kit that includes punched papers.
This Tropical dial Red Submariner 1680 is in very good vintage condition and it is accompanied by a pre-sale estimate of $20,000 to $40,000.
Rolex Explorer 1016 – Circa 1966
Next, we have a Rolex Explorer 1016 from 1966 in great, honest condition. The black dial on this particular example has aged to a unique and uneven brown color through the years. The tritium lume on the hour markers and hands has also transformed into a warm shade of light yellow and beige. Additionally, the seconds hand has lost some of its lume, which further adds to the charming aesthetic of this Tropical dial Rolex sports watch.
With its original rivet link bracelet, rare Tropical dial, and strong case condition, this Rolex Explorer 1016 is what vintage collecting is all about, and it makes a standout addition to any serious collection.
This Tropical dial Rolex Explorer 1016 is a distinctive example of the famous mountaineer's watch, and it has a pre-sale estimate of $30,000 to $50,000.
Rolex "Double Red" Sea-Dweller 1665 – Circa 1972
The Rolex Sea-Dweller saturation diver's watch debuted in 1967 with the "Double Red" ref. 1665. During its production run, Rolex produced several dial variations, including the Mark II dial featured in this particular lot, which features two lines of red text and a feet-first depth rating. The dial fitted to this example is also starting to turn from matte black to tropical brown, especially around the edges and near the date window. Additionally, the tritium lume has aged to a symmetrical light yellow color on both the hands and hour markers, while the watch itself still retains its original rivet-link Oyster bracelet.
The Sea-Dweller is distinguished by a helium escape valve, which allows it to contend with the unique challenges of saturation diving, while also offering superior water resistance compared to Submariner watches produced during the same era. The Submariner of the time was water-resistant to 200 meters, while the Double Red Sea-Dweller ("DRSD") tripled that depth rating with water resistance up to 610 meters. You'll also notice that the domed acrylic crystal doesn't feature a Cyclops magnifier over the date, a feature Rolex omitted to improve the watch's overall resistance to the crushing pressures found deep below the surface of the ocean.
This Rolex Sea-Dweller ref. 1665 from 1972 is easily one of the most sought-after vintage watches from the brand's archives and this particular example comes with a pre-sale estimate of $50,000 to $80,000.
Rolex GMT-Master 1675 – Circa 1969
Lastly, we have a Rolex GMT-Master ref. 1675 from that features a Tropical Mark I "Long E" dial. The stunning matte dial has changed from black to an even chocolate brown color, while the tritium lume has also aged to a nice off-white hue that complements the rich tones of the dial surface itself. Interestingly, the red portion of the "Pepsi" bezel is a fuchsia color which is something we see on some 1675s around this era. This watch has so much character between the brown dial and beautifully aged fuchsia bezel that is also highly sought after.
Passionate vintage collectors will also appreciate that this particular example has its original date wheel with hooked 7s and closed 6s, along with its original rivet-style Oyster bracelet.
This lovely Tropical dial Rolex GMT-Master ref. 1675 from 1969 is in exceptional vintage condition and it is accompanied by a pre-sale estimate of $25,000 and $45,000.
"These are all fresh to market watches and each is one-of-a-kind because no two tropical dials age the same exact way. We are passionate about vintage watches and excited to share this collection with the world." – Brandon Frazin, Director of Vintage