Floyd Mayweather Jr. may be retired, but Gennady "GGG" Golovkin, aka Triple G, the Kazakhstani professional boxer and longtime holder of the unified WBA (World Boxing Association), WBC (World Boxing Council) and IBO (International Boxing Association) middleweight titles, is still out there throwing punches with the backing of high-end watch brand Hublot. However he'll need plenty of help to hold on to his titles after a narrow defeat at the hands of nemesis Canelo Alvarez in Las Vegas over the weekend, busting his attempt to break the division record of 20 consecutive middleweight title defenses.
No doubt Hublot looks at it as a mere hiccup considering Golovkin was previously unbeaten in his 38-bout professional career, with 34 of those wins coming by way of a K.O. This was Triple G's 4th fight wearing Hublot-branded trunks; his first was his March 2017 bout versus American world champion Daniel "The Miracle Man" Jacobs at Madison Square Garden in New York City, the second was his initial battle and draw against Alvarez in September 2017 in Las Vegas, and most recently was his May 5, 2018 win against Vanes Martirosyan in Los Angeles. "Time is very precious to me during fight week," as Glovokin puts it."That is the reason I will only wear Hublot to mark my time in Las Vegas."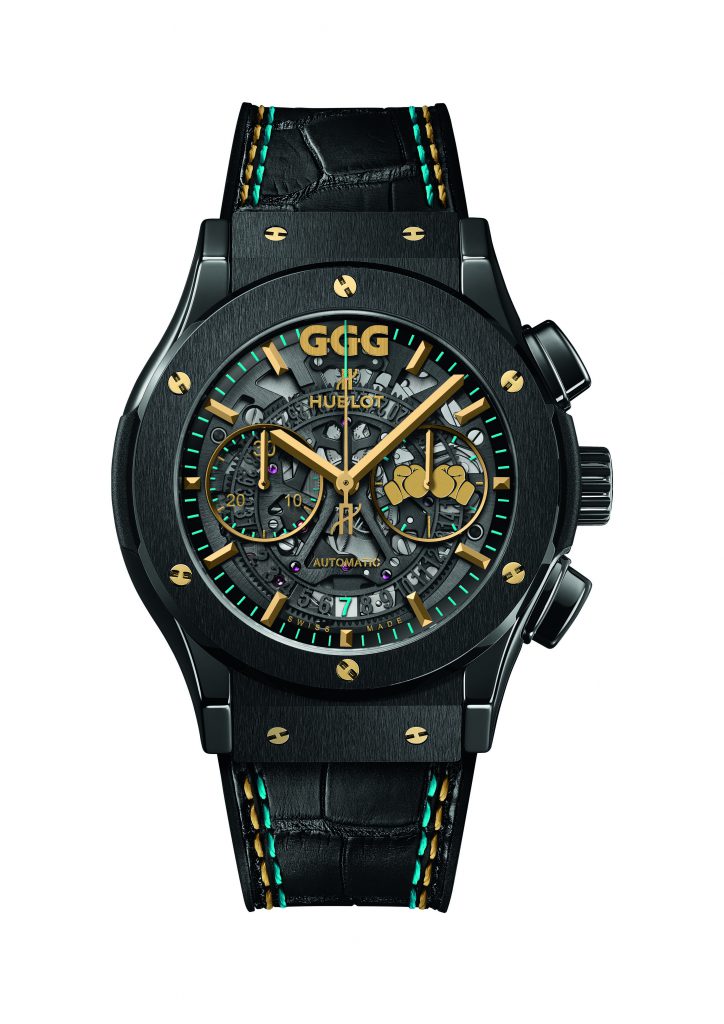 The boxing champ has now inspired not one but two special Hublot timepieces: The $42,900 King Power UNICO Special Edition "Gennady Golovkin", and the new $17,700 Classic Fusion Chronograph "Gennady Golovkin", both created in limited runs to commemorate the partnership. The Classic Fusion Chronograph "Gennady Golovkin" is housed in a polished black ceramic 45mm case and contains a self-winding movement with a power reserve of 42 hours. Of course, this is not the first time Hublot has created a unique watch commemorating special events. In 2018, they unveiled their Big Bang smart watch for the Russia World Cup. 
It features yellow gold subdials, hands, and screws contrasting against a black background, with Gennady Golovkin's initials at 12 o'clock and his logo – two gloves banging together – positioned at 3 o'clock.  The strap is Hublot's signature black alligator stitched to black rubber and features yellow and blue stitching symbolic of both GGG's native country Kazakhstan and the colors he uses in his uniform. Go get 'em, tiger.