In 1968 – more than 50 years ago, Omega stopped production of its Calibre 321 chronograph movement, which had been in-use since the 1940s. As it was the very first movement ever fitted to the iconic and highly collectable Speedmaster (which debuted in 1957), Omega watches that featured this iconic and discontinued movement (replaced by the Calibre 861) later increased in value and desirability. Now, more than half a century later, the Omega Caliber 321 is back, and collectors could not be more exited about the return of one of the most legendary movements of all time.
In addition to the Speedmaster, the Omega Caliber 321 (which was based on the Lemania CH27) was also used in early Seamaster chronographs – as well as a variety of other timepieces throughout the years (often under different names), and variations can be found inside pieces by Patek Philippe, Audemars Piguet, and Vacheron Constantin. Due to its prevalence and important position within the history of wrist-mounted chronographs, collectors have come to prize the Caliber 321 as a true icon of mechanical watchmaking.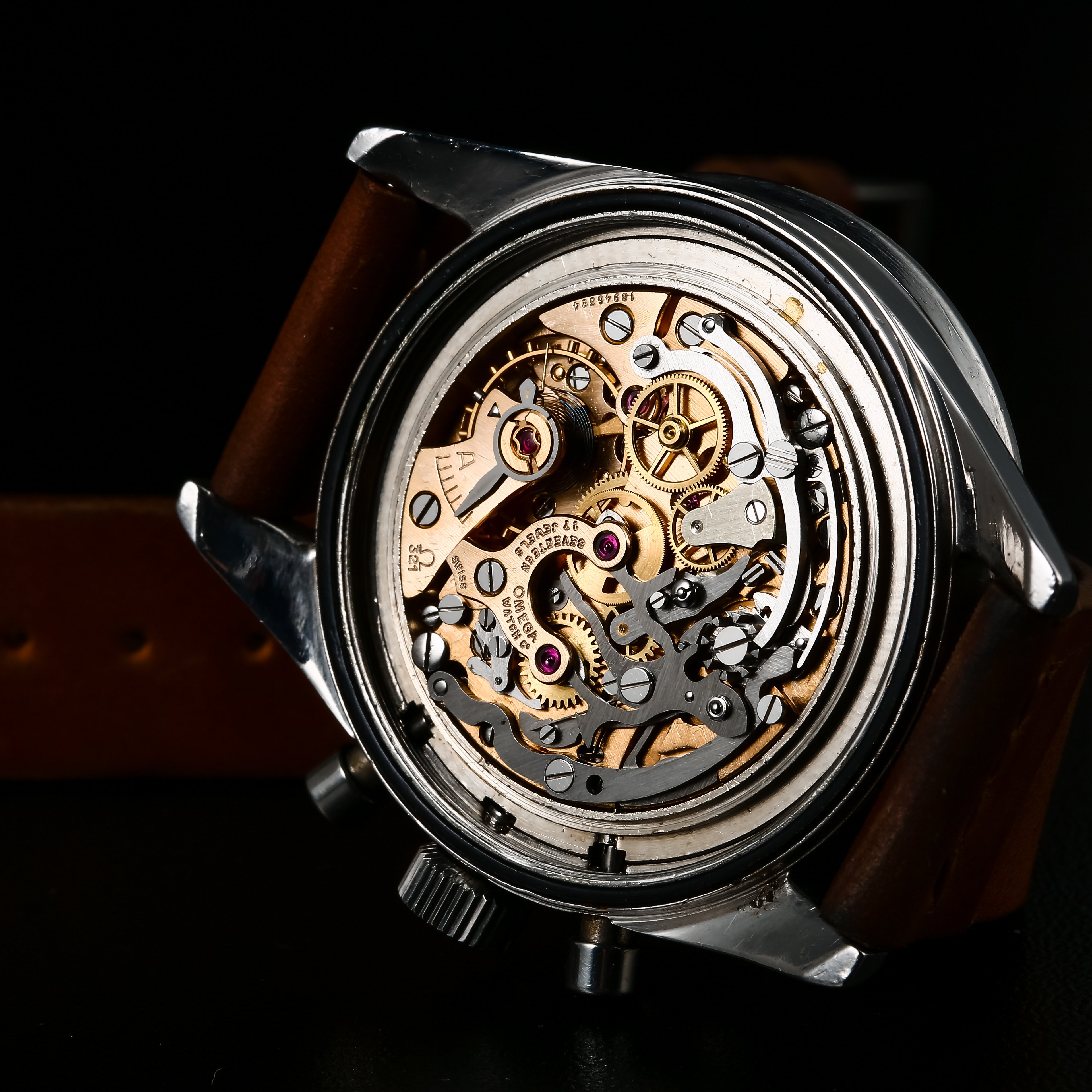 The Speedmaster movement that went to the moon
The most famous Speedmaster of all time – the first watch worn on the Moon – was fitted with an Omega Caliber 321, and it is this achievement that is responsible for much of the Caliber 321's fame. On the smallish side, but with both guts and grace, the manually-wound movement has 17 jewels, a frequency of 2.5 Hz (18,000 vph), a power reserve of 44 hours, and features a 12-hour chronograph with running seconds.
After years of seeing it endlessly praised on watch forums, while prices of Caliber 321-equipped pieces soared, Omega has now decided to start producing this legendary movement once more. Of course, not every watch collector geeks out on movements; however even those that do not can still appreciate how important the Omega Caliber 321 is to the greater world of mechanical watchmaking. 
Reverse engineering the Omega Caliber 321
Omega had to reverse engineer the Caliber 321, which features a monobloc column wheel that is considered to be more reliable and aesthetically appealing than cam-actuated alternatives, and requires great technical expertise to perfect. Omega says it took a team of expert watchmakers, researchers, developers, and historians toiling in "total secrecy" under the codename "Alaska 11" more than two years to re-create the Calibre 321. They used "tomography" technology, a digital scanning method, on one of the more famous Caliber 321-equipped pieces from the Omega Museum – the Speedmaster ST 105.003 that astronaut Eugene "Gene" Cernan wore on the moon during the Apollo 17 mission in 1972.
"It's amazing that so many people are passionate about the Calibre 321," notes Omega President and CEO Raynald Aeschlimann. "We produced the last one in 1968 and fans have never stopped talking about it. That shows how special it is. We're very excited to finally meet their wishes and have gone to great efforts to bring the movement back." The new movements will now be added to the production lineup in the form of a dedicated Calibre 321 workshop at Omega HQ in Bienne, Switzerland. A single watchmaker will assemble each movement as well as the watch head and bracelet adding even more of an artisanal aspect.