Having a passion for watches and for cars are often things that run hand in hand. Whether it's an appreciation for their mechanical complexity, their elegant or sometimes outlandish design, or simply a certain je ne sait quoi that draws in those struck by the collector bug, the two run hand-in-hand as well as wine and cheese, or Scotch and a good cigar. That said, aside from the obvious pairings where brands have launched limited edition watches in partnership with automakers or race teams (Zenith and Range Rover, and Oris and Williams F1 come to mind), finding a watch that is matched to a car from a design and execution standpoint isn't always easy. This particular pairing—the Piaget Polo S, and the Mini Countryman John Cooper Works—came as a bit of a surprise rather than a planned coordination. Despite Piaget's watch models reigning in popularity, the brand wanted something a little different.
Having recently been examining this newest version of the Polo S, sporting a more casual rubber strap and a black ADLC treated bezel, I found the updated variant of the watch to be much more casual and sporting than its siblings. That said, it still maintains that level of polished refinement expected from the Piaget manufacture. It's precisely that combination of sporting nature, performance, and refinement that made the Polo S align so well with the Mini that I had just happened to book out for a weekend cruise (not to mention the matching color palette of the two mechanical marvels).
In the case of the Mini, having always had an interest in the more performance-biased corner of the auto industry, I found myself at the wheel of the larger Countryman model in John Cooper Works trim. For those unfamiliar with the name, John Cooper started building rally cars back in 1946, and in 1961 (two years after the first ever Mini was unveiled) he built the first ever Mini Cooper which would soon go on to become a bit of an obscure racing legend, winning the Monte Carlo Rally in '64, '65, and '67. With the revival of the John Cooper Works nameplate, the modern Mini (owned by BMW) has created a range of cars with improved engine performance, suspension tuning, and braking meant to rekindle that high performance essence from days gone by. Although the modern day Minis are significantly larger and heavier than their predecessors, even the most basic of models still have a very well tuned steering and handling almost akin to the experience of driving a go-kart.
Turning back to the Piaget Polo S, there's much to be said for its inner workings as well, when looking at its specifications. Piaget created the new in-house manufactured Calibre 1160P for the launch of the Polo S line—a bi-compax chronograph with a date window at 6 o'clock, showing registers for chronograph hours and minutes, but no running seconds subdial. While some will certainly gripe about the lack of running seconds on the dial, I have a different perspective. Given the choice, I much prefer the look of a two-register chronograph versus a three-register, but in the same breath I find there to be something slightly useless about a chronograph that can only count 30 minutes. Thus to have my cake and eat it too, the layout of the Polo S chrono is the only way to go. Getting back to the caliber itself, it's a column-wheel chronograph with a vertical clutch, and very detailed finishing of the caliber visible via a sapphire display caseback. Over to the dial side, it's hard not to draw a loose parallel to the Patek Nautilus given the dial's horizontal ridging, and to the Aquanaut given its case shape and smooth bezel, however having actually handled said watches side-by-side after the initial launch of the Polo S, there's a distinctly different feel to the Piaget that doesn't always translate until it's on-wrist. Also, in this color combination the difference is even more noticeable. Its black ADLC bezel gives the Polo S the illusion of being slightly smaller on-wrist than its steel siblings, and the addition of a red tip to its seconds hand was the perfect little detail that pulls the whole look together.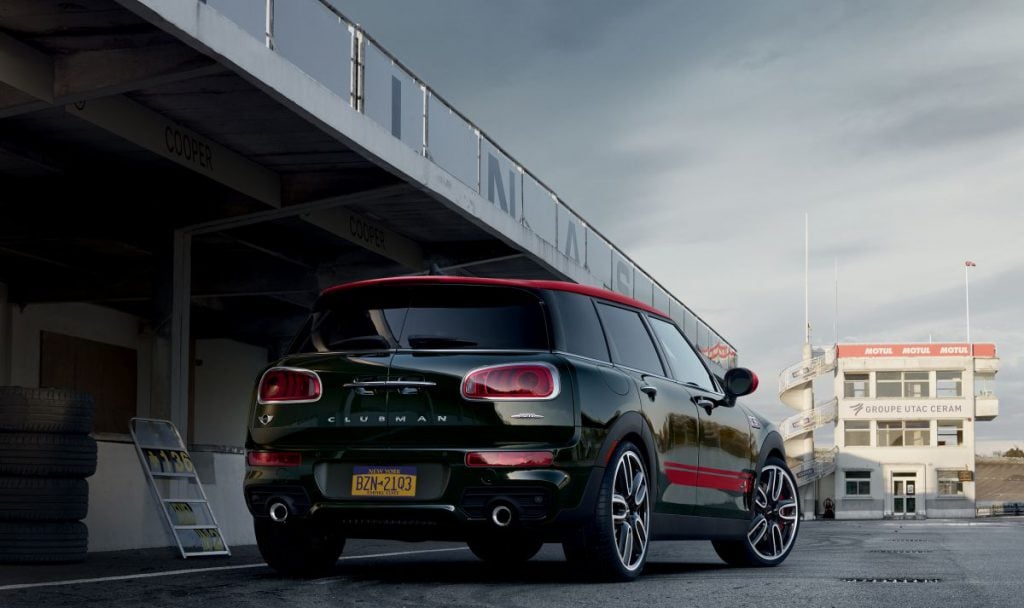 That same red/black combo proves equally fitting on the John Cooper Works Mini Countryman as well. By comparison to the conventional Mini, the pudgy all-wheel drive 4-door hatch is by no means svelte, however a black exterior hides some of its heft, while its roofline, mirrors and grille are accented with a bright lipstick shade of red. I could easily do without the red detail that surrounds its grille, but otherwise the combo works. Visuals aside, the Countryman is still a real riot to drive. Powered by a 2.0L turbocharged engine, the "big Mini" delivers 228 horsepower and 258 ft/lb of torque basically just off of idle. At speed you'll note that power seems to drop off a touch ahead of the redline, but BMW/Mini engineers have long maintained a focus on road-going power demands, and the trade off for low to mid-range torque is an acceptable one. Depending on the kind of roads you'll be on, its suspension is quite firm without being bone jarring. It also has some SERIOUS stopping power on account of its very large set of fixed Brembo calipers. In the Mini's interior, the color combo carries through, and from a functional standpoint there is ample space and suitable comfort for four adult passengers. While its not a 100k+ BMW 7-series, the materials used in its interior are more than reasonable, and unless you go digging around to kick panels and things you aren't meant to touch in the first place, all of its surfaces feel appropriately sturdy.
At the end of the day, both the Polo S and Mini Countryman JCW land in the same corner of the market. A well executed, fun to wear (or drive) creation that isn't necessarily the best watch or best car on the planet, but delivers all you could want out of a sporty daily wearer/daily driver.