A victim of its own success, yellow gold's image took on a bit of tarnish. Whether it was being worn by Vegas gangsters or 1980s Wall Street maniacs, yellow gold luxury watches have sometimes been associated with those who have more money than restraint. For a handful of years, there were some who considered gold watches to be out of fashion and many turned their nose up to the alloy – leaning much more towards both modern and vintage luxury steel sports models, as well as gleaming white gold.
However, over the past several years, yellow gold has come back into style with jewelry, not only in bracelets and necklaces but in wedding bands and engagement rings, replacing the white gold designs that had previously filled the gap in the market. Naturally, this trend has also allowed the yellow gold watch to make its comeback, particularly with younger collectors who are emulating their parents' "vintage" style but also the popular designs from the 1930s and 1940s that were mostly forged out of yellow gold. It also helps that right now it's harder than ever to get your hands on watches from brands like Rolex and Patek Philippe, making collectors now clamor over some of these once out-of-style watches just to add one to their collection.
This sort of classic styling and warm tones have also become a welcome relief from the coldness of the white metal and alloys like stainless steel, white gold, and platinum. However, not all yellow gold luxury watches have vintage-inspired designs, and rather than primarily being dress watches, many of today's most popular yellow gold luxury watches are actually sports models.
Click here for our Ultimate Buying Guide on Gold Rolex Watches.

About Yellow Gold Luxury Watches
The Benefits of Yellow Gold Watches
The resurgence of yellow gold probably shouldn't take anyone by surprise. It is, after all, the oldest of the precious metals – its use as a decorative item dating back (rather ironically) to the Bronze Age. For instance, the earliest documented example of yellow gold jewelry in Europe is more than 6,600 years old. Over the millennia, the popularity of gold has ebbed and flowed, but it has always been here and always will be. Along with its ancient aesthetic appeal, yellow gold also has a couple of other benefits.
– A Pure Alloy: In its unadulterated elemental form, pure gold is hypoallergenic. However, gold in its pure form is too soft for use in luxury watches or jewelry, so to achieve more durable alloys (in addition to different colors of gold like white or rose), the gold must be mixed with other metals. However, given that 18k gold is still 75% gold, a gold luxury watch has less of a chance of irritating those with sensitive skin compared to other commonly used metals and alloys.
– Easy to Clean: While pure gold will not tarnish or corrode, gold alloys can develop a patina or slight discoloration after prolonged exposure to the elements. With that in mind, gold luxury watches are very easy to clean and even the lowest karat gold watches will discolor at a much slower rate compared to watches made out of other popular alloys such as bronze and sterling silver.
– More Affordable: Especially now (and particularly with certain collectible vintage watches), yellow gold can often be more affordable than other precious metals. With vintage timepieces, a model's worth is based more on the demand for it rather than the value of its raw materials. The numerous years where gold watches lagged in popularity means that you will often find examples of classic models in yellow gold that are less expensive than even their stainless steel equivalents. With that in mind, how long this unusual situation will last isn't clear.
So, what are the best yellow gold luxury watches to add to your collection? Below we take a look at a few of our favorites
Rolex Day-Date – Yellow Gold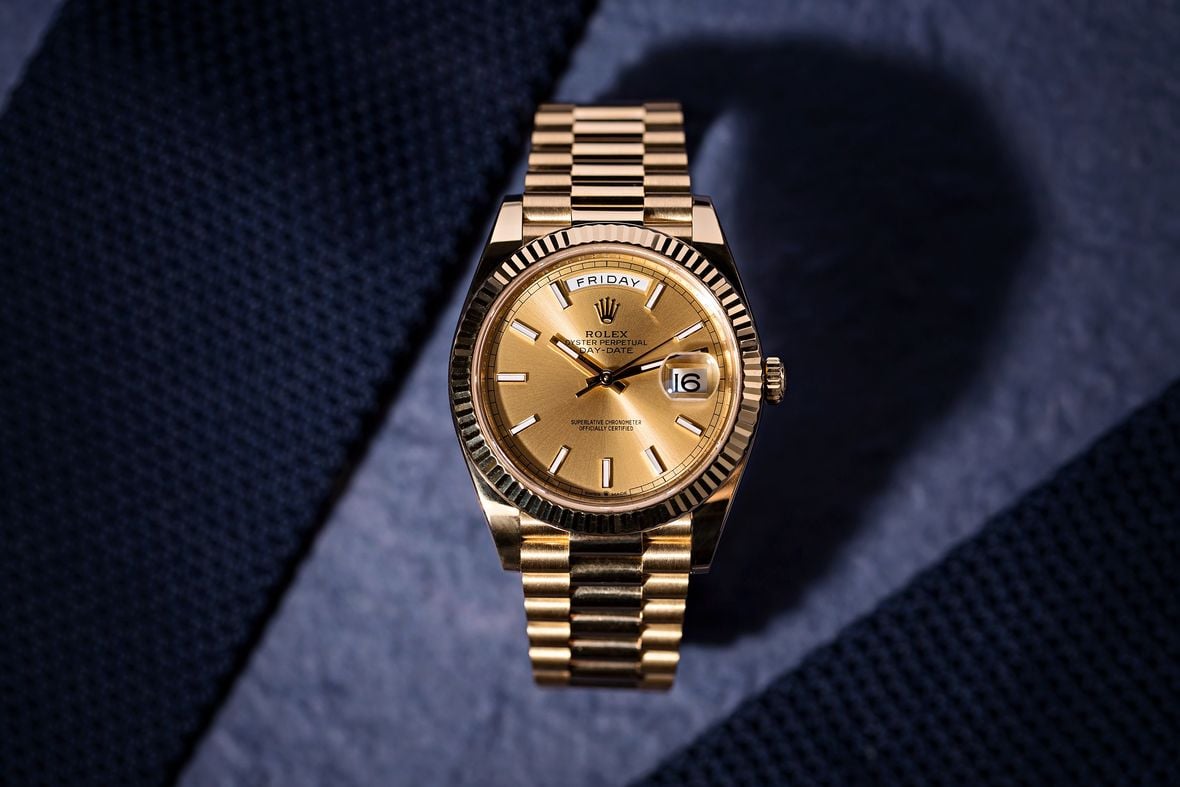 Gold Rolex Day-Date Key Features:
– Case Size: 36mm; 40mm; 41mm
– Functionality: Time w/ Running Seconds, Date Display, Day Display
– Dial: Multiple Options Available
– Bezel: Fixed, Fluted; Smooth; Gem-Set
– Movement: Automatic
– Strap/Bracelet: Oyster Bracelet; President Bracelet; Leather Strap

Really the only place to start when we talk about yellow gold timepieces, the Rolex President has long set the standard for discreet (yet universally recognizable) status symbols. Sitting at the top of Rolex's catalog ever since its inaugural launch in 1956, the Day-Date has been worn by some of history's most famous and notorious characters.
The Rolex Day-Date President is the brand's flagship collection and as such, it has only ever been crafted from precious metals – either solid 18k gold or 950 platinum. Although you can find Day-Date watches in all three colors of gold (yellow, white, and rose), it is the classic 18k yellow gold models that are most emblematic of this iconic gold Rolex watch.
As arguably the single most recognizable yellow gold luxury watch in existence, the Rolex Day-Date represents a significant financial outlay, but examples can be found at a surprisingly wide range of prices. While a new example of the larger 40mm will set you back somewhere in the neighborhood of $30,000, there are plenty of vintage examples with leather straps on the pre-owned market that can be purchased right now for just under the $10,000 price point. While this is still by no means inexpensive, it does represent an astonishingly reasonable sum for a solid 18k gold watch from one of the world's most famous and prestigious manufacturers.
Rolex Daytona – Yellow Gold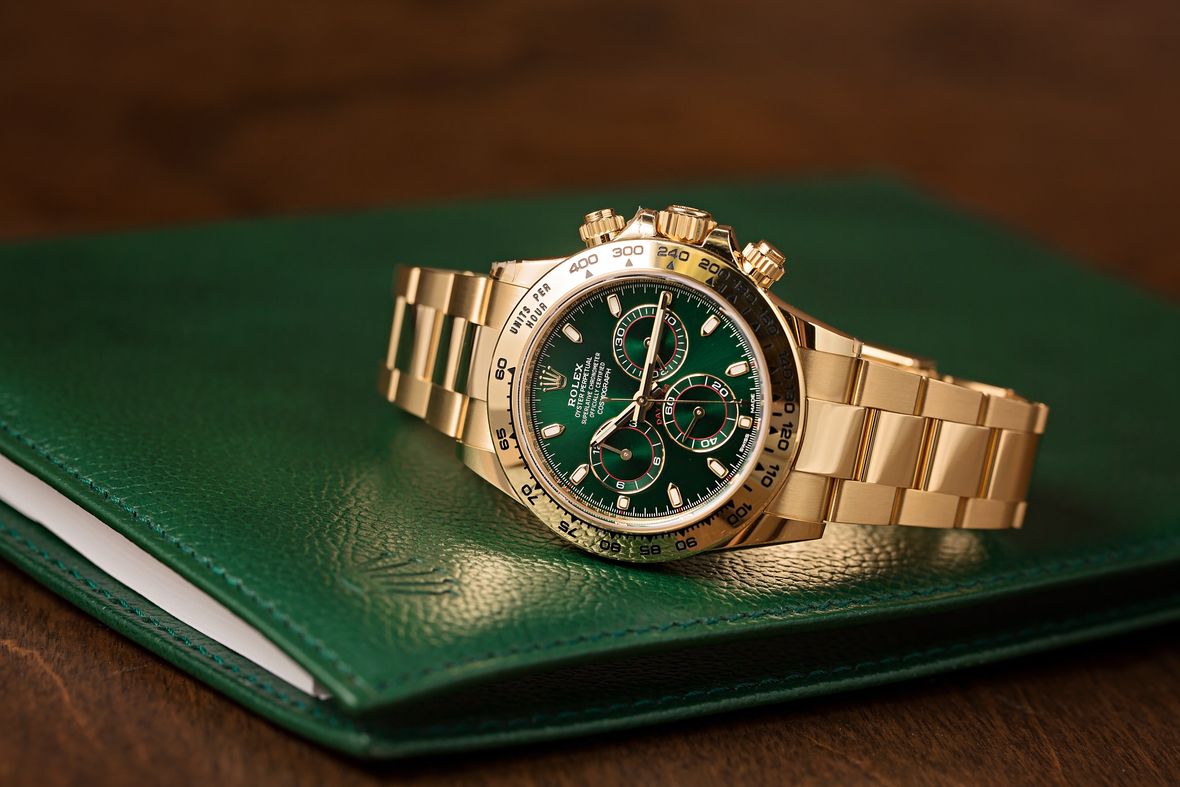 Gold Rolex Daytona Key Features:
– Case Size: 37mm; 40mm
– Functionality: Time w/ Running Seconds, 12-Hour Chronograph
– Dial: Multiple Options Available.
– Bezel: Fixed w/ Tachymeter Scale
– Movement: Manual; Automatic
– Strap/Bracelet: Oyster Bracelet; Oysterflex Bracelet; Leather Strap

The Rolex Daytona's traditionalist features and striking looks made it one of the least popular watches during the later part of the 1970s and 1980s. In fact, it wasn't until long after Paul Newman first strapped one on that the world took notice and finally appreciated the unique beauty of this watch. Perhaps most well known as a vintage, and most definitely in stainless steel, the Rolex Daytona is the epitome of a luxury sports watch with a slew of dials and details that make both modern and vintage models worth tens and hundreds of thousands of dollars – and even more (if you're lucky).
Although the Rolex Daytona was designed to be a high-performance chronograph watch for the racetrack, it is precisely this 'tool watch' origin that makes it so special when it is rendered in full yellow gold. It's hard enough to get your hands on a stainless steel model these days, and even the most accessible Daytona references have become outright status symbols. When that same watch is crafted from sparkling 18k yellow gold, it makes that statement piece all the more special and noteworthy.
Today, everyone from professional athletes to pop stars wears yellow gold Rolex Daytona watches, and anyone with good taste and their pulse on the market probably secretly wants one too. If you're lucky enough to snag one of these iconic gold chronographs, you'll love the way the dial contrasts with the yellow gold tachymeter bezel, but also the substantial feel of a solid gold watch on your wrist. While it may have taken the Rolex Daytona a few years to catch on with the public, wearing a solid gold example has become a serious power move.
Patek Philippe Calatrava – Yellow Gold
Gold Patek Philippe Calatrava Key Features:
– Case Size: Multiple Options Available
– Functionality: Time-Only; Time w/ Running Seconds; Time w/ Running Seconds and Date Display
– Dial: Multiple Options Available
– Bezel: Fixed. Smooth; Hobnail; Gem-Set
– Movement: Manual; Automatic
– Strap/Bracelet: Leather Strap

Proof that yellow gold can still be the embodiment of elegant understatement whenever it needs be, the three dozen or so references of the Patek Philippe Calatrava remain the quintessential blueprint for the classic dress watch and the undisputed signature piece of the brand.
First released in 1932 and influenced from the outset by the "form follows function" principles of the German Bauhaus movement, the Calatrava is distinguished by its sleek lines and simple purity. Just as Rolex's core designs have barely changed during the history of their production, similarly the Calatrava's styling has endured virtually untouched for the better part of a century.
As a brand, Patek Philippe is renowned for the impeccable engineering that goes into its highly complicated offerings. The company first introduced the minute repeater and perpetual calendar to the wristwatch, so it is a testament to the Calatrava's timeless design that it still enjoys the reputation that it does today.
Although its looks are minimalist in the extreme, the level of craftsmanship present lifts the watch to the level of horological royalty. Personified by a bezel either polished to an impossible shine or otherwise decorated with the hobnail 'Clous de Paris' detailing (although there are also some references with gem-set bezels), there isn't a wrist that won't be made more sophisticated, well-dressed and tasteful with the addition of a yellow gold Patek Philippe Calatrava.
Rolex Submariner – Yellow Gold
Gold Rolex Submariner Key Features:
– Case Size: 40mm or 41mm
– Functionality: Time w/ Running Seconds, Date Display
– Dial: Black; Blue; Slate; Champagne
– Bezel: Rotating w/ 60-Minute Scale
– Movement: Automatic
– Strap/Bracelet: Oyster Bracelet

It's impossible to create this list without the yellow gold Rolex Submariner, one of the most striking gold watches in the brand's entire collection. Originally forged out of stainless steel when it was first released in 1953, a solid 18k gold model joined the Rolex Submariner at the end of the 1960s, forever cementing its status as a luxury dive watch and ushering in an entirely new generation for the once humble and utilitarian collection.
Similar to the appeal of the Rolex Daytona, collectors love owning a highly capable sports watch that is capable of amazing technical feats, yet remains luxurious enough to qualify as a true statement piece. When it comes to solid yellow gold Submariner watches, our favorite is the version with a blue dial and blue bezel – the cool, saturated color contrasting against the warm alloy of the case perfectly. The beauty of this watch is all in the details and Rolex certainly knows it.
We love that the Chromalight hour markers on the dial are encased in yellow gold and that the engraved numbering on the rotating timing bezel is finished with a gold PVD. This is the kind of gold watch you wear to make a statement, but that will also never go out of style and stand up to the rigors of everyday wear and use. One of the brand's most popular watches ever made, this highly in-demand watch becomes even more exclusive when crafted from solid 18k yellow gold.