Whenever we talk about luxury watches, there are some brands that always come up quickly. Rolex would likely be the first name mentioned. Patek Philippe is sure to be hot on its heels. Brands like Omega, Longines, and Tissot are sure to follow soon after. But where would Audemars Piguet fall on that list?
Considering Audemars Piguet is, along with Patek Philippe and Vacheron Constantin, regarded as one of the "Big Three", or "Holy Trinity" of Haute Horlogerie, AP, like VC, is one of those brands that has retained a true sense of exclusivity.
Audemars Piguet
AP Fast Facts:
– Founded in 1875.
– Headquarters in Le Brassus, Switzerland.
– Remains an independent family-owned business.
– Created the first minute-repeating movement for wristwatches in 1892.
– Developed the first skeleton watch in 1934
– Created the first perpetual calendar wristwatch in 1957.
– The brand's most famous watch is the Royal Oak.
– Member of the "Holy Trinity" of watchmaking.
Click here to discover the differences between the Audemars Piguet Royal Oak and the Royal Oak Offshore.

Audemars Piguet and the Luxury Watch Market
Audemars Piguet occupies an interesting position within the luxury watch industry. Rolex and Patek are owned by the Zeitgeist. Their names are calling cards of luxury. However, Audemars Piguet is less often featured in the lyrics of songs or on the wrists of athletes. When the brand is referenced, it is almost always reduced to its initials (AP) and objectified by its most famous model, the Royal Oak.
How is it possible for a brand to walk that line between international celebrity and family secret? Fans of the AP would mention it before Rolex, before Patek, before Omega, Hublot, Richard Mille, and all the rest. In fact, for the true die-hards, there is only AP.
Perhaps this strange, almost dichotomous character has come about through a unique series of events. Perhaps the role Audemars Piguet plays within the wider watchmaking landscape is to thank for it. You see, Patek Philippe is a name associated with an idea of luxury more than it is any particular model. Yes, the Nautilus is mega-famous. Yes, the Calatrava is a classic. But just uttering those four syllables can conjure an image of luxury beyond compare.
Meanwhile, Rolex is a brand well-known for its archetypal commodities (plural). Rolex produces and does so on an extraordinary high-level. While the current scarcity of professional steel models implies the opposite, Rolex does, in reality, produce just over a million watches annually. It is a label. It is a brand. It is the brand. People know about Rolex before they know about its watch models. That isn't the case with AP.
An Icon Among Icons
Audemars Piguet greets newcomers with its iconic Royal Oak model. It is a memorable classic that redefined what it meant to be a luxury steel sports watch. The Patek Philippe Nautilus – justifiably its closest rival – came along four years after the fact. Furthermore, it was designed by the same man (Gérald Genta).
Some say the Nautilus was perfection refined; others believe Genta was never able to top the stroke of genius that birthed the Royal Oak into the world, giving rise to an entirely new genre of luxury watches that rode into existence on its coattails.
Mining for Gold and Eventually Finding Steel
It does not seem feasible to know about Audemars Piguet without first learning of the Royal Oak. As such, the brand's most enduring icon acts as a gatekeeper to a wondrous world of watchmaking wizardry. Beyond the Royal Oak collection (which we'll cover in detail below), Audemars Piguet offers ladies' watches, concept watches, classically-styled timepieces, the new, highly controversial Code 11:59 series, and more. The current collection's diversity may come as a surprise to newcomers, but AP has been in the watchmaking game a long time, and a potted history of success and near-calamity is to thank for a bank of experience rivaled by few other marques in our industry.
Founded in 1875 by Jules Louis Audemars and Edward Auguste Piguet, the brand established its reputation toward the end of the 19th century by devising award-winning movements that buoyed the brand's expansion throughout the western world. However, these rosy beginnings would soon be forgotten during a period of metaphorical and literal tragedy. The "Panic of 1907" saw the New York Stock exchange fall by almost 50% over a three-week period. It badly damaged AP's performance in the American market. World War I broke out in 1914, and following the fall of Russian Tsar Nicholas II, the brand's Russian interests were all but wiped out.
Five years later, Jules Louis Audemars passed away, and Piguet died the following year in 1919. Throughout the 1920s, the founders' descendants struggled to return the brand to its earlier levels of success. The brand fought for survival throughout the decade before the Wall Street Crash of 1929 once more pegged back its progress.
Production numbers waned to an almost comical level in the early 1930s (just two watches were recorded as being produced in 1932), before the brand managed to eke out a foothold by the latter part of that decade. Despite the poor sales figures from which the brand had to recover, Audemars Piguet was still turning out some impressive pieces, including complicated jump hour mechanisms and minute repeaters, upon which the brand's reputation was based.
AP diversified its manufacturing interests during WWII in order to survive. Additionally, a loan of CHF 15,000 from the local chamber of trade helped propel the marque through a troubled period. But better days were yet to come. The 1950s saw a resurgence in global optimism, and under the stewardship of Georges Golay, an accomplished businessman, the brand recovered. It was during this time that the Le Brassus manufacture was expanded. The brand still calls this location home today.
The Audemars Piguet Royal Oak
The real game-changer, however, was to arrive in the early 1970s. In addition to the watch that would forever change AP's fortunes, we were also blessed with one of the funniest (almost unbelievable) stories watchmaking has to offer.
Gérald Genta, then a young and up-and-coming designer, was riding high after his successful contract with Omega to reinvigorate its Constellation line. He received a call from Golay the evening before Baselworld 1971 opened its doors. He was given a rushed (and broad) remit to design "an unprecedented steel watch."
Rumor has it that Genta worked through the night, inspired by the rivets used on diving helmets to create the Royal Oak's now-iconic octagonal bezel. The integrated bracelet and overall concept wowed AP, which had been looking for something truly disruptive. With the help of a man whose name would echo down the ages, the brand had found it. The very first AP Royal Oak was unveiled the following year at Baselworld 1972 and the rest, as they say, is history.
Which Audemars Piguet Model Should I Buy First?
When considering your entry-point to the Audemars Piguet collection, it is hard to look past the Royal Oak as the palace to start. Thankfully, AP has taken great pains to diversify its offerings so that options are available to suit many different tastes. The pure, time-and-date models in stainless steel (with cases unadorned by diamonds or precious metals) are a solid choice, with these pieces often commanding long waitlists and great value retention over time.
As such, scouring the pre-owned market for one of these versatile pieces makes perfect sense. There are a great many tempting models available but be warned; prices are somewhat daunting. However, Audemars Piguet is a brand with the reputation to back up the numbers. There are plenty of diverse options within the catalog that cater to the first-timer and the seasoned collector. Let's look at some of the stand-out models from the most popular families in the current catalog.
Audemars Piguet Royal Oak "Jumbo" Extra-Thin Reference 15202ST.OO.1240ST.01
The first Audemars Piguet from 1972 (reference 5402) had a retail price of CHF 3,650, which was seen as a stupendous sum for a steel watch in those days. According to the Swiss Franc's inflation since that would equate to roughly CHF 9,650 in 2021. In light of that, perhaps the modern prices (especially given the machining and mechanical advancements) are a little more palatable. This model, reference 15202ST.OO.1240ST.01 is one of the closest models to the original Royal Oak in the current collection.
It measures 39mm wide and just 8.9mm thick. The rich blue dial is decorated with a "Petite Tapisserie" pattern, evoking the spirit of the ref. 5402 but turns things on its head with the small squares that make up the dial indented rather than raised. A color-matched date keeps things subtle and marks this as one for the ages.
Audemars Piguet Royal Oak Offshore Chronograph Reference 26480TI.OO.A027CA.01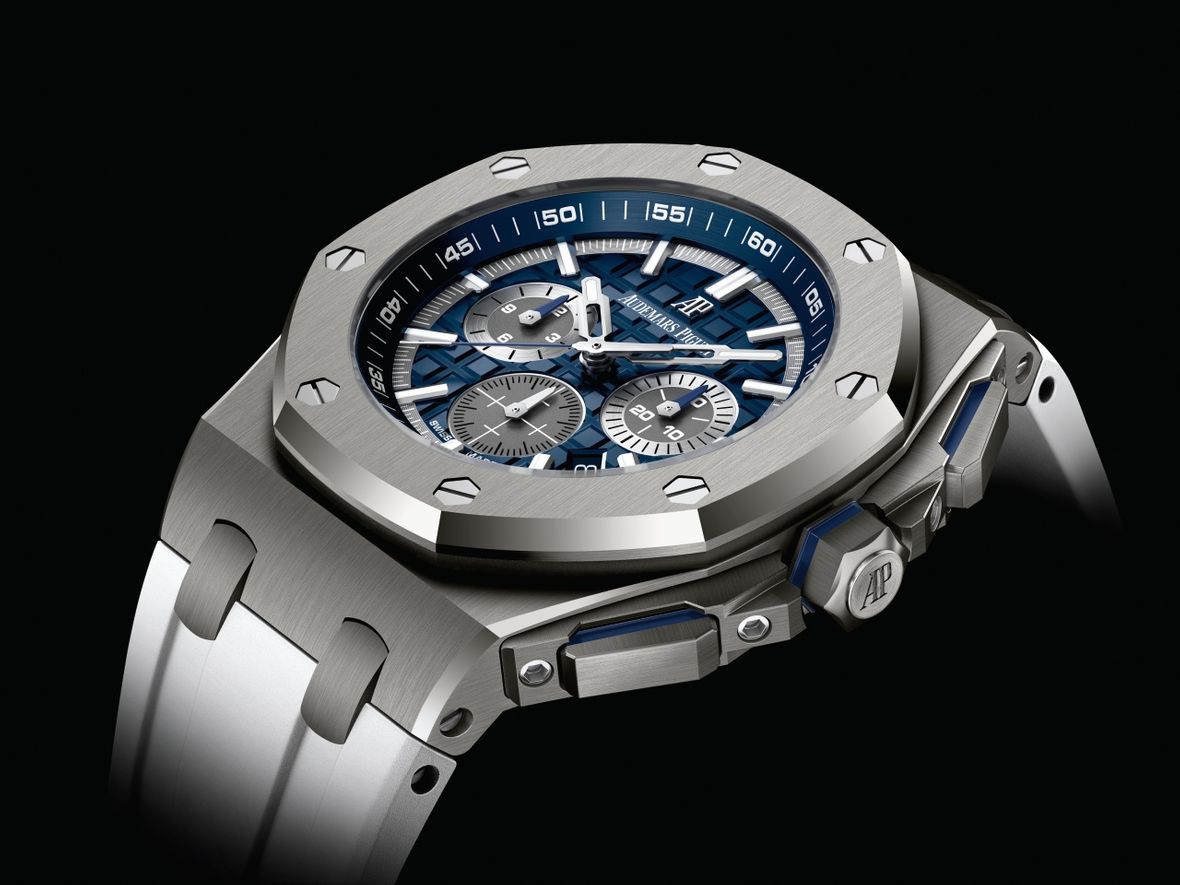 The Offshore chronograph was designed to celebrate the Royal Oak's 20th anniversary. It was eventually released in 1993 with its designer, Emmanuel Gueit, choosing to reference the original Genta model in many ways but with a thoroughly larger and more modern twist. The first Offshore model was 42mm wide –  3mm wider than the very first Royal Oak.
This Audemars Piguet Royal Oak Offshore Reference 26480TI.OO.A027CA.01 has the classic 42mm diameter but is slightly slimmer than some of its peers, coming in at a palatable 12.9mm thick. It is about as humble an AP Offshore as you can find within the catalog and is the perfect sports watch to be worn with casual attire.
Audemars Piguet Code 11.59 Grande Sonnerie Carillon Supersonnerie Reference 26397BC.OO.D321CR.04
Audemars Piguet's show-stopping Code 11.59 collection turned every head in the industry when released in early 2019. The past was referenced subtly with this new family, with the octagonal case middle nodding to the famous Royal Oak bezel. Perhaps the loudest criticism of the AP Code 11.59 range when it launched was that the dials did not live up to the expertly executed cases.
Well, the same cannot be said of the Grande Sonnerie Carillon Supersonnerie Reference 26397BC.OO.D321CR.04. Here, a stunning dial design takes center stage, each one a custom creation of artist Anita Porchet. With many of the Code 11.59 collection commanding fearsome prices, expect to pay six-figures for one of these beauties.
Audemars Piguet Royal Oak Concept Tourbillon Chronograph Openworked Reference 26612TI.OO.D002CA.01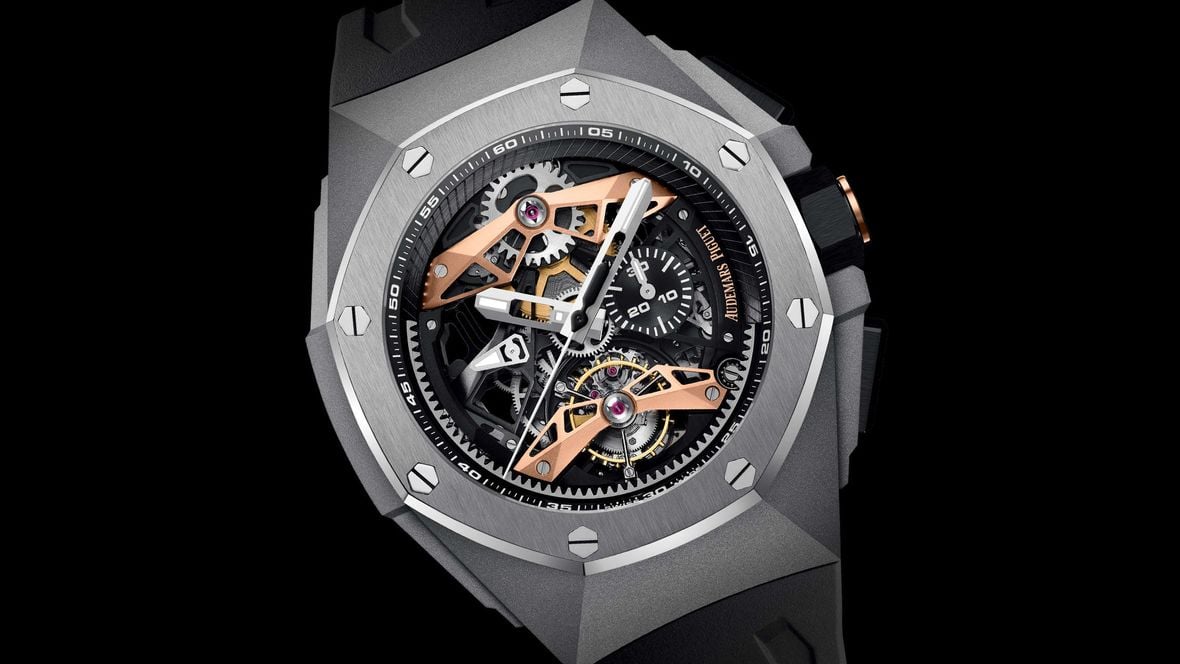 When it comes to the AP Concept department, there is one rule: go big, or go home. These are the boldest, meanest, in-your-face kids on the block, and they take no prisoners. Intriguingly complicated movements, topped by dizzying displays, sit in humongous housings and promise you a huge amount of grunt for your gold.
This one, reference 26612TI.OO.D002CA.01, features a tourbillon, a chronograph, and a depth-laden dial, wrapped up in a dimensionally unforgiving case that measures 44mm across and 16.1mm thick. Thankfully, this wrist giant is water-resistant to 100 meters, so if you decide to go for a swim with a watch worth the same as a small jet plane on your wrist, AP has you covered.
Audemars Piguet [Re]master 01Reference 6595SR.OO.A032VE.01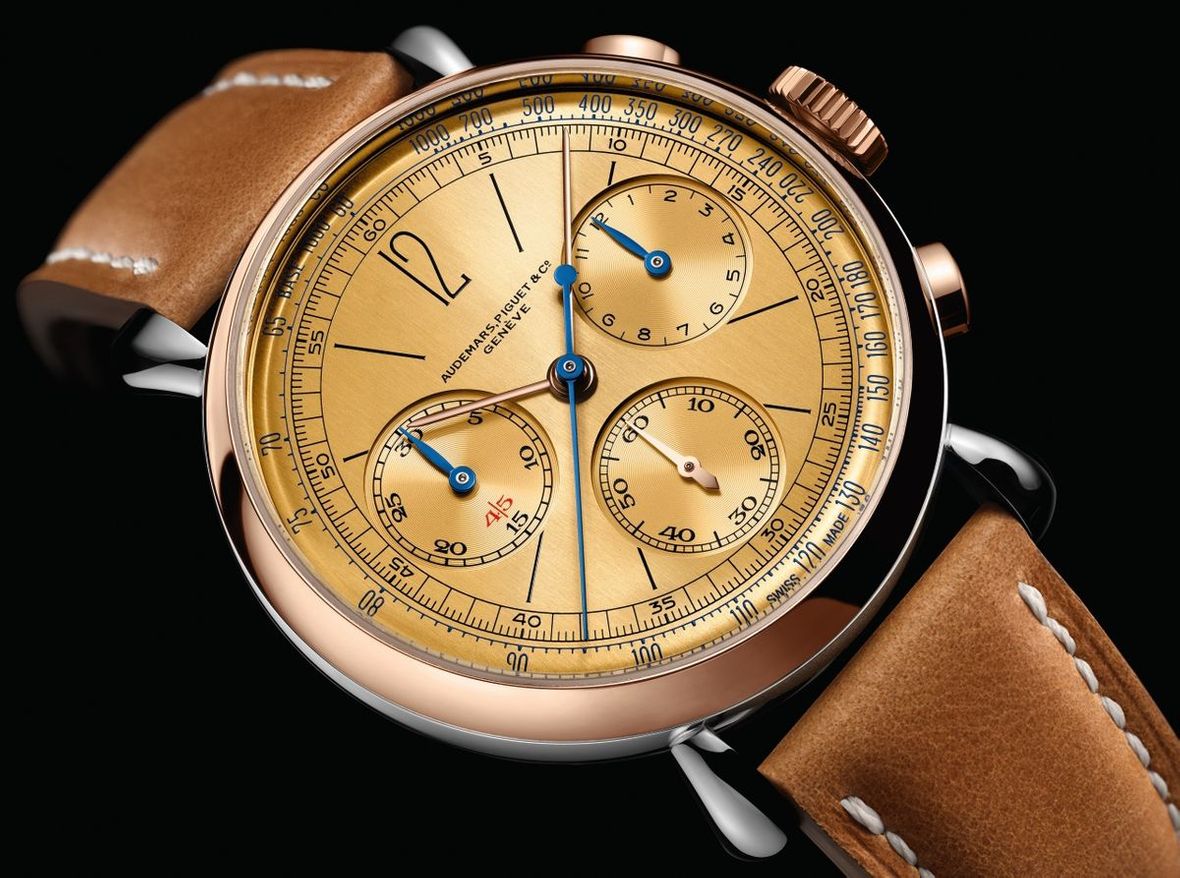 One of the latest additions to the AP catalog is the Audemars Piguet [Re]master 01Reference 6595SR.OO.A032VE.01. With this piece, Audemars Piguet stepped right back into its past, reputedly drawing inspiration from a classical chronograph from the 1940s.
This model opens a new era for the brand, showing its willingness to surprise its audience while staying true to its historic roots. As a strictly limited production of 500 pieces, you're unlikely to see many of these out in the wild. At a shade over $50,000, they won't be around for long so if you find one available, it would be best to act swiftly before they all become a part of someone's permanent collection.
* Images courtesy of Audemars Piguet.