Legendary actor Marlon Brando's Rolex GMT-Master from the iconic 1979 Vietnam War flick Apocalypse Now, once considered one of the great "missing" celebrity watches, has just sold for $1.95 million at Phillips' Game Changers watch auction on Dec. 10 in New York.
The Marlon Brando Rolex GMT-Master 1675
The whereabouts of the GMT-Master 1675, which is missing its distinctive "Pepsi" bezel, were unknown for many years until it surfaced this summer. Glimpsed in only a few scenes in the seminal war movie, the important timepiece, a reference 1675 made in 1972, is hand engraved with "M. Brando" on the caseback. As it transpired, Brando gave the watch to his adopted daughter Petra Brando Fischer when she graduated from college in 1995. Then in 2003, she gifted it to her husband Russell Fischer as a wedding present. This was of course still long before the true value of such vintage Rolex pieces was recognized.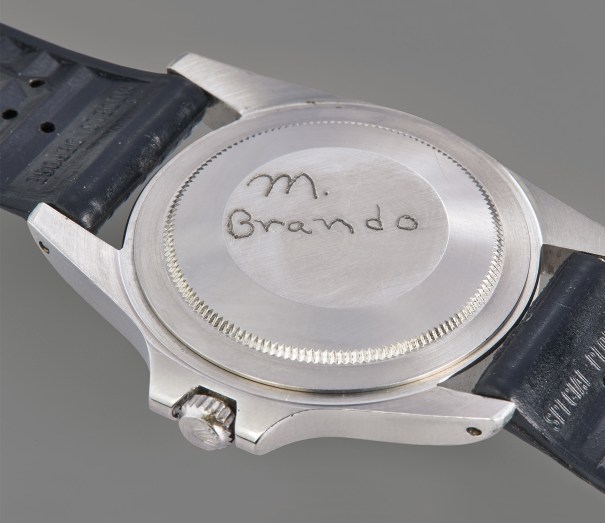 Apparently the astronomical sale price of Paul Newman's personal 'Paul Newman' Daytona inspired her to part ways with the heirloom. At $1.95 million Brando's GMT-Master is a far cry from Newman's own Daytona, which sold for $17.75 million. But it's still an impressive result for a piece that is missing both its bracelet and bezel. According to Phillips, Brando removed the bezel during filming of Apocalypse Now in the Philippines because it was felt that the Rolex GMT-Master was a little too "flashy" for his character Colonel Kurtz – a rogue officer who has gone native in the jungles of Vietnam. The watch is also missing its original metal bracelet, which again (for an ordinary watch) would affect its resale value (Brando wore his on black rubber strap). Despite missing its bezel and bracelet, the watch itself is in remarkably well-preserved condition. 
"This watch is like a tank," Petra recalls Brando telling her when he presented her with the watch. "You can do anything you want to it and it will keep on going." For her part, Petra declared that "Russell and I believe this watch is a piece of movie history that belongs in the hands of a collector who will give it the prominence it deserves." Part of the proceeds are going to a children's charity. Also on the 10th Jack Nicklaus' Rolex Day-Date hammered for $1.22 million. Again not that eye-popping in the context of Paul Newman but pretty darn expensive for an otherwise standard Rolex President. Phillips stated that the online bids for Brando's Rolex (while not ultimately successful) were the highest such bids the auction house has ever received for a watch – So definitely look for more online luxury watch auctions in future!