We've all heard of the Rolex Datejust – and for those acquainted with the Datejust, there probably isn't all that much to be said about it that you haven't already heard. Simply put, the Rolex Datejust is a legend.
As far as individual watch models go, it is something of a perfect storm. It arrived at just the right time and performed the right functions to stake its claim among the pantheon forevermore. There are only a handful of watches in our industry that 99.9% of analysts, collectors, and watchmakers alike would all bet their careers, houses, families, and even pet hamsters on remaining central to the conversation of luxury wristwatches for another century – and the Rolex Datejust is one of them.
Names like the Audemars Piguet Royal Oak, the Patek Philippe Nautilus, and the Rolex Datejust are frequently mentioned in the same breath. They are icons, irremovable marks of excellence within an industry that is replete with the exceptional. Call it good design, call it good timing, you can even call it blind luck – but whatever it is, the Rolex Datejust reached the top of the mountain early and has been casually enjoying its success while the rest of the field spent its time playing catch-up. And yet, the Datejust seems untouchable, almost sacrosanct in some way. However, within that bubble of specialness, there are some models more special than others. Here are our top five Rolex Datejust watches to buy as investments.
Rolex Datejust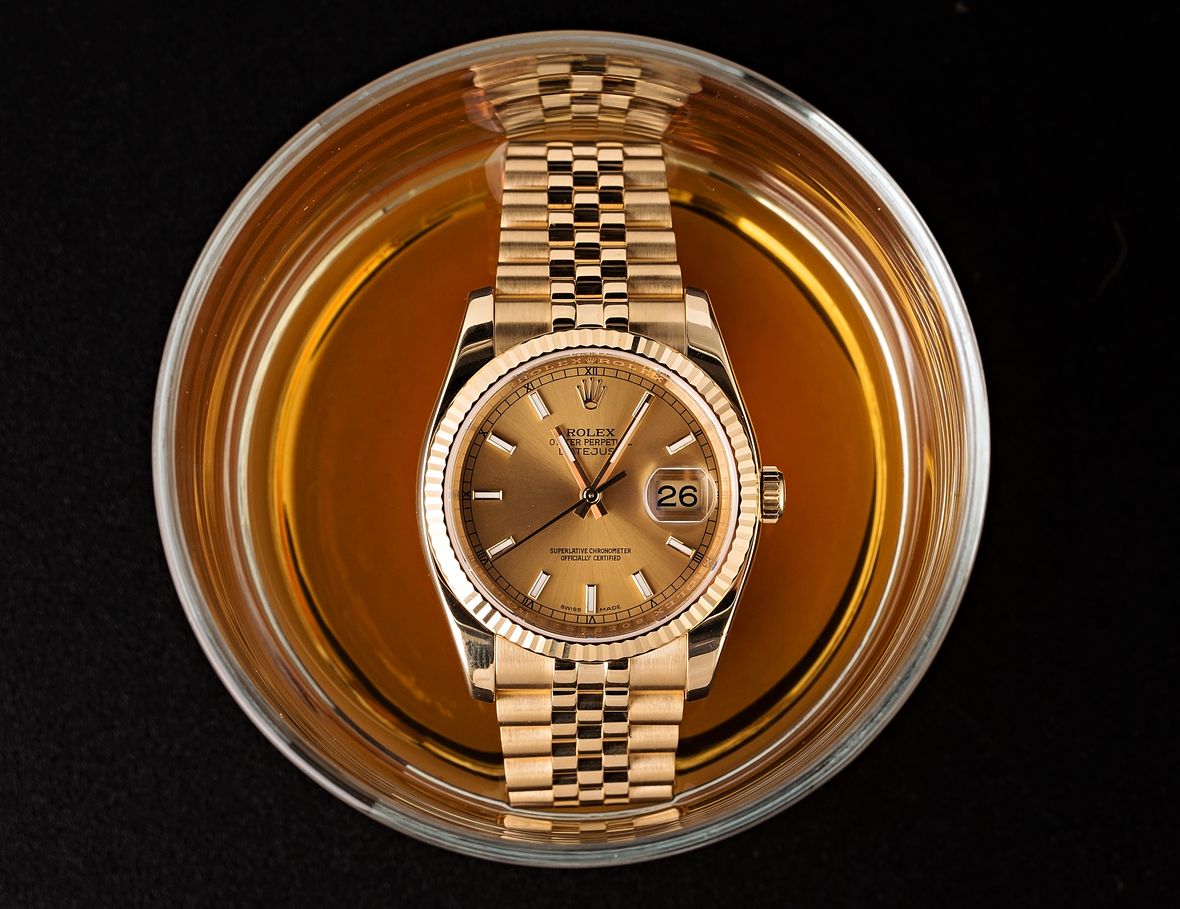 Datejust Collection Key Features:
– First introduced in 1945.
– Released to celebrate Rolex's 40th anniversary.
– The first self-winding watch to display the date through a window on the dial.
– Rolex's most diverse collection of watches.
– Worn by countless celebrities and world leaders.
– Rolex's best-selling watch collection of all time.
Click here for our Ultimate Buying Guide on the Rolex Datejust.

Rolex Datejust 16013 – Yellow Rolesor (Two-Tone)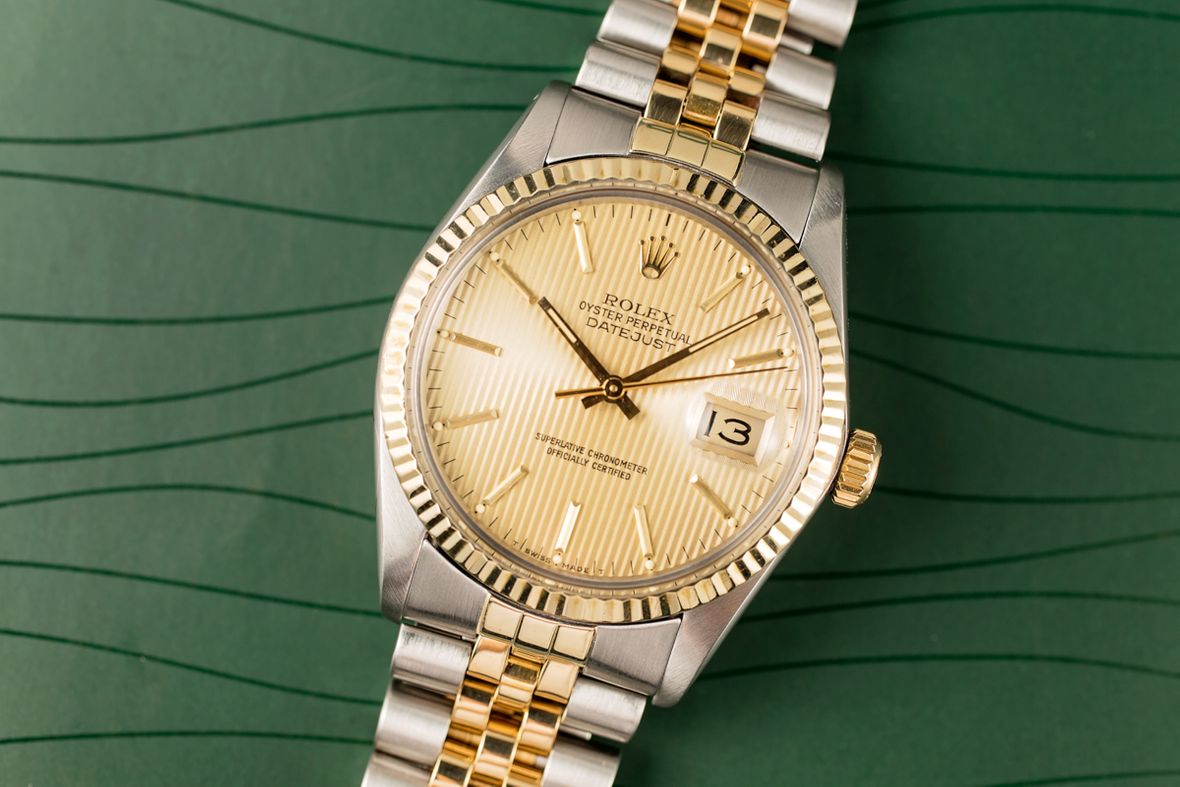 The classic among classics. When many people think of a Datejust, it simply has to be 36mm and it has to be in Rolesor (stainless steel and gold) – and it also needs a fluted bezel and iconic Jubilee bracelet. Oftentimes, these traits are packaged together with a shimmering champagne dial to complete a look as timeless as it is impactful.
In the past few years, there have been a couple of undeniable truths when it comes to the Rolex brand. First and foremost, its watches are becoming more expensive. That is true of both the recommended list prices as well as the values of many watches on the open market. Second, Rolex watches  (at least many of the most desirable ones) have become harder and harder to find at retail.
There are countless collectors that have spent years sitting on their hands, waiting for a price crash that never came. Remember the days in which you could pick up a Rolex Submariner "Hulk" that had been languishing in a retailer's window for three years for less around $5,000? If you stumbled through a wormhole and found yourself in that situation today, you would likely purchase as many examples as that dealer would sell you. Due to the price increases and genuine scarcity of these pieces at retail, pre-owned prices have similarly increased. While it can be jarring to see prices climb steadily before your eyes, you cannot turn back the clock, and you can be as confident as possible that the prices of these pieces will continue to climb.
And if a classic Rolex Datejust is to your liking, what are you waiting for? Find one with a dial you adore and pull the trigger. If you regret it, cashing out will be about as quick and straightforward as possible, with customers falling over themselves to acquire a slice of the Crown's heritage before it finally moves out of reach forever. Even if Rolex responds to criticism within the industry of its "enforced scarcity" and floods the market with more of its most popular modern models, the older Datejust watches are true classics that will never go out of style. There is a warmth to Rolesor Datejusts from the late '70s–mid-'80s that is simply compelling – get one on your wrist, and you'll see what we're talking about soon enough.
Rolex Datejust 16200 – Stainless Steel
The reference 16200 is one of the most humble, most demure, pared-back Rolex Datejust models ever made. It lacks all of the defining elements that made the first watch featured on this list of top Datejust investments such a runaway top choice. So then, how can this austere antithesis to that limitless luxury be the model featured in the number-two spot?
Well, simply because people are different from one another. What one person finds attractive about a Rolex, another may find to be crass. While many covet the Crown for its name alone, a large chunk of Rolex's clientele is still very product-focused. To customers of that nature, functionality, durability, and perhaps an ounce of subtlety makes all the difference. These models make great investments because they simply never go out of style and always feel appropriate, regardless of the situation.
There are times when a Rolesor or solid gold Datejust would just seem a bit tone-deaf. A full stainless steel Rolex Datejust with a smooth bezel, humble Oyster bracelet, and a traditional dial is a statement of quiet power. You've got the goods, but you don't feel any need to shout about it whatsoever. When the moment arrives, you won't flinch, but you don't need any kudos or attention in advance. That kind of stealth luxury is popular for a reason; it's respectable, it's professional, and it's timeless.
Rolex Datejust – 18k Yellow Gold
If stainless steel simply isn't your thing, then why not go in the other direction with a solid gold Rolex Datejust – a watch that is almost always a hammer blow to the status of those around you. If you want to be the king and lord it over your peers, a solid gold Datejust is an excellent way to express your status.
When it comes to all-gold watches produced by Rolex, the most famous is undoubtedly the Day-Date on the sumptuous President bracelet. That model makes all the sense in the world when made from solid gold. Production of the Day-Date is restricted to precious metals for a reason – it is an essential part of its character. However, this has never really seemed the case with the Rolex Datejust. The Datejust is almost meant to be bi-color, assuming the role of a reliable daily watch that has just enough luxury to make its wearer feel special, rather than enough gold in its case and bracelet to require a bodyguard every time you step outside.
With that in mind, the simple fact is that Rolex is increasingly becoming a global luxury brand, rather than just a manufacturer of fine watches. That is surely unpalatable to many of you, and it is particularly upsetting if you value Rolex's historical contribution to horology more than the status bestowed upon wearers of the brand's watches. However, what this means is that extravagant expressions of wealth will likely become more commonplace within Rolex's portfolio.
Buoyed by the material's inherent value, full-gold watches are even less likely to drop in value than their stainless steel or two-tone counterparts. True, they may appreciate at a slower or lesser rate than their steel brethren, but the market is ultimately more stable and more reliable due to the intrinsic value of the material itself. If the bottom were to completely drop out of the Rolex market tomorrow, you'd likely feel much better about your investment were in solid gold. Better still, the buy-in costs for these pieces seem disproportionately low at the moment compared to their steel counterparts, buy pre-owned at an attractive price and be satisfied that this horological heavyweight will likely be able to ride out any economic wave.
Rolex Datejust – 18k White Gold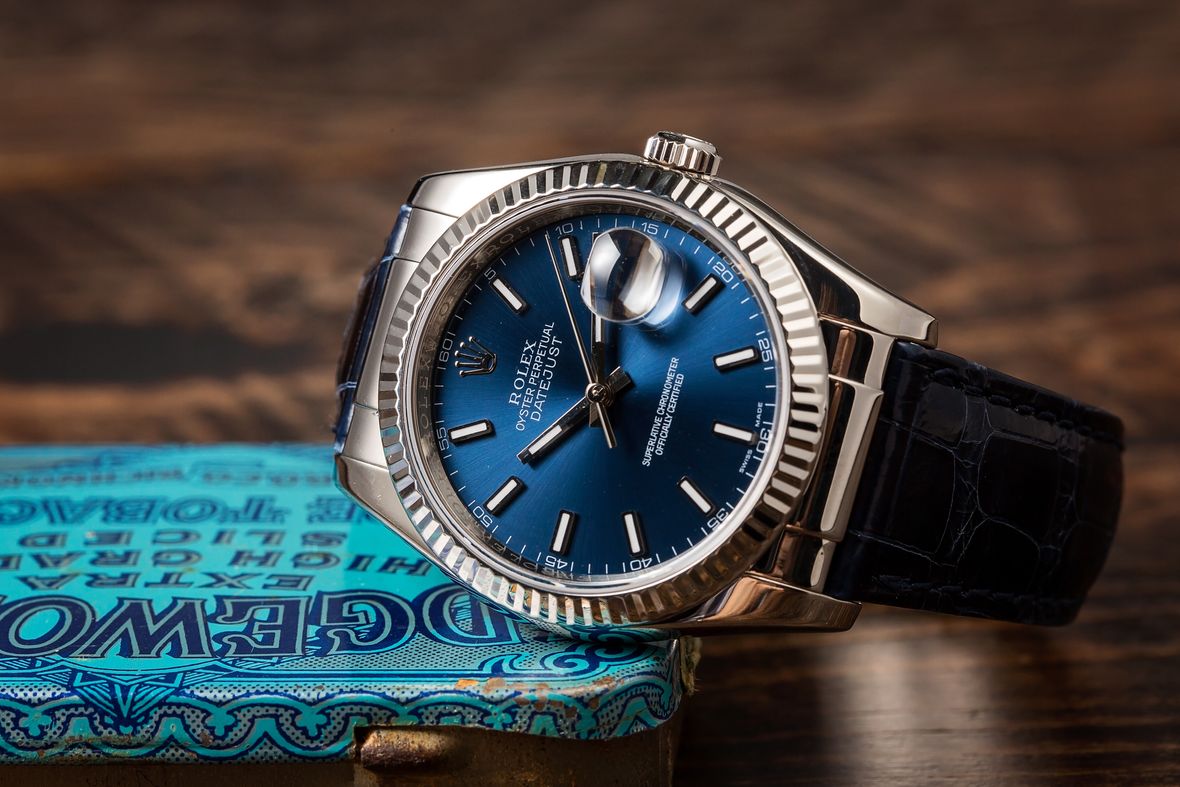 As with yellow gold, solid white gold watches are desirable because the material itself holds fast through market fluctuations. Almost amazingly, platinum is lagging behind gold these days, meaning that a white gold Rolex watch is the way to roll if you want to follow the latest trends.
While the Day-Date has historically been produced in both yellow and white gold, Rolex Datejust models in full white gold are significantly less common. At a quick glance, these solid 18k white gold Datejust watches look almost indistinguishable from their stainless steel and White Rolesor counterparts. It is only through a handful of subtle visual cues – such as the lug hoods and the fact that Rolex fluted bezels are only ever crafted from solid gold – that the luxurious nature of these watches reveals itself.
Is it a gamble? Well, every investment of this nature is to one degree or another, but this one results in a truly gorgeous-looking watch with huge brand provenance and unequivocal material chops. It's a sleeper hit and it is also the epitome of "stealth wealth" since only a die-hard Rolex fan is likely to be able to spot that your Datejust is made from 18k white gold rather than stainless steel. However, if this modern and luxurious option speaks to you, then the opportunity for appreciation is certainly real.
Rolex Datejust – Linen Dial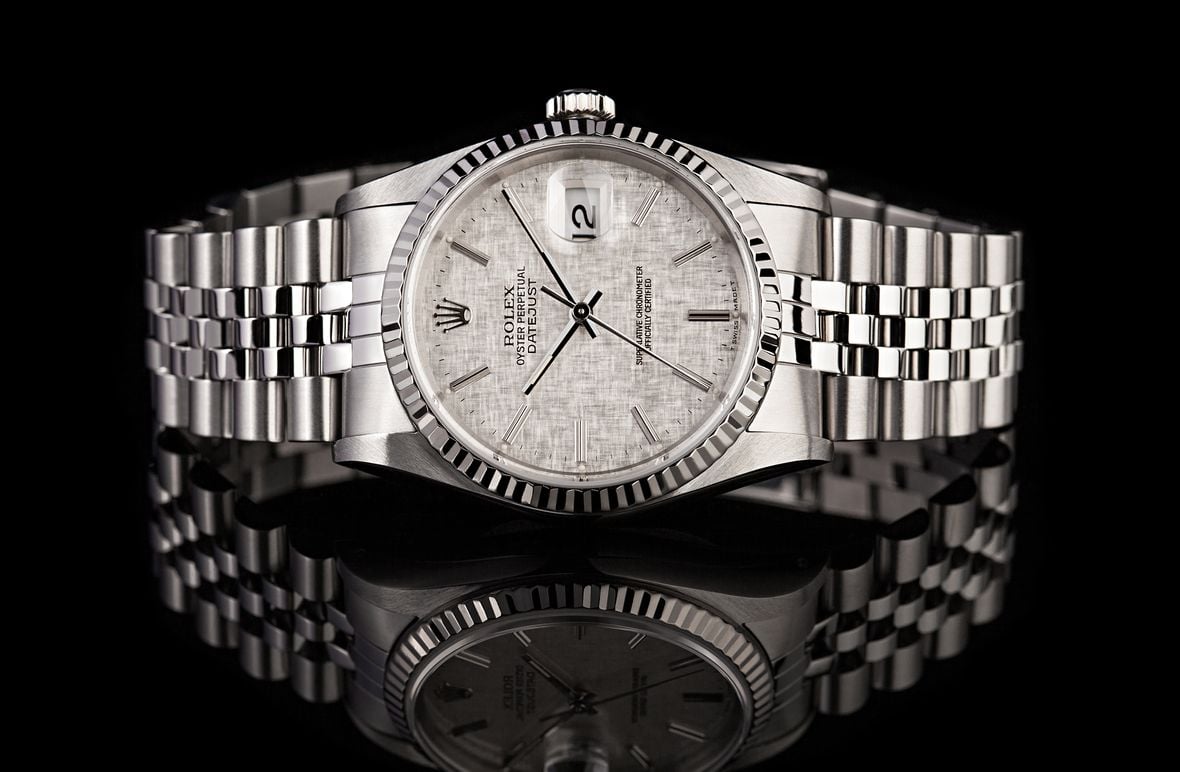 Materials and status boosting aside, another wise route for investing in a Rolex Datejust is to pick something artful and rare. Rolex has a history of being surprisingly creative with its dials, despite a well-earned reputation as one of the most conservative brands in the industry when it comes to novelty production.
One of the ways that Rolex keeps things fresh is by releasing unusually colored or (less commonly) patterned dials as a means of breathing new life into its existing collections. Thanks in part to the Datejust's ever-presence in the brand's catalog (since its first release in 1945), the collection has been the recipient of many creative (and sometimes downright unusual) dials over the years.
One of our favorite types of Rolex textured dials is the "Linen" style that the brand occasionally fitted to its Datejust models. Featuring a subtle crosshatch pattern that gives their surface a textile-like texture, Rolex linen dials don't appear on the pre-owned marketplace all that often (relative to their more-traditional counterparts), but they are certainly worth snapping up whenever they do.
When it comes to Rolex, the brand (more than the product) is your investment's anchor. There are no guarantees, but by choosing either an established classic, a versatile and timeless beater, a precious metal timepiece, or a slice of beauty, you are unlikely to go too far wrong. And perhaps the best return on any of these investments is the emotional journey on which you and your new watch will be able to enjoy together.