The Datejust is a staple of the Rolex brand that first hit the market in 1945. Although the model was originally designed for men, the brand quickly followed it up with the Rolex Lady-Datejust in 1957, which offered all of the same core features but in a more compact size. To this day, the Datejust continues to remain in production, and it holds the title of being Rolex's best-selling watch of all time.
The Rolex Datejust collection features seemingly countless design sets, including several metal finishes, case sizes, dial colors, and bracelet options. Today, the ladies' Datejust is a success in its own right that (by volume) outsells many of the brand's most sought-after sports watches. Below we take a closer look at the modern Rolex Lady-Datejust, its history, and where you can buy it.
Click here for our Ultimate Buying Guide on Ladies' Rolex Watches.

Rolex Lady-Datejust History
The history of the Rolex Lady-Datejust technically begins in 1905 with the Rolex brand's establishment. However, it would not be for another half-century before the LadyDatejust watch would actually make its first appearance. During the company's early years, Rolex founder Hans Wilsdorf and his brother-in-law Alfred Davis specialized in placing imported movements into watch cases and then selling them to jewelers.
During this time, Rolex was not an actual manufacturer of watches like the brand is today. In fact, when Rolex first started out, the brand did not have its own factories and actually did not manufacture anything. Instead, during its early years, Rolex would source the best components it could from third-party suppliers and create complete watches, often branded with the name of the jewelry store in which they would ultimately be sold.
By 1910, Rolex became the first wristwatch to earn the distinction "Swiss Certificate of Chronometric Precision." However, that was only the beginning of what would become an extraordinary history bursting at the seams with innovation and numerous accolades.
An Age of Innovation
Rolex made history in 1926 with the introduction of the very first waterproof wristwatch. The case was aptly named "Oyster" for its reliable watertight seal. This invention was followed shortly by the "Perpetual" movement in 1931, which introduced self-winding calibers to Rolex's watches. By the early 1930s, Rolex already had the foundation for the first Datejust, although the model itself would not make an appearance for another decade.
The first Datejust hit the market in 1945 to celebrate Rolex's 40th anniversary. When it was released, the Rolex Datejust was the first self-winding wristwatch to feature an automatically changing date mechanism displayed through a window in the dial. It was also the first Rolex watch to wear on the now-iconic 5-piece link Jubilee bracelet, which was designed specifically for the launch of the Datejust and ultimately named after the "Jubilee" celebration.
When Rolex was founded, pocket watches were the norm for men, and women primarily wore ornate wristwatches (known as wristlets). This all changed largely due to Rolex's pioneering technologies from the 1920s and 1930s. By 1945, the wristwatch was mainstream among both men and women and was waterproof, operated on self-winding technology, and featured a convenient calendar display, making it perfectly suited for daily life.
The First Lady-Datejust
Rolex released the first Lady-Datejust in 1957, hot on the heels of the enormous success of the men's version of the watch. It featured everything the men's Datejust offered, including a waterproof Oyster case, a self-winding movement, and the brand's signature date display window at the 3 o'clock location.
Today, the Lady-Datejust is produced in every metal finish available to the Rolex catalog, including Oystersteel, Everrose gold, yellow gold, platinum, and two-tone (Rolesor). The latter is the term used by Rolex to describe the pairing of both stainless steel with gold components on a single watch and Rolex offers Rolesor models with all three colors of 18k gold (yellow, white, and pink).
The Lady-Datejust also boasts countless bezel, bracelet, and dial configurations. On one end of the spectrum, the Lady-Datejust can be found dripping in diamonds, while the other side of the catalog contains all-steel models with simple smooth bezels and Oyster bracelets. The Datejust is Rolex's most diverse line of watches and it is commonly said that there is a Rolex  Datejust for every possible wrist.
Rolex Datejust Case Sizes
Rolex is always evolving and catering to ever-changing watch trends. The brand can attribute much of its success to its ability to adapt while remaining true to the core designs of its pillar models. Rolex has a near unparalleled ability to stay on-trend while simultaneously honoring its famous design ethos. One such example is the subtle progression of the Oyster case within the Lady-Datejust collection.
Ladies and Midsize Options
– 26mm: The Lady-Datejust initially measured 26mm in diameter. This size and weight were perfectly suitable for the trends at the time and 26mm remained the standard case measurement of the Lady-Datejust for decades.
– 28mm: By 2015, womens' watch tastes were favoring larger, more contemporary timepieces. It wasn't uncommon to see men's watches on the wrists of many fashion-forward women. To answer the rising trend among women for larger watches, Rolex discontinued the 26mm Oyster case and released a 28mm version. It was just large enough to make a statement while keeping the feminine style that had remained a cornerstone design element of the Rolex Lady-Datejust collection.
– 31mm: While not technically a member of the Lady-Datejust series (it is actually a midsize watch), the 31mm option is also definitely worth mentioning. It is viewed by many as the modern embodiment of the classic ladies Rolex watch, although it is technically classified as a midsize model. By adding a few millimeters to the case size the watch takes on a significantly more bold overall aesthetic while still remaining significantly more compact than the full-size men's watches.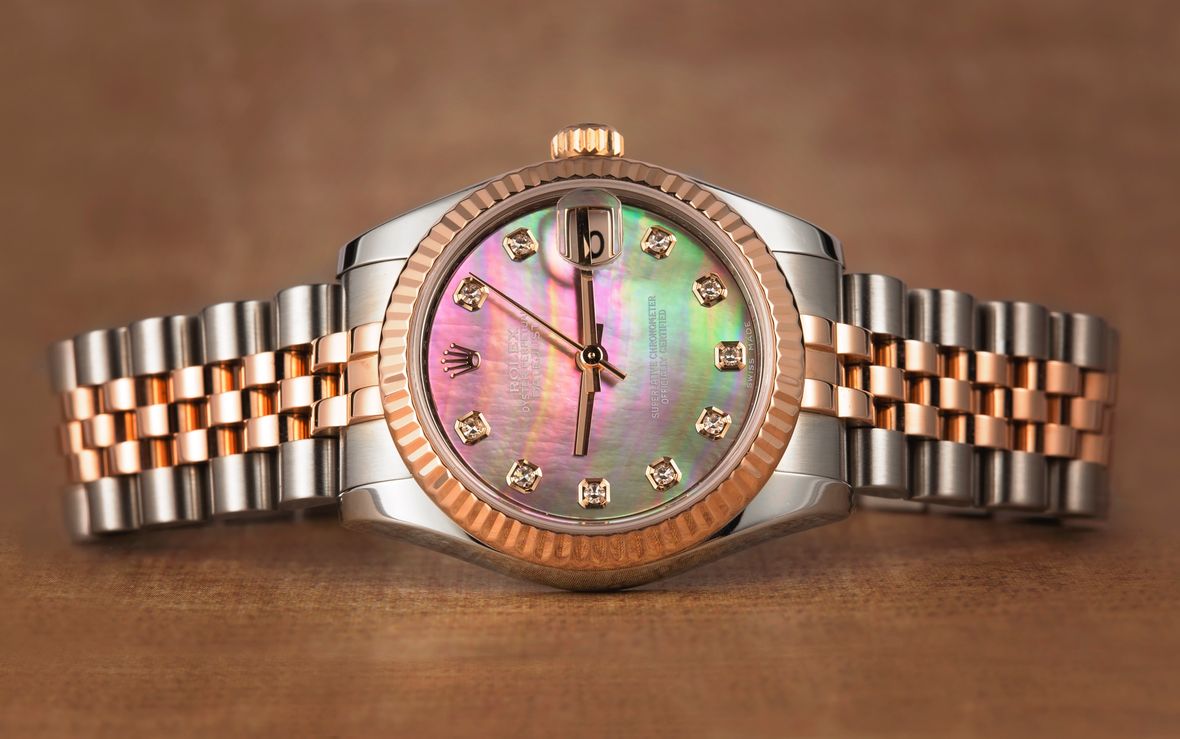 Full-Size Options
– 34mm: Formerly known as the Rolex Date, the recently-discontinued 34mm option adds a few more millimeters to the case size and is officially classified as a full-size men's model. However, it frequently gets labeled as a unisex watch and mentioned along with the midsize Datejust models due to its highly versatile case size. It appeals both to men who seek a smaller alternative to the classic Datejust 36 and to women who want a larger case than the midsize or Lady-Datejust.
– 36mm: Rolex continues to produce the men's Datejust in 36mm, similar to the first model from 1945. Even though it is technically a men's watch, the Datejust 36 remains a popular choice among women, and Rolex now offers a number of different configurations of the classic 36mm model that are specifically designed with female customers in mind.
– 41mm: In 2009, Rolex reinvented the Datejust once more by releasing the 41mm Datejust II. It remained in production for a few short years before being replaced by the Datejust 41 in 2016, which is still 41mm in diameter but features a sleeker and less bulky case. While these larger 41mm models are technically classified as men's watches, both editions also make fantastic options for women who want a Rolex model with a large case and plenty of wrist presence.
Rolex Lady-Datejust ref. 279160 – Oystersteel
The Lady-Datejust ref. 279160 is an entry-level option, featuring a full Oystersteel (904L stainless steel) finish. It is currently in production, featuring a smooth bezel and either a Jubilee bracelet with a concealed Crownclasp or an Oyster bracelet with a standard Oysterclasp. Dial options include white, silver, dark grey, or pink. It's hard to deny the versatility of the Oystersteel Lady-Datejust, and its relatively affordable price point makes it a popular option for many contemporary Rolex collectors.
28mm Oyster Case
The ref. 279160 is also equipped with a newer 28mm case. The lugs are fully polished, mirroring the smooth bezel's finish and the center links of the bracelet. The screw-down crown includes Rolex's innovative Twinlock system featuring two sealed zones for improved water resistance. The crown is screwed into the Monobloc middle case along with the case-back to ensure a hermetic seal up to 100 meters (330 feet).
Caliber 2236 Movement
As a newer-model Lady-Datejust 28, the ref. 279160 is powered by the next-generation Caliber 2236 automatic movement. It features an upgraded hairspring made from silicon (patented by Rolex as "Syloxi"). The Syloxi hairspring is highly resistant to magnetic fields, fluctuations in temperature, and ten times more resistant to shocks than a traditional hairspring. It also permits for greater efficiency than its predecessors, allowing the Cal. 2236 to offer users a power reserve of up to 55 hours.
Rolex Lady-Datejust 28 ref. 279174 – White Rolesor
White Rolesor pairs stainless steel with 18k white gold. It is highly revered among collectors for its versatility, offering subtle luxury in the form of a solid white gold fluted bezel, while maintaining resilient stainless steel throughout the case and bracelet. White Rolesor is the perfect option for any woman who seeks a watch that has no problem transitioning from day to night without commanding a top-tier price.
Multiple Style Options
The ref. 279174 wears on either the 5-link Jubilee bracelet secured by a sleek, hidden Crownclasp or a 3-link Oyster bracelet with an Oysterclasp and 5mm Easylink extension system. It is produced with a bevy of dial options, including the colors white, dark grey, silver, pink, and shimmering mother-of-pearl, along with the option of classic batons, Roman numerals, or diamond-set hour markers.
Like all other Lady-Datejust watches, the ref. 279174 features a waterproof Oyster case secured with a Twinlock crown, a screw-down case back, and a scratch-resistant sapphire crystal. Offering a case with a contemporary 28mm diameter, this edition of the Lady-Datejust is perfectly suited for a woman's wrist while offering a modern and fashion-forward design that separates it from older Lady-Datejust references.
Rolex Lady President ref. 179178 – Yellow Gold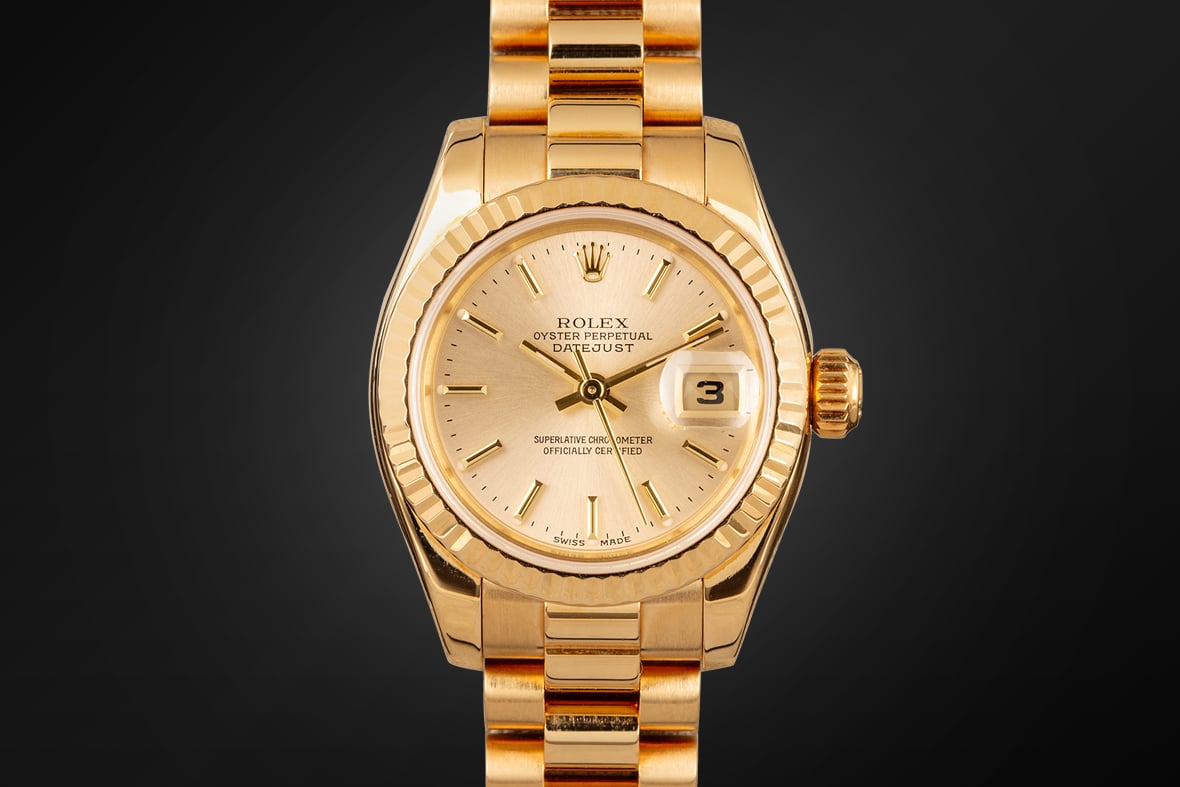 Is there anything better than an all-gold Rolex? We think not. The ref. 179178 is a generation older, but still a modern Rolex nonetheless. Since it has already been discontinued to make way for its successor (the ref. 279178), it is slightly more affordable and will appeal to anyone who wishes to snag their very own gold women's Rolex at a more attainable price.
The lugs are larger and more rounded than those on the older 5-digit editions, immediately distinguishing the ref. 179178 as a modern Lady-Datejust. Some editions feature dials with applied luminous-filled baton hour markers – another hallmark of contemporary women's Datejust watches. The bezel on the reference 179178 is Rolex's signature fluted style crafted from solid 18k yellow gold, and it makes this version of the Lady-Datejust immediately identifiable. The Rolex Lady President also boasts numerous gorgeous dial options, such as Jubilee, mother-of-pearl, diamond-set, and classic champagne with a radiant sunburst finish (just to name a few).
The President Bracelet
What sets the "Presidential" Datejust apart from the other ladies Rolex Datejust watches is the bracelet, which features semi-circular links in satin and polished gold. The rounded shape of the links gives the bracelet a more luxurious design that drapes nicely around the wrist, blurring the lines between a wristwatch and jewelry. Previously, this bracelet option was only offered on the men's Day-Date, making this edition of the Lady-Datejust quite remarkable and one of the most luxurious women's Rolex watches available.
Rolesor Datejust 31 ref. 178341 – Everose Rolesor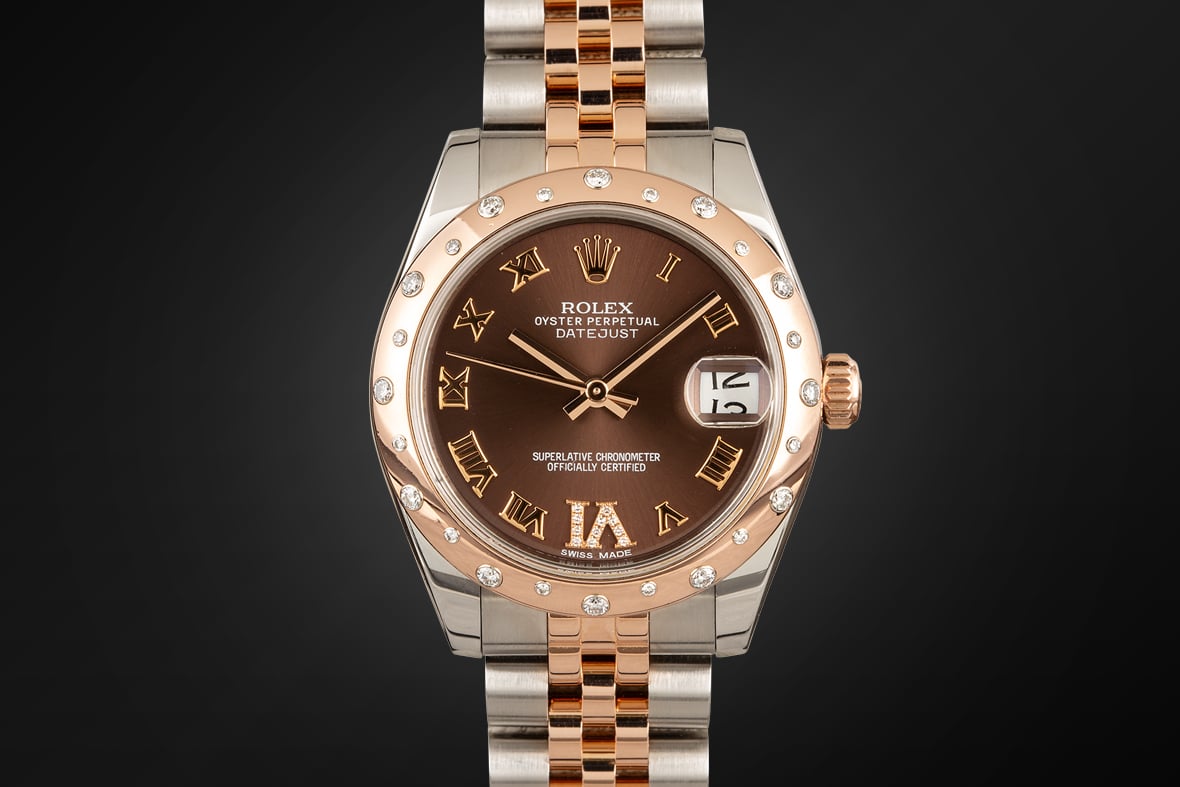 Everose is a relatively new metal option within the Rolex catalog, having only been added in 2005. It utilizes a proprietary blend of 18k rose gold that is forged in-house from within Rolex's own foundry, and it is right on-trend with current watch tastes. Collectors across all generations, lifestyles, and professions choose this metal option over white or yellow gold for its fresh take on the iconic Datejust. Pair its unique warm hue with stainless steel (dubbed "Everose Rolesor"), and the result is an incredibly versatile edition of the Lady-Datejust that looks exceptional when stacked with other bracelets or simply worn by itself.
31mm Oyster Case
The ref. 178341 is right on-trend with a midsize 31mm case diameter. It is larger than the traditional ladies' Rolex models while still maintaining a flattering size and a very wearable weight. The dial is more opulent than most Datejust models, often featuring a flower motif, mother-of-pearl finish, or even a rich chocolate hue decorated with diamonds. Rather than featuring a traditional bezel set with perfectly symmetrical diamonds, the ref. 178341 opts for a contemporary scattered design. Additionally, the case is worn on either a Jubilee or Oyster bracelet with each variation offering its own unique aesthetic.
Caliber 2235 Movement
As with the rest of the watch, the movement that drives the Rolex Datejust 31 is masterfully crafted. The Caliber 2235 features self-winding technology to power the date and time functions of the watch. It is COSC-rated (along with boasting Rolex's own more-stringent Superlative Chronometer certification) and it features a 48-hour power reserve with a Quickset date that allows the wearer to adjust the calendar display without disturbing the time-telling hands.