The story of the Rolex Submariner is an illustrious one, making history in 1953 as the world's first dive watch capable of being water-resistant to a depth of 100 meters (330 feet). Developed as a diver's tool, it was equipped with a rotating 60-minute bezel to safely time decompression stops and luminescent details for visibility in the ocean's vast darkness. Over the years, the Submariner has undergone countless upgrades, in addition to taking on a number of differing looks using a range of materials, colors, and design details. For more than half a century, the Rolex Submariner has remained the gold standard in luxury diving watches.
Let's take a closer look at the solid 18k yellow gold Submariner 16618, including its history, price, features, and, most importantly, where to buy it.
Rolex Submariner 16618
Rolex 16618 Key Features:
Case Diameter: 40mm
Materials: 18k Yellow Gold
Functions: Time w/ Running Seconds, Date Display
Dial: Black; Blue
Bezel: Aluminum Insert. Black; Blue
Crystal: Flat Sapphire w/ Cyclops Lens
Movement: Rolex Caliber 3135
Water Resistance: 300 meters / 1,000 feet
Strap/Bracelet: Oyster Bracelet w/ Wetsuit Extension
Price Range: $22,000 – $30,000 (Pre-Owned)
Click here for a complete buying guide on the Rolex Submariner.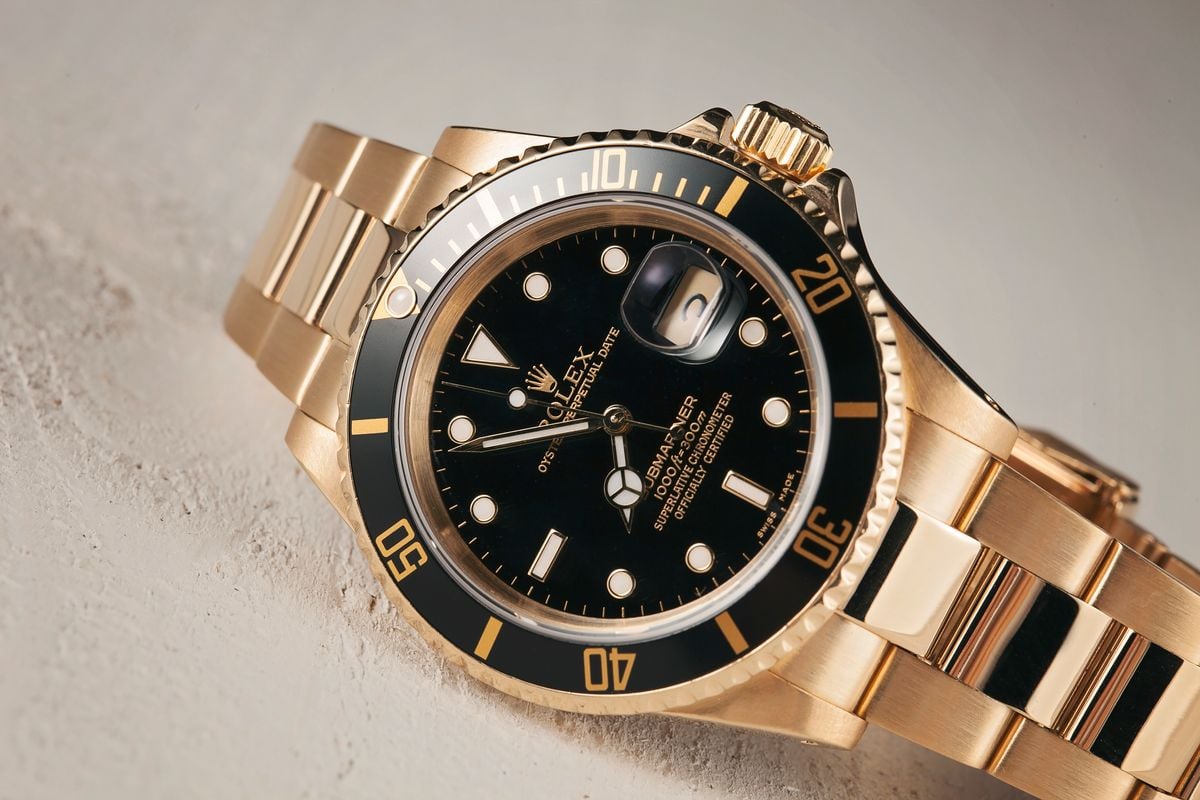 History of the Submariner 16618
When the Submariner hit the market in the 1950s, the watch was only produced in steel. It featured a time-only dial, a bi-directional bezel, and was water-resistant up to 100 meters. Of course, all of this eventually changed, making way for the Submariner 16618 as we know it today. During the first couple of generations, the stainless steel references saw numerous upgrades, including the arrival of chronometer-certified rated movement, an increase in case size, the implementation of crown guards, and the addition of a date window and accompanying Cyclops magnification lens.
The first Submariner to feature a date window on its dial was the ref. 1680. A variant of this model, the ref. 1680/8 was the first Submariner produced in all gold (not to be confused with reference 16808, which Rolex released a short time later). Just like the stainless steel version, it featured an acrylic crystal over the dial, an aluminum bezel insert, and water-resistance up to 200 meters. However, while the steel variant was fitted with a matte black dial, the ref. 1680/8 received either a gloss black or sunburst blue "Nipple Dial" with raised markers in matching 18k yellow gold.
Following the ref. 1680 is the transitional Submariner 16800. It was the first Sub to run on a high beat caliber 3035 Perpetual movement with an operating frequency of 28,800bph.  The Submariner 16800 also introduced the series to the scratch-resistant sapphire crystal and an increased depth rating of up to 300 meters. It was during this time that the bezel became unidirectional. The ref. 16800 was produced only in steel and featured a black dial and aluminum bezel.
The next stop in the history of the ref. 16618 is the Submariner 16808, which is the all-gold variant of the transitional ref. 16800. It featured all the same upgrades as its all-steel counterpart and was produced with a black or blue dial and bezel. While early examples of the ref. 16808 featured nipple dials just like its predecessor, later-production versions featured dials with applied markers that much more closely resemble those fitted to modern Submariner watches. Additionally, the Submariner 16808 was also offered with "Serti Dials" that featured diamond and sapphire hour markers set against either a dark rhodium or champagne-colored dial.
That brings us to the ref. 16618 in solid 18k yellow gold. Replacing the ref. 16808, the subject of our review was the first all-gold Submariner to run on the caliber 3135 movement. While fairly similar in design as the caliber 3035, the cal. 3135 is an improved version with 31 jewels (up from 27), a longer 50-hour power reserve (up from 42 hours), and a full balance bridge with a larger balance wheel. Additionally, Rolex also updated the cal. 3135 in 2000 to feature its proprietary blue Parachrom hairspring. Also produced during this era was the two-tone Submariner ref. 16613 and the all-steel ref. 16610 with white gold-trimmed luminous hour markers. The 1980s, with improved functionality and materials, marked the transition from the vintage Submariner to the modern generation. Even though Rolex released the Submariner 16618 during this time, some collectors consider it to be neo-vintage as it continues to make the transition towards becoming a vintage watch.
The Submariner 16618 remained in production until 2010 when it was replaced by the 6-digit reference 116618 with a ceramic bezel and larger "Maxi" dial. Although both references measure 40mm in diameter, the ref. 116618 Submariner appears slightly larger with bigger crown guards and broader lugs. Like its predecessor, this 6-digit series of Submariner watches also runs on the caliber 3135 movement, complete with Rolex's blue Parachrom hairspring.
Rolex discontinued the original 6-digit gold Submariner in September 2020 and replaced it with the brand-new reference 126618. New to the series is a larger 41mm case and the caliber 3235 Perpetual movement, replacing the long-running caliber 3135 and bringing with it Rolex's proprietary Chronergy escapement and a 70-hour power reserve. Rolex also swapped the gold font on the dial for white, creating a cleaner, more contemporary aesthetic. The lume presented on the dial is now solely Chromalight, which emits a radiant blue glow for up to 8 hours. Rolex's commitment to producing highly accurate dive watches that double as sophisticated everyday watches endures, even multiple decades later.
Rolex Submariner 16618 Features
The Rolex Submariner 16618 is, without a doubt, an iconic gold watch. It's beloved by many brand enthusiasts for its attractive feature set, comfortable size, and reliable movement. Let's take a closer look at the features that define this incredible luxury dive watch.
Oyster Case
The Submariner features a durable Oyster case in polished and satin-finished 18k yellow gold. Rolex operates its own foundry, ensuring total control over the entire design and construction process. The Oyster case of the Submariner 16618 also guarantees water resistance up to 300 meters (1,000 feet) via an innovative screw-down Triplock crown and case-back. Designed initially with deep-sea divers in mind, the Rolex Submariner is both an aesthetically pleasing accessory and a tool for exploring the depths.
The central visual element of the Submariner 16618 is its dial. Appealing to adventurers, the dial is specially designed for legibility with a luminous display set in lustrous gold surrounds. This design ensures visibility at all times, even in the dark waters of the ocean, with the time represented by Rolex's iconic Mercedes handset. The Oyster case and dial are topped with a scratch-resistant sapphire crystal, complete with a Cyclops lens over the date window.
The Submariner's bezel is another important feature. The 18k gold bezel has matching golden 60-minute graduations that allow divers to monitor diving time and decompression stops accurately. Since the bezel on the ref. 16618 is unidirectional, immersion time will only ever be overestimated (rather than underestimated) should the bezel accidentally get knocked or moved while underwater. The ridged edges also allow for an easy grip in the water, allowing a diver to utilize this special feature fully. While the bezel was designed for underwater use, it is also quite functional while on land, allowing users to easily track events up to 60 minutes as they go about their day.
Oyster Bracelet
The Rolex Submariner 16618 is completed with an Oyster bracelet fitted with a folding Oysterlock clasp with a fold-out wetsuit extension. the Oyster bracelet is made from 18k gold to match the case. The bracelet is designed for durability and comfort, and it is easy to wear both on land and in the sea. The clasp is designed to prevent accidental opening and the wetsuit extension allows users to immediately expanded the bracelet without the use of any tools so that it can fit over the sleeve of a thick wetsuit. The ref. 16618 is an older-model Submariner, so the links on the bracelet are hollow (although they do not have open spaces on the sides of the links themselves). Compared to 6-digit references with solid links, the ref. 16618 wears noticeably lighter on the wrist. This gold Submariner will appeal to collectors who appreciate the design of a gold Rolex but who prefer a watch that doesn't weigh down the wrist.
Perpetual Movement
The Rolex Submariner 16618 runs on the self-winding caliber 3135 Perpetual movement. The ease and convenience of an automatic movement are unparalleled, as any type of movement, including daily wear, will keep the watch running. The movement is also certified by the independent non-profit group, the Swiss Official Chronometer Testing Institute (COSC). The COSC institute thoroughly tests the movement, exposing it to various elements and conditions to ensure precision and the highest level of reliable performance. Newer editions of the Submariner 16618 (those produced after the year 2000) also benefit from Rolex's Parachrom hairspring, as it increases the watch's resistance to shocks and temperature fluctuations.
Notable Rolex 16618 Variations
16618LN & 16618LB: As a full 18k yellow gold model, the ref. 16618 is the opulent version of the Rolex Submariner dive watch. During its production, several dial and bezel configurations were produced. There's the black dial and black bezel reference (16618LN) and the blue dial with matching blue bezel version (16618LB). These two options come equipped with luminous hour markers and luminous Mercedes style center hands for perfect legibility amidst the murky waters of the deep.
Gem-Set and Stone Dials: On the "Serti" dial varieties of the Submariner reference 16618, the dials shine bright for another reason – the diamond and sapphire gems that serve as the watch's hour markers. An even more precious variant is the mega-rare ref. 16618 sporting a lapis lazuli dial – only a few were produced in the early 1990s. In 2011, Christie's sold a Submariner ref. 16618 with a lapis lazuli dial for over $90,000 during their Important Watches sale in Geneva. In 2014, they sold a similar model for over $84,000 at the Hong Kong Important Watches event, and it is estimated that the current value of these incredibly rare watches is in excess of six-figures.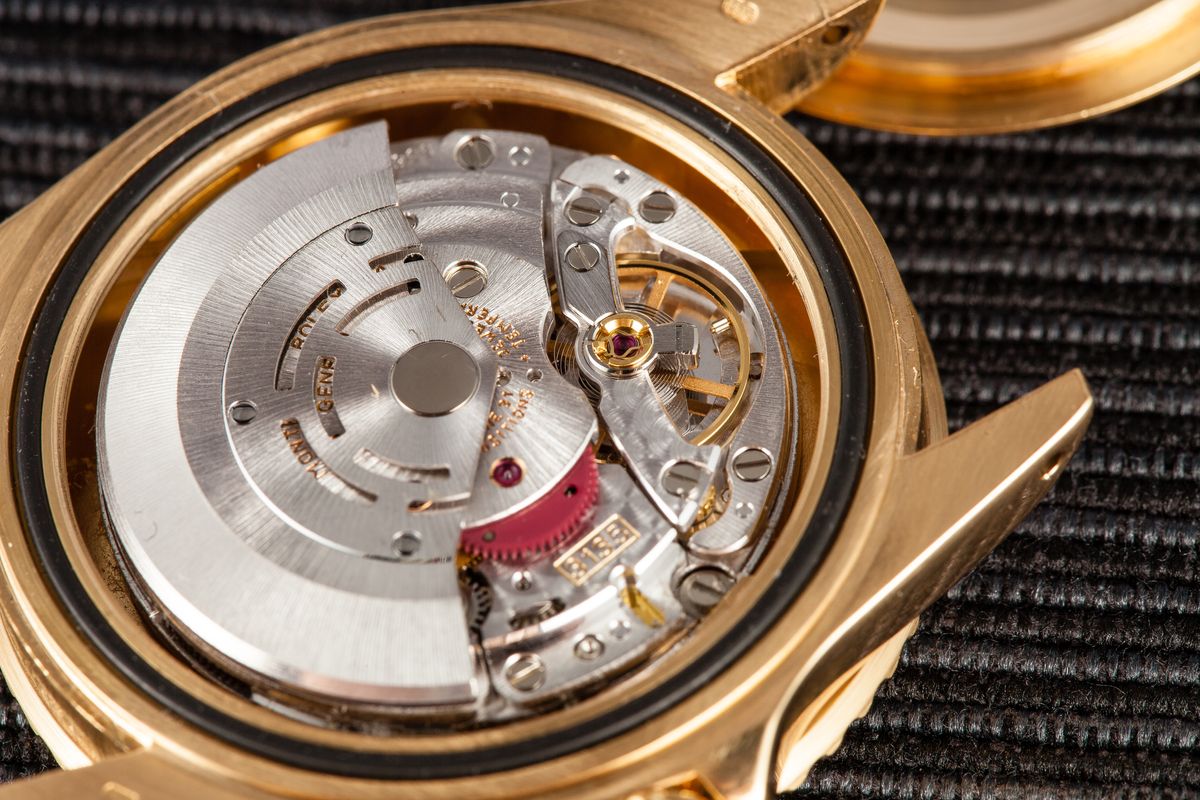 Rolex Submariner 16618 Price
The Rolex Submariner ref. 16618, is an excellent collector's item for anyone interested in Rolex watches. Over the years, this model has seen a steady increase in value. When it came to the market, the ref. 16618 retailed for around $10,000. Today, it commands anywhere between $22k – $30k on the secondary market (excluding the mega-rare lapis lazuli dial versions). If you were lucky enough to purchase one on the retail level years ago, your Rolex 16618 is now more than double its original value.
Although this version of the all-gold Submariner was discontinued long ago, it's still relatively easy to find one on the pre-owned market. In general, purchasing a gold watch pre-owned is always a sound investment since most luxury watches depreciate immediately after leaving the retailer. In this case, the ref. 16618 is no longer available at retail and hasn't been for more than a decade. With the ever-rising price of gold, it's expected to hold its value quite well (at the very least) and potentially even see it appreciate in value in the coming years. Should you choose to sell the Submariner 16618 after purchasing it, your chances of recouping your initial investment are quite high. Hold onto the watch, and it might even grow in value.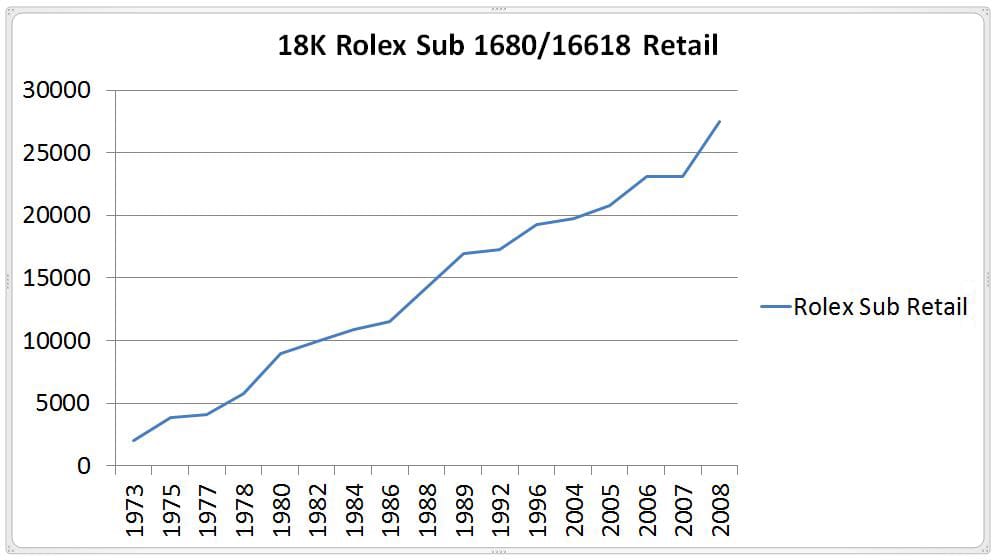 Where to Buy the Rolex 16618 Submariner
Any solid gold Rolex watch requires a significant investment. However, if you know where to shop (and purchase your watch from a trusted seller), buying a valuable pre-owned Rolex doesn't have to be a stressful process. Bob's Watches is the most trusted name in used Rolex watches. Every timepiece listed for sale is certified pre-owned to guarantee that it is 100% authentic and consists of nothing but genuine Rolex parts. Additionally, we also service the watches we sell to guarantee that the watch is both running properly and looks as close to brand-new as possible.
If you prefer to shop in person, other options include jewelry stores, independent watch dealers, or pawn shops. While you will be able to hold the watch in your hands and inspect it in person, shopping local isn't always the best option when buying a used Rolex. An important factor to consider is that brick-and-mortar shops often have a higher overhead and aren't prepared to offer a competitive price. These shops typically also carry other inventory and lack the exclusive Rolex knowledge needed to properly price and authenticate a used Rolex. In short, you likely won't get as good of a deal if you were to shop online.
With that said, forums such as Craigslist and eBay are tempting options to consider when shopping online. However, they pose their own set of risks as there is no guarantee that the watch is genuine. While the websites themselves are quite well-known and reputable, you are not actually buying the watch from the website itself, and are instead buying it from a random seller. Some of these sellers will be completely honest and reputable, while others will be unscrupulous individuals that are trying to take advantage of unknowing buyers. Overall, sometimes paying a little bit more upfront will save you a ton of money (and a massive headache) in the long-run.
What you Should Know Before You Shop for a Pre-Owned Rolex Submariner
1. Do your research. Even if you shop with a trusted seller, it's important to arm yourself with some knowledge about the watch before you buy it. Knowing the watch's average price and its most distinguishing features will ensure that you're getting a genuine watch for a great deal.
2. Find the right seller. As we already covered above, finding the right seller is incredibly important. Not only will it ensure that you don't end up buying a fake watch, but it will also help guarantee that you get the best deal when shopping pre-owned.
3. Ask for additional information. Don't be afraid to ask questions about the watch before you purchase it. Factors, such as the original box and papers, along with whether or not the watch has been serviced can significantly affect its value. A trusted seller will not be reluctant to provide further information upon request.
Final Thoughts
Rolex's exclusivity and impeccable 18k yellow gold are paired with the Submariner's tough, no-nonsense functionality. This design ethos is what makes the reference 16618 such an incredible watch to wear and own. Additionally, due to its solid gold construction and the widespread desirability of the Submariner collection as a whole, the Rolex Submariner 16618 also offers an excellent investment opportunity. If gold is your style, then adding the Rolex 16618 to your collection is an easy choice.