Just like it matters to pick the right color of tie to match your suit, knowing the rules in how to style your watch is important. It doesn't matter whether you're researching how to wear your Rolex or how to choose the right Omega model, the watch you wear is an extension of both your wrist and your personality, so you need to get it right every time. Whether you're choosing a watch for special occasions, or looking to dress a classic timepiece down with something more casual at the weekend, the key to wearing a watch comes down to choosing the right style, size, and model depending on your individual needs.
In this article, we're going to guide you through the process of how to wear a luxury watch, how to choose the right case material and functions in a watch, and how to match the correct timepiece with your attire so that you'll always look your best. We'll also outline all the tips and tricks necessary for ensuring that you get the most out of your luxury watch collection every day of the week.
How to wear a luxury watch sounds straightforward – and it is – but it's also something that you definitely want to get right. No doubt you've paid a considerable sum of money for your watch, so the last thing you'll want to do is wear it in a manner that is uncomfortable on your wrist or just plain looks sloppy. A watch can certainly be a statement piece, but it can also be the subtle finishing touch that completes your outfit for all of life's special occasions. You can dress a watch down just as easily as you can enhance it, so whether you're an experienced watch collector or a first-time buyer, knowing how to properly wear your luxury watch will always be important.
How To Wear a Watch
Famous Luxury Watch Brands:
– Rolex
– Omega
– Patek Philippe
– Audemars Piguet
– Cartier
– Tudor
– Panerai
– Breitling
– Oris
– Tissot
Click here to learn about the world's 7 most iconic luxury watches.

Different styles of watches
Luxury watches come in all sizes and styles. There are watches for divers, pilots, sportsmen, racing car drivers, and businessmen. There are dress watches that look contemporary, some that look traditional, and complication watches like perpetual calendars that despite offering a myriad of functions, pair well with formal attire thanks to their often classic and timeless appearances. Sports watches with chronograph functions generally look complex and technical and they can come in various case materials ranging from tool-like to luxurious. Black DLC coated cases and black carbon cases impart a modern, masculine look on the wrist, whereas the more traditional stainless steel sports models look rugged and classic for pairing with anything from casual to business attire.
While some watches lean into their purpose-built roots and are definitively sporty and function-forward timepieces, others aim to be the go-anywhere, do-anything models that could easily be the one nice watch that a person owns for their entire life. However, regardless of what kind of watch you choose, it's important that you wear it correctly. So, let's take a look at how to wear a luxury watch…
The classic way to wear a watch
Before we delve into more detail, the classic way to wear a watch is strapped to the wrist with the case of the watch nestled comfortably above the wrist bone and the dial facing upwards. However, whether you should wear your watch on your left or right wrist is down to personal preference. Tradition dictates it should be left (as this is your non-dominant hand), but if you're not the kind of watch enthusiast that lets convention rule over preference, then you'll be pleased to know there are no fashion police coming for you if you choose to wear your watch on the right. In fact, most left-handed people wear their watches on their right wrists. Additionally, there are also some collectors who believe that wearing their watch on the inside of their wrist protects the dial and becomes easier to reference the time in certain situations.
The general rule of thumb is that you should wear your watch on the opposite wrist of your dominant hand, as this will ensure that it is less likely to get in the way. If you're right-handed, this rule makes it easier for operating the crown and the push-pieces on a chronograph watch. If you're a lefty, you can always search for a left-handed watch, where the crown and any pushers are located on the lefthand side of the case. Additionally, when wearing a watch with a shirt and jacket for more formal attire, your timepiece should tastefully peek out from underneath the cuff of your sleeve, rather than being so large that it causes your cuff to bunch up around your wrist.
When should I wear my watch?
The great thing about modern-day watch collecting and watch wearing is that you can enjoy wearing your desired timepiece to most occasions in life. Aside from using your common sense, there are very few rules as to when and how you can wear a watch. Dress watches are made to be more durable and versatile these days, and sports watches are now considered stylish when paired with formal attire. Likewise, the perimeters of what constitutes a dress or sports watch have also broadened, and there are countless designs that are versatile enough to be paired with virtually anything.
How to match a watch with your outfit
In the same way that you wouldn't wear a tuxedo to climb a mountain or your pajamas for a boardroom meeting, there are rules to wearing a watch that you just don't break. To keep it simple, if a watch isn't practical to wear for a certain activity or event, you probably shouldn't wear it. If you've invested in a classic gold Patek Philippe dress watch, you're probably not planning on wearing it to the gym. If a robust diver's watch is too clunky to sit underneath the cuff of a shirt, you shouldn't wear it to that black-tie event. That said, some luxury watches never lose their ability to look stylish with whatever they're paired with. Rolex watches, for example (although varied when you compare the aesthetics of a Submariner to those of a Datejust) are designed to be worn all day, every day. Globally loved for their versatility, Rolex watches are prime examples of why luxury watches don't always need to be reserved for just special occasions.
The beauty of owning more than one luxury watch is that you can choose just the right watch for your outfit or activity. Some watches like a Rolex Cellini or Patek Philippe Calatrava are meant to be worn with suits. Others like the Panerai Submersible or Omega Planet Ocean look most at-home when strapped over the sleeve of a thick wetsuit. However, you don't always need to match your watch to your outfit, and these days the rules of how to wear a watch have never been less defined. Sometimes pairing a watch that looks slightly out of place can make the biggest statement. Don't be afraid to play about and be daring with your style and your watch. Just because a dive watch was never meant to be worn with a business suit doesn't mean that you can't do it!
Comfort over style
Where watches are concerned, size does matter. This includes not only the dimensions of the case but also the size of the strap and how it fits your wrist. Before investing in a watch, it's important that you try it on if possible, and consider every situation you'll be wearing. First and foremost, it needs to feel comfortable on the wrist. At the same time, you'll also need to decide whether your wrist size can take a larger, bulkier-looking timepiece, or whether you would be better off with something that adheres to more classic proportions.
Wearing your watch comfortably is just common sense. If you wear it too loose, you run the risk of knocking it against doors and desks. If you wear it too tight, you'll spend the entire day feeling uncomfortable. Personal preference will always be key here, but it is important that you have a watch that fits your wrist and feels natural to wear. A local and authorized watch repair center or an established jewelry store in your area will be able to take care of adding or removing a few links from your watch bracelet should you need to adjust its size after purchase.
Matching materials and matching metals
This may seem self-explanatory, but darker watch dials and straps often go better with darker attire. If you've been invited to a formal event, a black suit will pair nicely with a watch on a matching black leather strap. Likewise, a stainless steel bracelet will look sporty and sophisticated whether you're wearing your watch with jeans and a shirt or a business suit. NATO-style straps and textile watch bands exude a more casual appearance, so it's an easy match to pair a watch on a material strap with something, sporty, pared-down, or relaxed.
It's also important to consider the color of your watch strap when adding a belt to your outfit. Attention to detail is important when going the extra mile to show that you've given thought to how you look each day. Remember, always match a brown belt and shoes to a brown strap, and black belt and shoes to a black strap. You can also take into consideration the finer details in styling a watch, like making sure the material of your watch case matches the metal of your belt buckle and any cufflinks should you be wearing them.
Watch etiquette
Your watch reflects your personality and your style. However, there's also a time and a place to draw attention to your watch. Despite a luxury watch becoming a great conversation starter, looking at your watch too frequently can sometimes give off a bad impression – especially in more traditional and formal settings. Thankfully, watch-wearing traditions have changed and it's no longer considered impolite to wear a watch to a formal gathering, but to check the time in front of someone suggests that they're taking up too much of your time and you have somewhere better to be. Similarly, drawing too much attention to your watch as a status symbol can often edge on being bad taste. In short, your watch should be noticeable to those who want to notice it but never flaunted in someone's face.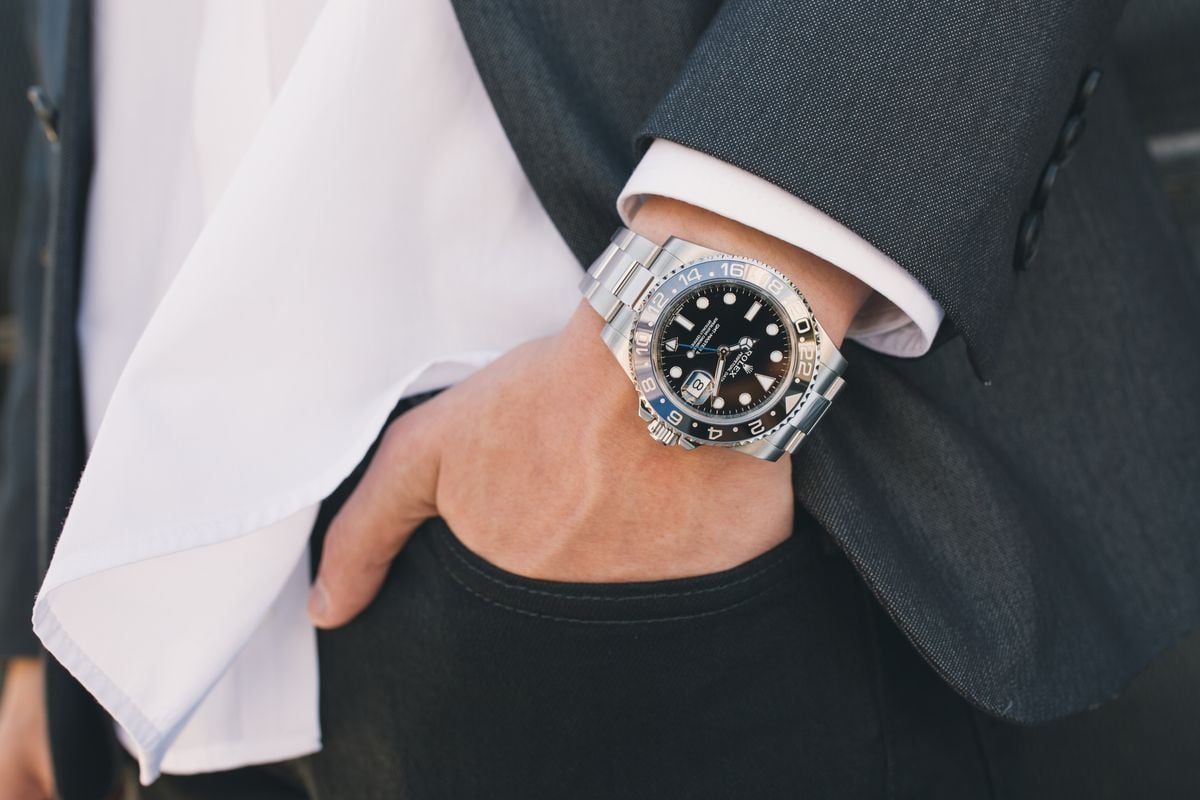 Change it up
If you're lucky enough to own more than one luxury watch, don't feel like you have to wear the same piece every day. Be adventurous with the different watch styles you own and enjoy the process of paring a different timepiece to another outfit to transform your look. As long as you're factoring in all the basics (remember – if the watch simply isn't comfortable, you probably shouldn't wear it) then styling your watch can be quite fun and innovative. Show others that you're a  watch connoisseur and that you don't just own a bunch of luxury watches; you know how to properly wear them too.
Look after your watch
Owning a luxury watch involves a little more than just strapping it on your wrist. It goes without saying that the better care you take of your watch, the better it will look and perform. Be sure to stay up to date on any repairs and maintenance of your luxury watch whenever it is needed. Just like anything else mechanical, luxury watches require periodic service to keep them in optimal running condition, and adhering to a regular service schedule will help guarantee that your watch stays in top shape for the next generation.
You can also maintain your watch strap to help ensure that your timepiece always looks pristine on your wrist. Most luxury dress watches will be fitted with high-quality leather bands, and these should be kept away from water and moisture whenever possible. Additionally, bracelets made from ceramic, titanium, or stainless steel will last for decades before they need to be replaced and they require little upkeep beyond periodic cleaning. Lastly, should you ever get tired of your luxury watch and want something different, you can always sell it to a pre-owned dealer like Bob's Watches and get put its value towards the timepiece of your dreams.