Looking for a versatile and durable watch that will be ideal for your outdoor adventures? Without a doubt, historically Rolex has developed some of the most innovative luxury watches for the adventurous at heart. Each watch has been carefully developed to meet the specific needs of those who enjoy living the bold life. We hope the overview will help you identify a Rolex watch, like the Rolex GMT Master, that inspires the adventurer in you.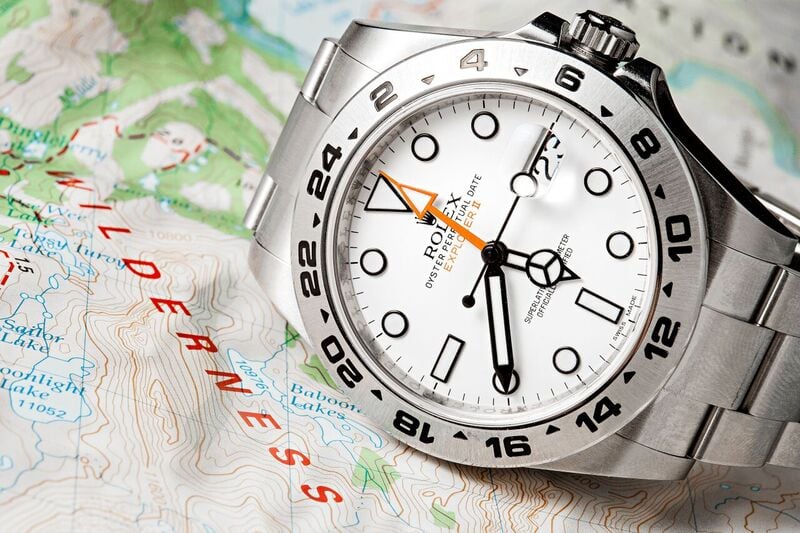 Luxury Outdoor Watches
Rolex Explorer – Originally released to the luxury watch market in 1953, the Rolex Explorer was specifically created for those who dare to explore the world. Named after Hillary and Norgay who successfully climbed Everest, the Explorer offers an easy to read dial and ultra-durable case that can withstand extreme temperatures. The newest Explorer (the Explorer II) offers a sleek and handsome design, automatic winding technology, waterproof case, and 31 jewel movement.
Rolex Daytona Cosmograph – The Rolex Daytona is the favorite of many racecar legends and race enthusiasts. Featuring self-winding chronometer chronograph technology, sweeping second hand, minute hand, and side case push buttons, the Daytona makes measuring lap times quite easy. It is also built to last the test of time.
Rolex Submariner Watches – Divers tend to love the Rolex Submariner because of its durable waterproof case that can be taken deep underneath the ocean's surface. The watch's classic rotating bezel is designed to help effectively keep track of time while diving.
Rolex Yachtmaster – The Rolex Yachtmaster was developed to meet the unique needs of sailors and divers around the world. The watch is quite elegant, yet it is built to withstand the elements such as cold/warm weather and pressure when diving. The latest versions of this impressive timepiece include 31 jewel movement, rotating bezel, waterproof case, and high style dial design.
No matter which of the above pre-owned Rolex watches you choose, you are sure to enjoy adventuring around the globe. To determine which is right for you, it is recommended that you carefully review their feature sets and visit a Rolex watch broker to try them on. There are numerous watch models and styles from which to choose, which will provide you the opportunity to find a unique watch for you. These luxury outdoor watches are fit for any adventure.