The Rolex Submariner is easily one of the undisputed icons of horology and widely regarded as the most famous dive watch of all time and one of the most desirable watches in the world. First launched in 1953, the Submariner was one of the world's very first dive watches and the first one capable of achieving a depth rating of 100 meters. The Submariner helped pioneer an entire genre of underwater timepieces and nearly every single dive watch in existence today was in some way influenced by the Rolex Submariner.
Due to its iconic design and legendary reputation, the Submariner exists in a rather rare and unusual position in that there truly are no undesirable iterations of it. Even the most plentiful and affordable Submariner references from twenty or thirty years ago are still trading hands for almost the same price as what Rolex charges for a brand-new Submariner watch, and there are rare and collectible vintage examples that have been known to break the million-dollar mark at auction. However, among all Submariner watches, the rarest and most collectible are easily those that were either issued to the military – or in the case of this particular example, issued to the French deep-sea diving company COMEX.
Rolex Submariner Reference 16610 COMEX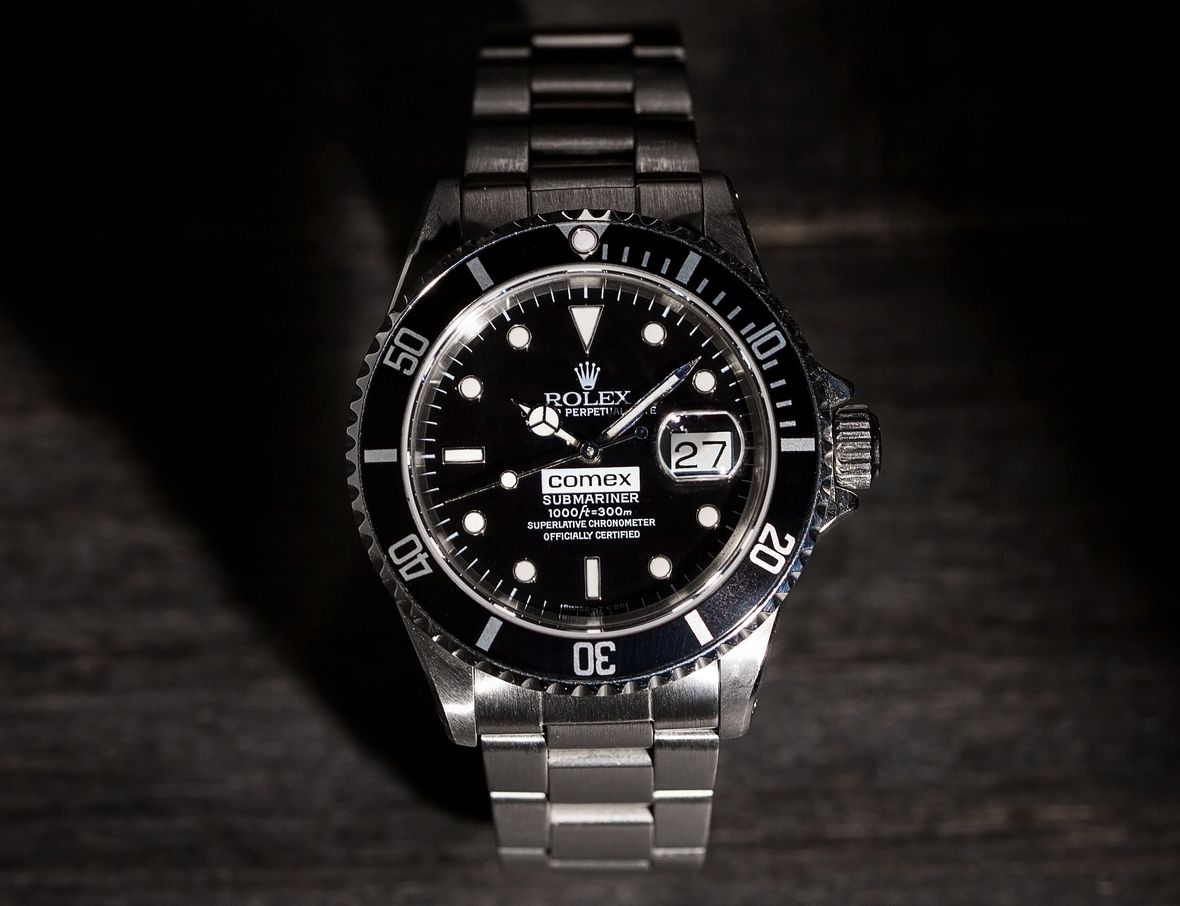 COMEX Submariner 16610 Key Features:
– Reference Number: 16610
– Production Years: 1986 – 1997 (approx); Additional Small Batch in 2003 / 2004
– Materials: Stainless Steel
– Functions: Time w/ Running Seconds, Date Display
– Dial: Black w/ Luminous Hour Markers
– Bezel: Unidirectional, Black Aluminum Insert w/ 60-Minute Scale
– Crystal: Sapphire (Flat w/ Cyclops Lens)
– Movement: Rolex Caliber 3135
– Water Resistance: 300 Meters / 1,000 Feet
– Strap/Bracelet: Oyster Bracelet
– Other Notable Features: 'COMEX' logo on dial; Engraving on Caseback
Click here for our Ultimate Buying Guide on the Rolex Submariner 16610.

COMEX and Rolex
Founded in 1961 by Henri Germain Delauze, Compagnie Maritime d'Expertises – better known as COMEX – is a French deep-sea diving company that has done pioneering work in the field of robotics, saturation diving, and underwater exploration. COMEX primarily caters to commercial diving applications rather than the recreational scuba diving industry, and also works closely with the European Space Agency (ESA) and its astronaut training program to develop advanced habitat life support systems and hyperbaric oxygen therapy facilities for use in outer space and deep below the surface of the ocean.
As an industry leader in the newfound category of dive watches, Rolex shared a common goal with COMEX, and both companies were interested in reaching greater depths and being able to stay down longer. In 1970, Rolex and COMEX established a mutually beneficial partnership in which Rolex would supply the French diving company with Submariner and Sea-Dweller watches and in exchange, COMEX would provide real-world testing data and analysis on the timepieces' performance.
Rolex used COMEX as a test-bed for many of its dive watch technologies, and innovations such as the Helium Escape Valve found on the Rolex Sea-Dweller are a direct result of the collaborative partnership between these two brands. Rolex no longer supplies watches to COMEX, and since the partnership between these two brands helped shape dive watches as we know them today, these COMEX-issued Rolex models are now representative of an important time in watchmaking history. Consequently, the various Rolex Submariner and Sea-Dweller watches that were issued to COMEX now rank among the most valuable and collectible Rolex models in existence.
Rolex COMEX Watches
Rolex supplied both Submariner and Sea-Dweller watches to COMEX from approximately 1970 until 1997 (although it is believed that an additional small order of watches was placed around 2003 or 2004). During this time, a number of different references were issued to COMEX divers and employees, including one entirely exclusive to COMEX – the reference 5514, which is essentially a Submariner ref. 5513 that has been retrofitted with a helium gas escape valve.
Among the COMEX-issued Rolex dive watches, a wide range of variation exists – even among two examples of the same reference. For instance, some reference 5513 Submariner watches were issued to COMEX divers in their standard configuration and possess nothing more than the COMEX identification engravings on their casebacks. However, other COMEX Submariner 5513 watches feature helium escape valves fitted to the side of their cases (just like the Sea-Dweller). Additionally, some feature the COMEX logo on their dials while others do not.
Some of these COMEX-issued Rolex watches are more-or-less standard Submariner or Sea-Dweller models, while others such as the HEV-fitted ref. 5513 and COMEX-exclusive ref. 5514 are entirely unique and unlike any other watches that Rolex has produced, vintage or modern. With that in mind, it is often those that actually have the COMEX logo on their dials that are considered to be the most valuable and expensive. Co-branded Rolex dials are incredibly rare and desirable as a whole, and the vintage Submariner and Sea-Dweller models that have the COMEX logo on them are widely considered to be some of the most valuable and collectible co-branded Rolex dials available.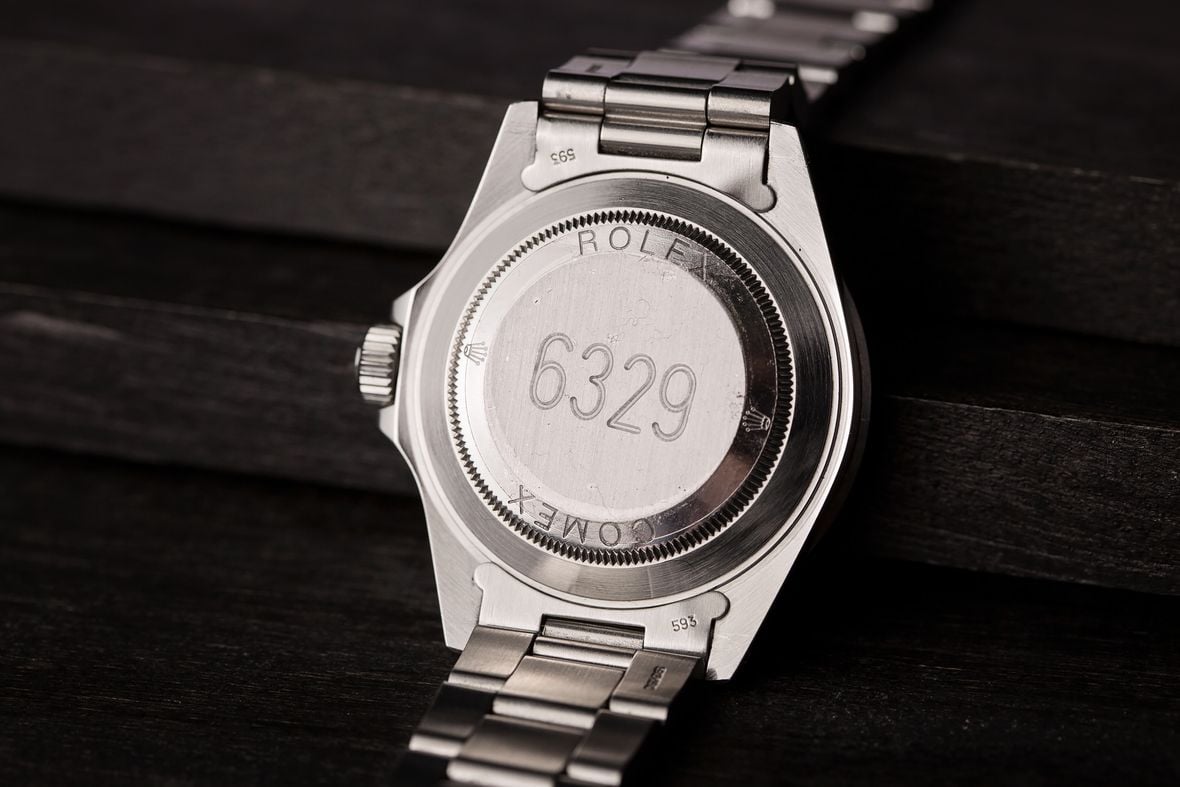 Rolex Watches Issued to COMEX
– Submariner Ref. 5513
– Submariner Ref. 5514 (COMEX exclusive)
– Sea-Dweller Ref. 1665
– Submariner Ref. 1680
– Sea-Dweller Ref. 16660
– Submariner Ref. 16800
– Submariner Ref. 168000
– Sea-Dweller Ref. 16600
– Submariner Ref. 16610
Although the relationship between Rolex and COMEX spanned nearly three decades and a number of different watch references were issued during the partnership, it is estimated that there are no more than a couple hundred examples of any single reference. Simply due to production numbers alone, these COMEX-issued Rolex watches are incredibly rare and the fact that some were lost, damaged, or otherwise destroyed over the years has only made the total number in existence even smaller.
It is also worth noting that the purpose of the COMEX-issued Rolex watches changed during the relationship. During the early years, COMEX divers relied on their Rolex Submariner and Sea-Dweller watches as essential pieces of diving equipment, and nearly all examples saw rigorous active use. However, closer to the end of the partnership, the various COMEX Submariner and Sea-Dweller models became presentation or commemorative watches for employees of the deep-sea diving company.
COMEX Submariner 16610
By the time that the Submariner Date reference 16610 first made an appearance in the late 1980s, diving technology had already advanced past the point where COMEX divers were relying on their mechanical wristwatches as their sole timekeeping devices. Although Rolex would continue to deliver Submariner and Sea-Dweller watches to COMEX for roughly a full decade after this, rarely were they used for actual deep-sea diving, and instead were presented to COMEX executives and other high-ranking employees.
Rolex Submariner 16610 COMEX watches can be found with serial number engravings that fall within the range of 1986 to 1997, although the reference 16610 itself did not make its formal public appearance until closer to 1988. Additionally, it is estimated that only around a couple of hundred total examples were produced during the ten-year period that ref. 16610 watches were being delivered to COMEX. Additionally, as many of these watches did not see commercial diving use, it is not uncommon to find these reference 16610 Submariner watches in significantly better condition than some of their older COMEX-issued predecessors.
The reference 16610 is the last Rolex model to feature the iconic COMEX logo on its dial, and the relationship between the two brands ended before the subsequent generation of Submariner watches was introduced. Additionally, with the exception of their dials and case-back engravings, COMEX 16610 watches are otherwise identical to standard-production reference 16610 Submariner watches, and they do not include any additional features such as the prototype helium escape valves found on reference 5514 watches.
Rolex and COMEX: An Enduring Legacy
Generally speaking, reference 16610 COMEX Submariner watches are more affordable than other COMEX-branded Rolex references, but that does not mean they are at all easy to find, nor does that imply that they are in any way financially accessible. Regardless of the specific reference or its unique attributes, all COMEX Submariner watches are considered to be among the most desirable and collectible Rolex models in existence.
What makes COMEX-branded Rolex watches so rare and collectible is that they were never sold by any stores, boutiques, or authorized retailers. Simply put, there was no way for the average person to just go out and buy a COMEX-branded Rolex watch for themselves. Instead, these co-branded watches were only issued to COMEX divers and other top company officials. Additionally, these watches were produced in extremely low quantities and many feature unique details that you won't find on any standard-production Rolex models.
Co-branded Rolex dials are incredibly rare and even the least auspicious examples typically garner some serious attention. However, the collecting world's fascination with COMEX-issued watches transcends that of just co-branded dials and is intertwined with the history and heritage that serves as the foundation of the Rolex brand. Long before Rolex was the world's single most famous luxury manufacturer, the company was known for producing some of the world's toughest and most reliable tool watches that could thrive in environments that would simply destroy lesser timepieces. Arguably no other Rolex watches are more emblematic of that pioneering spirit than the COMEX Submariner and Sea-Dweller models, and the dive watch industry as we know it today was forever shaped by the partnership between these two pioneering brands.