For the past hundred years, the rectangular watch has been the timepiece of choice for the sophisticated, discerning collector who yearns for originality. In fact, the Cartier Tank, beloved for its angular shape, is often considered the most iconic rectangular watch of all time, and those who wear rectangular watches are famous for simply, and utterly, adoring them.
You may be familiar with the Truman Capote quote he quipped at a journalist who was interviewing him, "Take that ugly watch off your wrist and put on this one," the author reportedly yelled, taking off his own Cartier Tank and sliding it across the desk. "I beg you, keep it – I have at least seven at home." 
While Cartier may have made the rectangular wristwatch famous, a number of other manufacturers have also designed their own angular watches that have garnered loyal followings along the way. Among these brands is Rolex, who has produced a number of square and rectangular watches over the years, most notably within the Rolex Cellini collection.
Rectangular Rolex Cellini Watches
Rectangular Rolex Facts:
– Rectangular watches are among the very first Rolex models ever created.
– Many of Rolex's earliest rectangular watches pre-date the invention of the Oyster Case.
– Rectangular Rolex watches can be found with either square or rectangle shaped cases.
– Most rectangular Rolex watches have been produced within the Cellini collection.
– Rectangular Rolex watches with prominent small-seconds hands are often called "Doctor's Watches" by collectors.
– Excluding vintage models, most rectangular Rolex watches are crafted from either solid gold or platinum.
– Rectangular Rolex watches typically do not feature screw-down winding crowns or case-backs.
Click here to learn more about the history of the Rolex Cellini collection.

History of Rectangular Watches
The square watch has always been an exclusive timepiece by design. Back in the early days of watchmaking, it was actually much harder to house a mechanical movement inside a rectangular case. Rectangular movements not only took up much more space, but the case around it was also harder to engineer. This is why most watches were (and still are) largely round in design. It is this inherent exclusivity that has made the rectangular watch a symbol of sophistication and style for the past century.
The wristwatch itself has a relatively short history, women first wearing ornate wristwatches (known as wristlets) during the late 19th century. The trend caught on with men more widely a few decades later in the early in the 20th century when they began wearing watches on their wrists out of necessity during World War I (as you might imagine, one doesn't want the additional hassle of fumbling with a pocket watch during a combat situation).
However, we did see one of the world's first wristwatches – a pilot's watch no less – appear a full decade before the war in 1904, when Cartier famously created the square Santos wristwatch for his famous Brazilian aviator friend, Alberto Santos-Dumont. Interestingly, the design was inspired by one of Cartier's earlier square pocket watches, but fitted with a highly legible, Art Deco-inspired dial to make it easy to read on the fly. About a decade later, Cartier would do it again, introducing the Tank, noteworthy for its unique, rectangular case shape which stood out among its round counterparts of the time. This watch, first designed in 1917, was famously inspired by the armored, Renault FT-17 tanks used on the Western Front in WWI. The first Cartier Tank watches weren't released until after the war in 1919, and they have since become incredibly popular with a wide range of collectors.
The following decades would see a slew of other manufacturers introduce their very own rectangular designs to tap into the trend. However, rectangular watches have had an enduring legacy, beloved for their unique shape, exclusivity, and inherent elegance.
What are Rectangular Watches Called?
Sometimes, collectors refer to rectangular watches as "Tanks" even if they are not Cartier models. However, more often than not, a rectangular watch is called just that. Square watches also fall under the rectangular watch category. But, often these watches will just be labeled as square watches.
Rectangular Rolex Watches
As the world's most famous brand, Rolex watches are renowned for their precision and design. The Swiss watchmaker has produced some of the world's most recognizable watches, from the President to the Daytona; however, its rectangular watches have largely flown under the radar for decades.
For example, the rectangular Rolex Prince is one of the brand's first-ever wristwatches. First produced in 1928 (the company was only founded in 1905) the Prince was designed to capitalize on the rectangular watch trend. Being one of Rolex's earliest creations, this watch was made in very limited numbers and is worth a significant amount today. Rolex also produced a number of square and rectangular Cellini timepieces (the brand's luxury dress watch collection) over the years, and even revived the Price line within the Cellini collection; however, Rolex no longer offers any square or rectangular watches in its contemporary lineup.
Below we take a closer look at some standout rectangular Rolex Cellini watches.
Rolex Cellini 4320
Generally speaking, rectangular watches wear larger than their case dimensions might indicate. On traditional watches with round cases, the diameter only pertains to the watch at its widest point, whereas on a square or rectangular watch, the numbers listed apply to the entire height and width of the watch. Think of it this way: a square will always have a greater surface area than a circle given identical measurements for the width of the shape. Consequently, this vintage Rolex Cellini ref. 4320 is perfectly suited for both male and female wrists with its 30mm case size.
Created during the 1970s, this unique unisex Rolex features a manual-wind movement and an integrated gold mesh bracelet. Additionally, as it is a member of the Cellini collection, it does not feature Rolex's waterproof Oyster Case and instead features a standard push-pull crown with a traditional snap-on caseback. Given this watch's dress-oriented styling and manual-wind movement, the lack of an Oyster Case is perfectly acceptable and permits more convenient daily operation.
The dial of this Rolex Cellini 4320 is incredibly clean and lacks both a seconds hand and hour indices of any sort – the one exception being an applied Rolex coronet at the 12 o'clock location. However, the unique gold bezel of the watch is engraved with markings that correspond to hour markers and a minute track, allowing this unique rectangular Rolex to offer an incredibly clean dial without sacrificing any functionality.
Rolex Cellini 4651
This unisex Rolex Cellini watch is a bold, statement dress piece for any discerning collector. We love how this model oozes with vintage appeal, featuring a funky exotic wood dial alongside a blingy, diamond-encrusted bezel. And while the 18k yellow gold, 27mm x 29mm case is actually an octagonal shape, it's particularly oblong giving it a rectangular shape and making it largely viewed by collectors as a rectangular watch.
With a diamond bezel (featuring a whopping 54 diamonds) and wood dial, the face of the ref. 4651 is purposefully minimal with only an hour and minute hand, the Rolex crown at 12 o'clock, and the Cellini logo on the lower half. What collectors also love about this Cellini is its 18k gold integrated bracelet that connects directly into the case. The bracelet also features a hidden Crownclasp for a completely seamless look. Stunning from every angle, this rectangular Rolex is sure to get you noticed whether you're pairing it with jeans and a t-shirt or formal attire for a black-tie event.
Rolex Cellini Prince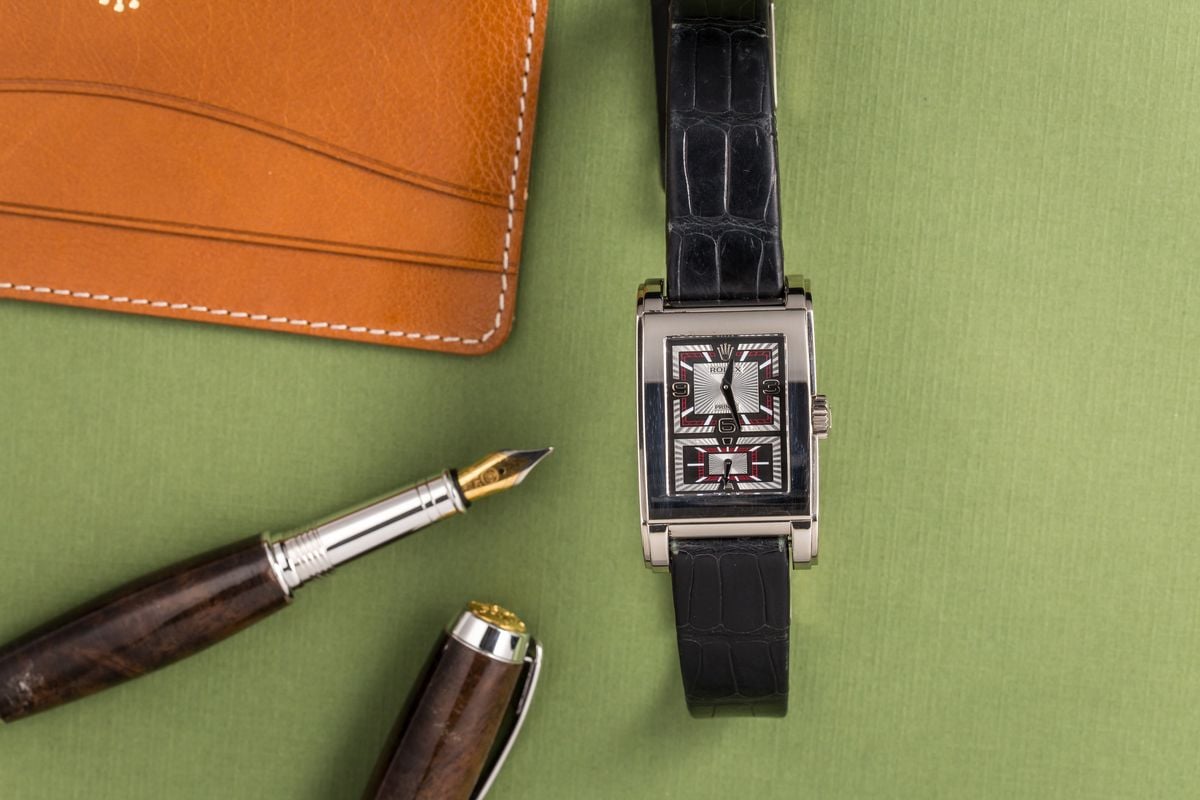 Like we mentioned above, rectangular Rolex watches were among the first models ever created. First introduced in 1928, the Prince was a product of its time, tapping into the rectangular watch trend, and defined by clean lines reminiscent of the Art Deco style – the 1920's movement inspired by everything from Cubism to the German Bauhaus School.
The Prince was produced around the same time that Rolex created their world-famous, waterproof Oyster case. However, the Prince was the opposite: decidedly dressy and made for special occasions. However, the small-seconds sub-dial on the face (at the time, it was unusual to have a second hand on the dial at all) became incredibly useful to physicians. It even became known as the 'Doctor's Watch' for its practicality in timing a patient's pulse. Crafted exclusively in gold, the Prince also occupied a priced point that few individuals other than doctors could afford.
The Prince was produced for 20 years and helped cement Rolex as a popular, quality brand in the watch world. However, by the 1940s, it was time for the Prince to retire. Not only was the Art Deco style fading, but the Great Depression and horrors of WWII were influencing style in a new way.
However, we were reintroduced to the Prince in 2005, when Rolex re-released the watch in a modern, new way as part of their luxurious and dress-oriented Cellini collection. What so many collectors loved about the new Prince was how it was a perfect modern re-interpretation of the classic. Clocking in larger at 47mm by 28mm, the new Rolex Cellini Prince was forged out of gold (two in white gold, one in yellow, and one in Everose) and featured the same dial layout, complete with a prominent sub-seconds hand.
Rolex has since discontinued its modern Cellini Prince line. However, you can still find both original Prince and re-imagined Rolex Prince watches on the secondary market. These watches are beloved by collectors not only for their special shape but the fact that they're such rare and unusual Rolex watches. This is the perfect kind of timepiece to own if you want to add something truly special to your collection – a luxury watch that is unlike any of the other models in Rolex's current portfolio.